NYC is popular year-round with plenty of all-season activities. However, there is something about summertime in the city that cannot be beat. For locals, summertime equates to a need to get outside to the beach. As we head into our third summer in the city we thought we would round up our absolute favorite ways to spend a NYC summer day.
Attend a Summer Yankee's Game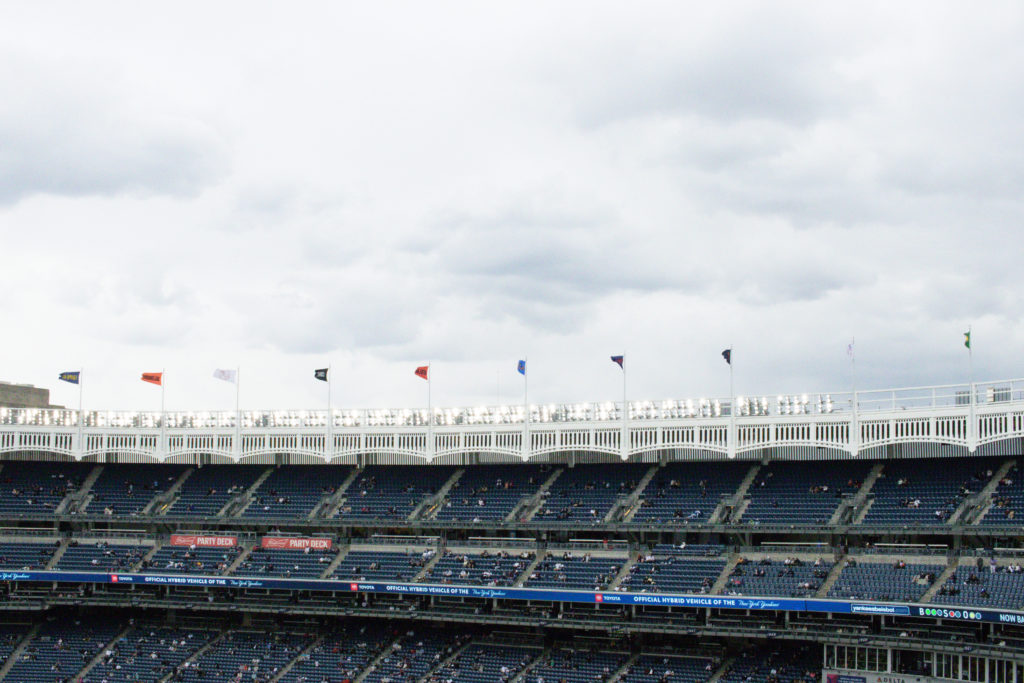 Whether you are a baseball fan or not, it's hard to pass up a game at the iconic Yankee Stadium. The stadium and the Yankee franchise is a part of NYC's history and well worth the stop. Their current stadium opened in 2009, so it's newer and quite nice inside. This is also an open stadium, so go on a sunny day to fully enjoy the experience. The stadium is easy to access from Manhattan via the subway line 4. While the beer may be overpriced, the pretzels and hot dogs can't be missed! To get tickets, we like to use stub hub as they offer competitive pricing and allow you to "experience" what the view from the seats would be.
Summer in Central Park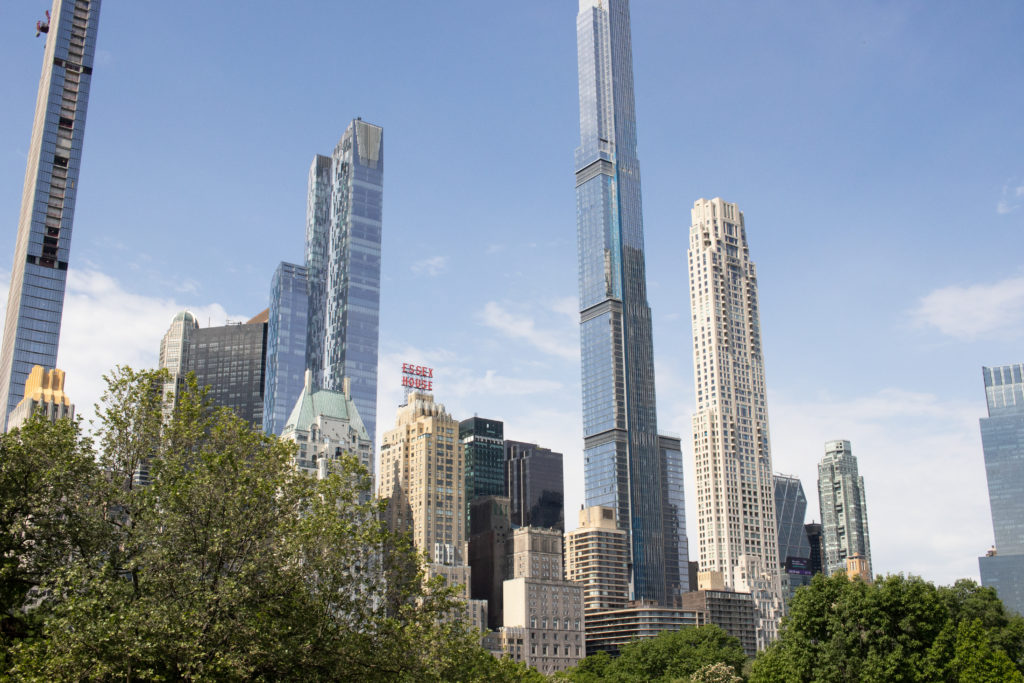 Central Park is a NYC staple when visiting, but during the summer it becomes a can't miss spot. For tourists and local alike, this is a common spot to spend a sunny summer day. Sheep's meadow is a large grassy area to sunbathe for the afternoon that gets quite popular during the weekend. If sun and crowds aren't your preference, there are plenty of shaded, grassy areas scattered throughout the park to sunbathe as well. If you are feeling adventurous, we recommend hiking around the west side of the park to find The Loch. The Loch is a small waterfall along one of the trails in the park. Lastly, walking or biking are both great options but a good bike ride loop of the park is always fun in the summer, albeit sweaty!
Bike the George Washington Bridge
The George Washington Bridge, affectionately referred to as "The GW", is a main artery connecting New Jersey to Manhattan. What not everyone knows is that you can easily bike across the bridge. The George Washington Bridge is bikeable as it contains a very accessible and beautiful pathway. Biking the GW bridge is a great summer activity, especially when you reach the New Jersey side and are greeted by the Palisades scenic trails and coffee shops. Getting to the bridge takes you along the Hudson River Greenway, so you end up doing very little street biking. Furthermore, the GW bridge offers spectacular views of the Hudson River and entire Manhattan island. What more could you ask for?! Head over to our post for more details and biking directions.
Manhattan Park Pool Club
Location: Roosevelt Island
During the summer months, it can get HOT in the city. We often feel like we are always searching for a pool or beach to escape to, luckily the city has many to offer! A great option for visiting an outdoor pool is on Roosevelt Island. Roosevelt Island is an island located between Manhattan and Queens, with easy tramway access from the Upper East Side. It is also home to the Manhattan Park Pool Club.
The Pool Club is an outdoor pool with lounging chairs that offer a view of the Manhattan skyline. This pool opened in 2015 and every year they hire an artist to make the area inviting and instagram-perfect. You do have to purchase a day pass to gain access, which is $30 on the weekdays and $60 on the weekends. With the peacefulness  of Roosevelt island and sweeping skyline views, we can't wait to check it out next summer! If you're looking to spend the day on Roosevelt Island, check out our post for everything to know about it.
Go Beach Hopping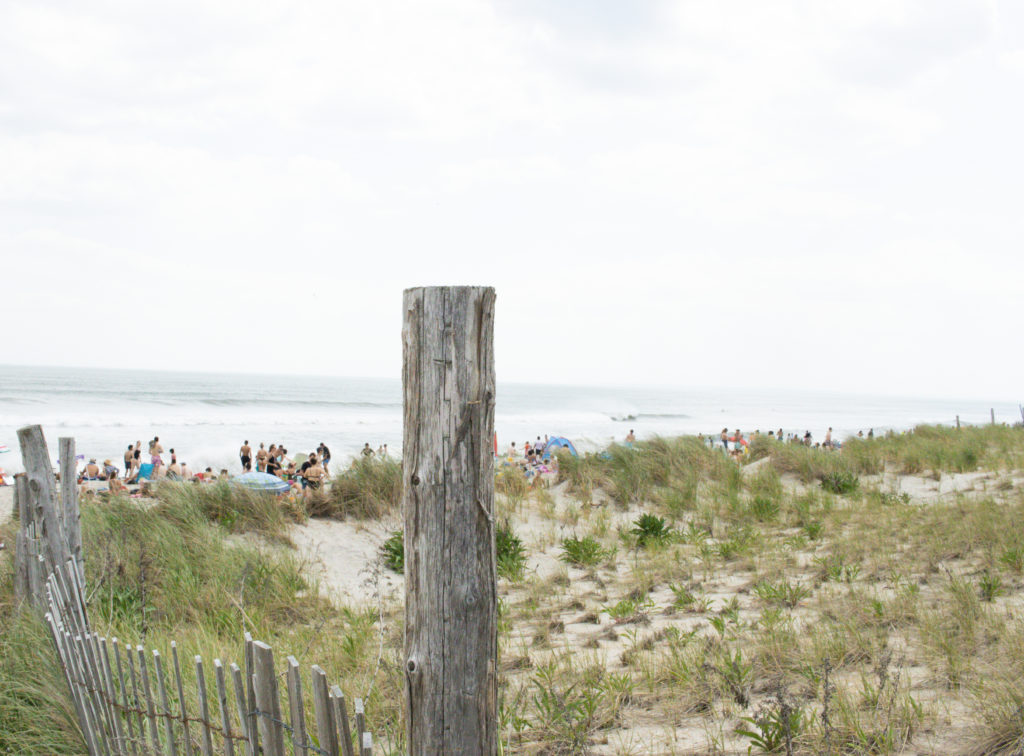 Our next three suggestions involve heading to the beach! It is easy to picture NYC as a concert jungle, but do not forgot about the beaches! There are a few beaches within the city and several just outside on Long Island or New Jersey. Below are our favorite beach day trips from NYC, all accessible via transit or ferries!
Spend the Day at Coney Island
Location: Brooklyn, NYC
Coney Island is a classic NYC location that we feel everyone should visit at least once. If you plan to head over, we recommend doing so in the summer to enjoy the beach as well! Coney Island is located in Southern Brooklyn, so it can be trek from Manhattan or Queens via the subway. Luckily, brand new this year is the NYC ferry route 'Coney Island'. The NYC ferry will go from Pier 11 (Wall Street, Manhattan) to Bay Ridge (Southern Brooklyn) to Coney Island. This route is brand new for 2021 and will take a total of 37 mins from Pier 11. For $2.75, this route is the best and easiest way to get Coney Island. Once here, you can sunbathe on the beach, explore the boardwalk or test your nerves at the amusement park.
Luna Park
The Coney Island amusement park opened in 1904 and was called Dreamland, but following a fire it had to be rebuilt. It's now called Luna Park, however it still feels like a history filled amusement park. The park admission has a few options. You can pay per ride, pay for a group of rides or pay for an "all-access" pass. It can get pricey and the lines can get long. So we recommend picking out a few rides you want to do and decide what your cheapest option is. There are a few stands to purchase tickets on site. We opted to pay for one ride and rode The Cyclone. The Cyclone is a wooden ride that first opened in 1927, so it was a bumpy ride to say the least.
After Luna Park, you can stop at Nathan's Famous to grab a hot dog or explore around the board walk. It does get very crowded here, so we recommend heading out for a morning and leaving in the afternoon when the crowds pick up.
Sunbathe at Sandy Hook Beach
Location: Sandy Hook, New Jersey
This is one of the best summer weekend day trips from NYC, in our opinion at least! An overview is that you catch a ferry from Manhattan and take it to Sandy Hook, then you can visit any one of the four beaches at Sandy Hook for the day. It is surprisingly easy to head over for the day from Manhattan and is one of the best day trips to do, in our opinion!
How to Get Here?
Ferry Ride:
Seastreak ferry provides ferry rides for the day to Sandy Hook beaches. The Seastreak has two pick up points, from east 35th Street and Battery Maritime Building (10 South Street, Manhattan). From here, the ferry will take you Sandy Hook Beach. The ferry ride is 35 mins each way, so it's relatively quick. The ferry has indoor seating and an outdoor platform on top. The tickets are $50/ person roundtrip. Tickets must be bought in advance and can sell out, we recommend booking at least 1 week in advance. We have tried to book the week of before and it was sold out, so don't make our mistake! The ferry typically has 2-3 departure times in the morning and then 2-3 home in the evening, you're tickets are timed and they do check!
At Sandy Hook:
Once you're at Sandy Hook, there are four nearby beaches to choose from. Not all beaches are walkable, however you can rent a bike once you're there, bring your bike on the ferry to Sandy Hook, Uber, or use the complimentary shuttle bus that will take you there. Of note, this shuttle service was not running last year due to Covid-19 so check out their website for the latest update.
The Beaches
As mentioned, there are four main beaches at Sandy Hook. North Beach, Gunnison Beach, Beach Area C and Beach Area E.  North Beach is the most popular as it provides the best views of the Manhattan skyline in the distance. This beach is also the closest to ferry, making it walkable. Gunnison Beach is a little south of North Beach, so there are still skyline views and it is walkable. The main differentiator is that Gunnison Beach is a clothing optional beach. Lastly, Beach Area C and E are side by side and further south. These two beaches are the most family friendly and furthest from the ferry, so you cannot walk there. These two are our favorite beaches as they have good washroom facilities and food trucks. Last year, it was a smoothie bowl and iced coffee food truck- perfect! If you choose to bike to these beaches, there's a biking trail that will take you directly there as well.
For more details on the Sandy Hook beaches day trip, this post has all the details.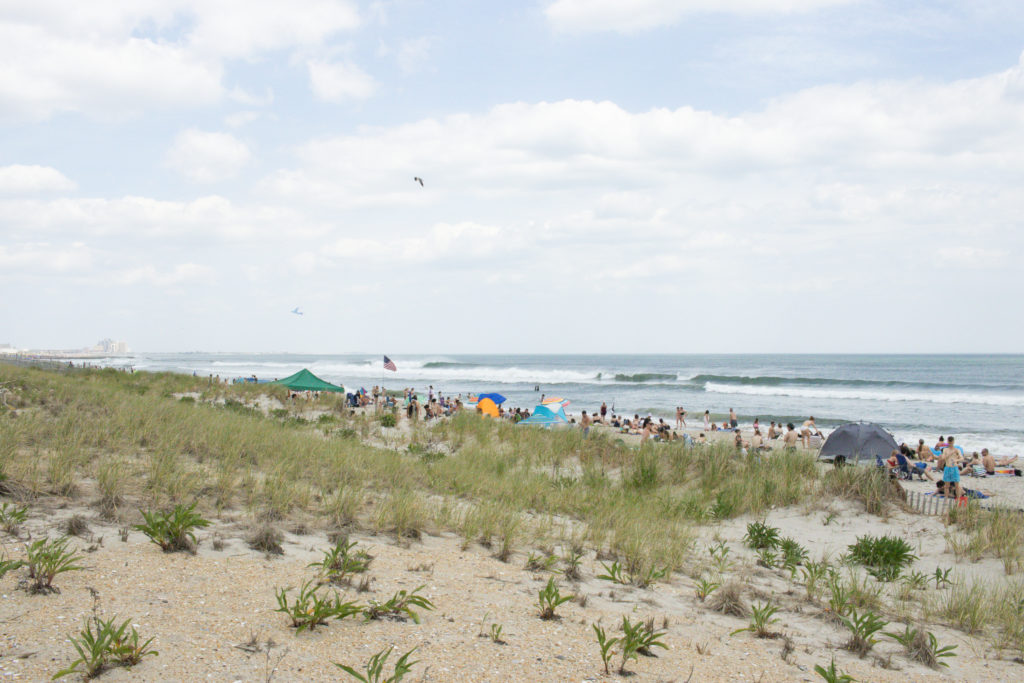 Explore Rockaway Beach
Location: Queens, NYC
If you're hoping to stay more local, then we recommend Rockaway Beach. While Rockaway Beach is in Queens, depending where you live, this may be further than the Sandy Hook beaches. With that said, it is also a great day trip spot. The Rockaway's are famously known from The Ramones song Rockaway Beach, but even on their own they are a stand out!
How to Get There?
Located in Queens, you can transit out, drive or take the NYC Ferry. If you take the subway out, you will need to transfer to the QM16 to reach the beach area. If you're driving, it's about an 1 hour and 30 mins from Manhattan. Lastly, and our personal favorite, is taking the NYC ferry. The Rockaway Ferry is 57 minutes from the Pier 11 dock in Manhattan. It does make one additional stop in Brooklyn at Brooklyn Army Terminal/ Sunset Park. We will say it again, you cannot beat commuting on a ferry for only $2.75! Once you get to the Rockaway docks, there is a complimentary shuttle or you can walk. the walk is only 10 minutes and is what most people opt for.
The beach area goes from Beach 81st Street down to  149th street. At 149th street, the beach continues but turns into Riis beach. The ferry will drop you off around 108th Street. There is still boardwalk here and you can either stay here or walk East along the boardwalk to find your perfect spot for the day.
What to Eat?
Along the boardwalk there are several food options, all of them officially open Memorial Day weekend. Furthermore, there is the Rockaway Beach Surf Club which is very popular taco restaurant with a casual atmosphere. This is about a 30 min walk from the beach area closest to the ferry, so be plan for this trek. Otherwise, we recommend Caracas Arepa Bar for delicious smoothies, fries and drinks right on the boardwalk. If you caught a morning ferry, head into Greenhouse Cafe for your iced coffee and Boardwalk Bagel for your breakfast sandwich, both found on 108th Street and on your route to the beach.
There you have it, some of our top recommended summer activities in the city. There are of course many other recommendations, such as rooftop bars and Shakespeare in the Park, but these are our personal favorites!