Christmas time in New York City can feel like magic. From the Christmas markets to the giant Christmas trees and shows, there's something for everyone. We've spent our last three Christmas holidays in the city, and while there is never enough time to do it all, we have a few favorites we make sure to complete. Below you'll see our top 10 must see's if you find yourself in the big apple around the holidays.
When's The Best Time to Complete Your NYC Christmas Bucket List?
If you visit anytime after American Thanksgiving you'll be guaranteed to have everything Christmas related available to you. Most holiday markets and shows will start by the second or third week of November. We recommend researching each activity on your NYC Christmas bucket list ahead of time to determine exact opening dates and plan accordingly.
The Lotte New York Palace Christmas Tree
Located: 455 Madison Ave
The Lotte New York Palace Christmas Tree is a located just two blocks off of 5th Avenue. Located in front of the Lotte New York Palace, the tree is open to the public so feel free to walk past the open gates into the plaza. We love visiting this tree as it's often less crowded and you can really enjoy the enormity of the tree without the crowds. This tree is truly stunning and should be a must-see on anyone's NYC Christmas bucket list.
Union Square Holiday Market
The Union Square Holiday Market is an internationally renowned Christmas market in the middle of Manhattan. Filled with over 100 booths, you can shop around and find some local items for everyone on your Christmas list. Open from November 18th to December 24th, make sure to add this to your list!
5th Avenue and Saks Fifth Avenue Light Show
5th Avenue is a famous street to walk through on any given month, but in December it's a must-see. Start your walk at 59th Street and 5th Avenue at The Plaza hotel, which was famously visited by Kevin McCallister in Home Alone: Lost in New York. From here, walk south along 5th Avenue and take in all the festive decorations and magical window displays. Some notable stores include Cartier, Bergdorf Goodman, FAO Schwarz and Saks Fifth Avenue. The Saks Fifth Avenue store will also have a light show that's accompanied by music. Every year the LED light show will feature a different theme, so it'll always be 'new' when locals visit.
Local Tip: On weekends after dark, this spot will get extremely crowded so plan accordingly. We recommend at least doubling your time estimates in this area!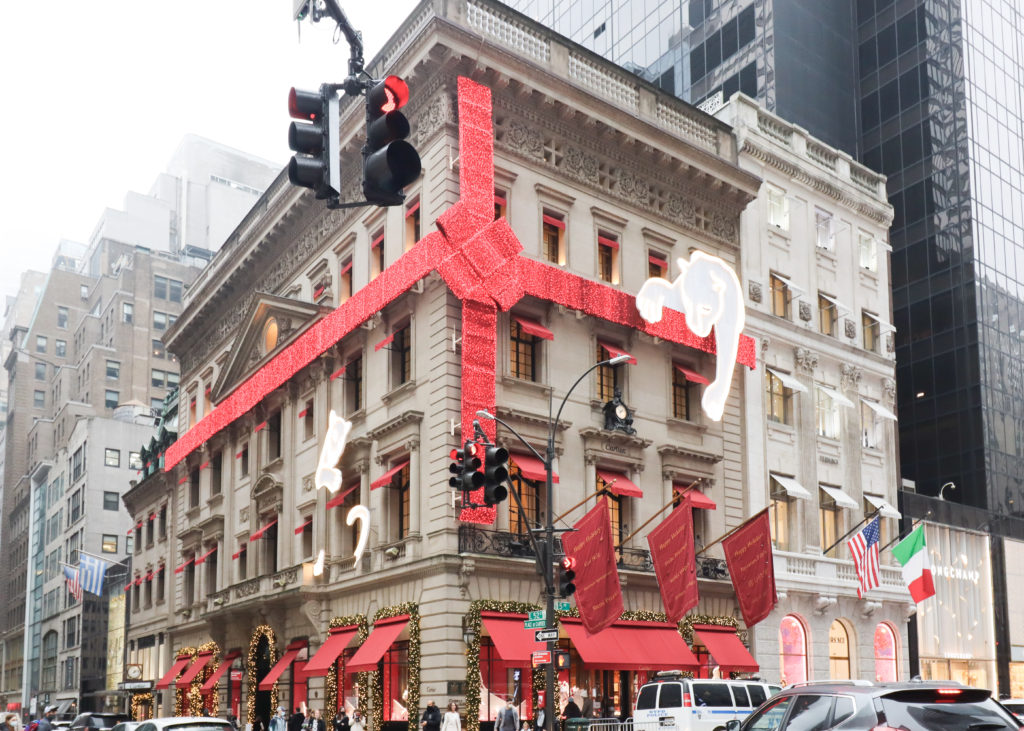 The Rockefeller Christmas Tree
Location: 45 Rockefeller Plaza
The Rockefeller Christmas Tree is a NYC Christmas bucket list staple. The Rockefeller tree is steeped in history, with the first tree dating back to 1931. Located in the Rockefeller Plaza, just off of 5th Avenue, this continues to be a must see NYC landmark. If you happen to be in the city the Wednesday after Thanksgiving, the annual tree lighting ceremony is a great event to try and see!
Hudson Yards
Hudson Yards is one of the newer Christmas attractions in the city. The Shops & restaurants at Hudson Yard's gets decorated with thousands of Christmas lights every year. Additionally, they have a lot of free Christmas activities for kids throughout the month- we recommend checking out the Hudson Yards website for details. If shopping is not your preference, stick to the outdoors. Both the vessel and surrounding area is also decked out in Christmas lights making this area feel like a Christmas fairytale.
Dyker Heights Christmas Lights
Location: Dycker Heights, Brooklyn (between 83-86th street and 11-13th Avenue)
Dyker Heights is a neighborhood in Brooklyn filled with homes decked out in Christmas lights. The amount of Christmas lights on some of these houses is incredible and such a fun spot to add to your NYC Christmas bucket list. The lights will turn on after dusk (~5pm) and be on until 9pm. You can either explore on your own or opt to do a guided tour. The guided tour will offer history and fun facts, however it's not complicated to walk around on your own.  All houses are located between 83 and 86th street and 11th-13th Avenue.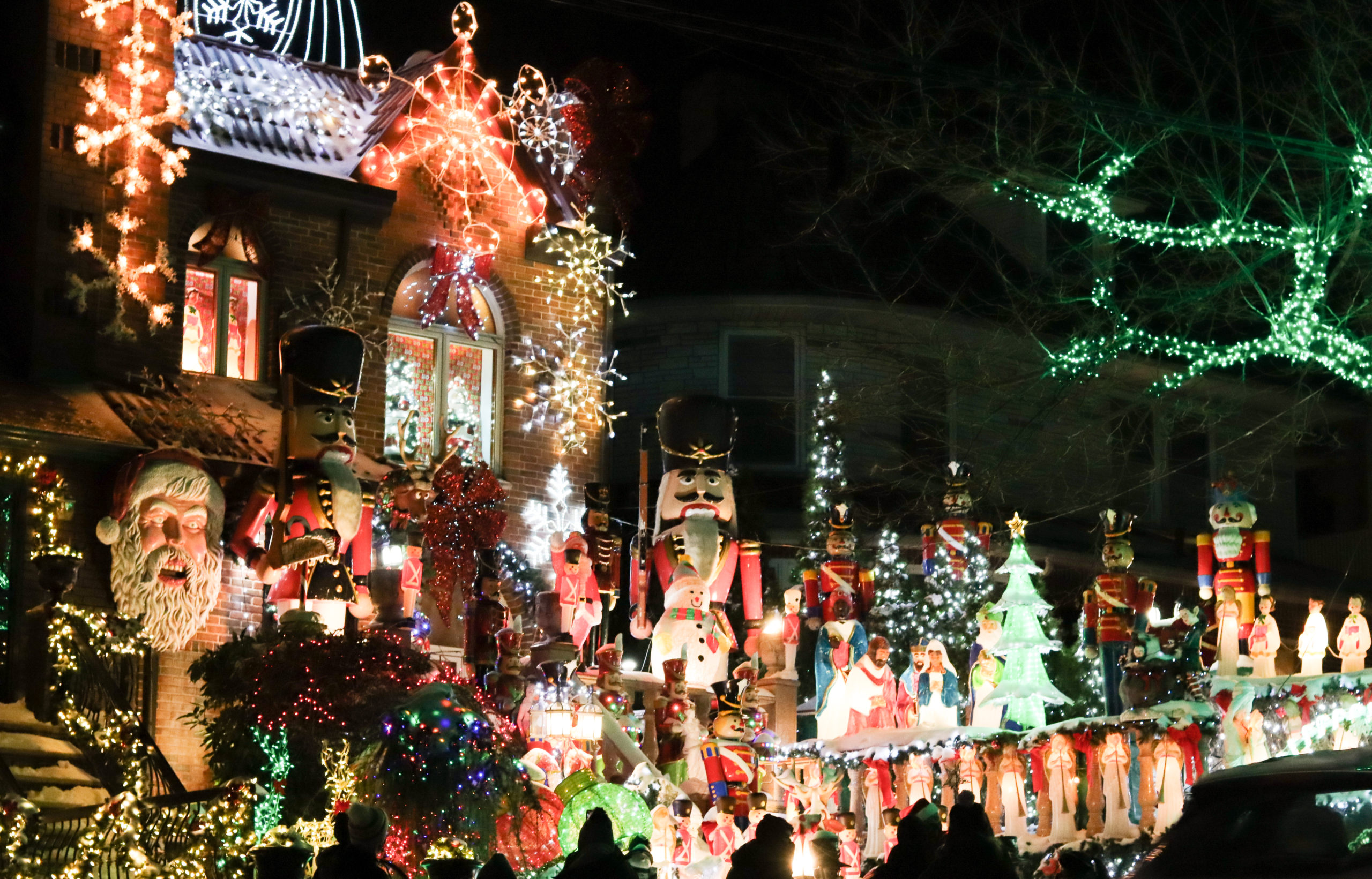 Rolf's German Restaurant
Location: 281 3rd Avenue
Rolph's German Restaurant is re-opening this year and we are excited to check this spot out. Rolf's is a German restaurant that turns into a Christmas-lovers dream over the holidays. This restaurant covers nearly every inch of their restaurant in Christmas decor, making it quite the experience. They take reservations by phone only and we do recommend calling ahead as this spot gets busy in December.
Miracle on 9th Street
Location: 649 East 9th Street
Another Christmas themed spot to enjoy a drink is Miracle on 9th Street. This pop-up bar in the East Village offers Christmas themed drinks and the inside's Christmas decor is reminiscent of a tacky Christmas sweater. Their menu features many Christmas-themed drinks, including die-hard drinks, however the food menu is very limited. We recommend stopping here for a drink and then moving on for dinner somewhere else.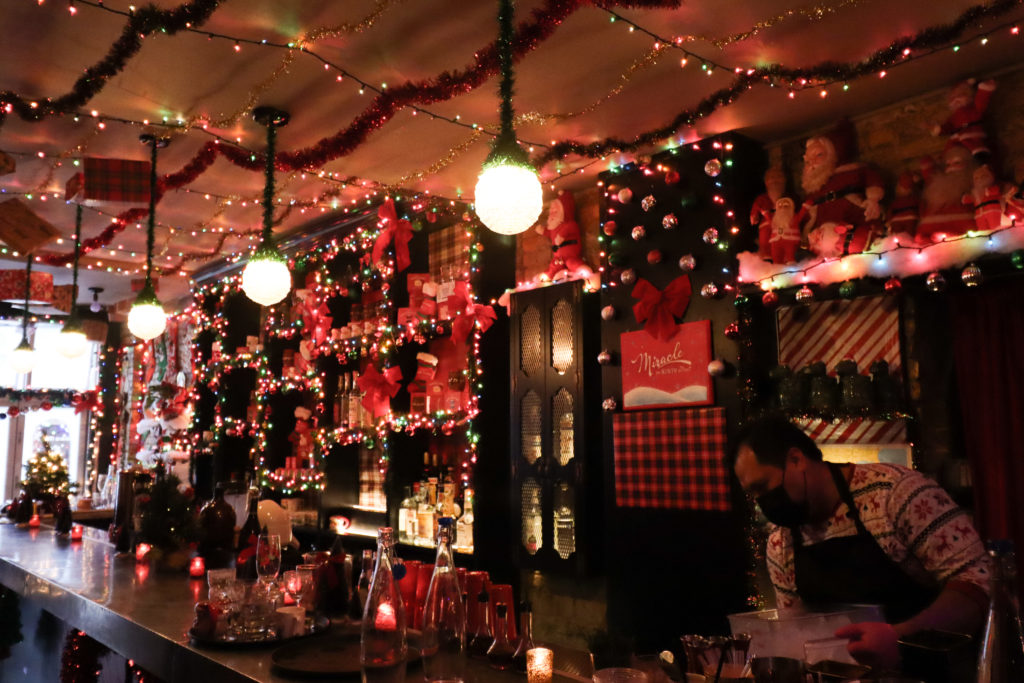 See a Show
When in NYC, see a show! At Christmas we highly recommend checking out the The Rockette's Xmas Spectacular at Radio City or the NYC Ballet's The Nutcracker. The Rockette's Xmas Spectacular at Radio City is a really fun show to watch and kid friendly. It's located at Radio City, just off of 5th Avenue. The NYC Ballet is also back with George Balanchine's The Nutcracker. This show dates back 1954 and truly feels like classic NYC at Christmas time. The ballet happens at the David H Koch Theatre (Lincoln Center) at West 63rd Street at Columbus Avenue. Either show, you can't go wrong!
Bryant Park Winter Village
Bryant Park's Winter Village is another NYC Christmas staple. Filled with holiday shops, delicious snacks and ice skating- there is something for everyone. There's over 170 holiday shops, including eateries that offer donuts, waffles or drinks. There's The Lodge by Prime Video that offers alcoholic drinks at an Apre-themed outdoor space. Furthermore, there's a 17,000 square foot skating rink in the center of the winter village. You can bring your own skates to skate for free or rent a pair for a fee. Admission to the Winter Village is free and we usually end up visiting a few times every Christmas season!
Enjoy!
While this list features our ten favorite Christmas activities in NYC, it is far from the only Christmas-themed attractions that NYC offers. Other honorable mentions to add to any NYC Christmas bucket list include: Museum of Ice cream, Glow New York Botanical Gardens, Bronx Zoo Lights, Seamore's mixology class (in Brookfield Place), The Ocular, Upper East Side home decorations, Washington Square Park and Columbus Circle Christmas Market.
Looking for other winter activities to do in NYC? Here's our top six recommendations! Needing to warm up in the afternoon with a hot drink? Check out our favorite cafes in the city.
Do you have any favorite Christmas spots to visit in NYC? Let us know!