Not far from Manhattan is Sandy Hook, New Jersey. Sandy Hook is home to some great beaches and is one of our favorite summer day trips from NYC. Sandy Hook is apart of the Gateway National Recreation Area and is located at the most northern part of Monmouth County.
As an overview, you can catch a 30-minute ferry from Manhattan and take it to Sandy Hook.  From there, you can visit any of the four beaches at Sandy Hook for the day. It is surprisingly easy to head over for the day from Manhattan, the beaches are clean and overall it's one of the best summer day trips to do, in our opinion!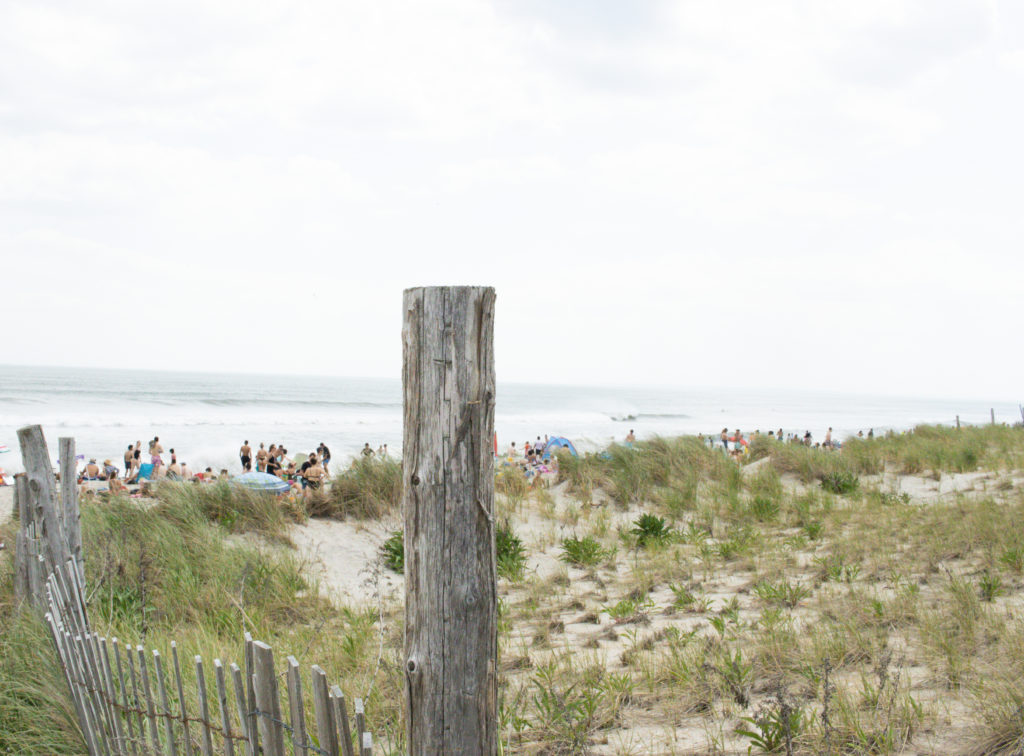 How to Get to Sandy Hook?
Ferry Ride:
Getting to Sandy Hook is relatively straight forward and set up for New Yorkers to make the trip over for the day. Seastreak ferry provides high-speed ferry rides for the day to Sandy Hook beaches. The Seastreak has two pick up points, from East 35th Street and Battery Maritime Building (10 South Street, Manhattan). We recommend, picking the ferry up from East 35th Street so you can grab a window seat or a spot upstairs.
The ferry ride is direct and takes about 35 mins each way, so it's relatively quick. The ferry has indoor seating and an outdoor platform on top. The tickets are $47/ person roundtrip. Tickets must be bought in advance and can sell out, we recommend booking at least 1 week in advance. We have tried to book the week of before and it was sold out, so don't make our mistake! The ferry has three departure times in the morning, the first departure is at 8 am and the last is at 1:20pm. For your return ferry, there are three more departure times. The first departure time is 3:15pm with the last ferry being at 7:15pm. When you book your tickets, you reserve your ferry time and they will check this when boarding the ferry.
Lastly, the ferry is air conditioned inside, has wifi and an indoor bar. So, while this is your transportation to the beach- it is quite nice!
At Sandy Hook:
Once you're at Sandy Hook, there are four nearby beaches to choose from. Not all beaches are walkable, however you have some options for the non-walkable beaches. You can either bring your bike on the ferry to Sandy Hook, Uber, or use the complimentary shuttle bus service at Sandy Hook. There used to be Ray's Bike Rentals located right off of the ferry, however this has closed following the pandemic. Furthermore, the complimentary shuttle service was not running last year due to Covid-19, so check out their website for the latest update.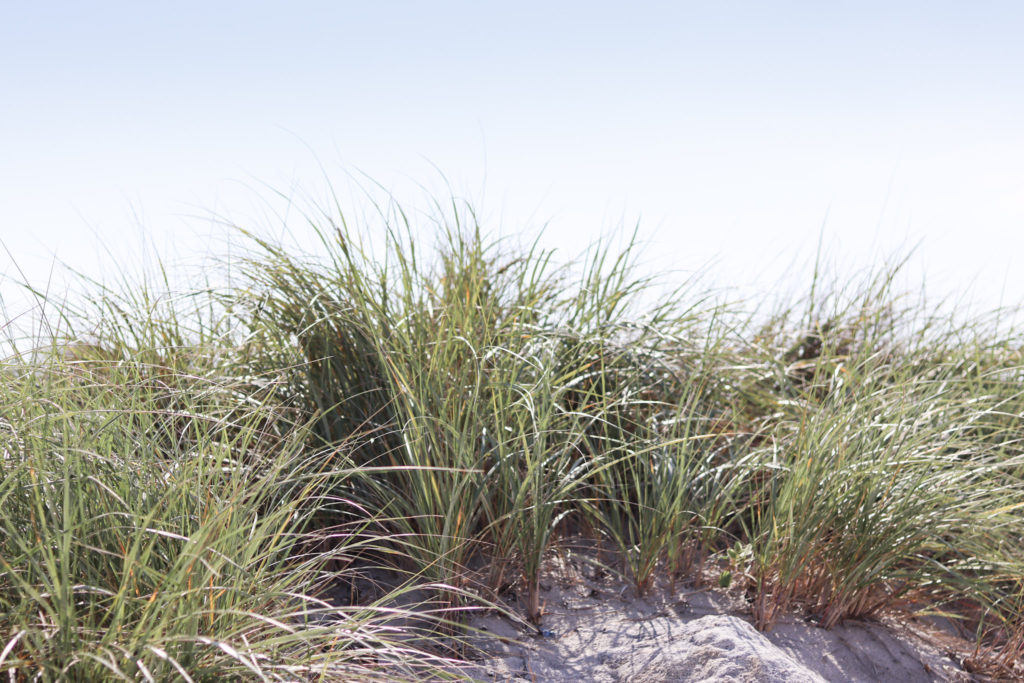 The Beaches at Sandy Hook
As mentioned, there are four main beaches at Sandy Hook. North Beach, Gunnison Beach, Beach Area C and Beach Area E. It can be challenging determining which beach to visit, but rest assured, no matter which beach you choose to visit you won't be disappointed.
North Beach
North Beach is arguably the most popular beach to visit in Sandy Hook. This beach is closest to ferry, making it easily walkable. The 0.6 mile between the ferry and beach has walking trails the whole way, making the quick 10-minute walk short and easy! Now, we imagine this beach is the most popular as it boasts the best views of the Manhattan skyline in the distance. While there are some good (distant) skyline views,  you do get these views along the other beaches as well.
Gunnison Beach
Just south of North Beach is Gunnison Beach. Gunnison Beach is 0.9 miles from the Seastreak, which makes it another very walkable option from the ferry. This beach has almost the same skyline views as well. The main differentiator between North Beach and Gunnison Beach is the clothing protocol. Gunnison Beach is a clothing optional beach, which tends to also draw a young and rowdy crowd.
One thing to remember for both North Beach and Gunnison Beach, is the limited resources here. There are no lifeguards, minimal trash cans and no food options. The beaches are incredible, but there will need to be some pre-planning to fully enjoy your beach day!
South Beach Area C and E
Lastly, there is South Beach Area C and E. These two beaches are right beside each other, about 0.3 miles apart. The South Beaches are the furthest from the ferry, about 3.5 miles each way. Due to the distance, it is difficult to walk to these beaches and we recommend using the complimentary shuttle or biking. For biking, there is a bike trail you can follow to the beach and it's quite nice. We opted for biking down to these beaches and enjoyed it. If you bike, bring a bike lock so you don't have to drag your bikes down the sandy path to the beach.
These two beaches are the most family friendly option of the four beaches. While, these are further south, you do still have some skyline views. These two beaches also have the nicest facilities for grabbing some drinking water or using the washroom. Furthermore, during the summer season, they will have a little table set up for chair and beach umbrella rentals. Lastly, these two beaches are lifeguarded.
Where to Eat at Sandy Hook
The Sandy Hook beaches are filled with beautiful, sandy, clean coastlines and Atlantic Ocean swimming, however they do lack food options. When you take the ferry over, you will spend all afternoon at the beach, so you will need to bring food. We recommend packing a cooler and bringing some cool drinks and sandwiches for a beach lunch.
South Beach Area C will be the only spot you can find a few food options. This beach often has 1-2 food trucks parked just before you enter the beach area. Last year when we visited, it was a smoothie/ açaí bowl food truck and a coffee truck. So, while these delicious (and cool) treats were welcome, it was not enough for a day at the beach. We often bring our cooler backpack on these days and grab a cool treat for an afternoon sun break.
There you have it, one of our favorite summer day trips from NYC. If you're looking for some other beach options or NYC summer fun, head over to our must do list for any NYC summer.