Every year the start of spring gets us excited for the upcoming warm weather. Living in NYC, we always start to plan ways to escape for the day and enjoy nature. Going on a hike is one of our favorite outdoor activities to do. What many don't realize is how many great hikes upstate New York has! We have compiled a list of our top 5 below and highly recommend checking one out this spring!
Mount Beacon and the Fire Tower Hike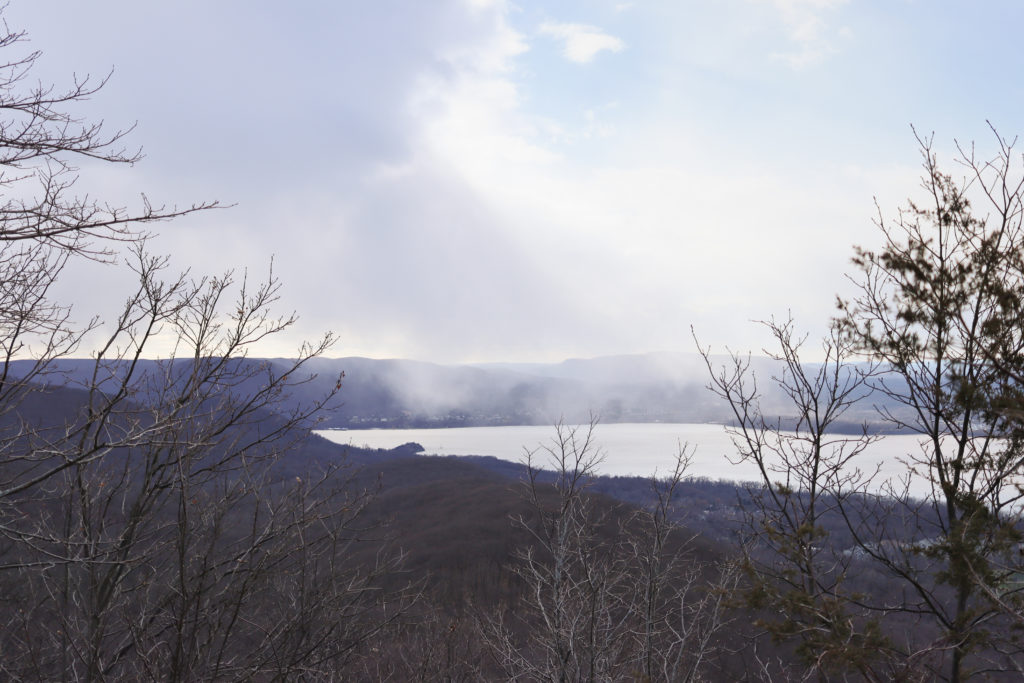 Beacon, NY
Distance from Manhattan. By car: 1-2 hours By train: 1.5 hours via Metro-North train
Distance: 4.2 miles  Elevation gain: 1,500 ft Time: 2.5 hours Level: Moderate to hard
Mount Beacon is a popular hike in the Hudson Valley and for good reason. Not only is it the highest peak in the Hudson Valley, but it's a fun hike! The hike to the Mount Beacon lookout is about 2 miles round trip, however we highly recommend adding in the Fire Tower to make it 4.2 miles roundtrip. Mount Beacon's trailhead is an easily accessible parking lot, about 1 mile off of Main Street. If you decide to take Metro-North like we did, just grab an Uber from the train station or use the Beacon Bus Loop.
Hiking Mount Beacon Directions:
Follow the casino (red) trail markers, it's well marked and easy to follow. The initial hike is steep making it moderate to hard hiking. Mount Beacon's lookout point is the ending site of the cable railway, but remains as a historic ruin. From here, continue hiking to the Fire Tower via a logging road. Eventually the red trail marks turn to white, which is where you backtrack 100 ft to climb to the right up the rocks. The Fire Tower is right at the top! You can climb up the fire tower and on clear days you can see NYC skylines. However, it is windy!
Breakneck Ridge Hike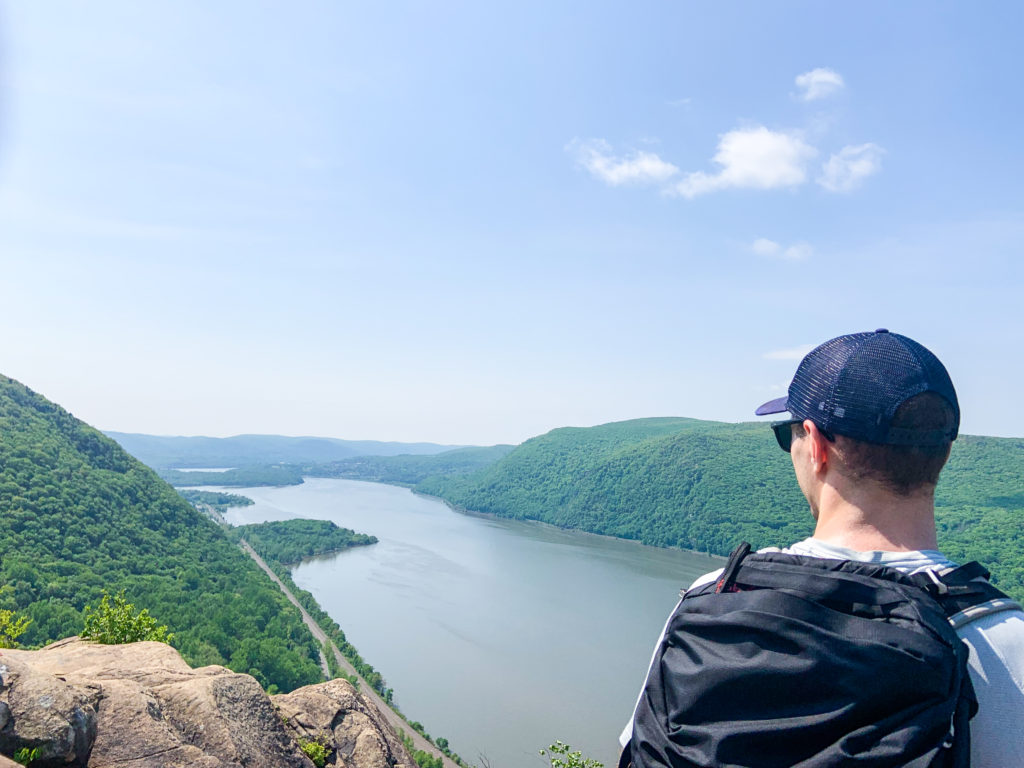 Cold Springs,  New York
Distance from Manhattan.  By car: 1-1.5 hours By train: 1 hour via Metro-North train
Distance: 3.2 miles  Elevation gain: 1,250 ft Time: 2-3 hours Level: Moderate to hard
Breakneck Ridge is a very popular hike in upstate New York. The hike's popularity has to do with its incredible summit views and ease of accessibility from NYC. The Metro-North train has a makeshift stop called Breakneck Ridge during summer months. This stop drops you off right at the trailhead.
The hike starts with a steep ascent that does require some amount of scrambling. If you bring a dog, we have seen many having to carry them during this section. From there you reach the summit relatively quickly. Take your time to enjoy the views, they truly are amazing. After the summit we recommend continuing to Wilkinson's Memorial Trail so you create a loop. By taking this trail you will end back in the parking lot for Breakneck Ridge. If you are taking the train, head into the town of Cold Springs to catch the train back via the Cold Springs stop. The town is walkable from the parking lot, but there are also cabs/ ride share options.
Kaaterskill Falls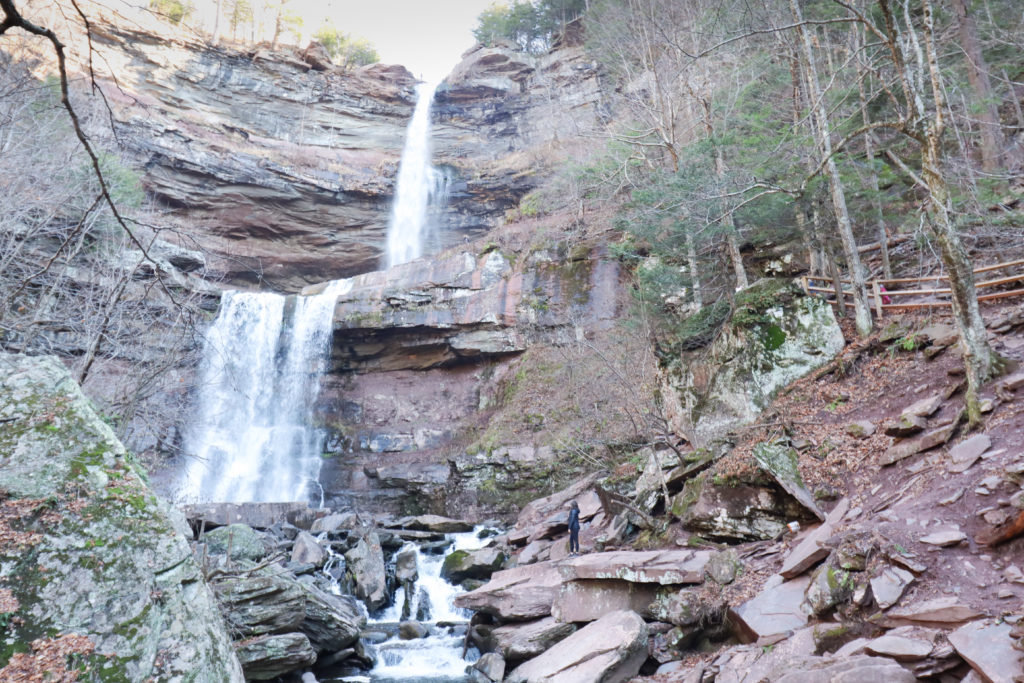 Catskills, New York
Distance from Manhattan.  By car: ~2 hours, By train: Not accessible
Distance: 2.6 miles  Elevation gain: 787 ft Time: 2 hours Level: Easy to moderate
In the heart of the Catskills is an incredible 260-foot waterfall that is well worth the short trek to see. While there are many waterfalls to be found in upstate New York, we feel that hiking Kaaterskill Falls is a can't miss spot! The hiking itself is relatively easy and on a well-laid out trail with steps on the steering inclines. The trail is best from April to October, once the ground gets heavily wet the hiking becomes riskier. There are two routes to do this hike, however we highly recommend going from the upper deck. For details, directions and recommendations check out our post. 
Mount Jo Hike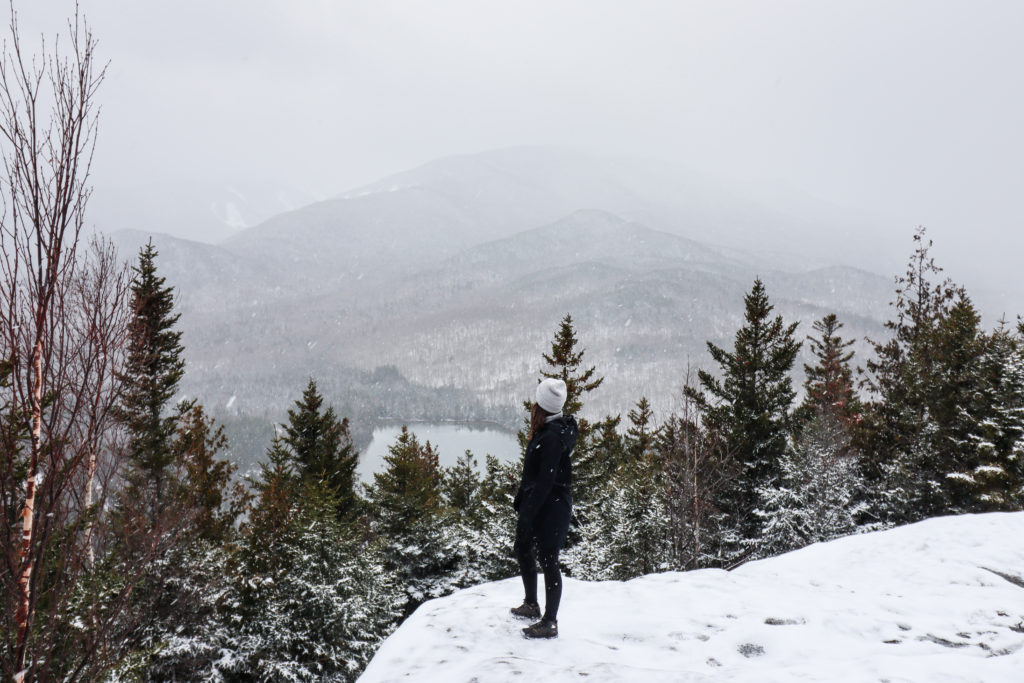 Lake Placid, New York
Distance from Manhattan.  By car: ~5 hours, By train: Not accessible
Distance: 3 miles  Elevation gain: 700 ft Time: 2 hours Level: Moderate to hard
Hiking Mount Jo is one of the few opportunities to take in views far exceeding the effort required to summit. The hike is well mapped out with signs for both the short and long loop. We took the short look up and the long loop down. The Short loops requires some scrambling and this is were the hike rating goes from easy to hard. This hike is open year-round, so I imagine in the summer the scrambling is much easier! We completed this hike in early December, and enjoyed having the snow covered trails to ourself, however this did increase the rating from moderate too hard. Overall, Mount Jo perfect all season hike ad is especially popular during peak season (May-Oct).
Indian Head Trail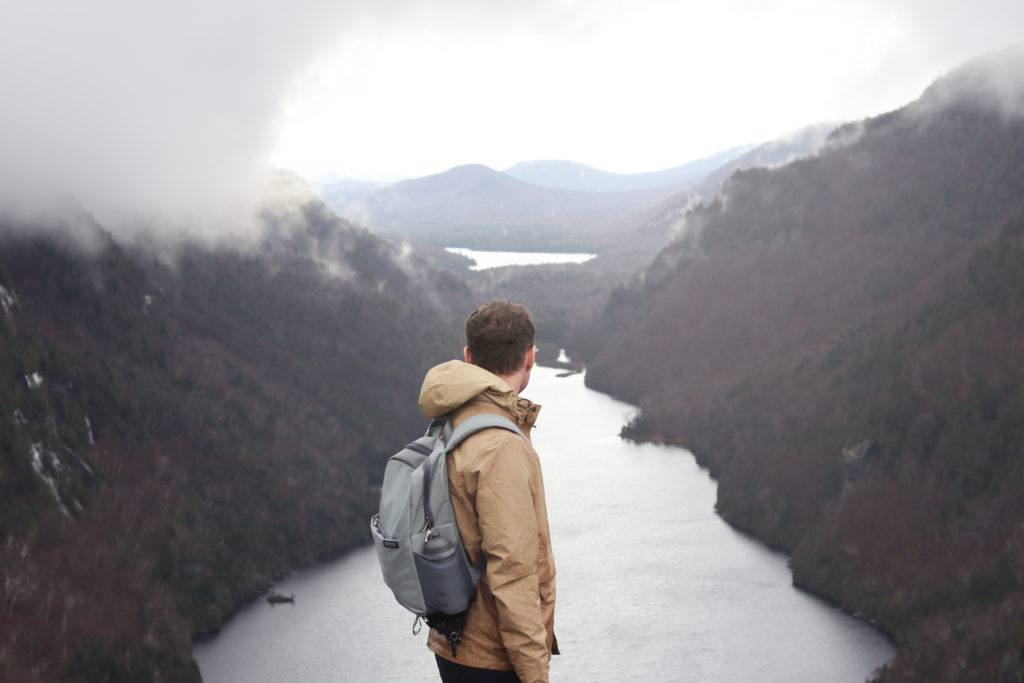 Lake Placid, New York
Distance from Manhattan.  By car: ~5 hours, By train: Not accessible
Distance: 11 miles  Elevation gain: 1,677 ft Time: 5-7 hours Level: Hard
Indian Head Trail is a popular hiking trial in Lake Placid, and for good reason! The trail itself is a fun one to hike and the summit views are breathtaking! The hike itself has many different options for how to summit, so make sure you map out your preference. Furthermore, there is an option to add an additional 2 miles onto the hike to see rainbow Falls. If you are going in a 'wetter' season (ie. spring or fall) we feel this is a great add on! With that said, we have seen some summer photos where the waterfall is little more than a dribble. This hike does require some pre-planning of routes as there are multiple options and no cell service on the trail. For more details, check out our post.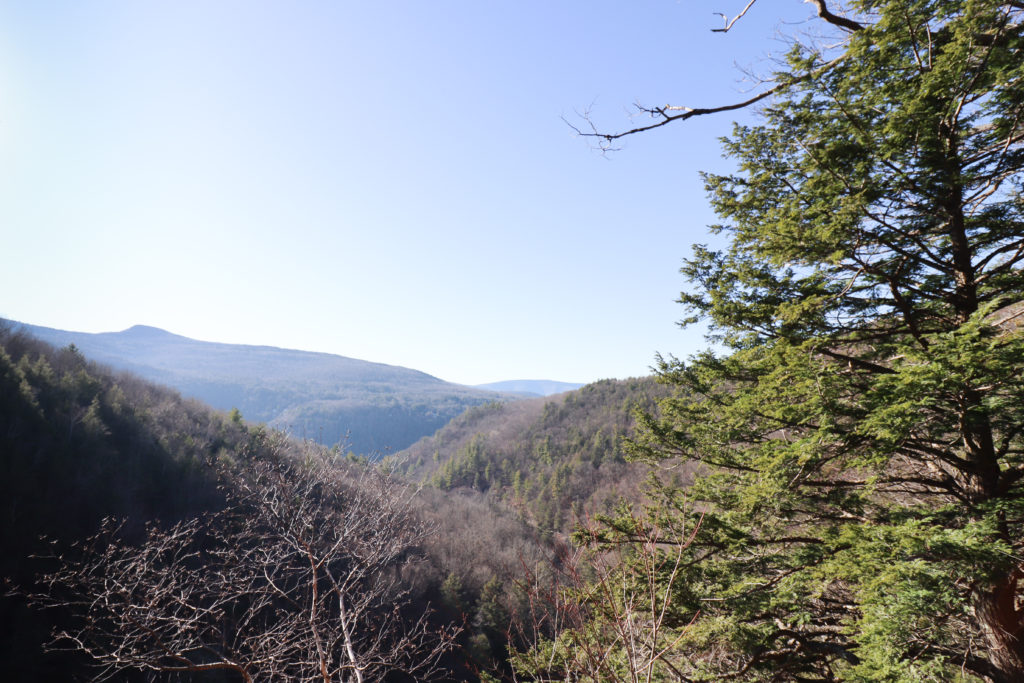 Lastly, with any hike, no matter the distance, please remember to be mindful of your environment. We have listed out some important hiking tips below.
Hiking Tips
Hiking shoes: These are an absolute must for this hike. The terrain does get rough, with areas of scrambling. If there is any rain you will be in trouble without these!
Moleskin: Equally important to the aforementioned tip is every hikers BFF – moleskin. Unfortunately we forgot ours, and were rewarded with the WORST blisters and will forever keep a memory of this hike on ours heels.
Ticks: The benefit of winter hiking is no ticks, but not for the three others seasons. Make sure to avoid going off trail, check for ticks afterwards ,and most importantly, spray yourself with a repellant prior to the hike.
Leave no trace: Bring out what you bring in. We only have one Indian Trail, so make sure you leave it as is or better than you found it. This includes staying on the trail and not bringing nature home with you.
Bring water: Staying hydrated is one the most important parts of hiking, so make sure you bring plenty for this hike. Also bring snacks and food that offers protein and carbs to keep you going on this long trek.
Know your Directions: Knowing where to go on the trail can be key, especially for trails that have no cell service. We love and rely on the AllTrails website and app. The app even has an upgraded version that allows you to download hiking trail maps to your phone.
We hope this inspires you to get out and hike. If you have a favorite hike that's not listed, let us know!