If you're heading to NYC then you certainly need to prepare to grab a NYC bagel for breakfast one morning, or every morning! We always start our Saturdays with bagels and a coffee from a local coffee shop, which has become one of our favorite parts of our weekends. This routine started during the pandemic after shops opened for take-out, we couldn't not take advantage of it. There are so many bagel shops throughout NYC, especially in Manhattan and Brooklyn. As we've been making our way through the local bagel shops, we have tallied up some of our favorites and the highest rated.
History Behind NYC Bagels
Before we head into the bagel shops, here is some history to the NYC Bagel phenomenon. NYC bagels are characterized by having a crust with a touch of hardness along with a doughy center and a slight tangy taste – these bagels are both delicious and iconic to NYC. The closest competitor of a NYC bagel would be Montreal bagels, largely due to the end-rolled and kettle-boiled technique. The boil and bake method for NYC bagels was said to be brought over by the Jewish community that immigrated from Poland. There is a deep bagel history around the city and we are happy to partake in enjoying the products of this history. For more details, check out this great article on the NYC bagel history.
Lastly, we highly recommend paring your bagel with a coffee – check out some of our favorite coffee shops in the city as well.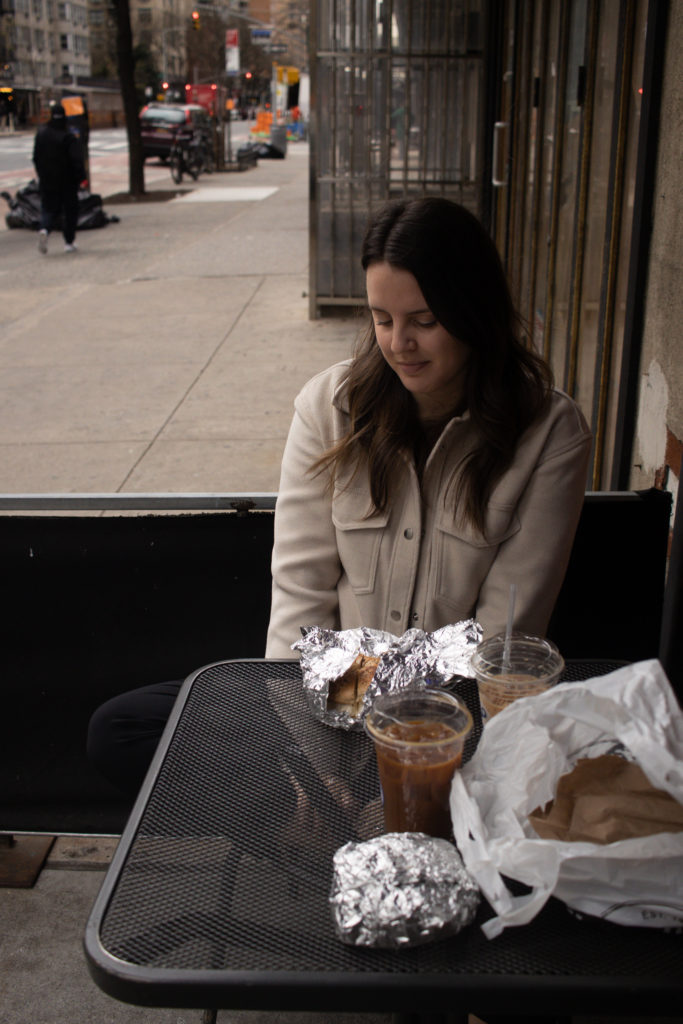 The Top NYC Bagel Locations:
Tompkins Square Bagel
165 A Avenue or 184 2nd Avenue
Tompkins Square Bagels is one of the best in the city. Their bagels are hand-rolled, kettle boiled and made fresh daily (on-site). The owner and operator, Christopher Pugliese, got his start at Bake City Bagels in Brooklyn, NY. Many employees from Lake City Bagel have gone on to open their own, quite successful, bagel shops. Seriously, you cannot go wrong at this stop. As a bonus fact, this is noted to be Timothee Chalamet's favorite bagel spot in the city – coming from a born and bred New Yorker this is a great endorsement!
Pick-A-Bagel
1475 2nd Avenue
Pick-A-Bagel has several locations around the city, however their 2nd Avenue location is our local bagel shop. This bagel shop has been making hand-rolled, kettle boiled bagels for over 30 years. The first shop opened in 1988 and they have only expanded since.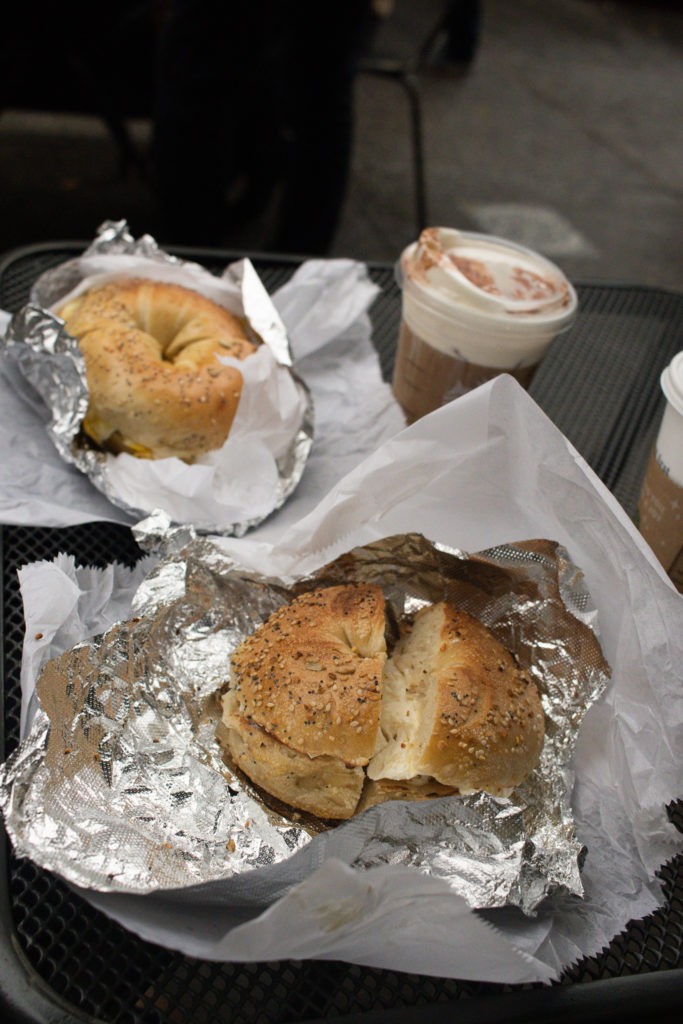 H&H Bagels
1551 2nd Avenue
Next up is H&H Bagels, another very popular bagel shop in the Upper East Side. Founded in 1972, the first store was on Broadway Avenue and while the original store has closed down the same great bagels remain in their other shops found around the city. H&H bagels has that classic NYC bagel shop feel to it. If you arrive for bagels after 9:30am, there will most likely be a long line, but they're worth it.
Black Seed Bagels
1188 Broadway Avenue or 176 1st Avenue
Black Seed Bagels is run by James Beard, nominated executive chef, and, head baker, Dianna Daoheung. We were drawn to this bagel shop as it ties into our Canadian roots. Their bagels are made with the classic New York bagel recipe, however they borrowed Montreal's baking style to add a unique twist. Opening in 2014, this bagel shop has been pushing the envelope on NYC-style bagels.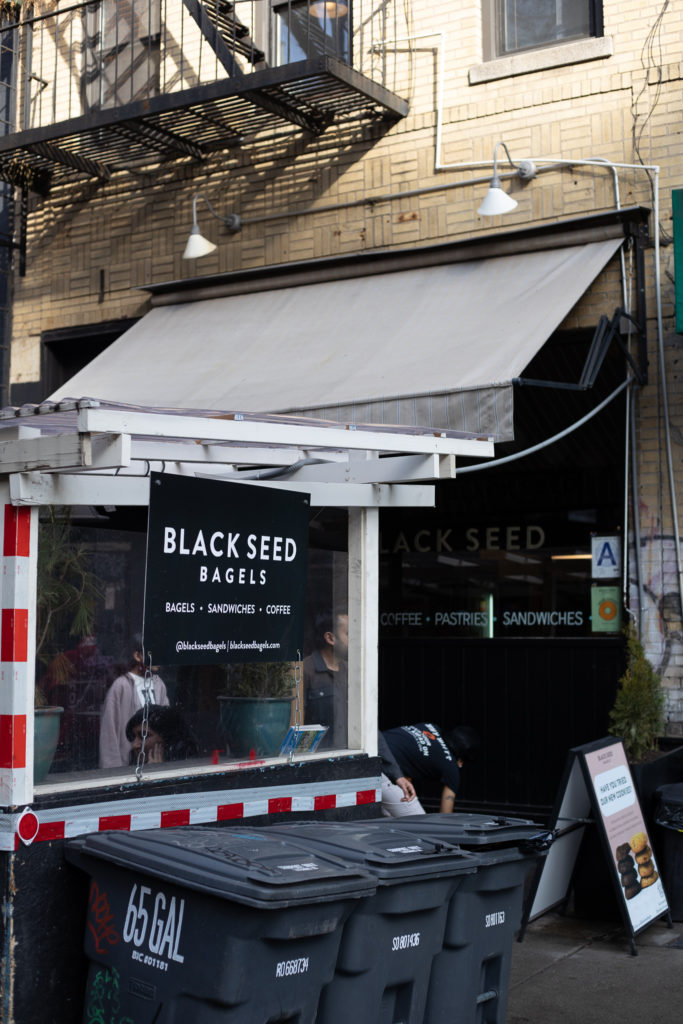 Bagel Hole
400 7th Avenue
Founded in 1985 is Bagel Hole, a snug bagel shop found in Brooklyn. Some magazines will tote this spot as the best bagels in New York so if you find yourself in Brooklyn you should definitely add this spot to your list. They hand roll their bagels and bake fresh on site using only natural ingredients for their bagels.
Murray's Bagels
500 6th Avenue
Located in Greenwich Village is Murray's Bagels. Over 10 years ago Adam Pomerantz, former Vice President of Merrill Lynch, had a dream to own his own business outside of Wall Street and this how Murray's Bagels came to be. Adam stepped down from his financial job and started to apprentice in bagel shops, learning the ins and outs of making great bagels. In November 1996 he finally opened his first small store front and this is where you can go to this day for a delicious bagel in Greenwich Village.
Absolute Bagels
2788 Broadway Avenue
Heading over to the Upper West Side of Manhattan you will find Absolute Bagels. Absolute Bagels was founded by Sam Thongkrieng who immigrated from Bangkok to NYC in the 80s and started his bagel career at Ess-A-Bagel. When you visit, there is almost always a line outside, which should speak for itself about how great this spot it. Additionally, credit cards/ debit cards are not accepted here, so come prepared with cash and an appetite.
Brooklyn Bagel & Coffee Company
286 8th Avenue
Brooklyn Bagel & Coffee Company have four other locations, three in Astoria and one in Greenwich Village, so pick any of these locations to grab a bite! Of all the bagel shops, this is our favorite shop so far. We recommend enjoying these bagels topped with one of their many homemade cream cheese spreads. They also have vegan cream cheese spreads here, so there is something for everyone.
Tal Bagels
Tal bagels is another bagel shop with multiple locations, with 5 locations total you can choose the most conveniently located one. This is a great spot to grab a bagel on the go.
Russ & Daughters
179 Houston Street
Russ & Daughters Bagels can be found in the Lower East Side since it opened in 1914. The bagel shop has been owned and operated by four generations of the Russ family since it first opened. They provide the traditional, and iconic, NYC bagels with all the extra toppings including smoked fish and lox. They also have other baked goods here.
Zucker's Bagels & Smoked Fish
Zucker's Bagels & Smoked Fish have several locations around Manhattan, with the original store founded in 2006 located in Tribeca at 146 Chambers Street. The bagels here are traditional NYC bagels as they are hand-rolled and kettle-boiled using unbleached flours. They add a touch of malt syrup which adds the golden brown exterior to their bagels.
Orwasher's Bakery
308 E 78th Street/ 155 W 66th Street/ 440 Amsterdam Avenue
Another Upper East Side bagel spot is the delicious Orwasher's Bakery. Orwasher's has expanded and now have two other locations around Manhattan if you're not looking to trek up to the Upper East Side. Orwasher's Bakery was founded in 1916 by a Hungarian immigrant family, with the Upper East Side being their home base. They focus on high quality grain and rye breads – paying homage to their Hungarian roots. We love the bagels here, however you cannot go wrong with a cookie or a loaf of sourdough bread either.
Enjoy!