Over the July 4th long weekend we snuck away for a quick trip to Charleston, South Carolina. From the stunning houses, relaxing beaches, amazing restaurant scene and overly nice crowd- this is the perfect long-weekend trip. For our complete Charleston three-day itinerary, keep reading!

Getting Around Charleston
One you're in Charleston, the historic district is where you'll spend most of your time. The historic district is home to the main restaurant scene, historic houses, tours and the waterfront park. When getting around this area, we recommend walking. Walking allows you to not miss anything and is much easier! Parking around the historic district is limited and on weekends can seem impossible. With this said, renting a car is convenient for day trips to the beach or a plantation.
Biking around Charleston
If walking is not for you, you can also bike around the historic area. They have a bike rental service called Holy Spokes. For Holy Spokes, you pick up a bike at any of their bike stands by registering with your credit card. For more information, check out their website. Biking is always fun, but beware of all the cobblestoned streets.
Charleston Water Taxi
Lastly, there is a water taxi service in Charleston. We used this all the time and loved it! The water taxi has four stops on its route, with one being steps from the French Quarter in the historic district. If you are staying at the Charleston Harbor Resort or taking a trip to the USS Yorktown, this is the best way to commute across the river. For details, check out their website for the prices and routes.
Should I Rent a Car?
This is a common question to ask when you visit any city. For Charleston, it could go either way and really depends on the type of trip you're looking for. The historic district is filled with cobblestoned streets, one-way streets and lots of foot traffic so we do not recommend driving in this area. There are parking options on the side of some streets as well as larger parking lots on the outskirts of the main downtown area. Parking is not free, we noticed it to vary from $10-40/ day.
With this said, renting a car can be convenient for day trips, if you stay outside of the main historic district and for families. For day trips to the beach or a plantation, you will need to drive or use a rideshare/ cab. Furthermore, there is not a great public transit system so if you stay outside of the historic district you will need a cab or ride share in. We used a rideshare for a beach day trip, which worked well for us. There was about a 20 minute wait for a rideshare from the beach, which was largely due to traffic. When driving to any of the beaches, there is again limited parking. Parking is along side streets for the most part, so we recommend getting to the beach in the morning.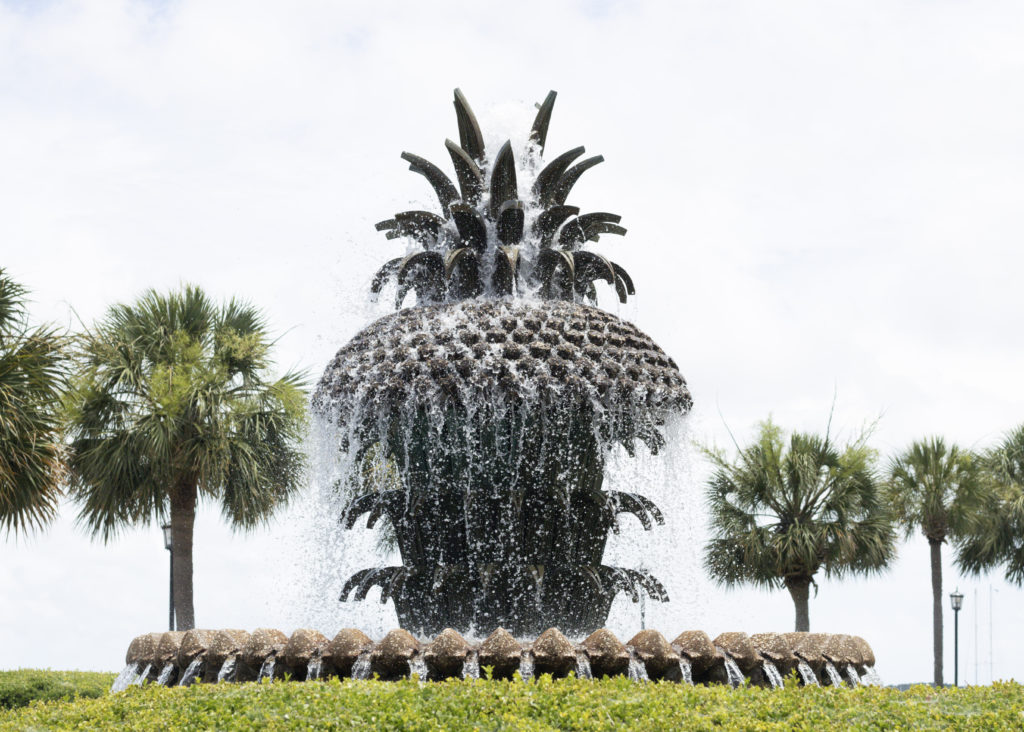 Where to Stay in Charleston?
Historic District
Staying in the historic district will place you in the heart of Charleston. This is a great spot to stay as you can easily pop in for an afternoon break (read: nap), if needed! The historic area is filled with unique hotels, with most of them being relatively small. These hotels can get pricey, so we recommend using websites such as Hotwire and booking in advance. Furthermore, if you are visiting in the summer months, we highly recommend booking a hotel with a pool. The afternoons will get HOT and a pool break will be greatly appreciated.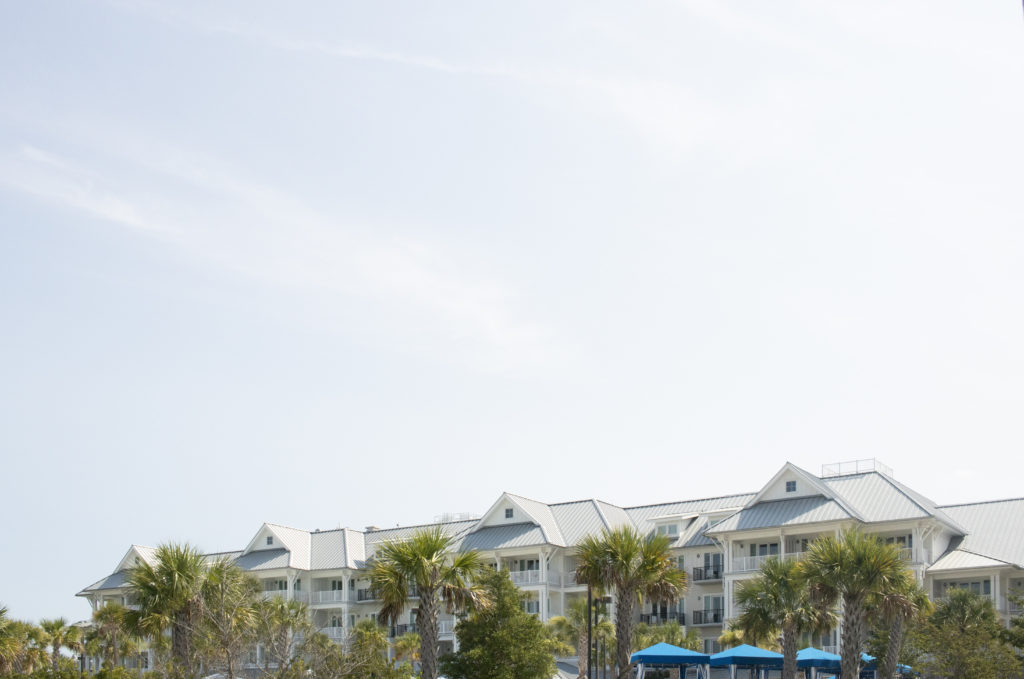 Charleston Harbor Resort and Marina
We stayed across the river from the historic district at the Charleston Harbor Resort and Marina. This is a resort style hotel, which offered the perfect getaway from 2-4pm when the heat got too much for us. This hotel has three outdoor pools, poolside drinks and food as well as a sandy area for beach volleyball or kids play. The hotel inside was not spectacular, but the outdoor amenities more than made up for this. Getting into the historic district was quick using the water taxi. We often used a rideshare for the way back to our hotel and never had any issues getting a car. Overall, this hotel was great for spending three-days in Charleston and we definitely recommend it!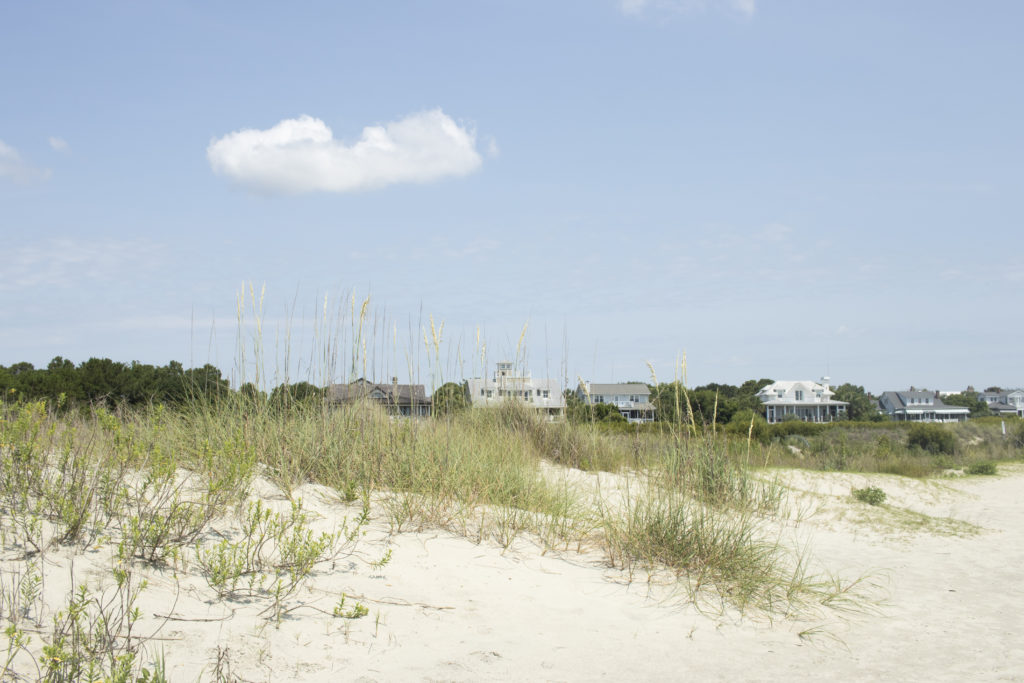 Charleston Three-Day Itinerary
Now, on to the complete Charleston three-day itinerary. Charleston is a perfect city for a three-day trip and we will outline everything to do, see and eat while you are here.
Day One
Morning:
Poogan's Porch: Head over to Poogan's Porch for a delicious sit down breakfast. We loved this spot for both its location and the true Southern feel. The Restaurant itself is in an old Charleston house and cannot be missed.
Walk to Battery Park: After breakfast make your way over the Battery Park. The neighborhoods around the park are incredible and should not be skipped. Some streets we feel are must sees include: Church St, Battery St, King St, Elliot St and Bedons Alley
Rainbow Row: Lastly Rainbow Row will be enroute to your lunch spot. Rainbow Row is home to 5 brightly colored houses all in a row, it is also a very popular spot for taking photos. While the wait for a photo may not be worth it, we feel it is worth walking by at least!
Afternoon:
Fleet Landing Restaurant and Bar: After all the walking, head over to Fleet Landing Restaurant and Bar to enjoy the views of the water and grab some seafood for lunch.
Wander around the French Quarter: Following lunch, explore the French Quarter. This area is filled with more incredible houses and streets to wander around. Take your time and get lost exploring!
Visit the Charleston City Market: This market is an open air market filled with local artisans art and goods. This is the spot to grab some taffy, woven sweetgrass baskets or any other souvenir. This market dates back to the 1970s, but was not where slaves were sold.
See a Museum: If you are not quite ready to head to dinner yet- head over to a museum. Within the historic district there are a few recommended museums: Old Slave Mart Museum (a museum built where slaves were historically sold) and Old Exchange and Provost Dungeon (a national historic site filled with Charleston's early history).
Evening:
Hyman's Seafood: For your first dinner, head over to Hyman's Seafood. This is a classic restaurant to visit when in Charleston and has been visited by many celebrities. The restaurant is known for its no thrills local seafood dishes.
Evening Out: Lastly, if you still have some energy, head out for one last drink in the evening. We recommend checking out a rooftop bar (see our complete guide to food and drink options in Charleston for options) OR visit JohnKing Grill & Dueling Piano Bar on King St. to see some dueling piano action.
Day Two
Morning:
Breakfast: Grab some breakfast close to your hotel. We have a complete list here with some recommendations, but overall the location is key for this morning.
Head to the Beach: The reason for the quick breakfast? It's a beach day! Bring your ice coffee and head on over to a beach. The three main beaches are: Folly Beach, Sullivan's Island and Isle of Palms. We recommend Sullivan's Island for its close location and easy access to Fort Moultrie, but feel free to mix it up this afternoon!
Afternoon:
Beach Con't: Take your time at the beach and enjoy the white sand and warm waters. Folly beach will have several food options, but if your are at Sullivan's Island we have the ultimate lunch spot.
The Obstinthe Daughter: This is the must eat at spot for Sullivan Island beach goers. The food is delicious and the restaurant is Instagram perfect.
Visit Fort Moultrie: Once you're sun-kissed and full from lunch, head down to Fort Moultrie. This is very optional and if you are not interested in history, specifically the American Revolution, you may want to pass on this. It was overall informative, but not something I would do twice. With this said, if you ask Colin, his history-loving heart may have a different answer!
Evening:
5Church: have you ever had dinner in an old church? Us either, but here it just works! The food is delicious as well.
Day Three
Morning:
Miller's All Day: Head over to Miller's All Day for a laidback sit-down breakfast or to simply grab some coffee and pastries to go. This spot will get very busy, but was one of our favorite spots!
King Street: Spend your morning walking and shopping along King Street. This can take about an hour to walk without any stops, but of course feel free to enjoy the multitude of shopping options.
Afternoon:
Pool Time: We opted to spend our afternoon relaxing at our pool. If you're staying at Charleston Harbor Resort and Marina, we highly recommend you spend an afternoon here.
OR
Plantation Visit: While we felt visiting a plantation was not for us, we recommend reading up on their vast history prior to visiting. There are three big plantations near Charleston, all of which you will need a car to visit. The nearby plantations are: Boone Hall and Plantation, Magnolia Plantation and McLeod Plantation Historic Site. The grounds are beautiful to visit, but we encourage you to learn the history behind these spots prior too visiting and if possible, during a guided tour.
Evening:
Restoration Hotel: This is a rooftop bar that has a great food menu as well- we recommend the chicken sandwich! If this isn't close to your hotel, feel free to grab something more convenient before your sunset sail.
Sunset Sail: Spend your last evening sailing around the harbor and enjoying the sunset over historic Charleston. We used Charleston Tours and Events and enjoyed really enjoyed ourselves.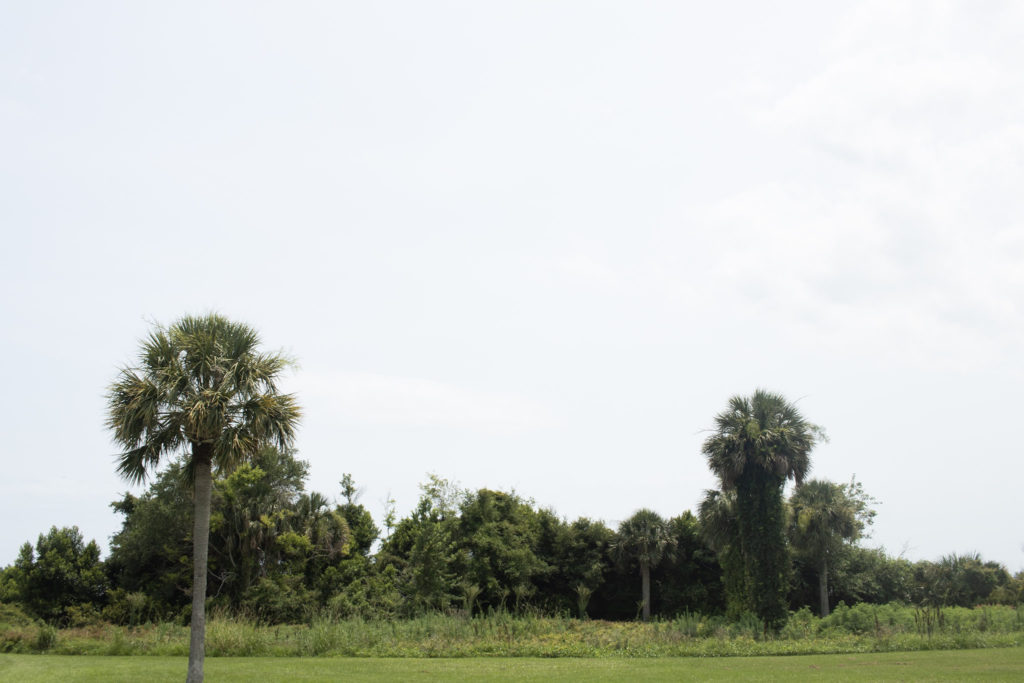 Where to Eat in Charleston?
While our Charleston three-day itinerary has places to eat included, these are far from the only options. Charleston is packed full of incredible restaurants and bars. There are so many great options that we made a whole post on it, which you can check out here. This will provide a comprehensive guideline for where to eat and what to expect for the cuisine and pricing. Mix and match these restaurants into your itinerary to make it custom for you!
Important note: these restaurants will get busy during brunch hours and in the evenings. We recommend searching for them on Resy to place a reservation in advance. This will save you the frequent 1+ hour waits that can occur.
Enjoy your trip!