If you're looking to get away for a long weekend, look no further than Martha's Vineyard! Martha's Vineyard, affectionately called The Vineyard, is an island off the coast of Massachusetts. The Vineyard captures New England summers perfectly, filled with lighthouses, sandy beaches and great food. This 26 mile long and 9-mile wide island is packed with fun and we will break down everything to do and see in three-days.
How to Get to Martha's Vineyard
Getting to Martha's Vineyard can be daunting as it's accessible by plane or ferry only. With this said, there really are some great options from both Boston and NYC.
Plane
Martha's Vineyard has an airport, with frequent flight options from both Boston and NYC. Jet Blue is the major airline that offers these flights, but there are others. Flying is the quickest and easiest way to get to the Vineyard, but it can get costly. We recommend booking flights at least 6 weeks in advance. If you're flying during peak season (Memorial Day until Labor Day), you will probably want to book even sooner than that. The airport is located close to both Edgartown and Oak Bluffs, we recommend just taking a cab or ride-share once you land!
Ferry
Ferry is the most common way to arrive to Martha's Vineyard, most likely due to its affordability. You can take a ferry from Hyannis Harbor in Cape Cod, MA, from New Bedford in MA, from Manhattan, NY as well as from Sandy Hook, NJ.
From NYC, you can either drive to New Bedford and take a ferry across or simply take a ferry right from Manhattan. We opted for the ferry from Manhattan, which picked us up at Pier 35th on the East side. The ferry is operated by Seastrek and took a total of 5 hours to get to Martha's Vineyard. All ferries drop you off in Oak Bluffs, conveniently within steps of the Main Street. This is probably the most expensive ferry option, as it's furthest from the Vineyard. Ticket are $240 roundtrip/ person and $310 roundtrip/ person on holiday weekends. For more information, head to their website.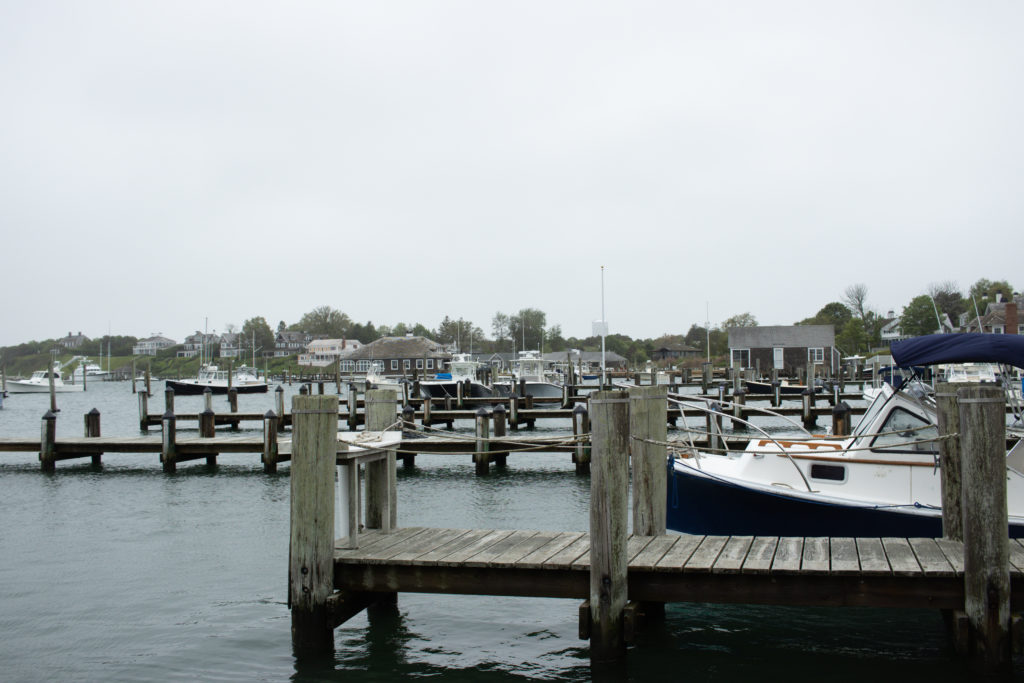 Getting Around Martha's Vineyard
Once you're on Martha's Vineyard, there are several ways to get around the island. The Island is big enough that you will need a car to see all of it, but seeing all of the island is not necessary to having a great trip. To get around Oak Bluffs and Edgartown, we recommend walking. These towns are both small and there's no need to drive or bike around to see it all. In fact, walking allows you to fully enjoy both towns, stopping into stores whenever you want!
By Bike
There are so many bike trails on Martha's Vineyard that bike rentals make for a great day of fun. We recommend renting bikes to either bike to a town or to check out Chappaquiddick Island. Oak Bluffs and Edgartown are about 6 miles apart, 30 mins one way via bike. With trails between the two towns, this is a great way to explore whichever town you are not staying in. Furthermore, Chappaquiddick Island is an island accessible only by a quick ferry from Edgartown. The island is filled with bike trails and beaches to spend the day exploring.
By Car
Martha's Vineyard is a big island, especially compared to its counterpart Nantucket. It can take about 45 mins to drive across the island, so a car is needed at times. The main reason to have a car is to go explore 'up-island'. This includes the towns of West Tisbury, Menemsha, Aquinnah and Chilmark. There are car rentals on the island, in Oak Bluffs there's a budget that offer cars, jeeps, mini coopers and Mokes. Mokes are electric vehicles, similar to a golf cart and are rentable on the island, however they cannot be driven on the main roads. Not being able to drive on the major roads makes Mokes a little impractical, but they definitely look like fun. To learn more about the rentals, you can check out Martha Vineyard's Auto Rentals.
By Public Transit
Lastly, there is a public bus system on Martha's Vineyard. The public transit system allow access to all main areas across the entire island. This is the most economical option if renting a car is not feasible. Bus tickets are $2/ person but they also offer 1, 3 and 7 day passes, which are very reasonably priced. You can view the bus routes on their site. 

Where to Stay on Martha's Vineyard
Martha's Vineyard is a small island without chain hotels, making AirBnbs popular. We found AirBnbs are a really great options for groups of friends or families who are coming to stay, as they often feature full houses. We opted for a hotel. There are plenty of hotels as well as bed & breakfast options in both Oak Bluffs and Edgartown. The two main towns are Oaks Bluffs and Edgartown. While you can stay elsewhere, we recommend sticking close to one of these towns.
Oak Bluffs: Conveniently located beside the ferry docks, this is a great option for all ferry goers. Oak Bluffs has a great downtown, a beach steps from their main street (Circuit Avenue) and all the brightly colored houses you can imagine. We stayed here and loved it. Oak Bluffs has a laid back feeling, filled with good food and affordable seafood options. This is also the town to be in on Friday or Saturday nights.
Edgartown: Edgartown is the other main town on Martha's Vineyard. Edgartown is filled with houses that have the classic wooden shingled houses and giant hydrangea bushes out front. They also have a beautiful Main Street to wander down with several food options. The food options (and shopping) are more upscale when compared to Oak Bluffs.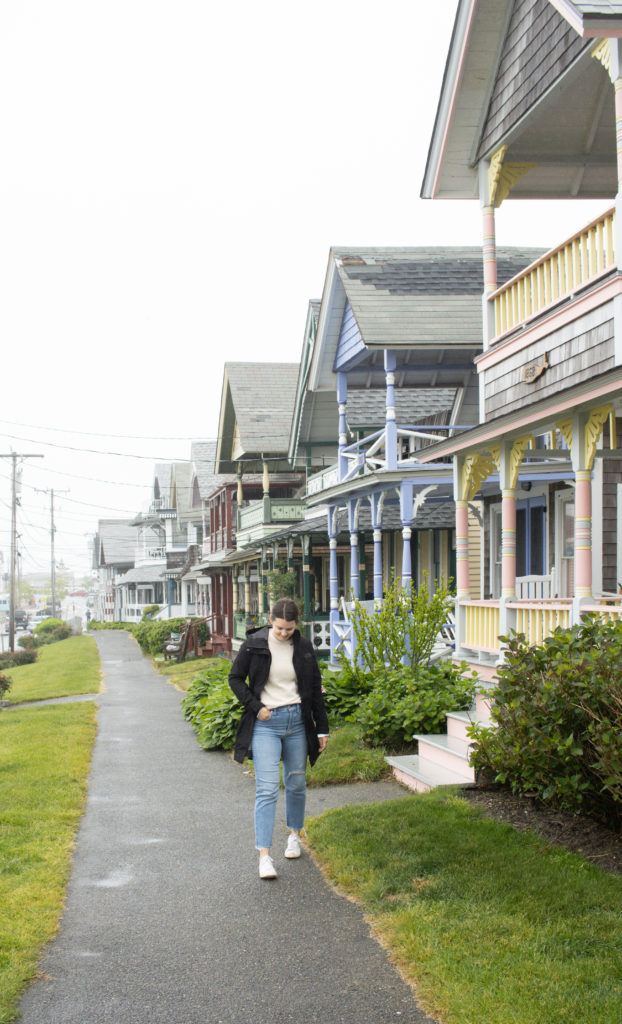 Martha's Vineyard Three-Day Itinerary
So without further ado, let's get down to the details. What is there to do on Martha's Vineyard? We visited for three-days and created an itinerary that we feel captures Martha's Vineyard perfectly. There are of course other activities to do, but despite the island's size, you cannot possible do everything in three-days.
Day One:
Day one involves heading 'up-island', so plan to have a rental car so you can see everything on the list. Or opt for using the public buses and choosing what you're few must see spots are.
Morning:
Wake up and grab a rental car, we recommend having a pick up time for 8 or 9am. While, starting your first day with an early start may not be ideal, we did this as many places up-island are closed on Sunday. In order to make the most of your one-day rental, it really needs to happen on Saturday.
7A: Start your drive with heading to 7A (in West Tisbury) for breakfast. This breakfast spot offer delicious sandwiches, coffee and pastries.
Great Rock Bight Preserve: Once you've eaten, head over to Great Rock Bight Preserve for a little hike and beach walk. The hike is a quick 1.5 mile roundtrip trail down to a beach.
To get here, pay close attention to Google maps as the turn off is discrete and easily missed. You will then drive down a narrow, dirt, road to the trail head and parking lot. This little road is narrow, so narrow we thought we were going the wrong way, so be prepared. Once here, the hike and beach are beautiful. I imagine on nice days, some stay for a bit to enjoy the little beach, which we recommend doing! Lastly, the parking lot is small, so get here early to ensure you can hike.
Afternoon:
For the afternoon, we recommend continuing up-island to the town of Menemsha, which is a fishing town.
Larson's: Larson's is a little fish spot offering some of the best lobster rolls. You can pick up a seafood lunch here to eat on a picnic bench outside, they do not have seating provided.
Beach Plumm Inn and Restaurant: This is your other option for lunch. This is a sit down restaurant that offers a beautiful outdoor spot to have a sit-down lunch.
Menemsha Beach: You can opt to spend some time at this beach for the afternoon, but we recommend waiting until your next spot for some beach time.
Aquinnah Cliffs and Gay Head Lighthouse: Next up is Aquinnah cliffs and Gay Head Lighthouse, the most Northwestern spot on the island. You can park along the road leading up to the cliffs, there are clearly outlined parking spots that need to be followed. Then you can head up to the Aquinnah cliffs lookout point. It's breathtaking, but also windy, so most people don't linger too long. You can also pay $5 and head up the lighthouse for even more views.
Aquinnah Public Beach: Once you're done looking at the views from up-top, we recommend heading down the trail to the public beach. This beach is long and fun to walk. You can head right down the beach to see some cliffs up close or head left to enjoy the sand and dunes.
Chilmark General Store: As you head back to the other side of the island, we recommend stopping for a snack. Chilmark General store has delicious cookies and iced coffees, well worth the stop.
Evening:
Most rental cars have you dropping the cars off by 7, so you can either have dinner prior or continue to explore and have dinner back in Oak Bluffs.
State Road Restaurant: This restaurant is in West Tisbury, featuring a farm to table menu. They are opening indoor dining soon and we expect this to get busy, so reserve a table ahead of time.
Island Alpaca Company: If you opt to eat dinner later in the evening, we recommend checking out the Island Alpaca Company as your last stop of the day. This farm was founded in 2004 and is now home to over 50 Huacaya Alpaca's. You can visit the farm and the alpaca's, perfect photo opt time. Tickets are $5 per person. The farm does close at 4pm, so you will need to cut your afternoon a bit short to make it here in time.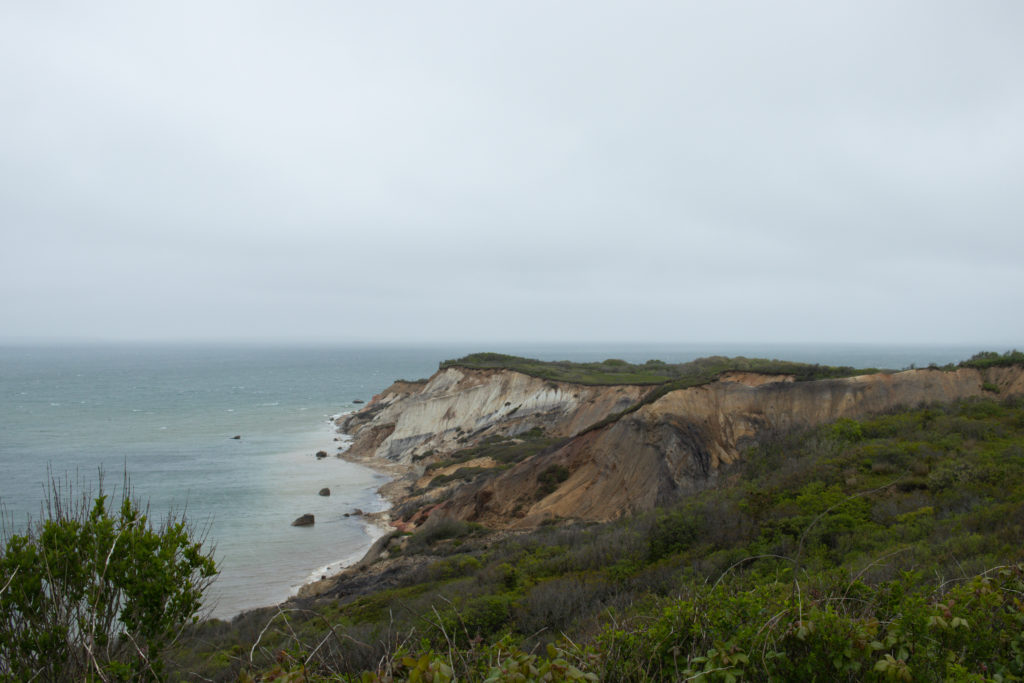 Day Two:
Morning:
Mocha Mott's: Head over to Mocha Mott's for some bagels and coffee for breakfast. This is a casual breakfast spot, but there are tables to sit at.
Rent Bikes: From Breakfast, head over to grab a rental bike for the day. The plan is to bike to Edgartown, with stops along the way.
Jaws Bridge: Bike to the Jaws Bridge, from Oak bluffs this is about 3.1 miles via Seaview Ave. This bridge was famously included in the movie Jaws and is now a popular spot to jump off of. If you're not in the mood to jump off a bridge, you can also sit and watch on the beach. This spot is also popular for kiteboarding and kitesurfing, so there's always lots to watch.
Afternoon:
Lighthouse Beach: Continue biking and stop at Lighthouse Beach to explore. The area has beautiful views of the marina and Edgartown. There are some beaches here, but we recommend saving the beach time for another location.
Explore Edgartown: Walk around Edgartown, exploring the shops and restaurants.
Lunch: There are many options for eating lunch in Edgartown. We recommend: Behind the Bookstore or Rose Water Market (this spot will get busy so make a reservation or be prepared to wait!).
Snack: Head to Mad Martha's or Scoop Ice Cream for a delicious, homemade, afternoon ice cream.
South Beach: Depending on how you prefer to spend your time, you can either stick around Edgartown exploring the shops or head down to South Beach. South Beach will be an additional 6 miles of biking roundtrip. However, the biking is very doable and worth it for a little beach time!
Evening:
Bike to Bad Martha Farmer's Brewery: From South Beach or Edgartown, you will start to bike back to Oak Bluffs via Bad Martha Famer's Brewery.  This brewery sits on a beautiful garden and offers beer flights and some food. It's 4 miles from South Beach and the perfect pit stop for the bike ride home.
Bike Home: After the brewery, make your way back to bike rental spot in Oak Bluffs. This should be about 5 miles.
Nancy's: After a long day of biking, we recommend heading over to Nancy's for dinner. This restaurant offers great harbor views and an incredible menu. This is one of Barack Obama's favorite restaurants on the island, so we feel it's a must see!
The Ritz: If you're not ready to head home quite yet, end the evening at The Ritz. The Ritz is a historic dive bar in Oak Bluffs and often has live bands. It has recently re-opened and gets crowded on the weekend.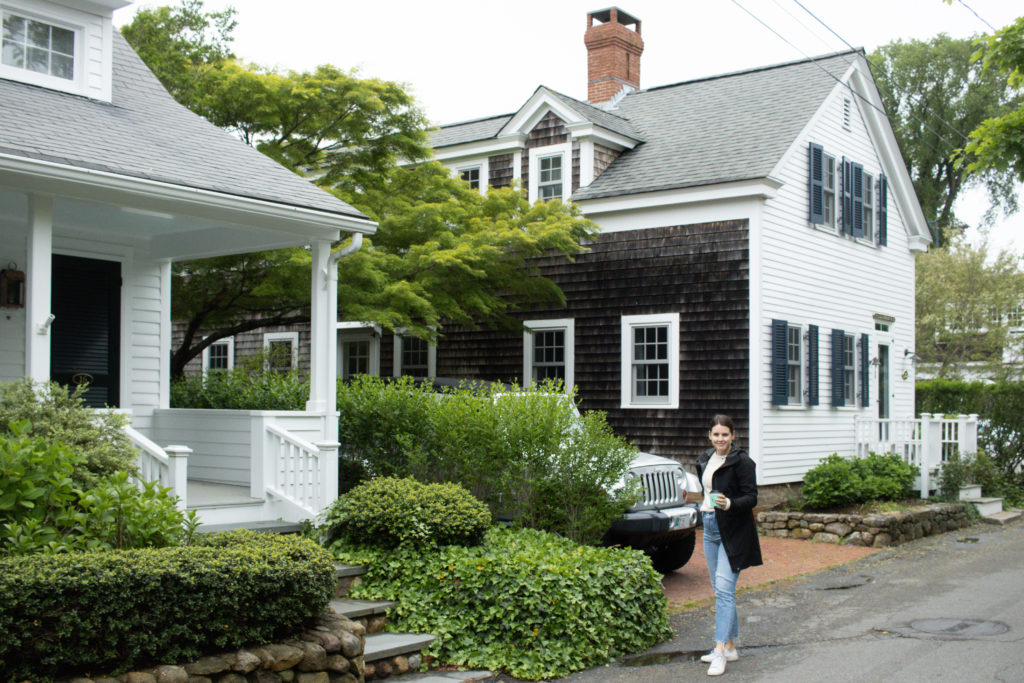 Day Three:
Morning:
Biscuits: Head over to Biscuits for breakfast. This is a family-owned sit down breakfast spot and the menu has many delicious options to choose from.
Or if you prefer a quick breakfast instead, stop at any of the bagel/ coffee spots around the town (there are many!).
East Chop Lighthouse: After breakfast, we recommend walking up to East Chop Lighthouse. This is great lookout point, but also a beautiful walk. There is a trail for some of the walk, but the road walking is pretty quiet as well.
Afternoon:
Lookout Tavern: Lookout Tavern is a casual restaurant along the waterfront. Stop by here for one last delicious meal. This is conveniently located right by the ferry docks, so it can get crowded and often people come with their luggage. So, if this is too long of a wait, head over to Martha's Vineyard Chowder Company instead. It's located just around the corner and usually less crowded.
Gingerbread Houses: The main reason we don't want you spending too much time at lunch is so that you don't miss out on seeing some Oak Bluffs before you leave! The Gingerbread Houses are all around the town of Oak Bluffs and we recommend taking time to wander around and see some. The history is that in the 1800s Methodists would come to the island for an annual religious retreat. They started in tents and then built these cottages. Oak Bluffs has kept these cottages, but painted them bright colors to pay homage. There is a museum you can visit to have a little tour, or you can just wander around!
Oak Bluffs Town Beach: If you prefer to relax and not walk around, head down to the local beach. This beach is steps from the Main Street and while it is small, you can still enjoy some sand and sun!
Back Door Donuts: Before leaving the island, everyone needs to stop at Back Door Donuts. This is the spot for donuts and hot apple fritters. Open until 3pm, we recommend getting some snacks for the road!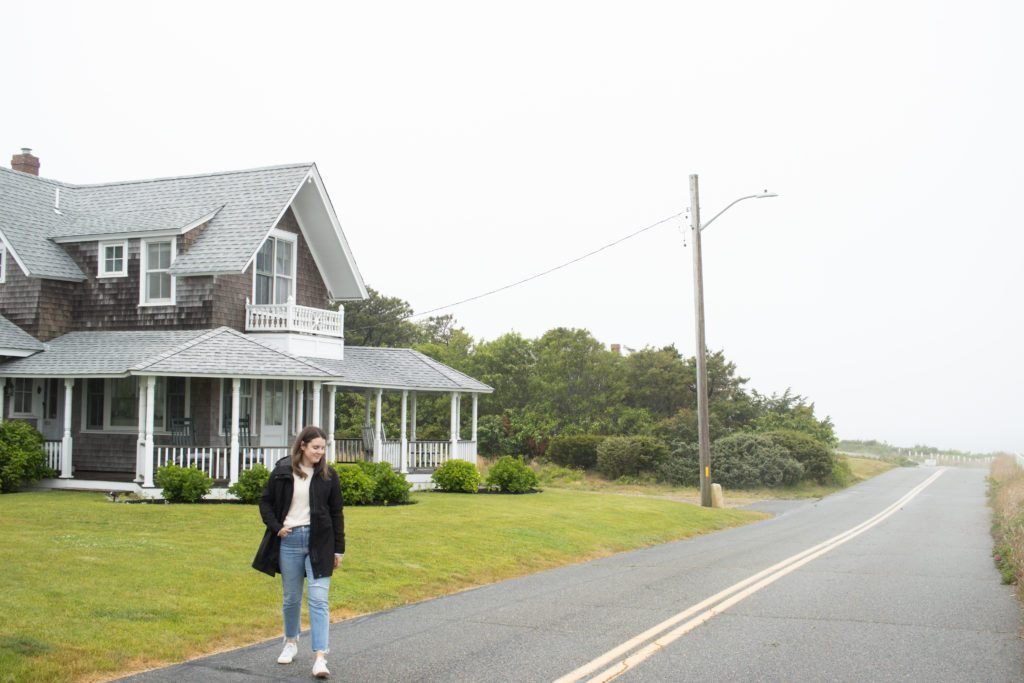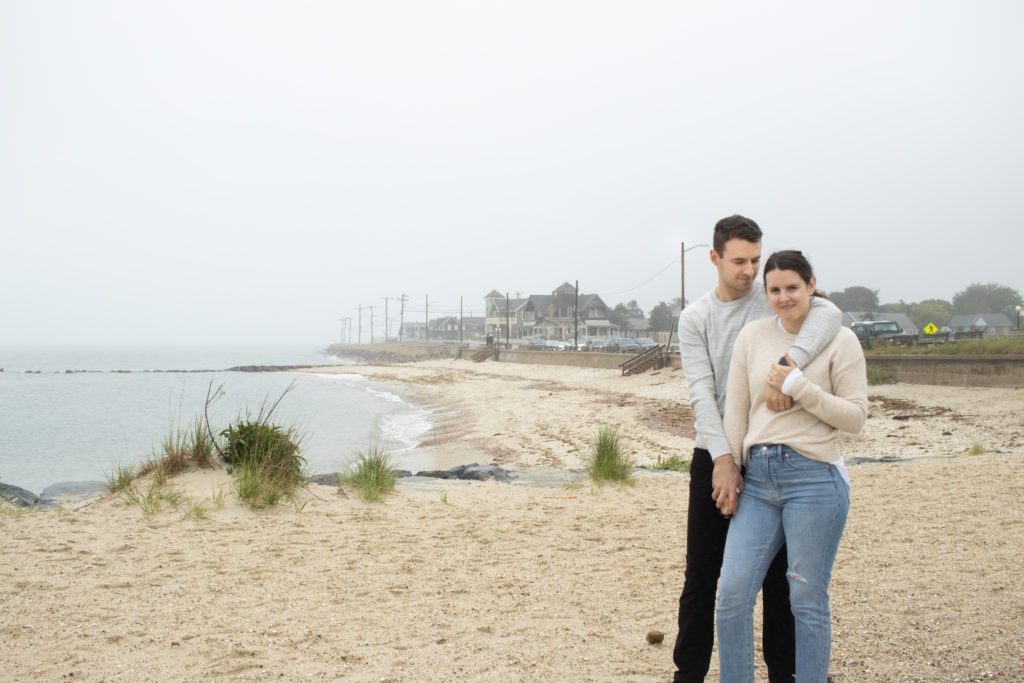 If you fell in love with Martha's Vineyard, we also recommend checking out Nantucket. Visit our post to read all about our Nantucket day trip.