Stone Town, Zanzibar is a unique and vibrant city that offers visitors a fascinating glimpse into the island's rich history, culture, and architecture. Zanzibar is a must visit island in Africa, especially if you need to relax after an exciting safari! We highly recommend wandering around Stone Town when you visit Zanzibar, keep reading for our 10 reasons why.
Where is Stone Town, Zanzibar?
Firstly, where is Stone Town? Stone Town is located on the western coast of the island of Zanzibar, which is part of Tanzania in East Africa. It is the capital and largest city of Zanzibar, and it is situated approximately 35 kilometers (22 miles) from the mainland city of Dar es Salaam.
If you're coming to Stone Town from the airport, the drive is a short distance but can take up to 45 minutes to drive with traffic. When you're heading into Stone Town from the airport, ensure you use one of the legit taxis from the designated taxi Stand just outside the airport doors. If you're heading into Stone Town from your hotel, ask concierge for a taxi or driving service they offer. Most times, you can arrange a meet up time to meet your driver after you're done exploring Stone Town. We recommend at least 3 hours in town, however you can easily spend 5-6 hours exploring.
For more details on where Zanzibar is and about the island, check out our Zanzibar island guide.
Is Stone Town, Zanzibar Safe?
Yes! Stone Town Zanzibar is generally considered safe for tourists to visit and explore. However, with any city, you need to be aware of your surroundings as petty crime does occur here. We recommend keeping your possessions in front of you and not having anything that can be pick pocketed. Be aware of your surroundings at all times so you don't get caught in an area that's less than desirable. Lastly, dress modestly, it's recommended to cover shoulders and knees when in Stone Town.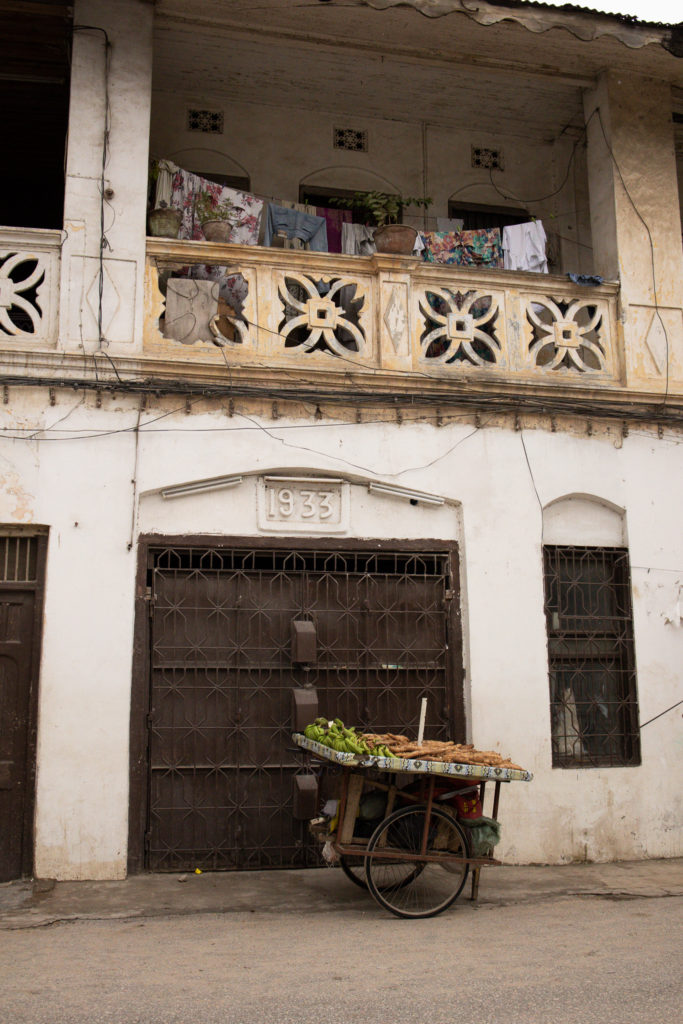 10 Reasons Why You Should Visit Stone Town in Zanzibar:
1. Historical significance:
Stone Town has a rich history dating back to the 19th century when it served as a hub for traders from across the Indian Ocean. Today, the city's Old Town is a UNESCO World Heritage Site, and visitors can explore the winding alleys, mosques, and colonial buildings that bear witness to its past. Take your time getting lost in the alleys and down the winding roads, overall Stone Town is small so you can't truly get lost! 
2. Architecture:
Stone Town is famous for its unique architecture, which reflects the diverse cultural influences that have shaped Zanzibar over the centuries. Visitors can admire the intricate carvings and stonework of the city's many buildings, from the Old Fort to the House of Wonders museum. Furthermore, take your time admiring the doors around town – every building has a beautiful and unique doorway.
3. Culture:
Stone Town is a melting pot of cultures, with Arab, Indian, and African influences all making their mark on the city's customs and traditions. Visitors can experience this rich cultural heritage through the city's music, art, and cuisine.
4. Beaches:
Stone Town is located on the coast of Zanzibar, and visitors can easily access the island's stunning beaches from the city. Whether you're looking to swim, snorkel, or just relax in the sun, Zanzibar's beaches are some of the best in the world. Right off the coastline of Stone Town are some popular islands to visit, including: Base Beach, Nakupenda Beach and Changu Island (commonly referred to as Prison Island). Prison Island is home to a turtle sanctuary that has daily half day tours. We used Altezza Travel for our trip and they assisted us with setting up local tours once we reached Zanzibar.
5. Spice tours:
Zanzibar is famous for its spices, and visitors can take a tour of the island's spice plantations to learn about the many different spices grown here, from cinnamon and cloves to vanilla and nutmeg. When you're in Stone Town you can head over to the spice market to barter for spices and experience a more local feeling market.
6. Street food:
Stone Town is a foodie's paradise, with a wide variety of street food stalls serving up delicious local dishes. Whether you're looking for fresh seafood, spicy curries, or sweet treats, you'll find it all here. Our recommendations when enjoying street food internationally is to avoid fresh vegetables or fruits that can't be peeled. We can't guarantee that food vendors wash their vegetables and fruit with clean water, so we simply avoid eating these foods raw to prevent getting sick.
7. Shopping:
Stone Town is home to a bustling market where visitors can browse for souvenirs, textiles, and handicrafts. Whether you're looking for traditional Zanzibari goods or modern fashion, there's something for everyone here. Furthermore, don't forget to barter for your purchases! It is welcomed and expected that you barter for the price of any goods you buy from the markets.
8. Festivals:
Stone Town hosts a variety of festivals throughout the year, including the Zanzibar International Film Festival and the Sauti za Busara music festival. These events are a great way to experience the city's vibrant cultural scene.
9. Hospitality:
Zanzibaris are known for their warm hospitality, and visitors to Stone Town will be welcomed with open arms. Whether you're staying in a hotel or a guesthouse, you're sure to feel at home here.
10. Sunsets:
Finally, Stone Town is home to some of the most beautiful sunsets in the world. Whether you're watching from the beach or from the rooftop of a historic building, you won't want to miss the stunning colors of the Zanzibari sunset. Our recommendation is to head to Forodhani Park to enjoy the sunset over the water and countless dhow boats.
Final Tips for Visiting Stone Town Zanzibar:
Dress modestly. When visiting Stone Town you should ensure your shoulders and knees are covered. Zanzibar's population is predominantly Muslim and dressing modestly is respectful of their culture.
Wear comfortable shoes. Once you're within Stone Town, you will be walking everywhere so you want to ensure you ahem comfortable shoes. Additionally, the roads within Stone Town are narrow and winding making sneakers a better option than sandals.
Bring water. Zanzibar is hot and humid, enter into the congestion of Stone Town and you want to ensure you're fully hydrated.
Used licensed taxis. Make sure you only use licensed taxis, all the licensed taxis will be marked externally on the vehicle.
Be respectful. Lastly, be respectful of everyone! While you can barter at the markets, make sure you barter in a respectful manner. We visited during Ramadan so we made sure not to eat and drink during the day, outside of restaurants.
If you're looking to travel before or after Zanzibar, we highly recommend checking out Tanzania! When visiting Tanzania a safari is definitely a must do, we've broken down our safari tips and experience here.