We believe NYC is one of the most photogenic cities, ever. That being said, it can be daunting to enter the city and know exactly where to get those perfect Instagram shots you've seen all over social media. That's where our guide on the 20+ best Instagram spots in NYC comes in handy!
We have spent the last 2+ years wandering through all the neighborhoods in Manhattan and visiting those instagram spots. So, below is our list of the 20+ best Instagram spots in NYC. Whether you live in NYC or visiting for a weekend, these spots are worth checking out! And if you want to also stop by a cute cafe when you're in the area- we have a post for that too.
Washington Square Park

Let's start this Instagram photo guide with Washington Square Park. This park is surrounded by NYU campus buildings, which leaves it with a lively, unique, and younger crowd. The park will almost always have a busker or two, some art installations and a skate park in the fountain during the winter. The iconic archway is mostly why you are here and it does not disappoint. The best shots are on the far side of the fountain, sitting on the edge or on 5th Ave as you head into the park.
Local tip: this spot can get quite busy so go in off season or arrive early to get a photo unobstructed.
Washington Mews
A block south of 8th Street, between 5th Ave and University Place
Washington Mews is a street that originally belonged to house barns, but is now largely NYU buildings. What makes this little gated street so special is its preservation. The street remains the original cobblestoned street and the buildings make you feel like you stepped back into the 1800s. This spot is just down the street from Washington square park, but less popular, so it'll add a unique spin on your visit.
Stuyvesant Street
Stuyvesant St and 10th St
Stuytown is another historic area of the city, with its roots going back to post-world war II era. This area was a popular residential neighborhood, and remains largely residential to this day. Many of the streets remain cobblestoned and lined with brownstones, making this a perfect spot to get those classic NYC shots.
Local tip: The Stuyvesant and 10th Street intersection is a triangle, which allows you to get a shot down two cobble-stoned streets. As this area has remained largely residential it's often not filled with tourists, but can still get a crowd on a warm summer weekend.
Top of the Rock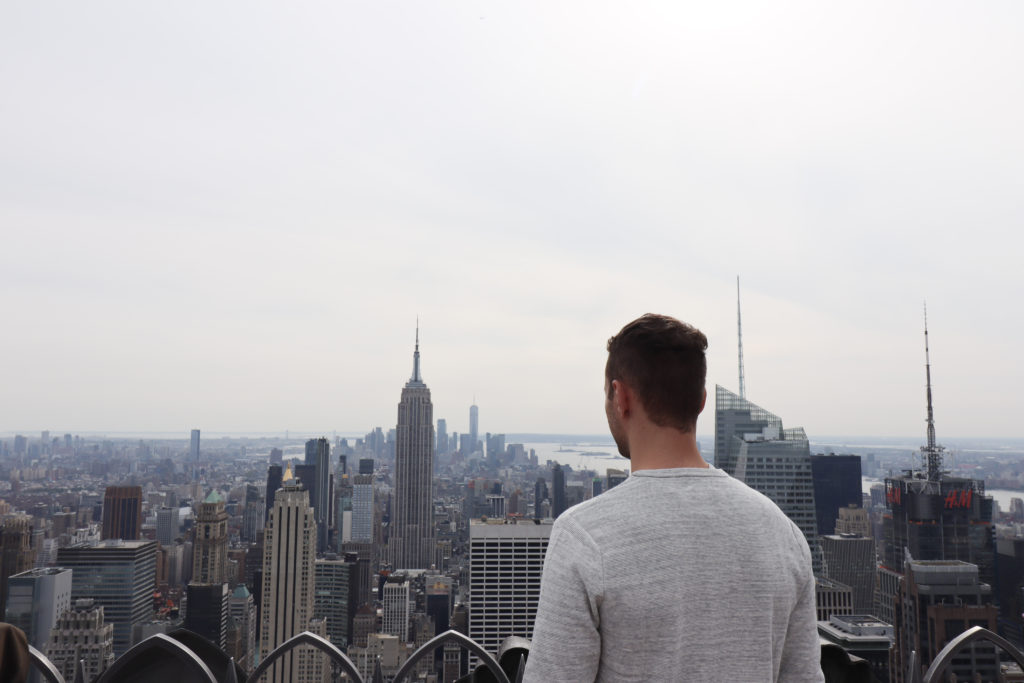 30 Rockefeller Plaza, between 5th Ave and 6th Ave off of 50 Street
This is far from a local gem, however we feel this is well worth the ticket price and crowds you may have to fight to get to the top. We may be biased, but this is one of our favorite observation platform in the Manhattan. The tickets cost $41/ person and the observation deck is typically open 11 am to 7pm. Currently, you book a time slot to visit, to ensure limited capacity.
Local tip: have your photographer go to level two and a take a photo looking down on you (standing on level one), leads to a great perspective photo!
New York Public Library
476 5th Avenue
The New York Public Library has many branches throughout the city, but the main branch on 5th Avenue in Midtown should be on your list to see. The library was built in the 1890s and became a NYC designated landmark in the 1960s. The outside has massive steps and pillars, which are perfect for those Instagram photos. We also encourage you enter the library as the inside is just as breathtaking. The inside features art exhibits, reading rooms and 52 ft high ceilings. When visiting, be mindful as many people are using the library as a library.
Tudor Skybridge
42nd Street and 1st Ave
The Tudor Skybridge is another one of our Instagram spots in NYC, albeit a slightly less common NYC attraction. This skybridge allows you to be a level above the street, offering great views of the Chrysler building. This spot is slightly secluded, which often means it's crowd-free. This spot is walkable from Grand Central and well worth the trip in our opinion.
Local tip: the sidewalk here is wide, so bringing a tripod for a group shot is reasonable (a rarity in Manhattan!).
The High Line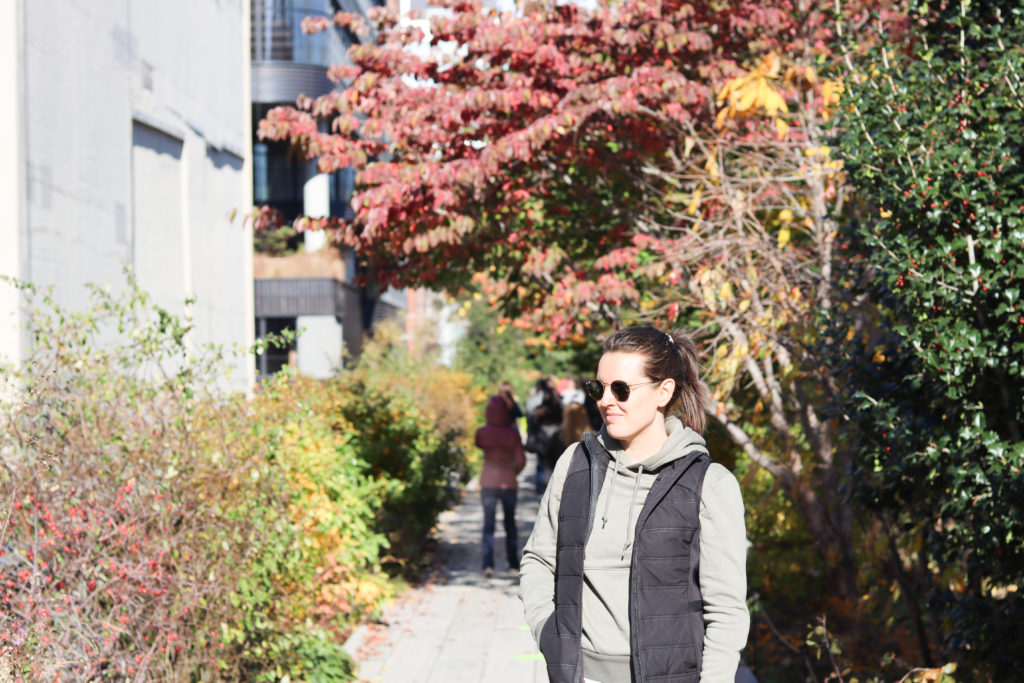 Hudson Yards
The High Line is a free 1.45 mile long walking trail that was built on an old railway tracks, located in Hudson Yards. It's one floor above street level, which offers a unique perspective of the surrounding area. The trail offers many view points along the way, allowing you to check out the buildings, street art and have many Instagrammable moments. The trail itself also has art installations, including archways and benches to sit and enjoy the sun. Overall, this is one of those must see Instagram spots in NYC. You can either choose to end the walk at Chelsea Market or The Vessel, two great options!
The Vessel

20 Hudson Yards
The Vessel is one of the newest Instagram spots in NYC. Located in the Hudson Yards, this is the perfect addition after seeing The High Line or The Edge. It's an interactive art installation that offers spiral staircases and sweeping views from the top. You must get a ticket to enter, which are now $10. We recommend taking your time to explore the 154 interconnecting staircases to see the city from a different perspective.
Local tip: stand on separate platforms to get photos from a unique perspective.
The Edge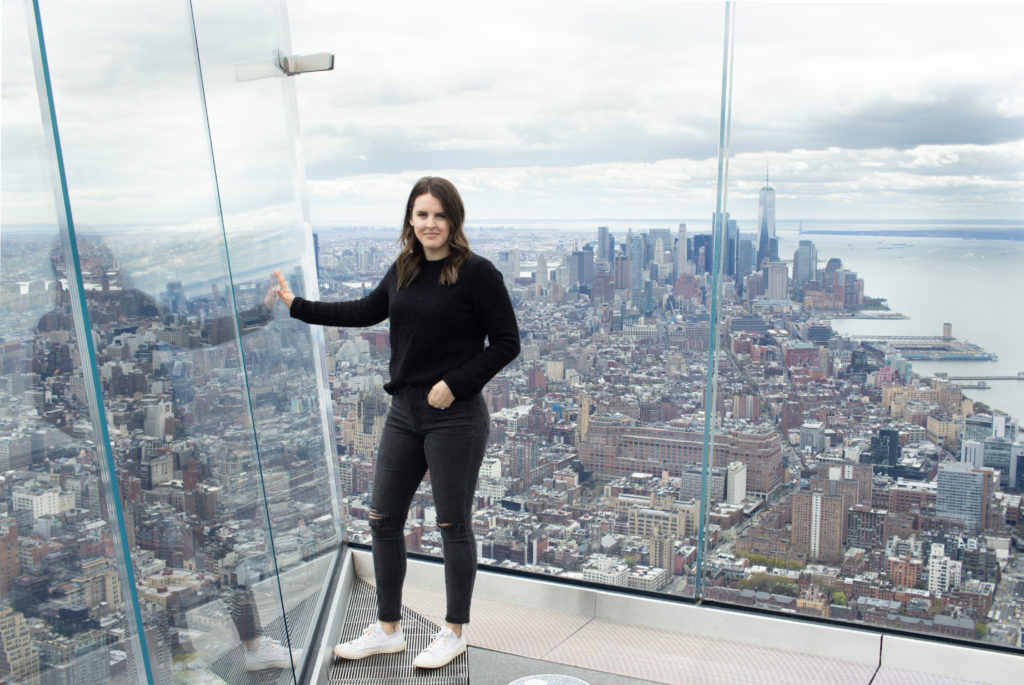 30 Hudson Yards
The Edge is New York City's newest observation platform and arguably one of its best. At 100 floors above the street, it's one of the largest viewing platforms in the Western hemisphere. The unique design even allows you to walk across a glass floor, so you can see just how high up you are! Furthermore, there are many corners and steps to take those Instagrammable photos at, all with unobstructed Manhattan skyline views. You will have to book your ticket in advance and the sunset time slots fill up quickly, so we recommend booking in advance.
Local tip: have your photographer stand inside so you can get the perfect angle of this third shot, definitely one of the top Instagram spots in NYC!
Delmonico's
56 Beaver Street
Delmonico's is a NYC restaurant that has been around since 1893. The franchise first opened in 1827 and moved into this location in 1893. The restaurant was originally a family owned business and quickly become a famous NYC restaurant. It was a popular choice to host banquets for the upper class and host members of the monarchy during their visits. At one point, it was even a popular speakeasy. The restaurant is currently closed due to the pandemic, but we could only imagine the history that lines the walls. From the outside, the triangular shaped building adds to the historic feel and makes it one of the financial districts can't miss Instagram spots.
Staten Island Ferry
South South Ferry Plaza, 4th South Street
The Staten Island ferry is major commuter boat for those going between Manhattan and Staten Island, however during non-commuter times, this is a must see. The Ferry is free and takes about 25 mins each way. The ferries best features are the up close views of the Statue of Liberty and the unobstructed views of downtown Manhattan. Seriously, we feel this is one of the best free spots to see the downtown skyline. The ferry itself has many outdoor viewing areas, so wander around to find a good spot.
Local tip: in the summer, this can become popular with tourists, so early mornings would be best to have limited people in your photos.
Flat Iron building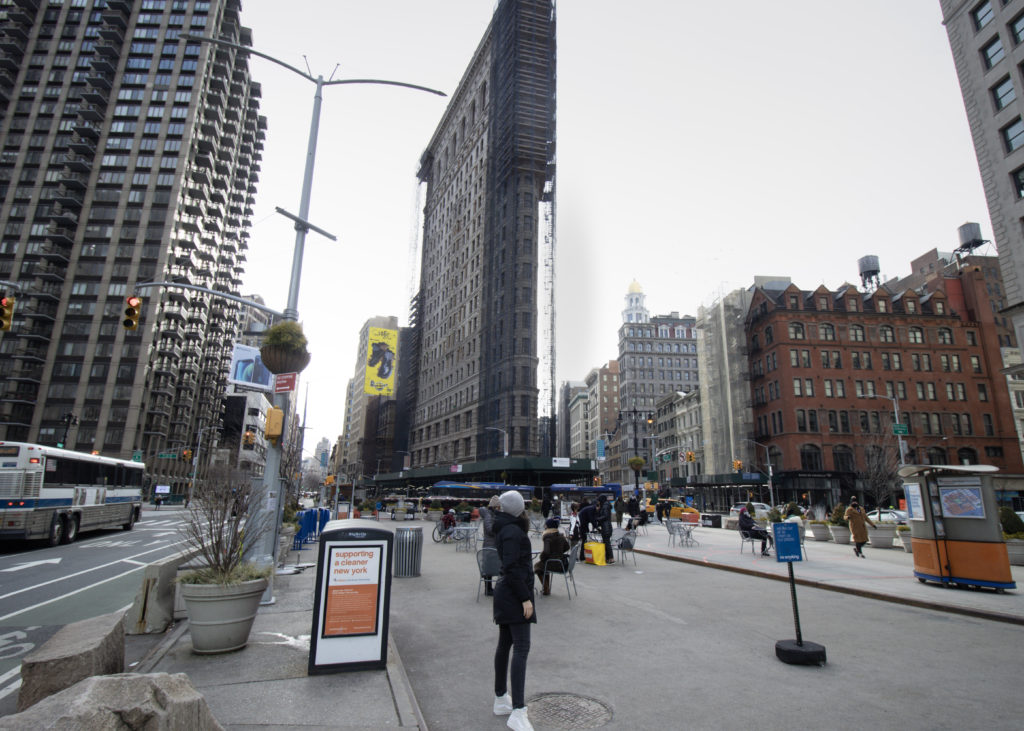 175 5th Avenue
Regardless of its current repair status, the flatiron building is an iconic building NYC. The flatiron building is also one of the best Instagram spots in NYC. The flatiron building is a 22 story, 307 ft tall and built in 1902. Originally built to be an office for George A Fuller Company, it now houses offices for several publishing companies.
Local Tip: After visiting the Flatiron building, we recommend heading across the street to Union Square Park. Here you can grab a table and enjoy the building for a bit. Plus, this is home to the first Shake Shack ever, practically another historic landmark- at least we think so!
The Met

1000 5th Avenue
This is one of Janessa's favorite museums and for good reason! First you have the iconic front steps, which are the perfect spot for those Instagrammable photos. Second, you have the amazing artwork and sculptures inside. Furthermore, you have an outdoor rooftop bar. If you are looking for a peaceful spot to enjoy a drink, a snack and some skyline views- this is your spot. Tickets are $25/ person, however for NY residents and their guests it's pay what you wish anytime.
Local tip: head down 82nd Street to grab some street Instagram photos of the Met with a smaller crowd.
Central Park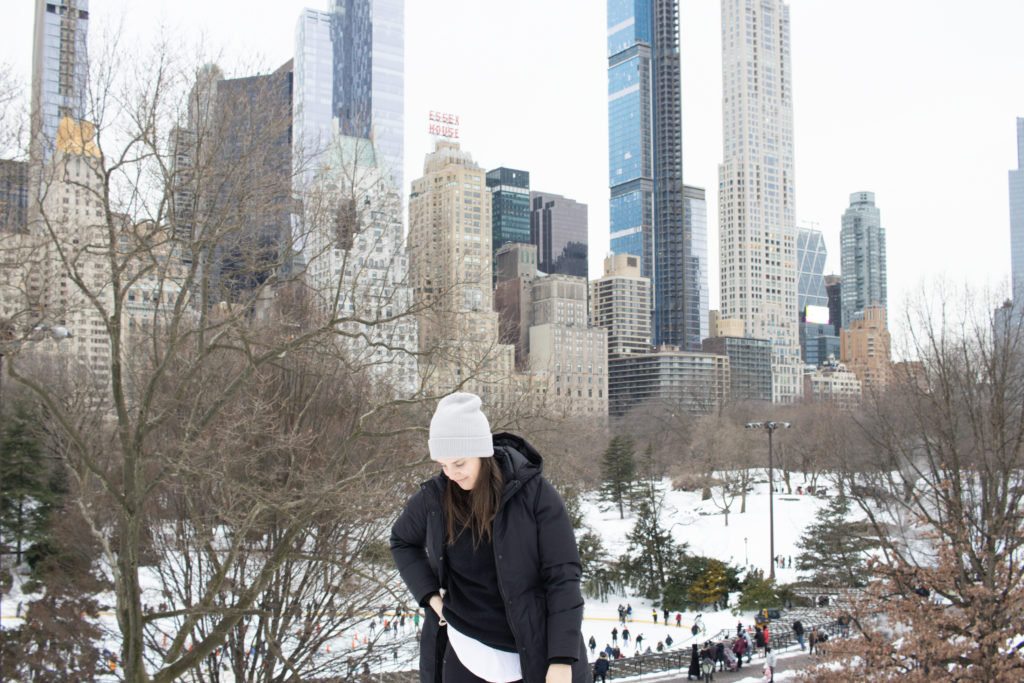 Central Park is a great spot to vision matter the season, although the summer is much warmer! There is something for everyone, and for every season. The Bethesda Fountain is an iconic spot and the backdrop of many movies. The Bow Bridge offers great views of the Upper West Side and The Lake. In the summers, you can rent a row row boat for $20 and explore the The Lake, which a great spot for some Instagram photos! Additionally, there are many rock formations you can walk on top of to get some midtown skyline views.
Local tip: some of the best sunsets happen in Central Park and it's often not too crowded at this time for photos.
Gansevoort Plaza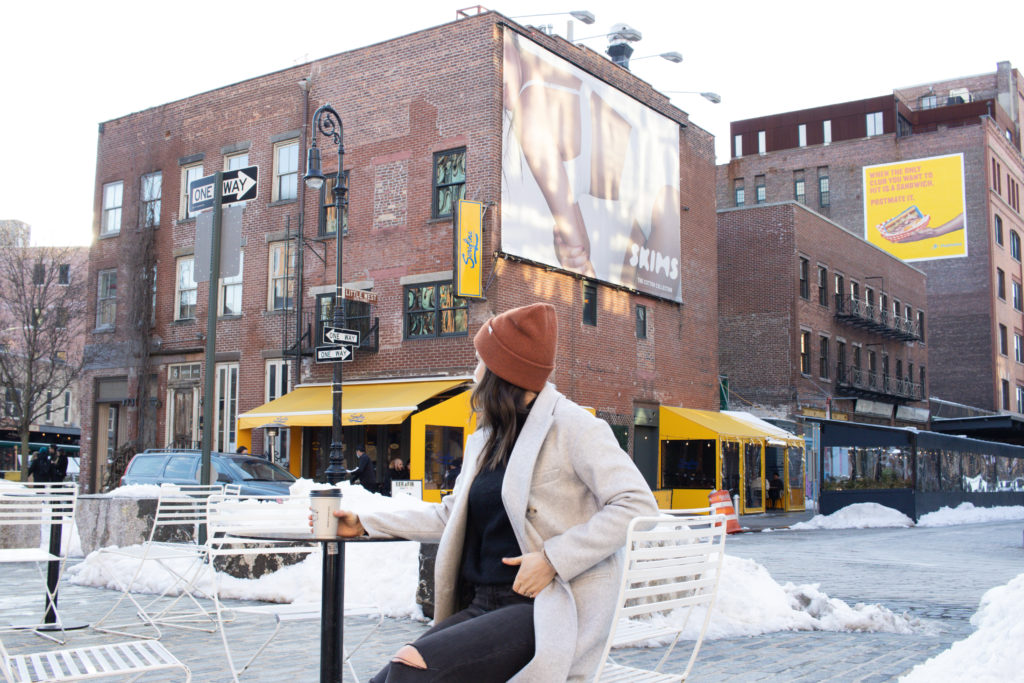 38 Gansevoort Street
The Gansevoort Plaza, located in the Meatpacking District, is great spot to grab a bite to eat, do some shopping or simply sit and relax. The plaza itself is a spot where 4 street intersect, which they turned into a large area for sitting and art installations. The streets in this area are cobblestoned, with the buildings redesigned to pay homage to their history. Overall, this area is great spot to spend an afternoon and offers many opportunities for photos.
Brooklyn Bridge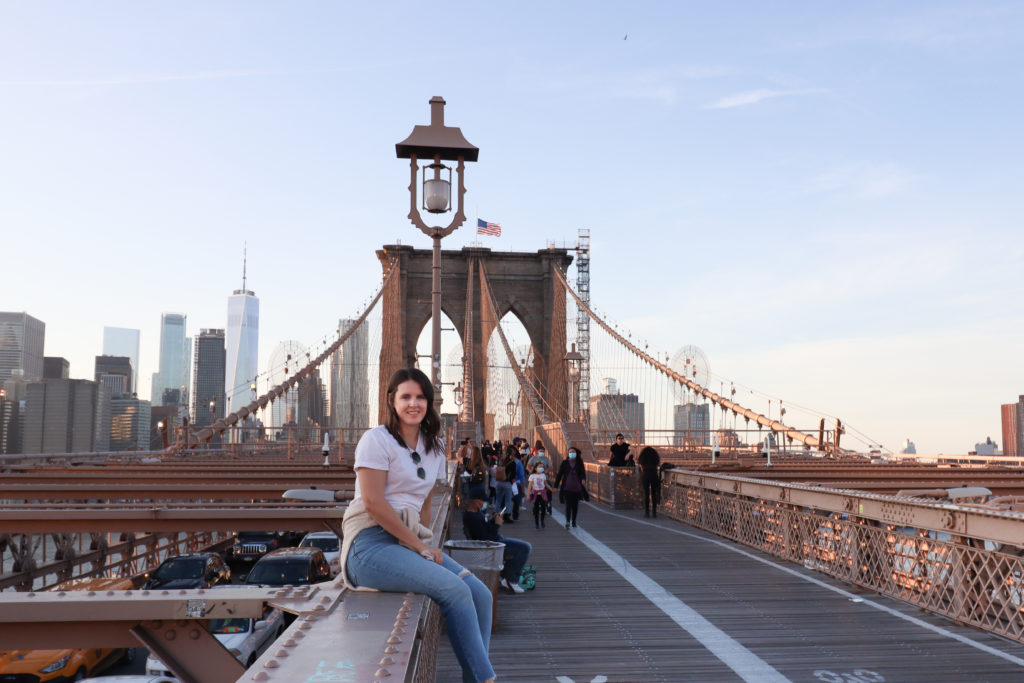 I mean we can't really make a post on the best instagram spots in NYC and NOT include the Brooklyn Bridge, right? While, this bridge is one of the most iconic in the world, it still remains a must see spot, despite the masses that gather in tourist seasons. Let's be honest, all seasons in NYC are tourists seasons, so get here early! Our favorite way to see the bridge is to enter from the Brooklyn side and walk across. Bonus, it's usually less busy on this side.
Local tip: head into Dumbo to explore the neighborhood before heading across the bridge into Manhattan.
LoveShackFancy
390 Bleecker Street OR 1058 Madison Avenue
LoveShackFancy is a female clothing store with the most incredible window displays. They do have two locations and we can attest that both have the same level of displays, so pick whichever location! Summer or winter, you bet they will have the windows decked out with an incredible floral display. Furthermore, the side of the store is basically made for an Instagram moment.
SoHo
SoHo is a neighborhood in the West Village, short for South of Houston Street. The area itself is packed with cobblestoned streets and buildings that look straight off of the streets of Paris. The cafe's and shopping in this district will never leave you bored, no matter how often you visit. We love checking out Flippers for brunch, Dominique Ansel's Bakery for all our French treats and Felix Roasting Co's for a coffee. We also love just wandering down each and every street.
Local tip: Greene St is a great spot to head for first time visitors, specifically between Prince Street and Grande Street.
Pietro Nolita
174 Elizabeth Street
Often times Pietro Nolita is synonyms with the pink cafe and we cannot blame people for the confusion. The inside is significantly more pink, however they have transformed their outdoor spot during the time of Covid. This is an Italian bar/ eatery that serves brunch and continues into dinner. If the pink decor doesn't draw you in, the food surely will.
Local tip: this spot doesn't open up for dining until the afternoon, leaving the morning crowd-free to snap those Instagram photos. With this said, we believe you should support the spots you take photos at, so be sure to head back later for a bite to eat!
Radio City Music Hall
1260 6th Avenue
Radio City Music Hall is a famous entertainment venue located in the heart of Midtown. It has a full auditorium located inside, which is home to the Rockettes and frequently visited by stand up comedians. Whether you are here at Christmas to enjoy the decorations or in the summer to enjoy the greenery, this is a great spot to grab some iconic Instagram snaps.
Local tip: Stand on 6th Avenue, across the road from Radio City, to grab some photos. There's a buffer here between the bike lane and the traffic which makes photo taking easier (and safe).
The Subway
Lastly, don't forget about the subway! The NYC subway system is well known and a great spot taking a photo or two to add to the NYC album. The old subway cars with the classic orange seats still circulate, which adds to the classic NYC aesthetic.
Local tip: getting on a subway at the end of the line will give you some time to take a photo when there's limited crowds and the train is not moving. We do not recommend taking photos at busy times.
Planning a trip to NYC soon? You don't want to miss our FREE Three-Day Guide to NYC! We detail the best way to experience NYC like a local, while also experiencing New York's top attractions. Click below to download your free guide!