The Hudson Valley in New York is home to some incredible hikes, great views and awesome towns with good eats. What many don't realize is that it's also home to the Angry Orchard cider house.  After discovering that Angry Orchard had a cider house in NY, we quickly booked a tour, headed up for a day trip from NYC and were blown away by this incredible venue.
The cider house location is a unique spot where their cider maker, Ryan Burk, makes unique ciders. This is not where they make ciders for national distribution. This orchard was recently established in 2016, which is largely due to the increase in cider popularity. As a result, this orchard is new, clean and beautiful. From the treehouse to the sprawling Hudson Valley views, this is a great spot to spend an afternoon. For everything you need to know to plan a day trip here, keep reading!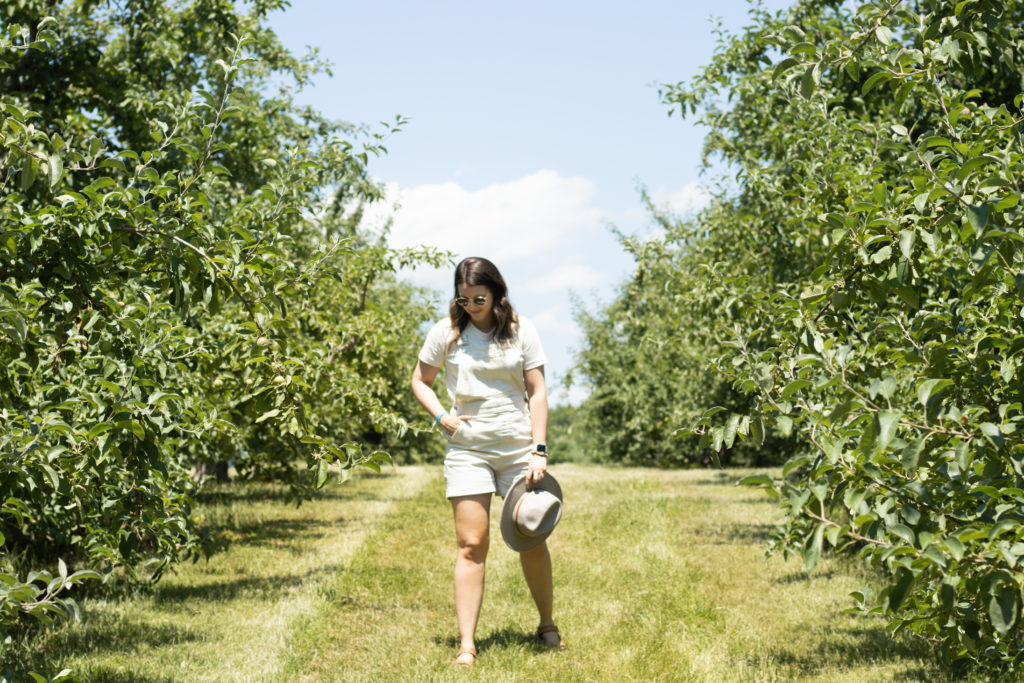 How to Get to Angry Orchard
Angry Orchard is located in Walden, NY which is in the Hudson Valley. From NYC, you have two options for getting to the orchard. You can drive up or take the train via the Metro- North line.
Traveling By Car
Getting to the orchard by car is relatively straightforward. The drive is 80 miles from Manhattan and will take about 2 hours. As with all city driving, the drive will be traffic dependent. If you choose to drive, I would recommend not going up Sunday as the traffic can get dense coming back into the city on a Sunday afternoon.
Once you're at the orchard, there is free parking. There is an upper lot that fills up quickly as well as a lower parking lot. When we visited, there was plenty of parking but they were operating at about 10% of their capacity due to the pandemic. We imagine this spot will get a little hectic on busy days and parking could cause a bit of a challenge. With this said, there are plenty of employees there to help.
Traveling By Train
One of the best parts of Angry Orchard is the ability to access it via the train. From NYC, you can take the Metro-North train using the Poughkeepsie line. This train has stops at both Grand Central station and Harlem-125 St station. From either of these stops, take the train one and a half hours to Beacon, NY. From Beacon, it's a 30 min drive to the Orchard. Unfortunately, there is no public transportation option here. You will need to take a ride share or a cab up to the orchard. Often this train station has cabs outside waiting or you can opt for a ride share.
Important note: there is a bridge called the Newburgh Beacon Bridge that allows you to cross the Hudson River from Beacon and head towards Walden. This bridge is currently under construction, which can make the drive substantially longer and some ride share drivers won't pick up your request because of this. We opted for cabs which worked well for us. Keep in mind, many cabs will prefer cash (with some taking cash only), so we recommend having some on hand.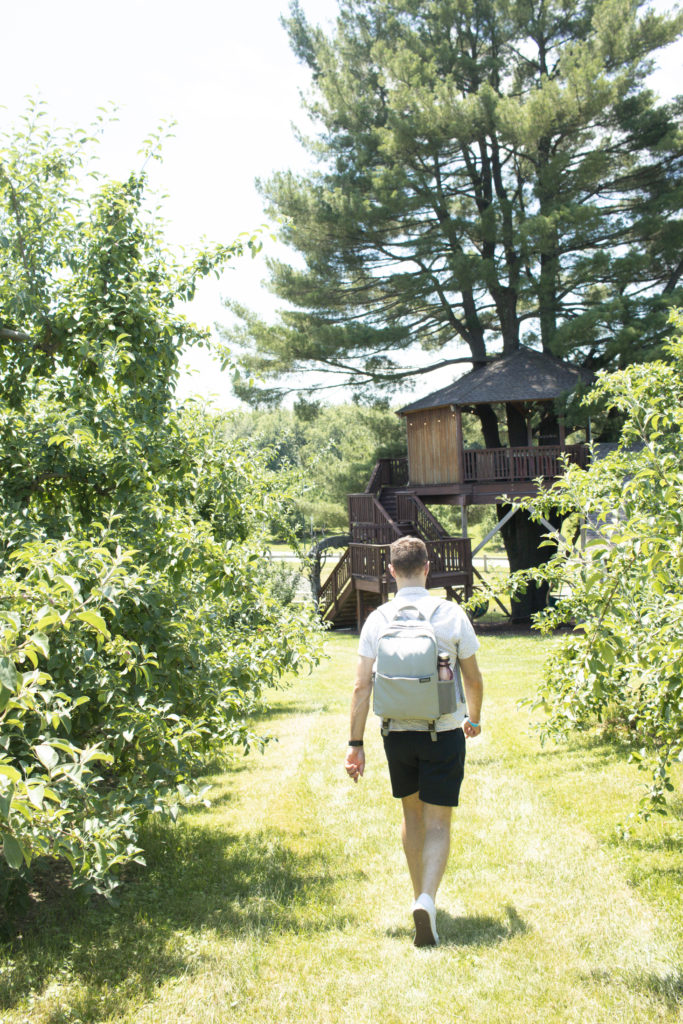 What to Do at Angry Orchard
Book a Tour and Cider Tasting
For $25/ person you can book an orchard tour and cider tasting. We opted for this and highly recommend it! The tour took us through the orchard and explained the process for making ciders. Angry orchard only started making their own ciders here in 2016, so everything is relatively new. They also discuss the cider making process and its history. The tour ends with a cider tasting. They bring out three ciders for you try, all of which are unique to the orchard and not nationally served. The tour was about an hour total. Overall, the guides were very knowledgable and open to questions, which is probably what made the tour so great for us.
When booking the tour, we found you had to book at least 3 weeks in advance. The tour is composed of a small group and they only run a few per day on the weekends, so plan ahead!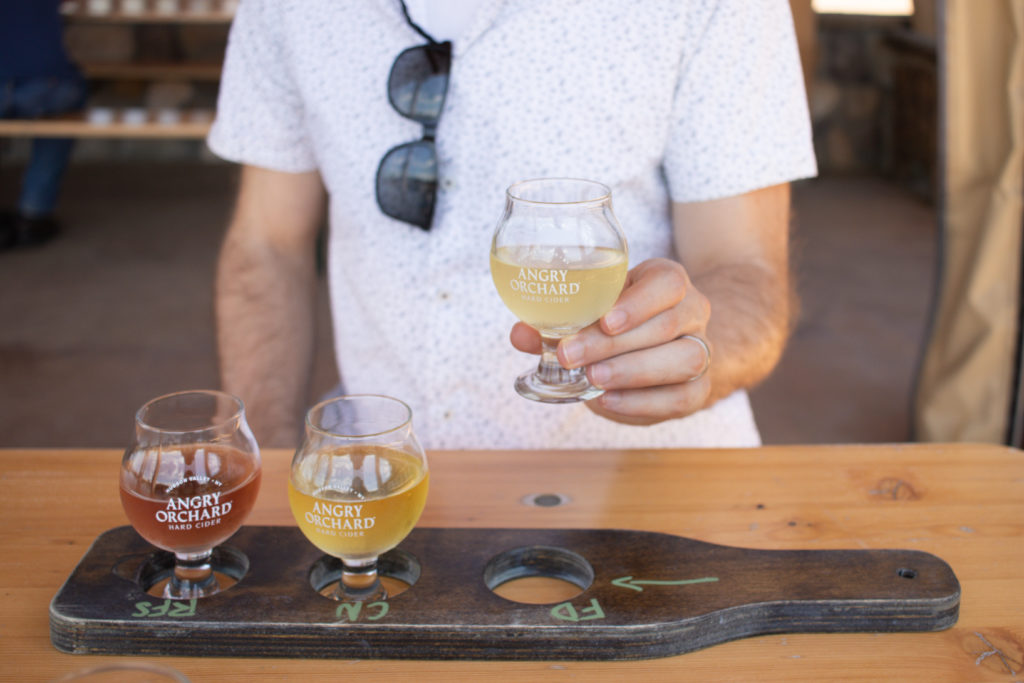 Have a Private Picnic
If a tour is not what you're interested in, we recommend trying the private picnic. For $50, you're given a bottle of cider, some light bites and a blanket. You then take this picnic pack and enjoy it with friends in the orchard. This option can allow for a more relaxing afternoon spent with friends. You also get to enjoy some of the beautiful orchard grounds to yourself. As with the orchard tour, this also needs to be booked in advance. While this event has some more availability, we would still recommend booking at least 3 weeks in advance to get the time slots you prefer.
Enjoy the Food Trucks
If you opt out of any of the organized activities, there is still plenty to enjoy at the Angry Orchard cider house. They have both indoor and outdoor dining where you can grab some food and ciders. The outdoor dining is picnic tables set out by the orchard and overlooking the Hudson Valley. They make pizza's in-house and then have additional food trucks come on the weekends, so you never fully know what you will get. Either way, the pizza was delicious! They also have all their ciders here to try, and it is quite the extensive list! We tried several of the ciders and loved all of them.

Important Notes for Visiting Angry Orchard
The orchard does not allow pets on the premise. The exception to this is service animals.
Those who are under 21 years of age can come to Angry Orchard, but there are some areas and events that only those 21+ yrs old can attend.
Find a cider you love here? While, you cannot purchase outside of the orchard, you can purchase some before you go. We recommend buying some to go and enjoy at a later time!
The fall is a very popular time to visit the orchard. From the fall leaves, apples and cooler weather, we can see why! However, we visited in June and feel this is still a great spot to visit in the spring or summer.
Lastly, prior to the pandemic, they would have evening events and small concerts. When we visited in June, 2021 they had yet to re-start this as they worked back up to their maximum capacity. They recommend checking their site for updates!
That wraps up the day trip to Angry Orchard! This is one of our favorite day trips from NYC, and one we feel is more unique. We spent about 3 hours at the orchard, but you can easily spend longer or less- depending on your timelines! If you have some spare time, we recommend checking out the town of Beacon. This post will go over the best spots to see and where to eat in Beacon, NY.