New York City is filled amazing food and coffee. We have lived here for over two years and our list of must-see  NYC coffee shops is always growing. Below are some of our favorite breakfast cafes and coffee shops.
Stumptown Coffee Roasters
30 West 8th Street
One of the most see NYC coffee shops is Stumptown Coffee Roasters. Located in an old library, the interior feels like you've stepped into a 1900s library. Their coffee beans are direct-trade and delicious. They offer everything from drip coffee to espressos to London fogs- something for everyone! Once you collect your coffee, we recommend making the one block walk to Washington Square Park to enjoy it!
Dough Doughnuts
14 West 15th Street (right off 5th Ave)
While this is not necessarily a coffee shop, we feel it should count. Maybe this is just our love of doughnuts talking, but who knows! If you're looking for a doughnut in Manhattan- this is your spot.  They make the dough with brioche-style bread and make them throughout the day. Therefore, you are assured a fresh doughnut no matter the time of day. We had the plain glaze and Boston creme, but we have been trying to plan our days off around going back for the Cafe Au Lait flavor! They also offer French-press coffee to enjoy as well.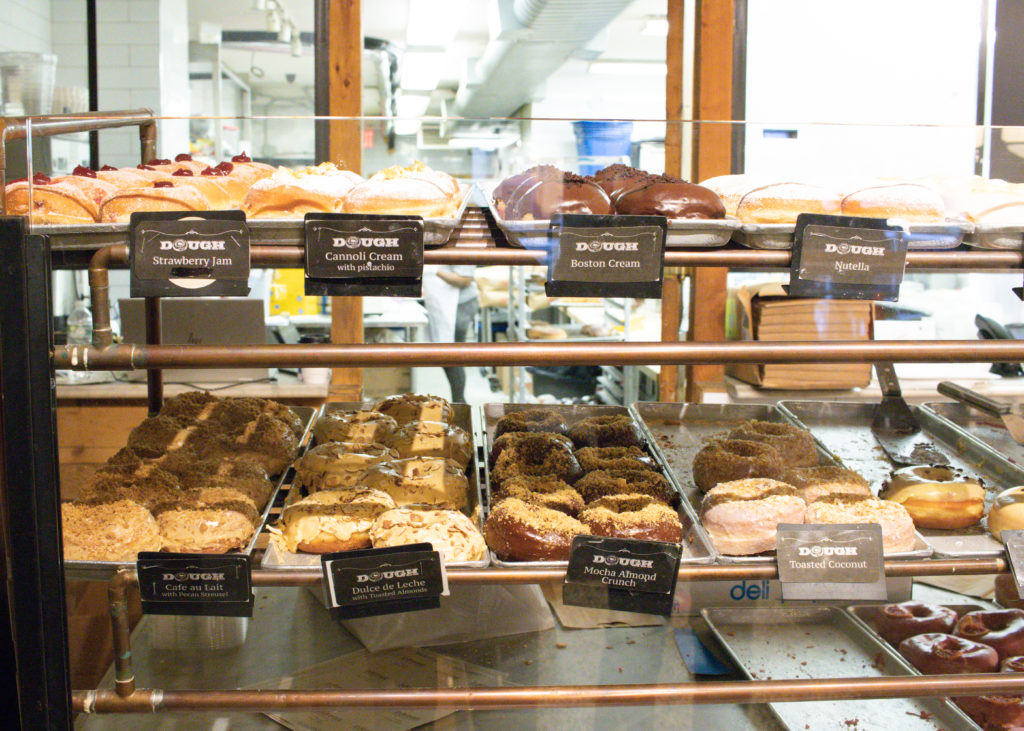 Remi Flower + Coffee
906 2nd Avenue
Yes, you read that right. This coffee shop is inside a flower shop and I cannot think of a better combination for you Saturday morning coffee run. While it doesn't have the most convenient location for many, it really is worth the visit. Their coffee shop is delicious, offering a variety of espresso drinks and tea lattes. In addition to coffee, they offer custom floral arrangements. From the coffee, to the pastries, to the outdoor tables this is one of our favorite NYC coffee shops.
Cha Cha Matcha
1158 Broadway Avenue
Chances are if you are a matcha fan or were looking for Instagrammable cafes, you've heard of Cha Cha Matcha. They also have a second location at 501 5th Avenue (right beside the NY public library), but this seems to be the smaller version of the Broadway Avenue cafe. Regardless of the location, you will be entering a pink and green filled matcha cafe. They offer a wide variety of matcha drinks and soft serve. While enjoying your matcha treat, you can sit back in the hot pink, palm tree lined cafe for some photos!

Ralph's
888 Madison Avenue (off of 72nd Street)
Ralph's is the coffee shop started by Ralph Lauren (yes, the clothing designer). While there are a couple of locations within Manhattan, we feel the flagship store in the Upper East Side is a must see. Most of the building is the Ralph Lauren clothing store, but on the end is the coffee shop. They offer espresso drinks with a small selection of pastries, the chocolate chip cookie is hard to pass up! This is one of our must see NYC coffee shops at Christmas time. They decorate with Christmas lights, have peppermint hot chocolate and are locating steps from Central Park.
Hutch and Waldo's
247 East 81st Street, Upper East Side
Another Upper East Side coffee shop is Hutch and Waldo. This shop is Australian owned, so you have an Australian feel to the menu- coffee included!. In the summer, they have an outdoor, dog-friendly, set up to enjoy your food. They also have frose (frozen rose), which is the perfect drink to pick up on your way to Central Park for a summer afternoon.
Bluestone Lane
400 Madison Avenue, Upper East Side
Bluestone Lane is another Australian coffee shop. They have a few locations around Manhattan, but the best location is the Upper East Side. The Upper East Side location is a couple blocks away from the MET and located inside a cathedral. Yes, you read that right. The coffee shop is inside a historic church, or at least a section of it. So you can enjoy coffee at a curbside table with Central Park in front of you and the stunning archways of the coffee shop behind. Overall, this is a great stop if you need some coffee after a museum or a little caffeine to tackle a walk through Central Park.
Flippers
337 West Broadway, SoHo
Yes, Flippers is a breakfast spot but we couldn't not include this spot. They offer a variety of Japanese inspired cafe drinks, including coffee, match and boba tea. On top of this, they have the absolute best pancakes we have ever had. They have both Japanese style pancakes and regular pancakes, both were unreal. The environment is bright and cheery, perfect for those instagram snaps. Furthermore, as an added bonus the street gives you the perfect spot to see the One World Tower. What more could you want?!
Roman and Williams Guild
53 Howard Street, SoHo
Roman and Williams Guild is both an upscale textile/ furniture store and cafe. In regular times, you can sip your coffee and browse around all the upscale design spaces. This is a must see NYC coffee shop for all those who love interior design.

The Laughing Man Coffee Company
184 Duane Street
The Laughing Man Coffee Company offers high-end coffees in a hip environment. They have expanded and there's an additional cafe in Brookfield Place. The coffee shop is cofounded by Hugh Jackman in an effort to provide a marketplace for farmers in developing countries to sell their coffee. Additionally, Hugh Jackman donates 100% of his profits to the Laughing Man foundation which supports educational programs, community development and social entrepreneurs. Overall, this is a great spot to feel good about spending $5 on a coffee and perhaps have a celebrity sighting!
Starbucks Roastery Reserve
61 9th Avenue
Starbucks has six roasters reserves, with one of them located in NYC. The Starbucks Roastery Reserve allows you to walk through and see how the coffee beans are processed. You can pick up traditional Starbuck drinks or you can order something off their cocktail menu. Additionally, you can go to their "scoop bar" and bring a bag of beans home for yourself. Whether you come for a drink or the experience, the three levels offer unique insight into the coffee process and is one of our must see NYC coffee shops.
Tiger Sugar
197 Canal Street
Home to the original brown sugar bubble tea, this is a must try spot in Chinatown. The store is small and quite popular, so often it's chaotic inside. However, it's efficient and well worth it! We recommend grabbing a brown sugar milk tea and walking walking around Chinatown to explore. They do have locations in both Flushing and Brooklyn as well!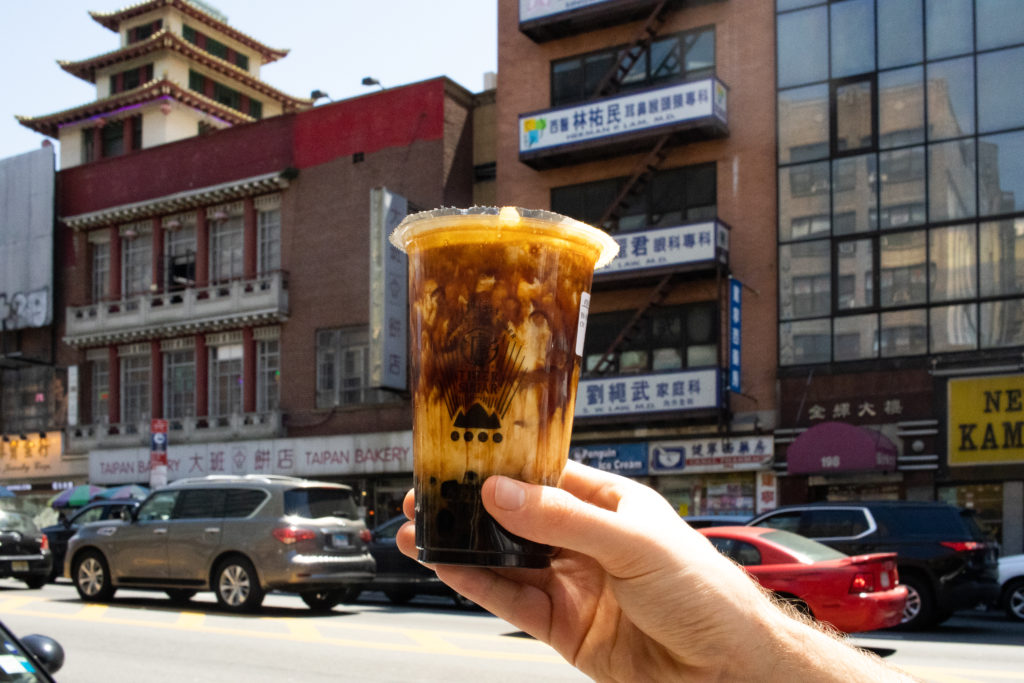 Black Star Bakery and Cafe
1597 York Avenue
Black Star Bakery and Cafe is located in the Upper East Side and frequently visited by many in the neighborhood. There are additional locations in Long Island City, Williamsburg and Gramercy Park. The cafe offers a variety of coffee options as well as breakfast/ lunch menus, we highly recommend grabbing a donut from here.
Maman Cafe
Maman Cafe has several locations around the city, we often visit the 1424 3rd Avenue location. This is a French cafe filled with flowers and greenery. Their menu has great food options, often served on fine china plates, and their coffee is great. This may just be one of the most Instagrammable coffee shops on our list, so be sure to check it out!
Dominque Ansel Bakery
189 Spring Street
Dominque Ansel Bakery is a bakery cafe lead by Dominque Ansel, who is a French pastry chef. The bakery is well  known for their cronuts, which is a hybrid of a croissant and donut. There are many other pastries and French desserts as well as coffee. We recommend getting here early or going on a weekday to avoid the long lines.
Felix Roasting Company
450 Park Avenue S or 104 Greene Street
Felix Roasting Company is a great spot to sit down for a coffee with a friend. Both cafes have unique and picturesque indoor decor, making it a great spot to sit for a while. They offer coffees, small bites and coffee cocktails.
Oslo Coffee Roasters
Oslo Coffee Roasters is a coffee shop that originated in Williamsburg, Brooklyn. Since opening in 2003, it has expanded and there are several locations in Brooklyn and Manhattan. They roast their own beans and have a sustainable approach to their business. We are lucky enough to have a location near our apartment and frequently visit it. This may just our favorite NYC coffee shop!
Squish Marshmallows
120 Saint Marks Plaza
Squish Marshmallows is the place to go for if prefer hot chocolate over coffee. Known for its uniquely flavored and delicious marshmallows, however their store front also offers hot chocolate.
% Arabica
20 Old Fulton Street
% Arabica is a coffee chain that first opened in Kyoto, Japan and has recently opened up their first location in the US. Located in Dumbo, with the Brooklyn Bridge as the backdrop, this is a perfect spot for the cafe. The cafe is known for their fresh beans and even offer custom roasting services. We recommend grabbing a cup of coffee and explore Dumbo or walk across the Brooklyn Bridge!
Kobrick Coffee Co.
24 9th Avenue
Kobrick Coffee Co is located in one of our favorite neighbourhoods- the Meatpacking District. The cafe features hand roasted coffee and plenty of seating. This is the perfect cafe to catch up with friends, sit down and work or a pit stop while out exploring the neighborhood.
Overall, New York City is filled to the brim with amazing coffee shops and bakeries. While this list includes our favorites NYC coffee shops, we are constantly adding to our list and it is by no means the only cafe options. If there's a must-see cafe you have in NYC, let us know!
Looking for more fun things to do in the city? Check our favorite Instagram spots, skyline views and winter activities!