Don't get us wrong, we love NYC and everything it has to offer, but sometimes you just need to get out for a bit. You know what we mean? Well, Beacon, NY is the place to get outside the city and enjoy a slower pace. Beacon, NY is like stepping into a Hallmark movie. Not only is it a close day trip from NYC, it is accessible without a rental car and the food scene is great too.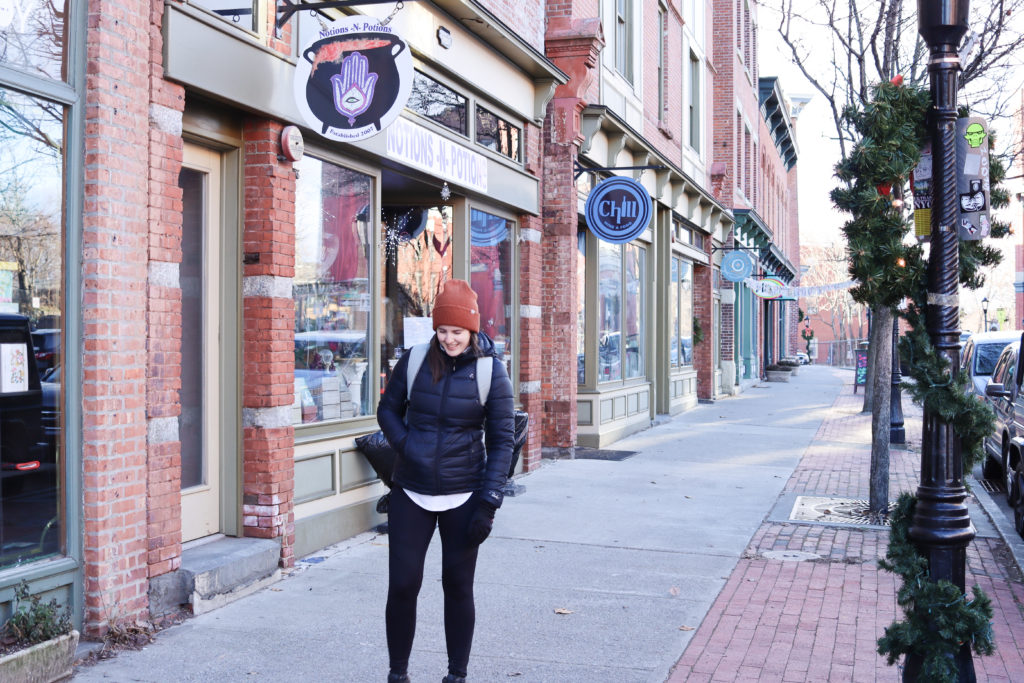 How to Get to Beacon
One of the reasons we love Beacon so much, and feel it's a must see, is its accessibility via the Metro-North train. From NYC, you can catch the Metro-North at Grand Central station or 125th Street Station in Harlem. As of January 2021, the train leaves hourly and is a smooth 1.5 hour ride. Overall, the train itself is enjoyable as the views are top notch. Sit on the left on the way out for the best views of the Hudson River and West Point (a prestigious American military college). Another tip — if you plan to see the Dia Museum, then you can buy a joint train and museum ticket to save some money.
Traveling by car is relatively easy as well. Beacon is north of the city and the drive is relatively straight forward once you're out of NYC, with options to stay on west or east side of the Hudson. It shouldn't take more than an hour without traffic, but as all New Yorker's know — plan for traffic. There are many parking options around Beacon once you arrive as well.
Getting Around Beacon
Uber and Lyft are both widely used and easily accessible, both with affordable rates.
The Beacon Bus Loop is a free shuttle that follows a route from the train station, to the Dia Museum, to Mount Beacon Trailhead and then to two Main Street stops. The bus is pretty frequent and free! Find the schedule here.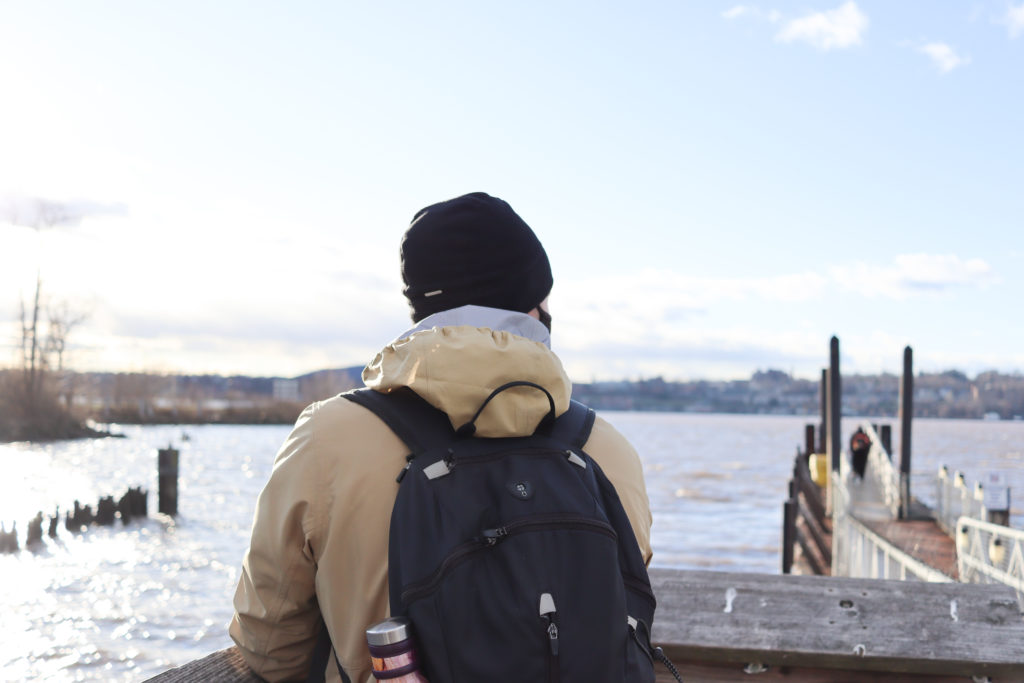 Things to Do
Go on a Hike: The main hike is Mount Beacon and the Fire Tower (keep reading for further details!). Fishkill Ridge and Wilkinson Memorial are also nearby and popular as well. Lastly, there's also Breakneck Ridge, which is a popular hike just south of Beacon with a dedicated Metro-North stop from NYC over the summer.
Visit the Dia Museum: The Dia Beacon is an art museum with indoor and outdoor exhibitions. An insider tip is to book your ticket with your Metro-North train ticket, you get a discount.
Bannerman Castle Tour: Bannerman Castle's history goes back to the American Revolution when this small island was used as a strategic munitions store. Only accessible by ferry, you can then partake in a guided or self-guided tour. The ferry leaves from right behind the train station. Tours operate from May to October, so sadly we weren't able to see this on our December trip, but it comes highly recommended!
Enjoy Some Shopping: There are many shops and antique stores in Beacon. We highly recommend wandering around Main Street and enjoying all the unique shops. Looking for more shopping? Head on over to Warren Street for additional vintage shops!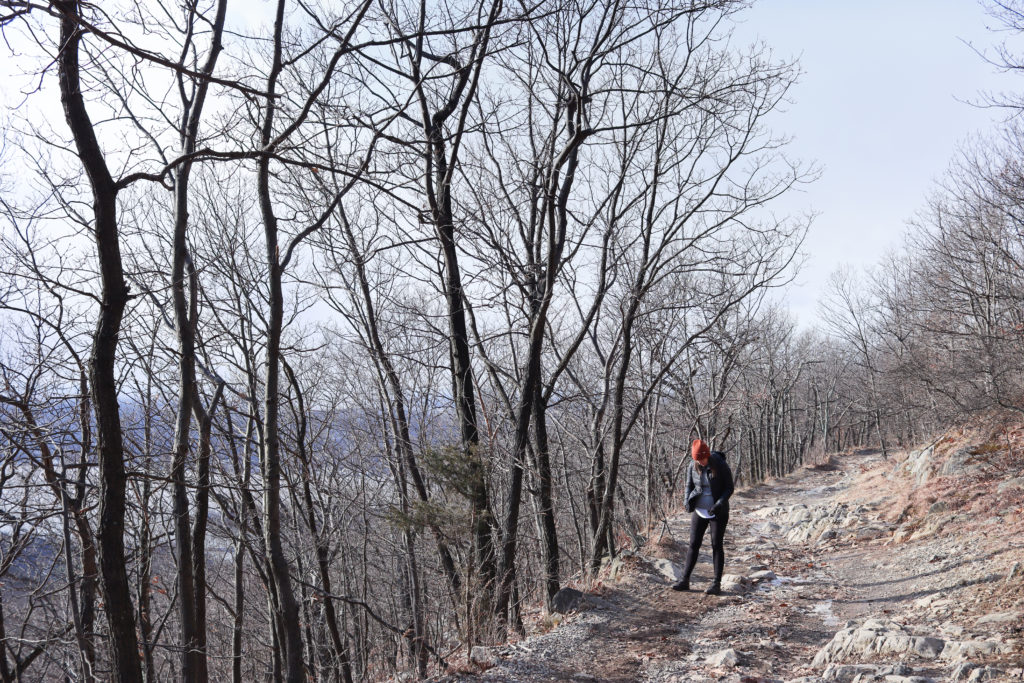 Hiking Mount Beacon and the Fire Tower
Distance: 4.2 miles  Elevation gain: 1,500 ft Time: 2.5 hours Level: Moderate to hard
Mount Beacon is a popular hike in the Hudson Valley and for good reason. Not only is it the highest peak in the Hudson Valley, but it's a fun hike! The hike to the Mount Beacon lookout is about 2 miles round trip, however we highly recommend adding in the Fire Tower to make it 4.2 miles roundtrip. Mount Beacon's trailhead is an easily accessible parking lot, about 1 mile off of Main Street. If you decide to take Metro-North like we did, just grab an Uber from the train station or use the Beacon Bus Loop.
Hiking Mount Beacon Directions:
Follow the casino (red) trail markers, it's well marked and easy to follow. The initial hike is steep making it moderate to hard hiking. Mount Beacon's lookout point is the ending site of the cable railway, but remains as a historic ruin. From here, continue hiking to the Fire Tower via a logging road. Eventually the red trail marks turn to white, which is where you backtrack 100 ft to climb to the right up the rocks. The Fire Tower is right at the top! You can climb up the fire tower and on clear days you can see NYC skylines. However, it is windy!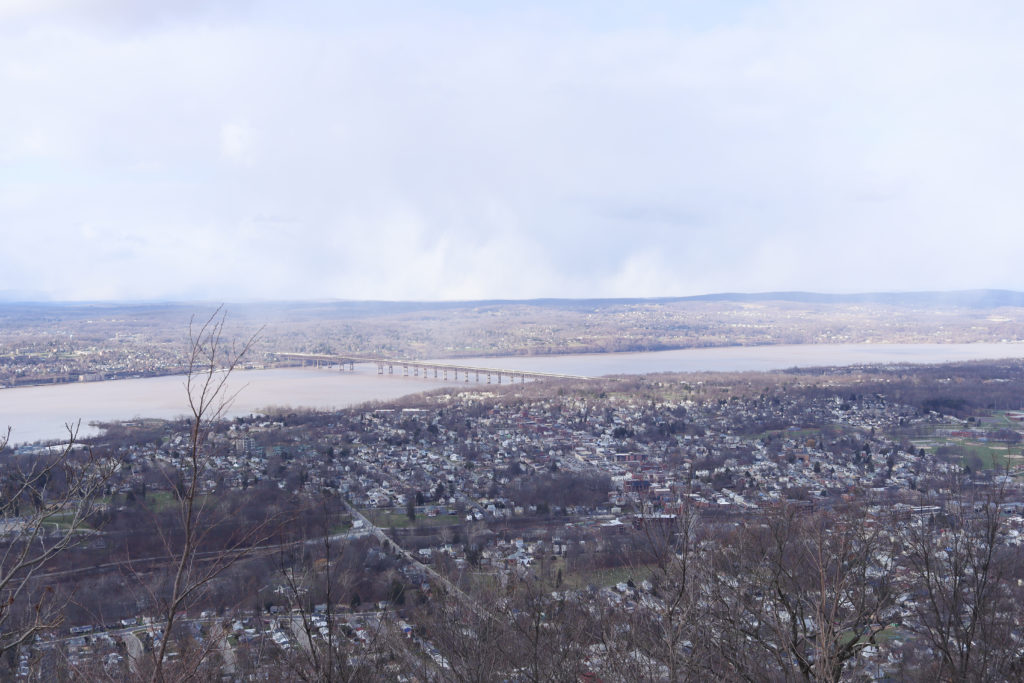 What to Eat in Beacon
There are so many places to have a coffee, a bite to eat, or drink. We went in December on a Tuesday, not exactly peak season. As a result, many of the restaurants were unfortunately closed. However, we did enjoy a hot drink and treat from the Big Mouth Coffee Roasters, which was delicious and appreciated after our winter hike. This being said, there were so many fun and unique restaurants down Main Street.  Below is the list of restaurants with great reviews and come highly recommended.
Beacon Bread Company: This is both a bakery and restaurant, serving American dishes. Their breakfast plates are highly sought after!
Beacon Pantry: The Beacon Pantry sells artisanal foods such as cheeses and spreads, however the other half offers a cafe. We have read many positive Yelp reviews on their sandwiches.
Ziatun: This is a middle-eastern style restaurant, with incredible hummus. A bonus is their indoor dining was open, at limited capacity, during the pandemic.
The Pandorica: This is a Who themed restaurant. That alone is intriguing enough to make us want to check it out, however their British pub food could seal the deal.
Beacon Falls Cafe: This is a microbrewery with fines wines, we have not eaten here but the reviews speak for themselves.
2 Ways Brewing Company: This microbrewery offers some fun brews and a great outdoor spot. It is also pretty close to the train, so makes for a good spot to wait.
Beacon Creamery: Considered one of the best ice cream spots in town, this would have been our treat of choice if this was a summer hike!
Glazed Over Doughnuts: This shop comes highly reviewed. Unfortunately they are not open Tuesday, and we nearly changed the trip date to accommodate!
Big Mouth Coffee Roasters: We enjoyed a hot drink and treat here. The cookies were delicious as was their coffee. The inside is eclectic and big, so plenty of space for social distancing.
Bank Square Coffeehouse: On the Western end of Main Street is another coffee shop. They also have beer, snacks and live music during non-covid times.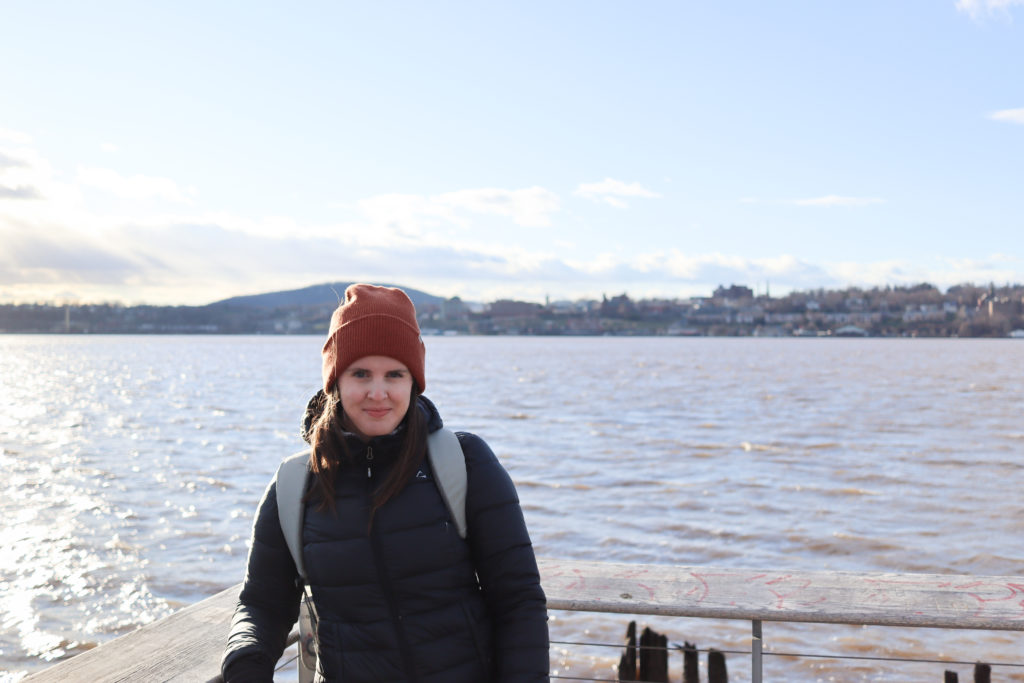 Where to Stay
While we made this a day trip, you can definitely extend the fun by staying overnight. The Roundhouse Beacon is a beautiful property and comes highly rated. However, if this is not in the budget there are many AirBnB's in the area as well. I would recommend staying close to Main Street, so you are close to all the main restaurants. While Uber and other car share apps are here, walking is always nice when the weather is cooperative.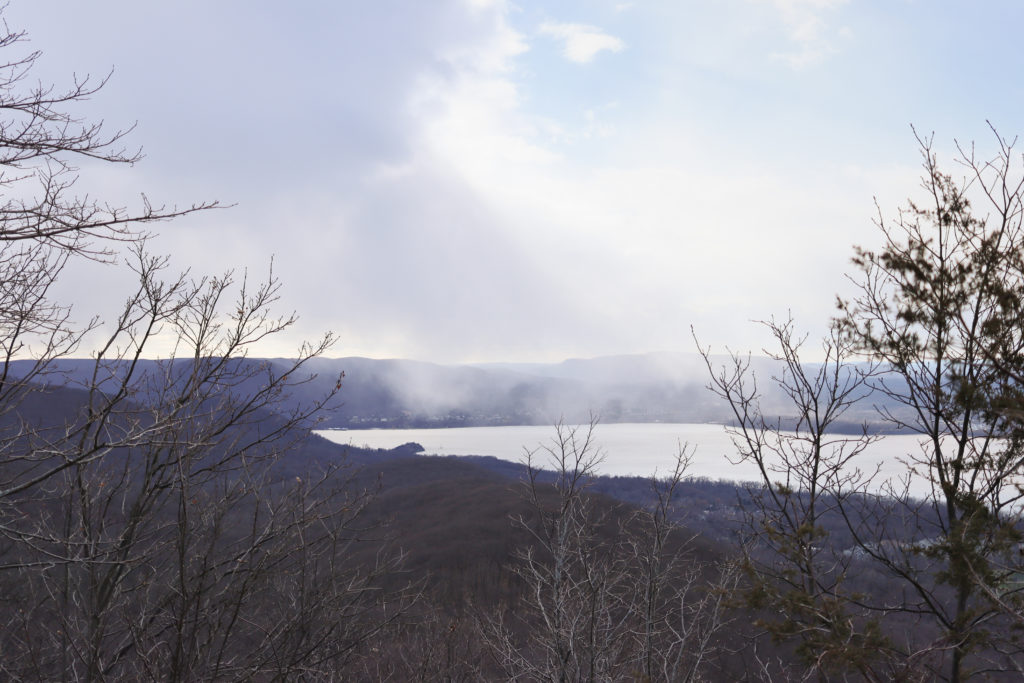 Day Trip Itineraries
Want the whole day planned? Here are our two Beacon day trips itineraries we recommend.
Option 1: Arts and Culture
Arrive to Beacon and head to the Dia Museum. Either walk the 0.5 mile distance, take an Uber, or wait for the free Beacon Loop Bus. You could spend 1-4 hours here, depending on how leisurely you stroll!
Head into Main Street to grab a bite to eat at any of their various restaurants. We recommend Ziatun!
Walk along Main Street and explore their shops, plan for 1-2 hours here.
Head down to the river and take the Bannerman ferry tour.
If you're up for an evening in town, feel free to head back to Main Street for dinner at 2 Ways Brewing Company
Option 2: Outdoor Adventure
Arrive to Beacon and head to the Mount Beacon trailhead. Depending on time and your fitness level, hike to Mount Beacon or all the way to the fire tower.
Head into Main Street to grab a bite to eat at any of their various restaurants.
Walk along Main Street and explore their shops — plan for 1-2 hours here.
End the Main Street stroll at 2 Ways Brewing Company where you can enjoy the sunny patio, a beer and wait for your train to arrive.
Beacon has a lot to offer for both locals and tourists looking for an escape from the city. With convenient transit options, plenty to do year round, and set in the beautiful Hudson Valley, this is a must add to your list of day trips from NYC!