Post summary: The ultimate two-day guide to discover Olympic National Park! Learn how we packed in all the hot spots, including hikes through mountain ranges, rainforests, and premier coastal beaches of the Pacific Northwest.
Olympic National Park (ONP), a designated World Heritage Site, offers a collection of diverse ecosystems to explore. Located in the Pacific Northwest, travelers can take in everything from rugged beaches, vast alpine mountain ranges, and towering rainforests. As outdoors enthusiasts, we couldn't wait for the opportunity to explore it for ourselves!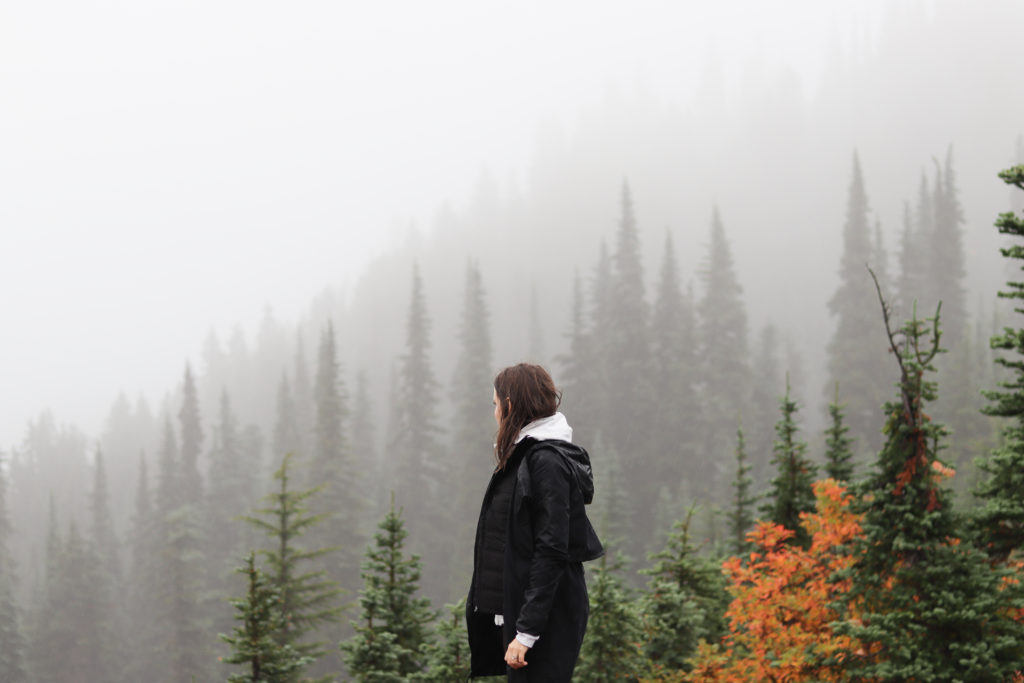 Just a 2.5 hour drive from Seattle, ONP provides the flexibility to visit in a single day trip, however we spread this over two days which provided the right balance of time spent traveling and visiting hot spots. In this post, we outline the variety of sites to see, the best beaches to explore, and provide the ultimate two-day travel guide to ensure you pack it all in!
Must do Activities to Discover Olympic National Park
There are plenty of things to see and do in ONP – enough to fill weeks and weeks of itineraries – however we provide below what you don't want to miss.
Hurricane Ridge:
Hurricane ridge is a 40 minute drive from Port Angeles, with the drive offering plenty of mountain views along the way. Once you reach the top there is a visitor center and several hikes you can choose from. These range from family friendly, 1 mile paved hikes up to 8+ mile, non-paved trails. This is a popular spot for sunrise/ sunset hikes as well, which we have heard are incredible! We opted for Hurricane Ridge, which was a paved 3.2 mile hike that *typically* offers panoramic mountain views. While it was only a slightly foggy day in Port Angeles, it was foggy and then snowy at the top of our hike. Lack of views aside, this was still a great hike and we had plenty of fun!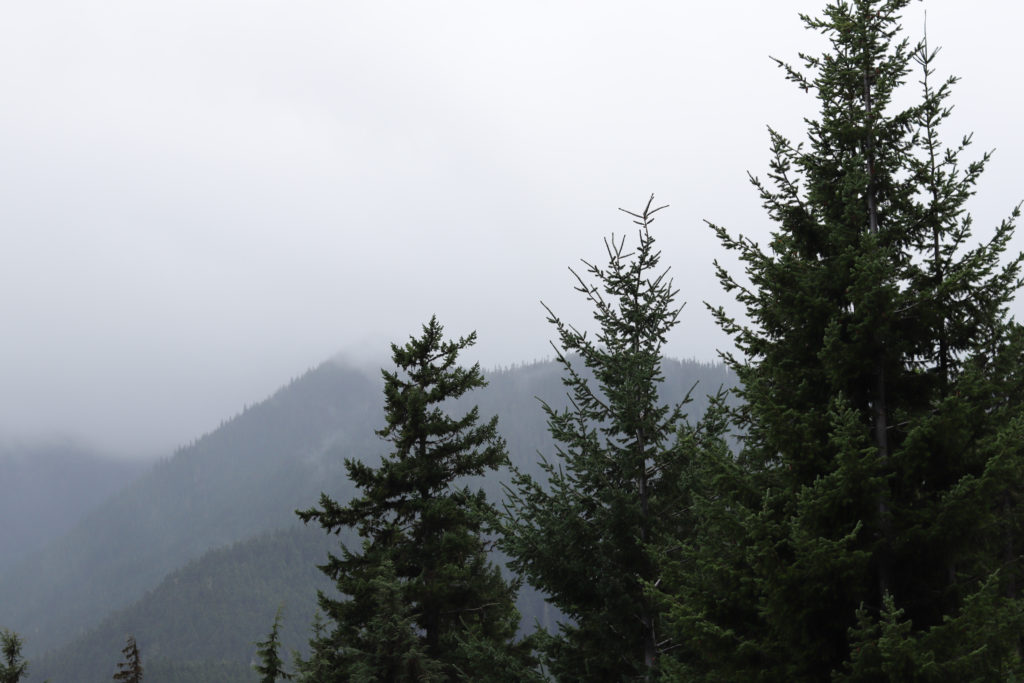 Crescent Lake: Crescent lake is about an hour from Port Angeles and is a very popular destination to soak up the sun in warmer months. While it was a brisk 60F out, we still enjoyed the views! If you come in peak season, try renting a Kayak or stand up paddle board to get out onto the lake.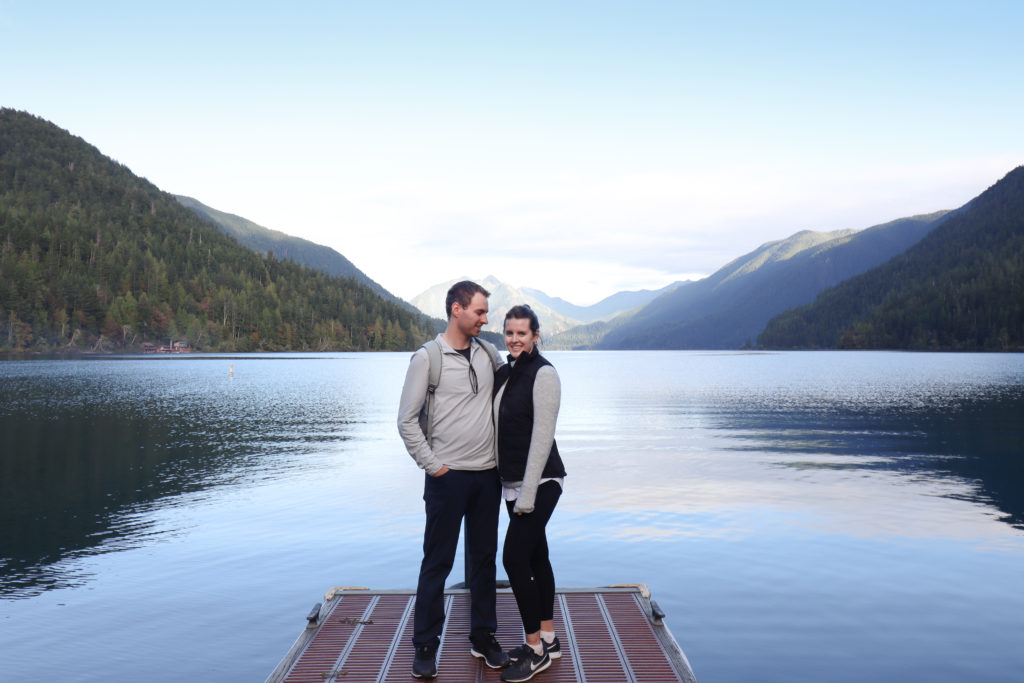 Hoh Rainforest:
In our opinion, the Hoh Rainforest is a must see when visiting the ONP. This about a 2.5 hour drive from Port Angeles, but right in between Ruby Beach and Rialto Beach, so the location works well. Once here, there is a 1.2 mile trail that will take you through a green, moss ladened, rainforest. The trees are also the second largest in North America (the California Redwoods taking the number 1 spot!). We got here first and are glad we did, as it was starting to fill up around 10 am.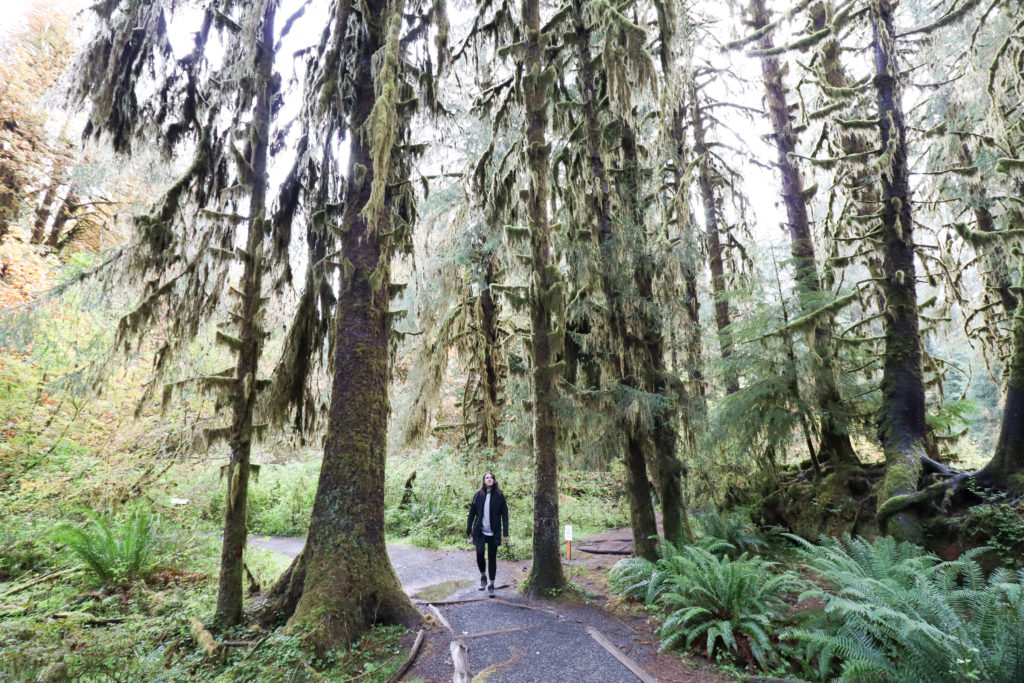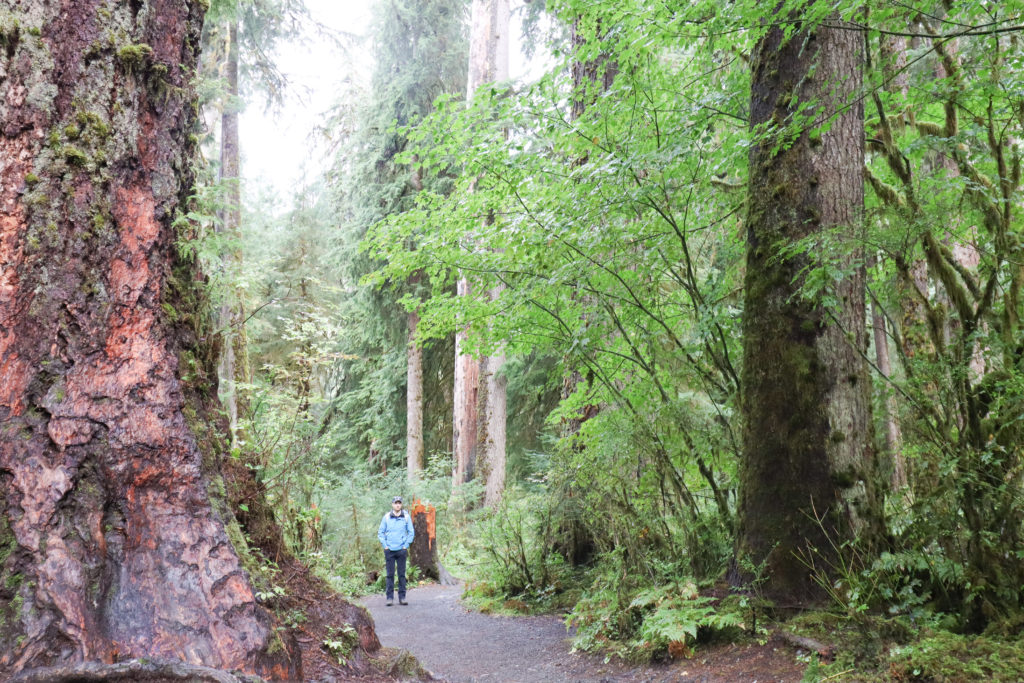 Sol Duc Falls:
Sol Duc Falls is another quick 1.6 mile hike, which offers incredible views of the waterfall. This is a popular spot, so get here early or late in the day to avoid some of the crowds. There is also the Hot Springs Resort where you can stay and enjoy the pools and hot tubs heated naturally by the hot springs. Unfortunately, these were only for resort guests when we were visiting, so I recommend looking into this prior to planning around if you are not staying here! .
Olympic Hot Springs:
Olympic Hot Springs are pools that are in the wilderness area and not maintained. These are in the Elwha Valley about 2.5 miles off of Boulder Creek Trailhead.
Although the above sites to see are incredible ways to spend your time, our favorite time spent on this trip was exploring the unique coast lines, both in high tide and low tide. The next section provides highlights of the best beaches to explore during your time in ONP.
Beaches
Ruby Beach:
Arguably the most popular is Ruby Beach. This beach is right off the highway and does not require any hiking to access. This beach has the rocky shore, iconic driftwood and seastacks you're looking for. At low tide you can walk down to the beach to escape the crowds in the main area.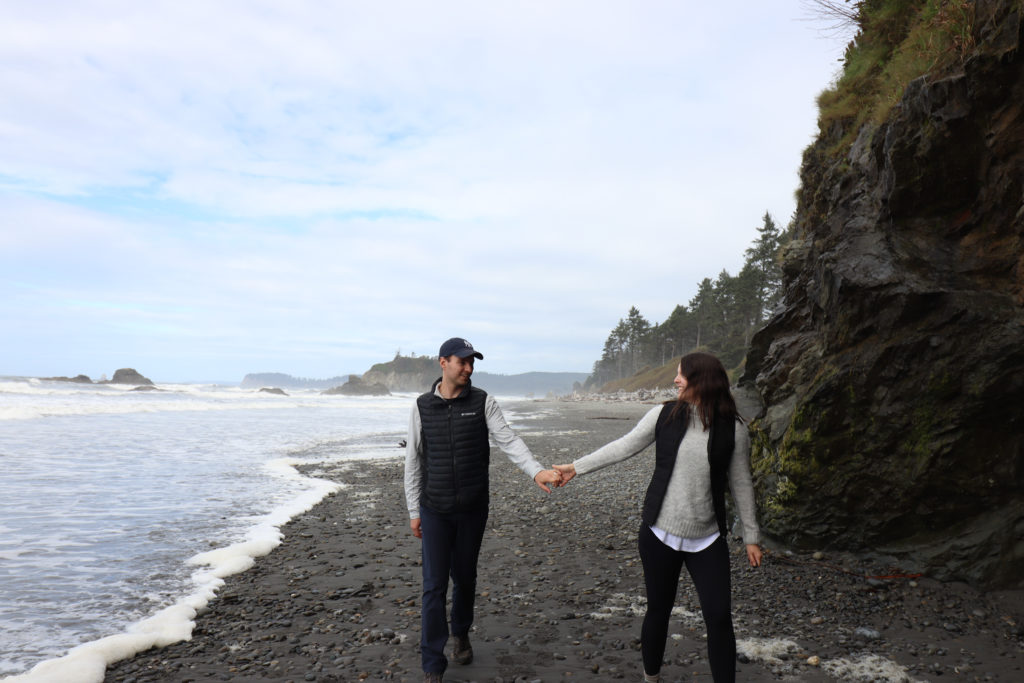 Rialto Beach:
This beach is more central and closer to the town of Forks. Its shores are also rocky, but is better known for its incredible driftwood and seastack formations. We did a a hike down the coast to the keyhole rocks, which was 3.2 miles rounds trip and well worth it!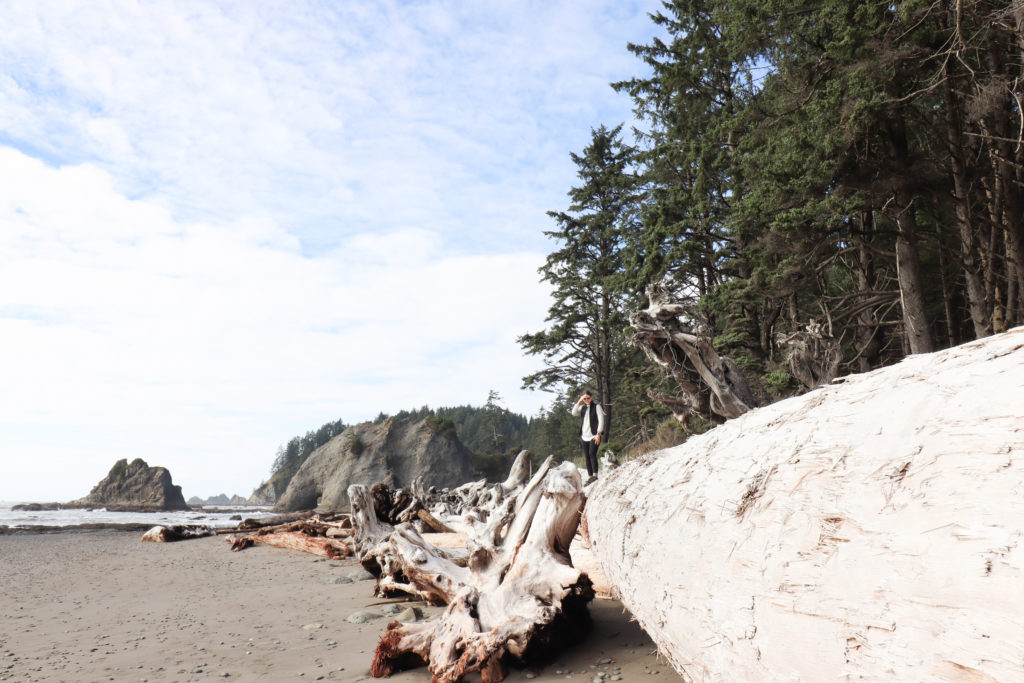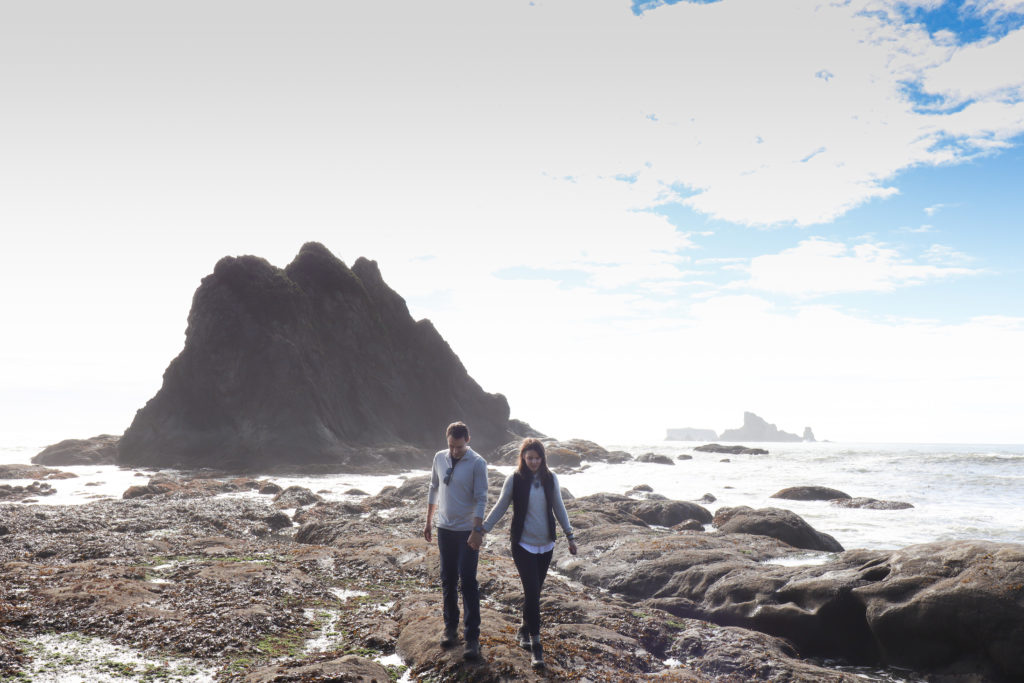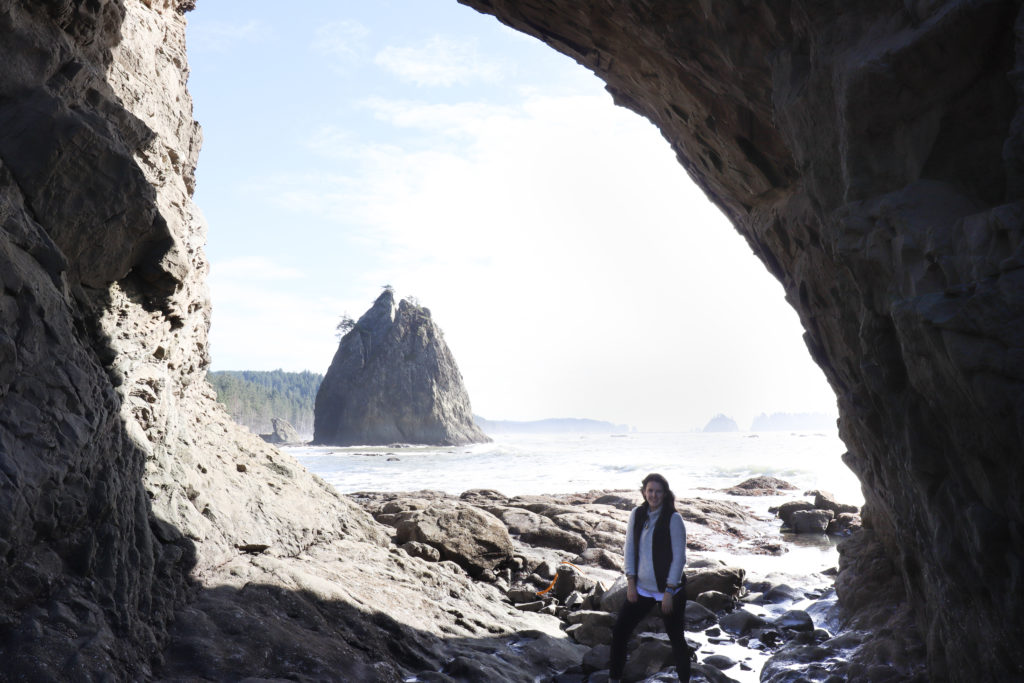 La Push Beaches:
The first, second and third beaches are side by side and make up the La Push beaches. First Beach is part of the Quileute Indian Reservation, while Second and Third beach, just South of First Beach, are part of Olympic Wilderness Park. All three beaches are within a 15 minute drive from Rialto Beach, unfortunately these were closed when we visited or else we would have made the trek over as well! First beach is accessible right off of the parking lot. Second Beach is a quick 20 minute walk down to the beach with plenty of beach camping opportunities. Third Beach is a 3.6 mile hike down to the shoreline, making it the least visited of the three beaches, however if you are up for the trek you will be rewarded with classic PNW coastal views and fog (probably!).
For any of these beaches ensure you are checking the tide times as many hikes will not be possible at high tide. You also do not want to get stuck out past where you can return due to change in tides!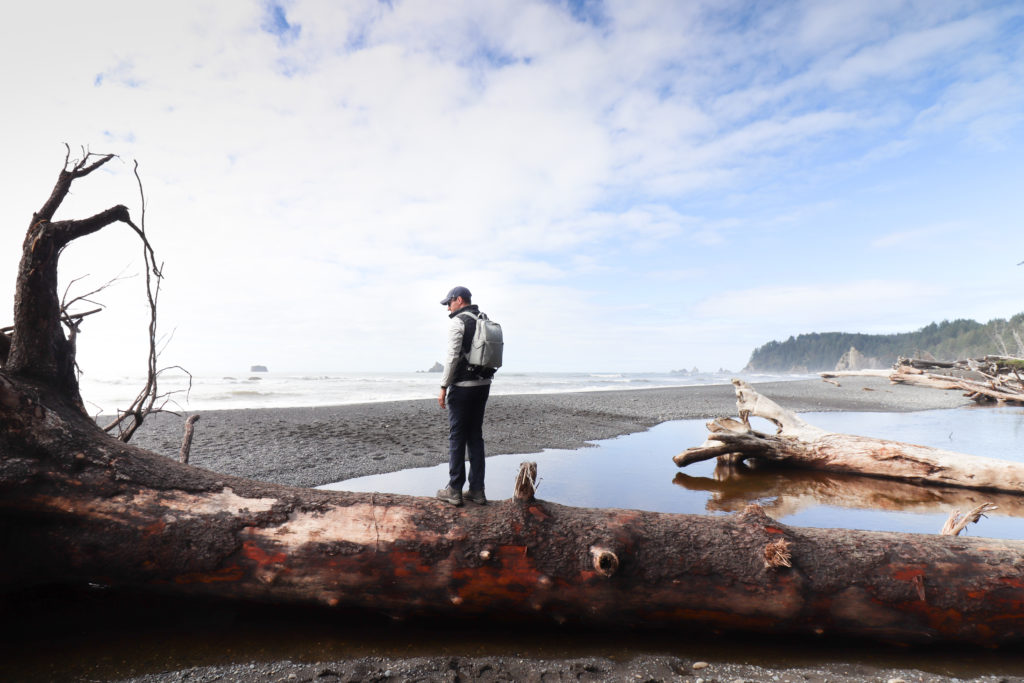 Two-Day Itinerary to Discover Olympic National Park
Not into mapping out destinations and timing of tides to see all these attractions? No problem! You can follow exactly what we mapped out!
Day One:
We landed at Seattle-Tacoma airport, rented our car and headed for ONP. The drive is about 2.5 hours and we got into Port Angeles around 2 pm. From here, we headed straight to Hurricane Ridge, about another 40 minute drive. After Hurricane Ridge we checked in by 6:30pm, leaving enough time for dinner in Port Angeles. We were blown away by Next Door Gastropub and highly recommend!
Day Two:
Buckle up as this is a big day filled with plenty of driving! We were on the road by 7am to make the 2.5 hour drive to Hoh Rainforest. We spent about 1.5 hours here and then headed out to Ruby Beach for high tide. This drive was about 40 minutes. We spent about 2 hours here, which included our picnic lunch in the truck of our car! This is the farthest spot we drove. From here we drove to Rialto Beach. This was about an hour drive, but back towards Port Angeles, so it's not unproductive! This drive also takes you right through the town of Forks, so we stopped for an iced coffee here. We spent about 2 hours at Rialto beach as well, in low tide this tine, which included the 3.2 mile hike ad plenty of time for photo taking. At this time, it was 5 pm and we were about 1.5 hours from Port Angeles. We had planned to see Sol Duc Falls or the Olympic Hot Springs, but these were closed at the time, so we opted for Crescent Lake! A quick pit stop here, as it was low season, and then we were hotel bound and back before 7pm.
Following our final day in ONP, we packed up and made out way to Seattle to explore the city. If you're hoping to spice up your travel day, Hurricane Ridge or Elwha Valley would be great half day adventures.
Whew, this was a long one folks, bit who can blame us after visiting the beautiful coast of Washington State! Check out how we fared in two days in Seattle before flying back home.