Greenport, New York has been on our weekend bucket list for a while. We went in the summer with high expectations and they were certainly met! Greenport may now, unofficially, be one of our favorite summer destinations.
Greenport is located on the Northern Fork of Long Island. Compared to its Southern Fork counterpart, The Hamptons, it's much quieter and has more of a small-town feel. But do not take this as its boring, because its main strip gets lively in the evenings.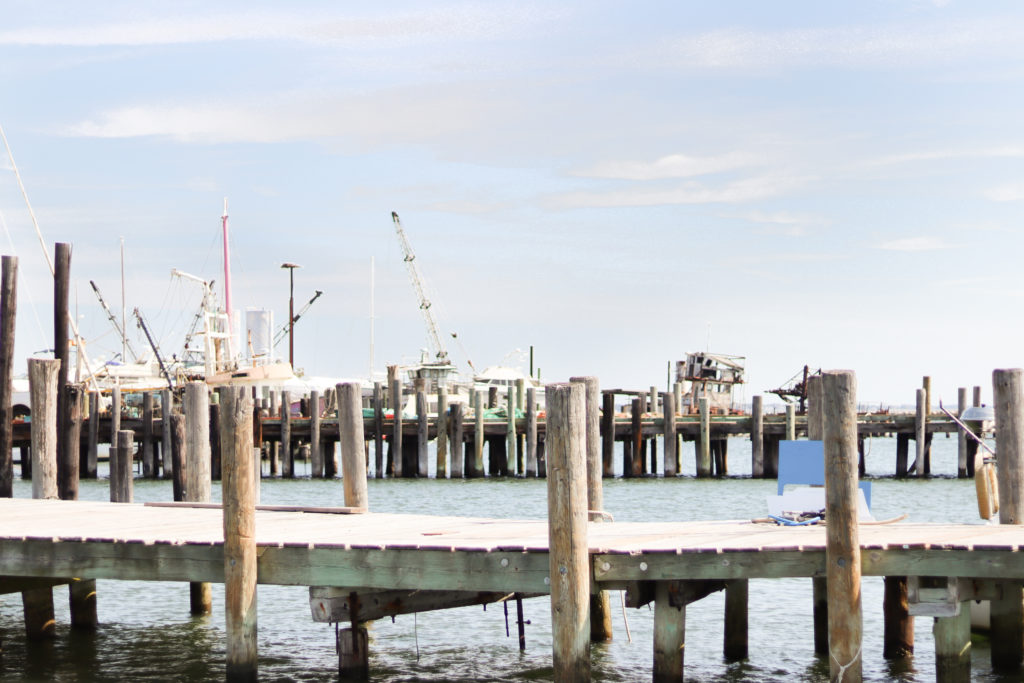 How to Get to Greenport, NY
Greenport is about 100 miles East of Manhattan, New York. It is accessible by train, bus and car, making it an easily accessible weekend getaway for just about everyone.
Driving
If you are driving out there by car, it's about a 2-hour drive. With this said traffic can drastically change this time length. We took Friday off, which allowed us to leave Thursday night. Our main goal was to avoid Friday evening traffic, because we have heard it's not great. When we left Thursday night, hitting the road around 7pm, we had minimal traffic. Once we got out of the city, you might even call the traffic "light".
Driving home on Sunday we were also mindful of the traffic. We left around 1pm and did not have any issues. Based on feedback from peers and Google, we would recommend either heading home early or late on Sunday, to avoid that car traffic as best as possible.
Overall, driving was very convenient with tolerable traffic. Once in Greenport, we did not use our car very much, which makes taking the train out another feasible option.
Train
The transit options to get out to Long Island are good. You can take the LIRR (Long Island Railroad) from Penn station to get out there. When traveling at peak time and season, you barely need to know your way- simply follow the throngs of beach goers. But, in all seriousness, it is pretty easy to navigate getting out to Greenport by train.
You will catch the LIRR from Penn station (update, you can catch the train using the new Moynihan Station!) right to Greenport. The train will be the purple "Ronkonkoma" train and you will take this right to the Greenport Station. This journey is about 1 hour and 22 minutes, costing about $16/ person each way. While, we drove out to Greenport, we have taken this train to the Hamptons before. The train is clean, air conditioned, with comfy seats so this is a great option. Bonus, if you have time, we recommend stopping for some Shack Shake to really get you in the weekend mood! One tip: it will be a mad dash to the train once the platform is assigned, be prepared for this and hang back if it's not your style. However, if you do not rush with the crowd, you may be standing for the first few stops.
Bus
In the peak season, there is also a bus you can take out to Greenport. The bus is called the Hampton Jitney. They have a few pick up spots within Manhattan. The schedule fluctuates with the seasons and days of the week, so I recommend checking out their website for the most accurate information. In general, the bus will be about 3 hours and cost $22/ person each way. You can find out more here. 
Where to Stay in Greenport, NY
Greenport is not a large town, so the accommodations will be limited and fill up quickly. With that said, the two main options are AirBnB and hotels. We looked for somewhere to stay about 1 month out from our trip and found limited options. There were few AirBnB's left by this point, so we opted for a hotel.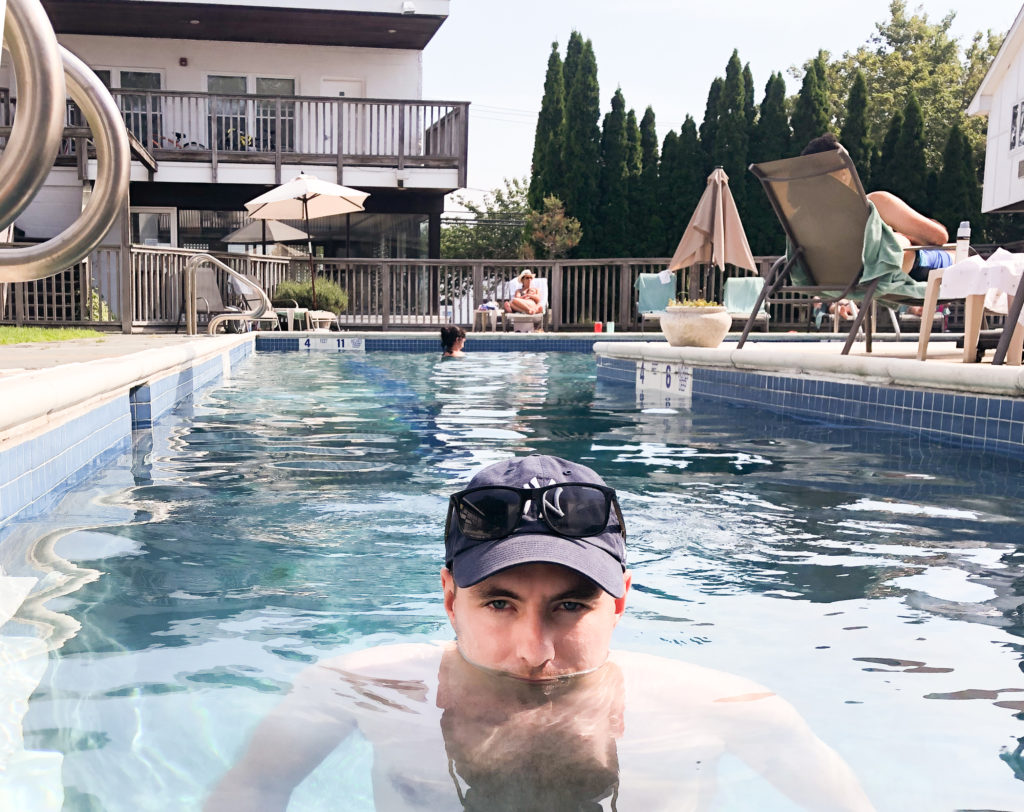 Greenporter Hotel
Greenporter Hotel is where we stayed and loved it. It's a re-done motel and while the rooms are basic, the outdoor space is where it shines. This hotel has an incredible outdoor pool, and from what we saw it was one of the very few hotels with a pool. The outdoor pool had plenty of chairs and umbrella's, so we never had to wait around. The added benefit of limited rooms, is limited people to be in the outdoor pool area! On top of the pool, the breakfast was complimentary and great. They had indoor/ outdoor dining options and we were quite impressed. There is also complimentary parking. Lastly, it's centrally located. The hotel itself is a short 2-minute walk to the downtown area and the Shelter Island Ferry.
The Soundview Hotel
The Soundview Hotel is another well-known hotel in the area with beach access. We were hoping to stay here, but found these rooms get booked up fast! The hotel is more of a resort style hotel, meaning you can enjoy your whole weekend here and never leave. They offer beach access, an outdoor pool and bike rentals. The only downside, or maybe upside depending, is its distance from the downtown area. It's driving distance from the downtown area so you will need car access to get into the main street for dinner.
Harborfront Inn at Greenport
Another good option is the centrally located Harborfront Inn at Greenport. This is another one that will be booked up quick. This is also the last Greenport hotel option with an outdoor pool. Furthermore, they have complimentary breakfast and the hotel itself is located in the downtown area of Greenport. 
Overall, there are several options for lodging, but they book quick. If you are looking for a spot with an outdoor pool check out these three hotels: Greenporter, The Soundview and Haborfront Inn.
What to Do In Greenport, NY
Greenport may be small geographically but it is brimming with fun. The main things to do involve wineries, beaches and eating delicious food. What's not to love?
North Fork Wineries
When we weren't poolside, we explored one of the many wineries in the North Fork Region. We ended up at Croteaux Vineyard, which we loved. With that said, it was tough to make a decision on which winery to visit. We also were visiting during the pandemic, so while some wineries were open, they weren't offering tastings. We found all the winery websites were kept up to date, so always recommend confirming prior to heading out!
Croteaux Vineyard  
We ultimately decided to visit this winery because they specialized in rose, which was new for us. They have a great outdoor area that overlooks the vineyards. The seating is a mix or Adirondack chairs, smalls tables and picnic tables that can accommodate larger groups.  The area is well decorated with a few "Instagram walls" you can take photos at. They have a decently large menu with flat and bubbly rose options, with the option to have a flight. They also offer some small bites to share. All in all, we loved it and as we sat outside sipping our rose under a willow tree, we found it hard to leave.
Bedell Wineries
Bedell Wineries is another great spot for tasting a flight of wine. This a family-owned winery that has a beautiful outdoor and indoor tasting rooms. From the photos, this reminded us of Wolfer Winery, so we imagine it's a great spot! They do host weddings or private events, which will close off the tasting area. They will update their visitor hours accordingly, so check out their website prior to visiting.
Kontokosta Wineries
We have also heard great things about Kontokosta Wineries, which offers both a beautiful location and delicious wine selection. However, due to the pandemic, they weren't offering wine tastings. You can still go and purchase a bottle of wine to drink on the property, which we imagine would be incredible at sunset.
Beaches
There are a few beaches in the area, but they are not quite comparable to the South Fork beaches of the Hamptons. This is why recommend booking a hotel with a pool, so you can still have some relaxing down time! With this said, we did check out 67 steps beach, which is absolutely beautiful at sunset and a must see in our opinion.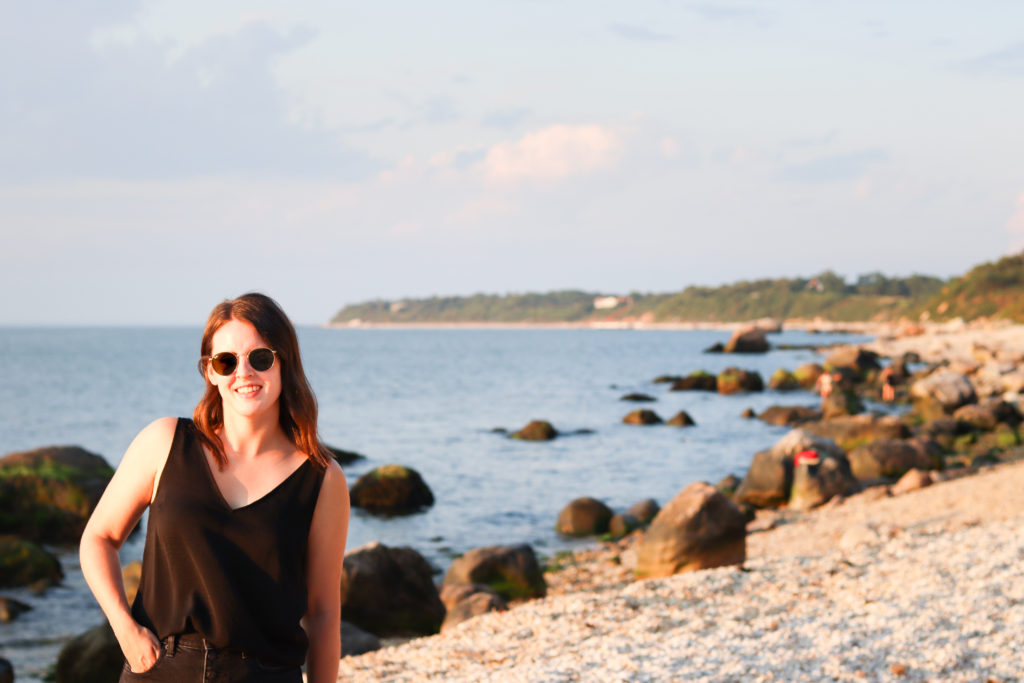 67 Steps Beach
67 Steps Beach is a public beach in Greenport West. It offers stunning sunset views and large boulders, that make you feel like you're on a west coast beach. It gets its name from the 67 steps you need to take down to access the beach. We could have spent an entire evening here, except there is one hitch with parking. The entrance has an area to park, but anyone parked without a Southold Town parking permit cannot park here. The bummer is that it's not walking distance from Greenport either, so either plan to enjoy quickly or take a cab over.
Shelter Island
While Greenport does not offer many beaches to sit and relax at, Shelter Island does. Shelter Island is a quick, and easily accessible, 10-minute ferry ride from Greenport. The ferry is $4/person roundtrip, make sure you have exact cash to buy these tickets. This small 32 square kilometer island has two main beaches to visit, Crescent Beach and Sunset Beach. Crescent beach is accessible by walking and is a quiet little beach with great food trucks. For more information, check out our post here.
Lavender by the Bay
Lavender by the Bay is a giant lavender field that you can walk through during the in-season. It is family owned and creates many local lavender products for purchase. Unfortunately, this was closed due to the pandemic, which we were bummed about. I can only imagine how great it would smell here and the photos you could take.
Orient Point
Orient point is the most easternly part of North Fork, offering views of Plum Island and the Atlantic. You can rent bikes to explore the Orient Beach State Park, explore downtown by foot or take in the coastal-styled house along the waterfront. To get here navigate to "Orient Point" or to Orient point ferry.
Main Street and Front Street
These are the two main streets in downtown Greenport, which is where you will find most of your food options. While, it may seem quiet in the mornings, filled with shoppers and coffee goers, it gets busy. In the evening these streets will be filled, especially once the sun goes down. We recommend getting here early to avoid the 1+ hour wait times for dinner.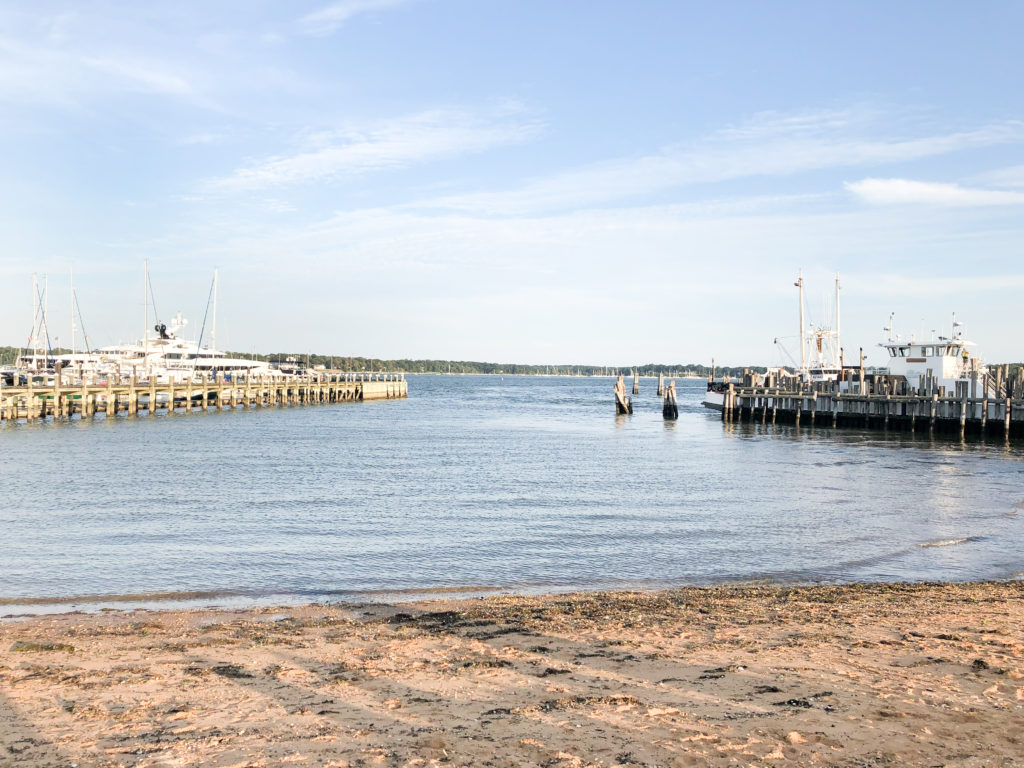 Where to Eat in Greenport, NY
There are also many great restaurants to eat at, trust us, you will not go hungry out here!
Greenport Harbor Brewing Company
They have a restaurant in town as well as a brewery. The brewery is about a 10 minute drive outside of town, they have food trucks and live music to enjoy as well. We opted for the brewery outside of town and enjoyed the live band and casual atmosphere. Feel free to bring a lawn chair and make your own spot!
Goldberg's
 A classic spot to enjoy breakfast. We highly recommend grabbing a bagel with their homemade cream cheese!
Port Waterfront Bar and Grill
 We went to the Greenport location, which is right on the pier. Come here for great food laidback wait staff and unbeatable sunset views over the harbor.
The Greenport Creamer
 We believe this used to be the Sandpiper, but has since switched owners. Regardless, the ice cream is still homemade and hard to beat for a post dinner dessert, afternoon treat, or heck, even breakfast!
1943 Pizza Bar
This brick-oven pizza restaurant is tucked within the American Beech restaurant scene, and is easily walked right past if not careful. We heard great things about this spot, but it was a 2+ hour wait when we went there, so we recommend ordering ahead! They also have no outdoor seating, so we recommend ordering and enjoying along the harbor!
Overall, this was a great, relaxing, weekend getaway. We highly recommend making the trek out! For a curated three-day itinerary, check out our guide below.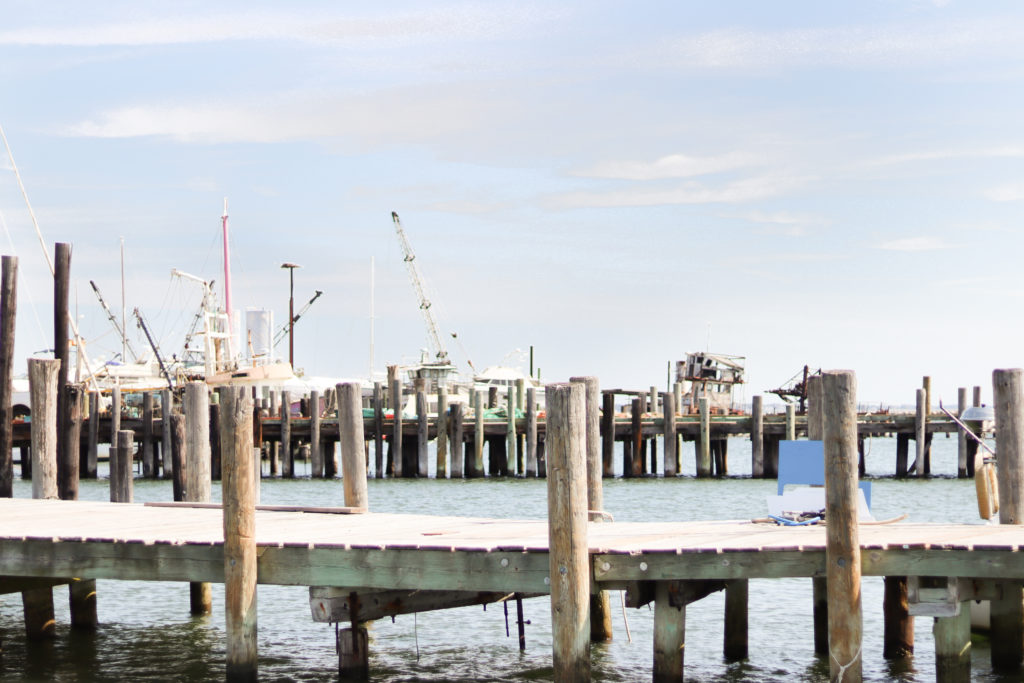 Three-day Greenport Itinerary:
Day 1
For most, you will arrive in the evening. If you have time, we recommend heading down to Main Street for a drink, boardwalk stroll or to simply sit and enjoy the sunset.
Day 2
Morning: Head over to Main Street/ Front Street to have a leisurely breakfast at one of the many spots to enjoy. From here you can enjoy some outdoor time, this is when having a hotel pool to enjoy is great.
Afternoon: Spend the afternoon at a winery of your choice. Depending on the type of trip, you can always visit two wineries. Several are in the same area, so this is very do-able in an afternoon.  
Evening: Head over to 67 steps beach to enjoy the early evening and sunset. Once you've enjoyed the sights here, head back to Main Street for dinner. We recommend visiting either Greenport Harbor Brewing Company, Port Waterfront Bar and Grill or 1943 Pizza.
Day 3
Morning: Head over to Goldberg's for a breakfast bagel and iced coffee. From here, we recommend going over to Shelter Island for the morning. On Shelter Island you can walk down to Crescent Beach or enjoy some golf at their course.
Afternoon: Head back to your hotel and get ready to check out. We recommend leaving around 3pm to avoid too much traffic with driving, but you should still have time for some afternoon fun. We recommend seeing the Lavender fields on your way out!