Completing the Pacific Coast Highway road trip has been on our bucket list for a long time. Toted as one of the most scenic drives in the United States, we were excited for the trip ahead.
We drove from San Francisco to San Diego in four days, which was, admittedly, a fast pace. We highly recommend 4-5 days to ensure you can fit everything in. Have more time? Even better! Extend the drive into 6-7 days to really slow down and enjoy all the beauty the Pacific Coast Highway drive has to offer.
Best Time to Complete the Pacific Coast Highway Road Trip?
The Pacific Coast Highway is in Southern California, which basically means you can complete this drive any month of the year. The peak-season is July and August, so while the weather is perfect the crowds will be at its peak. We recommend traveling in shoulder seasons, the spring and fall. The spring will be foggier and have rain, but the decreased crowds and warmer weather are perfect for traveling the coast. Our top recommendation is to travel in the fall, October to November. The weather will still be warm, it won't be as foggy and the hours of day light are still long enough to get in a full day of sight-seeing. Shoulder season will also have cheaper prices and more availability for hotels, car rentals, etc.
Which Direction to Drive?
After you decide to travel the Pacific Coast Highway (Highway 1), you will soon need to decide which direction you'll drive. We drove North to South for a few reasons: 1.) driving North to South allows the passenger to be on the coastal side for the drive, 2.) most of the turn offs are on the coast side so this route limits the u-turns you need to make, and 3.) we ended in San Diego where we were better able to relax on a beach after all that driving.
You can still drive South to North, but in general this is not the recommended direction. The silver-lining of this route is that it can be the cheaper option during peak season. Rental car prices will vary and we found, during peak season, it was cheaper to pick up a car in San Diego and drop off in San Francisco, rather than the other way around.
4-Day Itinerary at a Glance
At a quick glance, here was our schedule:
Day 1: Drive from San Francisco to Monterey; 3hours + 15 minutes
Day 2: Drive from Monterey to San Louis Obispo; 3 hours + 50 minutes
Day 3: Drive from San Louis Obispo to Santa Monica; 3 hours + 50 minutes
Day 4: Drive from Santa Monica to San Diego; 2 hours + 40 minutes
This schedule assumes you arrive to San Francisco prior to Day 1. We arrived to San Francisco two days prior so we could explore San Francisco and Pacifica.
Pacific Coast Highway Road Trip Day 1: San Francisco to Monterey
Driving Time: 3 hours + 15 minutes
Cities: Half Moon Bay, Santa Cruz and Carmel-By-The-Sea
Day one of your Pacific Coast Highway road trip will start bright and early, plan to leave San Francisco around 6:30 am. Leaving early will allow you to reach your first destination for breakfast AND avoid commuter traffic in the mornings.
Half Moon Bay
We grabbed some coffees and started off at Mavericks Beach. The beach is known for big waves which attracts a lot of surfers. In the morning, it was just us, the surfers and the dog walkers. We then headed to The Press for breakfast sandwiches, which we highly recommend!
Our next stops were Pidgeon Point Lighthouse, a great 15-minute stop to see those pacific coast cliffs with a lighthouse. Then, Shark Fin Cove, another must see 15-minute spot. At Shark Fin Cove, the rock formation appears to look like a giant shark fin, this was one of the most unique cliffside we saw along the drive.
From here, you can stop at Pescadero State Beach. We opted out of this so we could get to Carmel-By-The-Sea sooner, but we've heard great things!
Santa Cruz
We stopped in here around lunch time for a break. Santa Cruz is known for their boardwalk amusement park, unfortunately this was closed due to the pandemic. Without the boardwalk, we stopped quickly for lunch and headed on our way.
Carmel-By-The-Sea
Once we reached Carmel-By-The-Sea, we headed right to the 17-mile drive. The drive is very self-explanatory and it's difficult to get lost. We drove along 17-mile drive and stopped at most of the designated pitstops. Some of the 17 stops are very close together (think < 1 minute drive apart), so it's okay to skip some of these. Once you reach Pebble Beach, you can walk alongside the green at hole 18, which is great for all the golf fans out there. The best gift shops are down by hole 18 and the restaurants, not the ones at the top of the hill where you park!
We then headed into Carmel-By-The-Sea's downtown for dinner. The downtown area is compact and we recommend walking along to find a spot to eat, we ate at La Bicyclette and were not disappointed. We ended the night by grabbing some pastries from the Carmel Bakery and heading down to Carmel Beach. This spot is amazing for watching the sunset. You can also bring alcohol down here, so a glass of wine and a sunset could be just what you need after a day of driving! If you turn and walk right down the beach you will be walking under one of Pebble Beaches golf holes.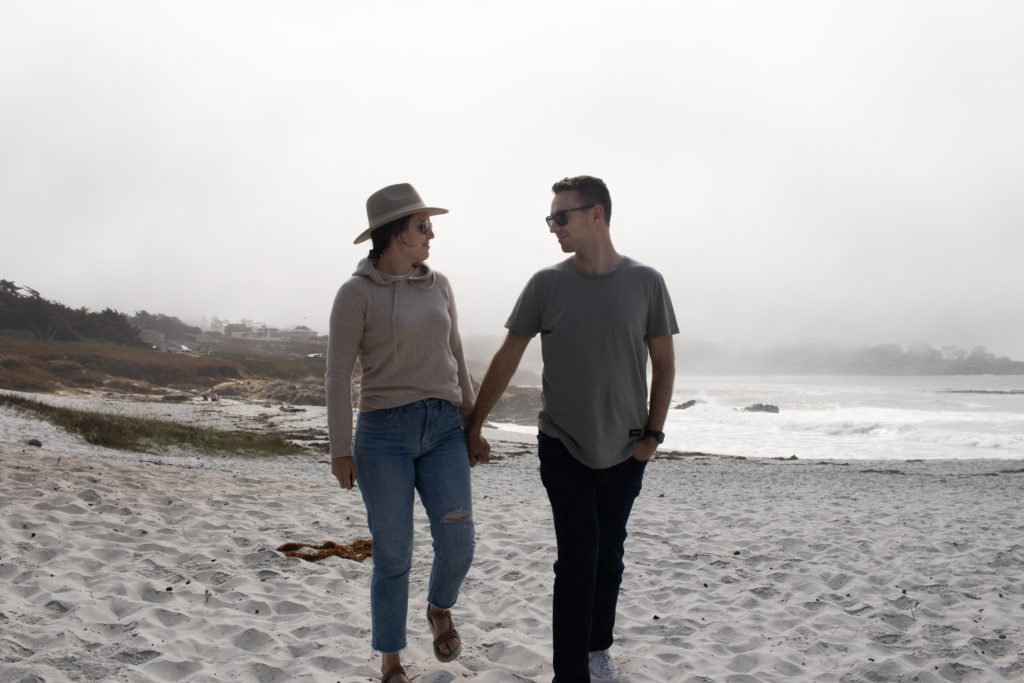 Pacific Coast Highway Road Trip Day Two: Monterey to San Louis Obispo
Driving Time: 3 hours + 50 minutes
Cities: Big Sur and Morro Bay
This is probably the most jam-packed day of the whole Pacific Coast Highway road trip. Driving through Big Sur is incredible, filled with countless vista points and many stops. Most of the day will be spent in Big Sur. We have an entire post about all the spots to see in Big Sur and tips for driving this section of the highway, such as the fact that there's no cell service or gas stations within Big Sur!
Big Sur
Briefly, here are the spots we recommend stopping at: Garrapata State Park Bluff Trail, Bixby State Bridge, Big Sur Bakery, Pfieffer Beach, Partington Cove, Mcway Falls, Sand Dollar Beach Trail , Elephant seal vista point and Moonstone Beach in Cambria.
Overall, this lists has too many stops to make in a day and we recommend choosing 3-5 spots off this list and prioritize those.
Morro Bay
Last but not least is Morro Bay. Morro Bay is a small town, but the beach is incredible. Morro Bay has a giant volcanic plug off the coastline called Morro Rock. We watched the sunset from the beach and highly recommend it! In off season, this beach was very very quiet — our favorite!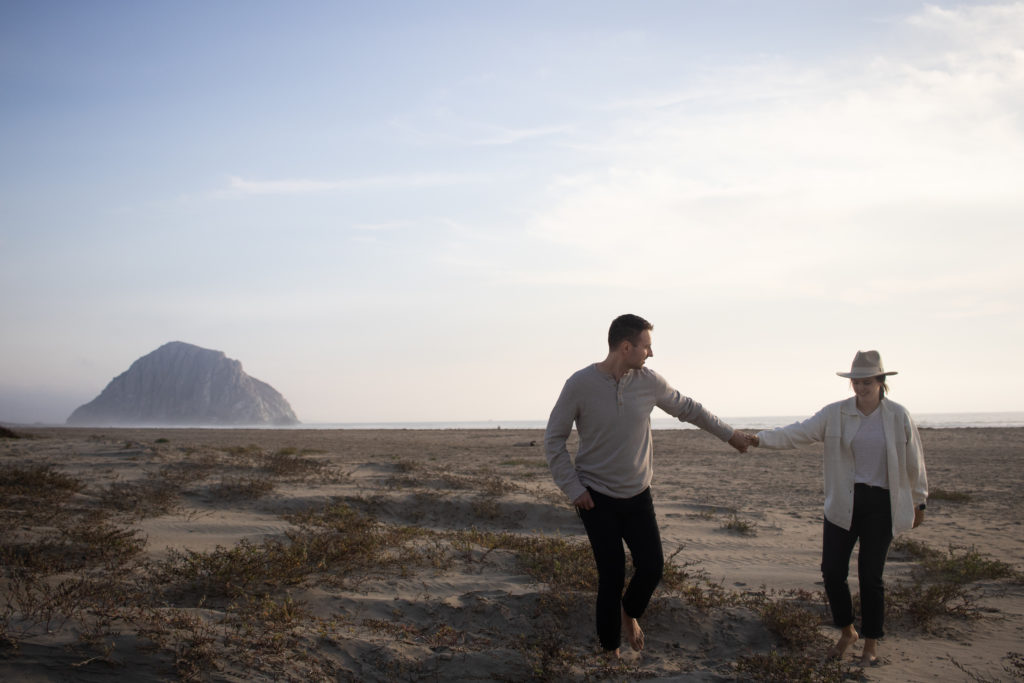 Pacific Coast Highway Road Trip Day 3: San Louis Obispo to Santa Monica
Driving Time: 3 hours + 50 minutes
Cities: Pismo Beach, Santa Barbara, Malibu
Pismo Beach
A short drive from San Louis Obispo is Pismo Beach. We highly recommend starting your morning at Old West Cinnamon Rolls. Old West Cinnamon Rolls is home to the best cinnamon rolls we have ever had! We recommend grabbing the cream cheese icing on the side for dipping. We grabbed our treats and drove down the road to the beach, watching early morning surfers while eating baked goods is now one of our favorite things to do!
You can stay at the beach to walk around, however we opted to head out to the Oceano Dunes Natural Preserve. We had no idea that Pismo Beach was home to some incredible sand dunes. There's a section for RVs and off-roading as well as a section for just walking. We opted to walk!
Santa Barbara
Next up was Santa Barbara. The drive from Pismo Beach to Santa Barbara was not too scenic, so we just went straight through to our spot for lunch. There's lots to do in Santa Barbara, including exploring the beaches, but for the sake of time we opted to just eat lunch and continue onto Malibu.
Malibu
Next up is Malibu. The highway 1 drive into Malibu is beautiful. We stopped in at Malibu Farm Pier Café for an afternoon coffee break, which was a great decision — never have we had an iced latte in such an idyllic setting. We sat outside and just enjoyed the fresh air and views for a bit. From here, we had big plans to do a short 2-4 mile hike, however it was already 2:30pm and felt a little too tired and hungry to do this prior to the last leg of our drive.  The hike we planned was either Point Dume Cove Trail or Solstice Canyon Loop, both involve a well trafficked trail with great views.
Santa Monica: We arrived to Santa Monica around 4pm, checked into our hotel and headed straight to the beach. We walked along Venice Beach and then made our way up to Main Street for dinner. We also spent the next morning wandering the Santa Monica pier and the 3rd Street Promenade, both are great spots to explore.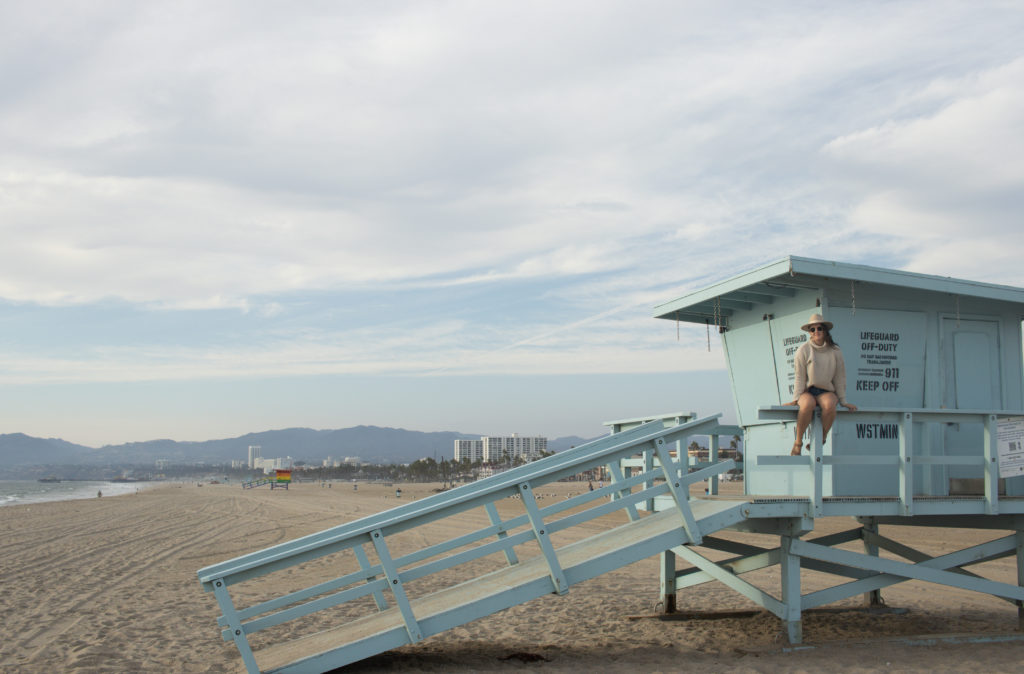 Pacific Coast Highway Road Trip Day 4: Santa Monica to San Diego
Driving Time: 2 hours + 40 minutes
Cities: Laguna Beach, Torrey Pines and La Jolla
As we said before, we had a relaxing morning in Santa Monica prior to hitting the road around 10:30am. If you opt to leave in the morning from Santa Monica, we recommend spending some more time in Laguna Beach.
Laguna Beach
We recommend powering through LA to avoid traffic by taking Highway 1 or the expressway. We stopped at Laguna Beach to have a picnic lunch and to walk around. The cliffs and tide pools are incredible around here.
Torrey Pines
The next stop is Torrey Pines, known for their golf course. We stopped at Black Beach and walked along the shore. This was such a stunning beach with compact sand perfect for walking. This is a great spot for a driving break and leg stretch! There's the Torrey Pines State Reserve here as well with hiking trails, so if beaches aren't your preference, opt for a trail!
La Jolla
Lastly, we set out for La Jolla, which was the last pit stop prior to San Diego.  We explored the La Jolla Coves area and thoroughly enjoyed seeing all the seals and sea lion activity. There is the option to kayak or stand up paddle board to explore these coves as well. It was about 3pm at this time so we opted out. From here, we headed into San Diego, checked into our hotel and headed out to South Beach for dinner and the sunset.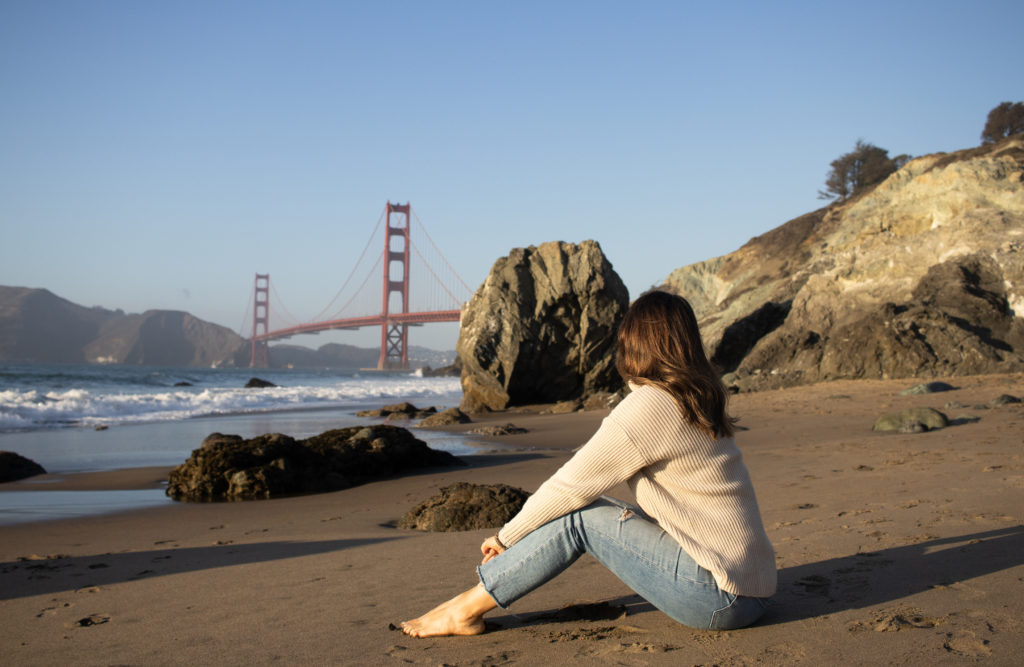 This wraps up the road trip portion of our trip. If you want more information on our absolute must see spots along Big Sur, check out this post! Or if you plan to spend some time in San Diego at the end, check out our complete guide to a weekend in San Diego.
Happy Travelling!