Located in on the coast of California is the mountainous region of Big Sur. When you think of the Pacific Coast Highway (Highway 1) drive, you're most likely picturing the views found along the Big Sur coastline. The dramatic cliffsides, swirling waters and open spandrel arch bridges makes this place hard to not daydream over. Geographically, Big Sur is a 90-mile long region between San Francisco and Los Angeles that's nestled between Carmel-By-The-Sea and San Simeon. It's filled with more than a day's worth of activities, so we've created a guide filled with our favorite stops in Big Sur to help you plan your next road trip.
Important Big Sur Road Trip Planning Tips:
Big Sur is largely undeveloped coastlines and national parks, so there are minimal amenities. Before we get started on all the must-see stops in Big Sur, there are some important tips to know prior to leaving.
1. Plan Your Trip In Advance with Google Maps
There is no cell service for almost the entire drive through Big Sur (or the entire drive depending on your carrier). Is there a risk of getting lost? No, it's pretty straightforward driving; HOWEVER, there is a risk of missing any one of your must-see stops in Big Sur. A lot of the beaches or popular spots don't have signs until the moment you need to turn off, and this will get frustrating after a while. We highly suggest you use our Google Maps List with all 12 locations detailed below pre-saved!
Click Here to Access our Big Sur Google Maps List
Also, as there is no service, ensure to download an offline map of the Big Sur area in Google Maps before starting your day.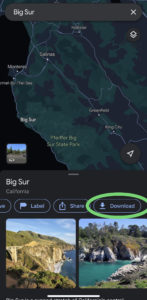 2. Limited Gas Stations
There are no gas stations off the highway outside of the small town within Big Sur, so plan accordingly and fill up before you begin your drive.
3. Limited Food Stops
To go along with the no service and no gas stations, there are really limited spots to eat. The town of Big Sur has a few spots to grab a meal, but after you leave the town there are next to no food stops. We recommend packing a lunch to enjoy on the beach, you cannot beat the views!
4. Limited Restrooms
Notice a trend? Big Sur is a region that's relatively underdeveloped with limited facilities. A few stops have porta potties or outhouses, but overall these are limited. As a general rule, we used a restroom every time we saw one.
5. One-Lane Highways
Highway 1 through Big Sur is a one-lane highway. What does this mean if you miss a vista point or turn off for a beach? You either drive along until you find another vista point or do a three-point turn on a highway that's filled with a lot of blind corners. This is also why driving North to South is preferred as it really limits the amount of u-turns that are needed.
6. Avoid Night Driving
This drive is filled with turns along cliffside roads and minimal high-mast lights, so we highly recommend driving during the day for safety. Additionally, why miss out on the views? We started our day at sunrise and it allowed us to maximize the number of stops we could fit in.
7. It's Windy
Pack layers because the weather will change depending on your location. The beaches and coastal stops will be windy and cool whereas sheltered spots can be hot.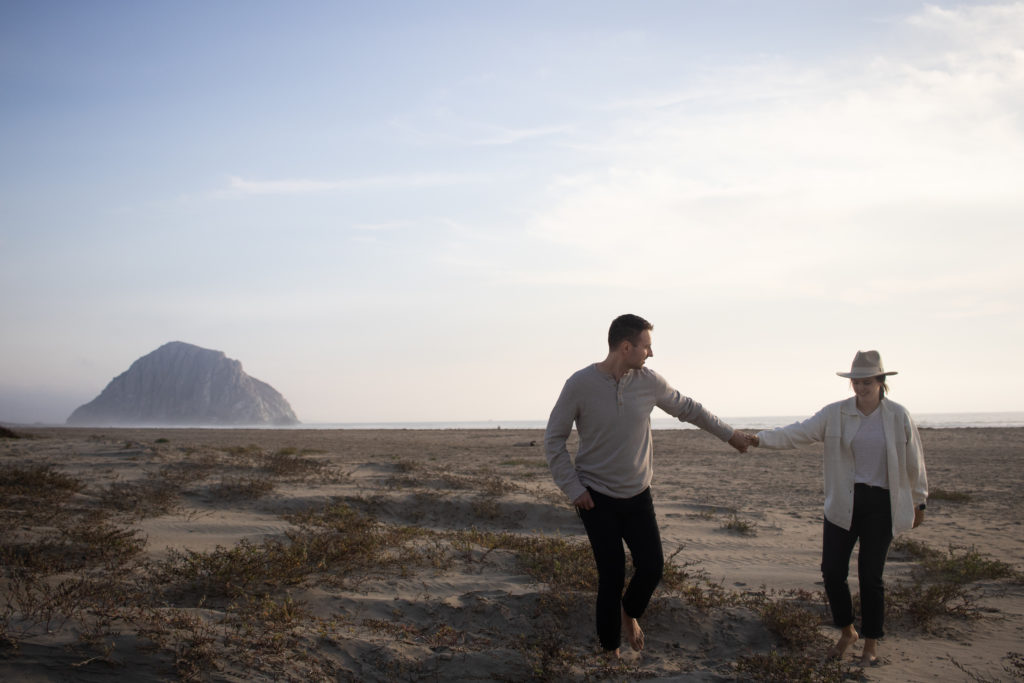 Where to Start your Big Sur Road Trip?
There are lodging options within Big Sur, including some motels, glamping and camping options. These options are limited and very popular, so they sell out fast!
A more affordable, and less busy, option is to stay in Carmel-By-The-Sea or Monterey. We stayed in Monterey, which is about a 10-minute drive until you're officially in Big Sur. We left our hotel early and felt we had time to see all of our must-see stops in Big Sur.
A third option is driving in from San Francisco or San Jose and doing Big Sur as a day trip. This is certainly a doable option, but will make for a 12+ hour day. You'll want to wake up early and leave before sunrise, so you don't miss the daylight hours to see all your must-see stops in Big Sur.
The Must-See Stops in Big Sur:
Along Big Sur there are many parks, beaches and trails to explore. How do you access these spots? Almost all are right off the highway. A lot of these stops also have small parking lots, often charging $10 to park. We went in the off-season (November through February) and many of the parking lots were closed, so we parked along the side of the highway without any issues. Some destinations left their parking lots open and used the honor system to drop off $10, so make sure you have cash handy for the day.
In addition, there are many "vista spots", which are little pull-off spots along the highway. These spots are great, offering unobstructed views of the coast and a chance for the drivers to enjoy them! We always recommend waiting for a vista to see the views rather than pulling off the side of the highway in random areas.
Now on to our favorite viewpoints and landmarks! Below is our complete list of must-see stops in Big Sur.
Point Lobos State Natural Reserve
Point Lobos State Natural Reserve is the first stop you can make in Big Sur, you'll reach it a few minutes into the drive (when coming from Monterey). This reserve is home to one of the richest underwater habitats, which makes it a popular spot for divers. We recommend stopping here to check out the coves and tide pools that are filled with underwater life.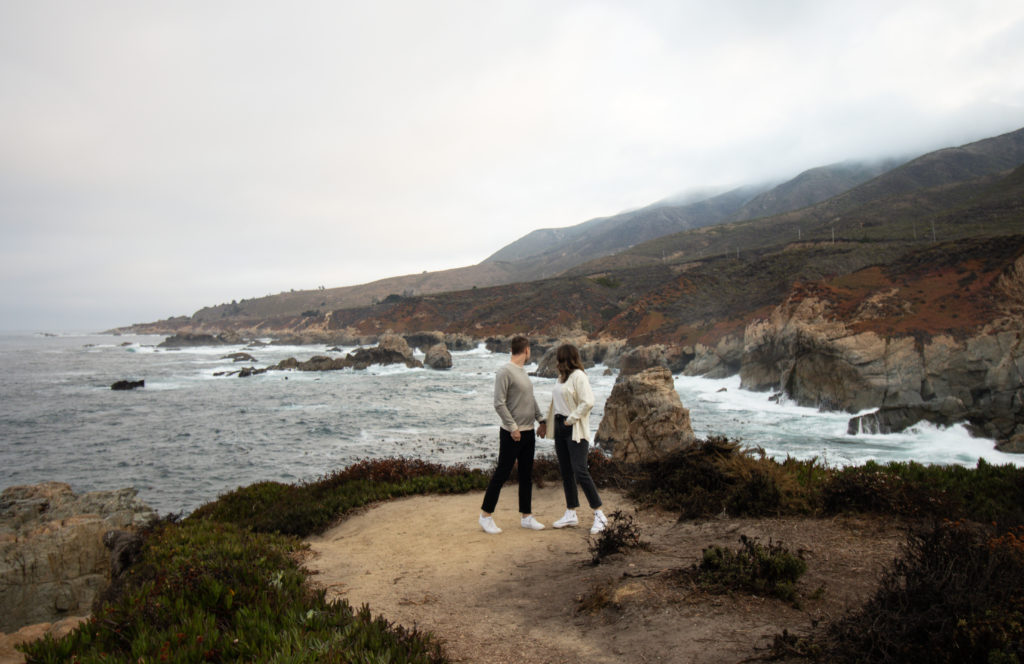 Garrapata State Park Bluff Trail
Garrapata State Park Bluff Trail is a 0.6-mile trail that takes you along the coastline. It offers cliffside views with waves smashing into the rocks. We spent sunrise here in off-season and had the place to ourselves, which was one of the best ways to start off our Big Sur adventure!
The 0.6-mile trail is a there and back trail so feel free to turn back at any point during your walk. Additionally, the parking lot is a small dirt pull-off, so make sure you have the location plugged into your maps so you don't miss the turn off.
Bixby State Bridge
Bixby State Bridge is one of the most famous spots along the highway in Big Sur. If you own any Apple products, you've likely had this set as your back screen at some point.
Completed in 1932, the Bixby State Bridge has become one of the most photographed bridges. You'll drive across the bridge, but we recommend stopping prior to crossing for the best views (when driving North to South). There are parking spots on the right and then slightly further down on the left. No matter which lot you park in, you can walk across the road for a different view.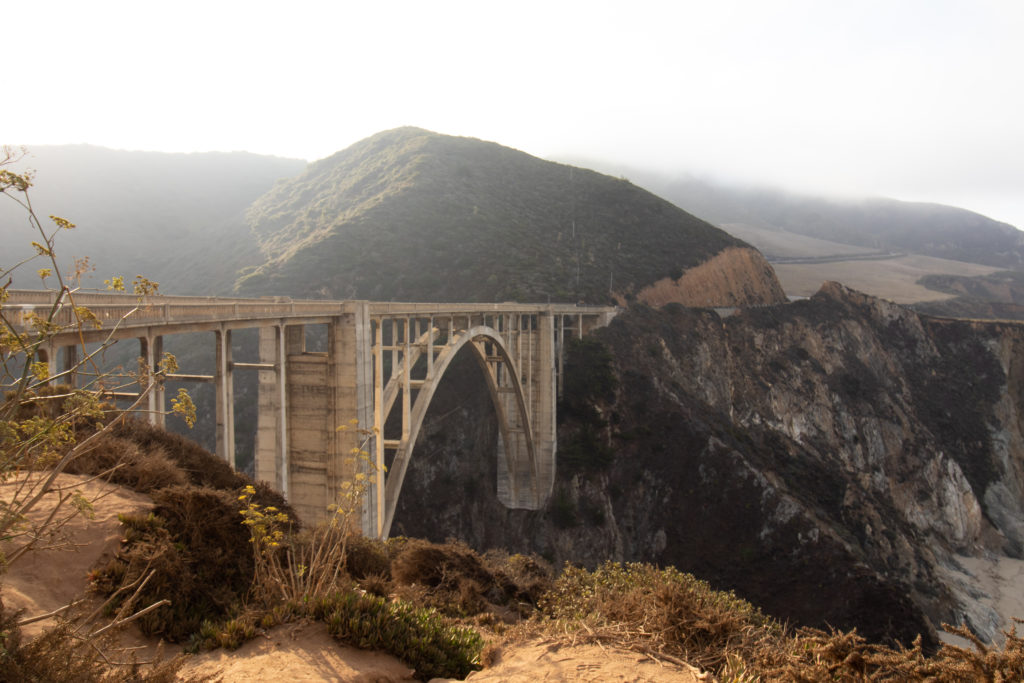 Pfieffer beach
Next up is Pfieffer Beach. This beach is know for having purple sand and stunning rock formations. We will say that the sand, while tinged, is not exactly purple — maybe it depends on the time of day? Either way the rock formations were stunning and it's a good beach to explore. At this point we were still waiting on our morning coffees so we quickly passed through on our way to get into the town of Big Sur a bit early.
When driving here, the turn off can be easily missed. Make sure you have it mapped out and you will be turning towards the oceanside of the road.
Big Sur Bakery
The Big Sur Bakery is not a scenic stop, but should not be missed! We have heard incredible things about their baked goods, especially their cinnamon rolls. Located in the town of Big Sur, this is a great spot to grab breakfast before continuing the drive. Unfortunately for us they close Monday and Tuesdays in off-season (November- February) so we missed out.
Partington Cove Trail
Partington Cove Trail is a small inlet that you can hike down to and explore. The trail is 1.1 miles roundtrip and steep, so we recommend running or hiking shoes. When you get to the bottom there are two coves and we recommend seeing them both. The first cove requires a left turn off the trail and takes you through a tunnel. To reach the second cove, keep going straight down the trail and it's located at the trail's end.
The parking for this spot was a little difficult as there's not a parking lot. We parked on the highway shoulder, ensuring we were not within the white highway lines.
Julia Pfeiffer Burns State Park
Different than Pfeiffer Beach is Julia Pfeiffer State Park. This is a large, densely forested area of Big Sur where you'll be able to see the redwoods. There's lots of hiking trails in this area that offer a forest adventure. Pfeiffer Falls and Valley View Trail are two great hike options to do within the park. Valley View Trail is a 1.8 mile out and back hike that ends with views of the valley. Pfeiffer Falls is a 1.3 mile out and back hike that features a waterfall. Either trail are maintained and good for an easy to moderate hike.
McWay Falls
McWay Falls is another one of the more popular spots found in Big Sur. You hike a mostly flat 0.64-mile trail that ends with views overlooking McWay Falls, which is a waterfall that flows into the ocean. You cannot actually get down to the beach, but the views are spectacular.
There is a parking lot here that will require $10 fee, this was closed for us in off-season and again we had to park on the road.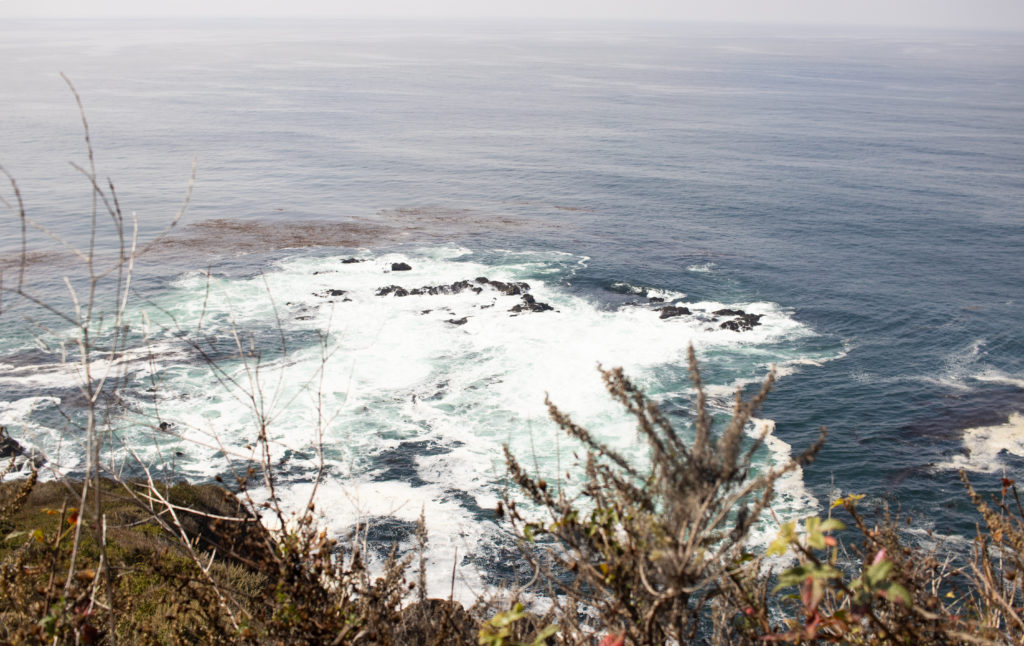 Limekiln Falls Trail
Limekiln Falls Trail is another great option to hike to a waterfall. This trail has been closed due to fire damage so be sure to check a reliable source such as Alltrails prior to your trip to check the status.
Sand Dollar Beach Trail
Sand Dollar Beach is where we sat and enjoyed our lunches as we watched local surfers. Getting to the beach involves walking along a 0.4-mile trail that ends with stairs down to the sand. The beach is nestled among the cliffside with sea stacks off the coast. There were very limited people along this beach, so we found it a great spot to relax and enjoy some fresh air.
Elephant Seal Vista Point
Elephant Seal Vista Point is an observation deck that allows you to watch the elephant seals who live here. It's a great spot to see elephant seals in their natural habitat, although they do spend a lot of time lying around. We went just prior to mating season, when all the seals make their way back to the beach, so we found it a little quiet. Overall, this is a quick stop and a great opportunity to check out some elephant seals.
Moonstone Beach
Located in Cambria, at the end of Big Sur, is Moonstone Beach. This beach is toted as one of the most beautiful beaches in the United States and it really is stunning. This is a residential area, so the top is lined with houses along the cliffside trail. We recommend walking along the shoreline, which is filled small rocks to collect.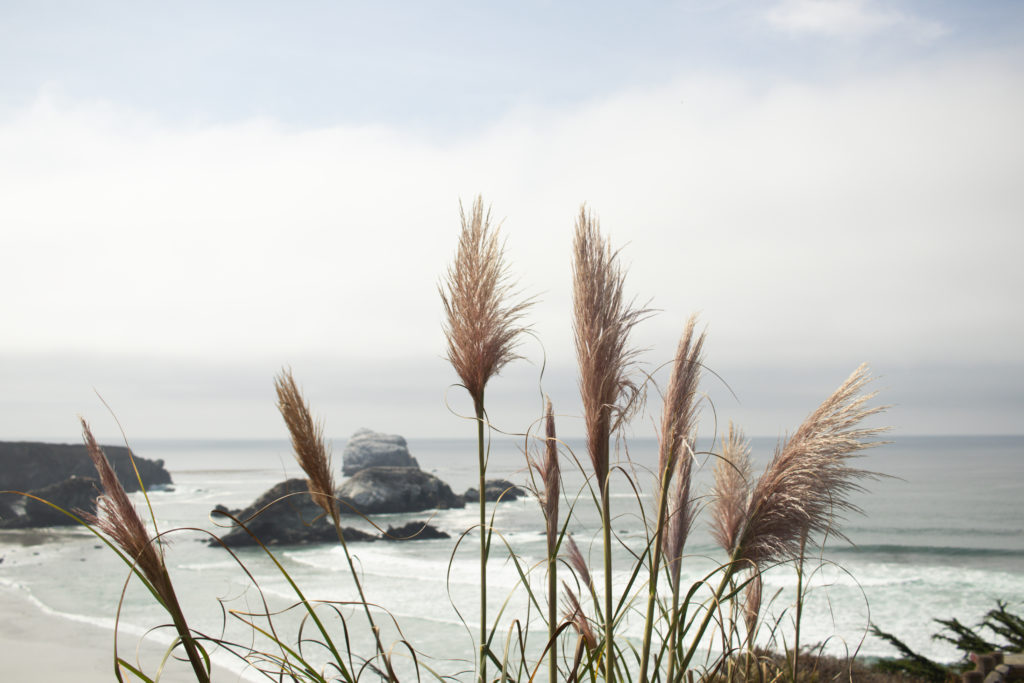 That wraps up our list of our favorite spots in Big Sur! Chances are you cannot complete everything on this list in a day, so we recommend dropping 1 to 3 of these when planning a day trip. Additionally, for all these locations spots are subject to close due to the pandemic, so make sure you check out their status on the California website. Enjoy your journey and let us know your favorite pit stop!