Valle de Cocora (in English: Cocora Valley) is a mountainous region in Colombia where the giant wax palm trees can be found. If you're traveling to Colombia, we feel this is one of the can't miss places to visit. For everything you need to know about planning a trip to Valle de Cocora, keep reading!
What is Valle de Cocora?
Valle de Cocora, or Cocora Valley in English, is a geographical area found in Los Nevados National Natural Park. It's located in the Andean Region making it a mountainous area and perfect for hiking. Furthermore, this valley is the main home of Colombia's national tree – the wax palm. Wax palms are giant trees that most closely resemble a palm tree. There's also a lot of flora and fauna found in the valley which, overall, makes this a stunning area to explore.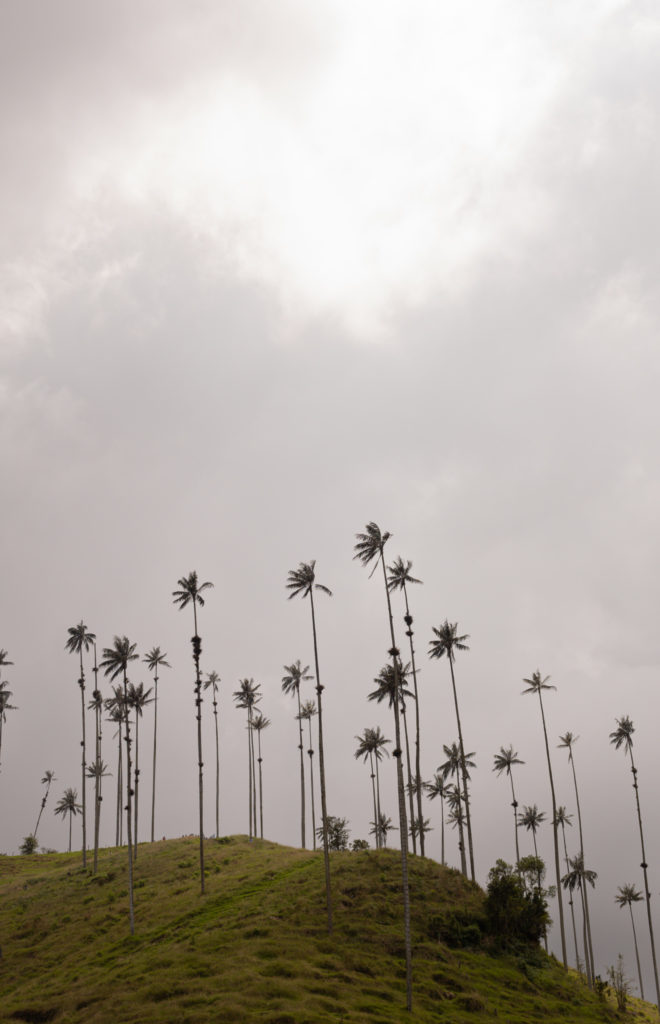 When to Visit Valle de Cocora?
One of the benefits of visiting Colombia is how steady their climate is. Valle de Cocora's temperature is the same throughout the year with the average temperature being 14 C (58 F). The main aspect to consider when planning a trip is the rain. With the lush greenery of Valle de Cocora, it's not surprise to find this is a rainy area of Colombia. Each month sees a lot of precipitation, however the following months see significantly more rain than others: April, May, October and November.
We visited during November and it definitely rained, however it was doable! The benefit of visiting during a rainy month was how few people we saw when hiking around. Did we get wet? Yes, but we came prepared and it didn't prevent us from being able to explore and enjoy the area.
How to Get to Valle de Cocora?
Valle de Cocora is a geographical region that you can visit as a day trip. Salento is the closest town and with its easy access to Valle de Cocora it's also the most popular place to stay when visiting. If you're looking to stay in a bigger town then Pereira would be the best option.
From Pereira
Getting to Valle de Cocora from Pereira is about a 1.5 hour drive, making this a possibility for a day trip. If you have a rental car, then you can drive out to Valle de Cocora. There is parking options once you arrive and when we visited, the parking was largely empty. One disclaimer with driving yourself is the rain. When we visited the rain became torrential, couple this with steep and windy roads then you have a nerve-wracking drive. Another option is to opt for a taxi, the price will be around $18-22 USD each way. There are also some tours that will run for the day from Pereira. These tours often include Valle de Cocora as well as a coffee farm, we recommend doing your research and reading reviews to find a tour company. Overall, it is doable visiting from Pereira but the easier way to visit is from Salento.
From Salento
Getting to Valle de Cocora from Salento is pretty easy and does not require pre-planning. From Salento, the drive is about 30 minutes. There are vehicles called Willys, think a compact, colorful,  jeep, and these will take you out to the valley. These Willys leave from the town square, with the first departure occurring around 6:30 am. The roundtrip ride is 8,000 COP ($1.85 USD) and you can buy these at the booth in the town square. The entire Willy experience is very casual, however it works! We highly recommend confirming with your hostel/ hotel concierge about timing for the Willys as they can change. Additionally, make sure you check with the drivers when the last Willy leaves for the day.
Staying in Salento? Check out our guide to this incredible city.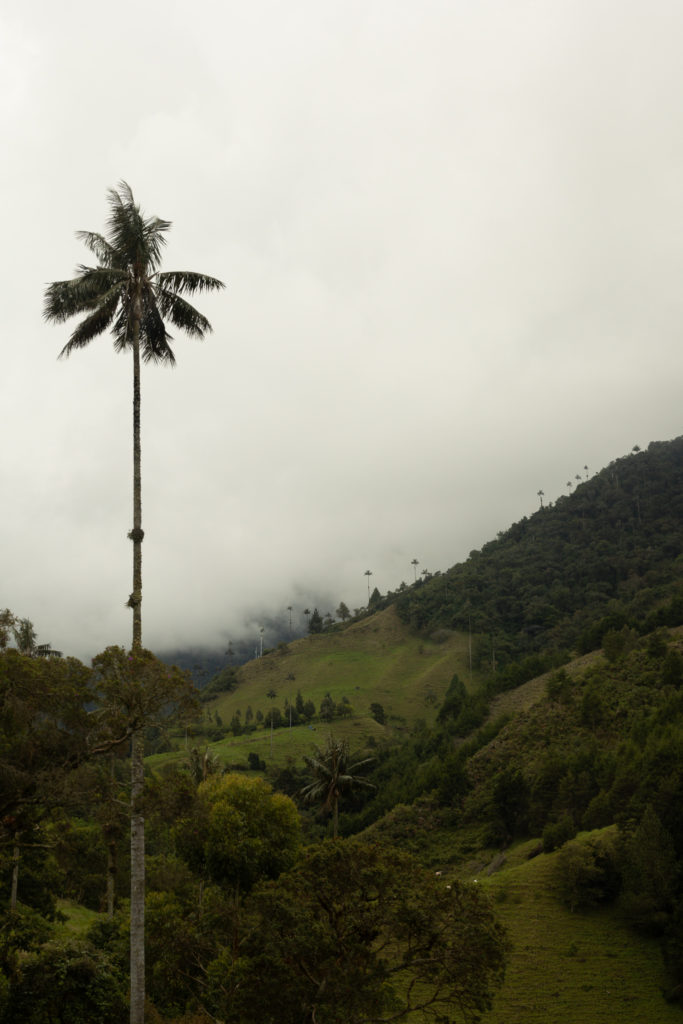 Hiking Valle de Cocora
The main reason to visit Valle de Cocora is to explore the mountainous area and see the wax palm trees. We highly recommend hiking around to explore the area. With a short and long hike options, there is something for all activity levels.
Long hike
Valle de Cocora to Acaime (The Hummingbird House)
Distance: 6.8 miles (10.9 km)   Elevation gain: 2,572 ft (784 m)   Difficulty: hard
The Valle de Cocora to Acaime hike is one of the more popular hikes and takes about 4.5-5 hours to complete.  The suggest route is counterclockwise as this is less intense and you will end with the wax palm forest. Now, this is where deciding on which direction to go gets challenging. In the rainy months, you can probably hike counterclockwise and reach the wax palm forest with a relatively small crowd. However, during busier months, the wax palm forest can be quite crowded by the time you reach it at the end of your hike. There is no right answer, so weigh which hike has the more pros for you.
Next up, the hike will cost money as some of the trail is on private property. The price is about 7,00o COP ($1.40) USD but some report it's 30,000 COP ($6.00 USD) – we recommend coming prepared with extra COP just in case. Lastly, during the hike you will reach Casa de las Colibris  which is a hummingbird sanctuary. This stop is not imperative to the hike, but if you have time it's recommend to stop and visit. There is an entrance fee, so extra COP will be helpful.
To make sure you have the most up to date trail quality, check out the Alltrails reviews and updates.
Short Hike
Distance: 2.5 km   Elevation gain: minimal   Difficulty: easy
Alternatively, you can simply hike straight to the wax palm tree forest and get some incredible views. This short hike, is more of a walk, and will take about 30-60 minutes. From the parking lot or Willys, you will walk along the dirt road. Do NOT walk through the blue gate during this part of the hike. You will continue to follow this well defined dirt road (trail) for about 1 km, passing by a house on the right, and then it will open up into a clearing.  You can continue to head up the hill towards the forest or wander around the grassy clearing. The views are stunning and you can wander around to get some incredible shots.
Hiking Essentials:
Hiking boots. These hiking trails are muddy, some of the muddiest we have ever hiked. To prevent unnecessary falls and be able to hike with ease, we recommend hiking boots.
Rain gear. It's rainy here, come prepared to get wet and if it does't rain then consider yourself lucky! We recommend bringing a rain coat and a protective rain covering for your backpack.
Bug spray. With all the flora and fauna comes mosquitos. You will want to ensure you spray yourself before your hike and have some extra on hand in case it rains and you need to reapply.
Water. It is a long hike, so make sure you have water! There are some cafes along the way, which are delicious, but you will need to ensure you're staying hydrated not just caffeinated.