When we found ourselves needing to re-think our plan for our week off, we kept coming back to photos of this hike. So, did we plan an entire trip to Lake Placid around hiking Indian Head and glorious summit photos on Pinterest? Yes, yes we did.
Before we get into the details, here are some fast facts about the Indian Head hike. The hike is 11 miles roundtrip (17.7 kms for all our Canadians). Elevation gain is 1,677ft. It took us just under five hours to complete round-trip (with Rainbow Falls added). The hike has many different options for how to summit, so make sure you map out your preference. There are trail markers, but make sure you plan ahead. The trail has little to no cell service, so download Alltrails or an offline google map ahead of time. There is also a strict no dog policy in the trails.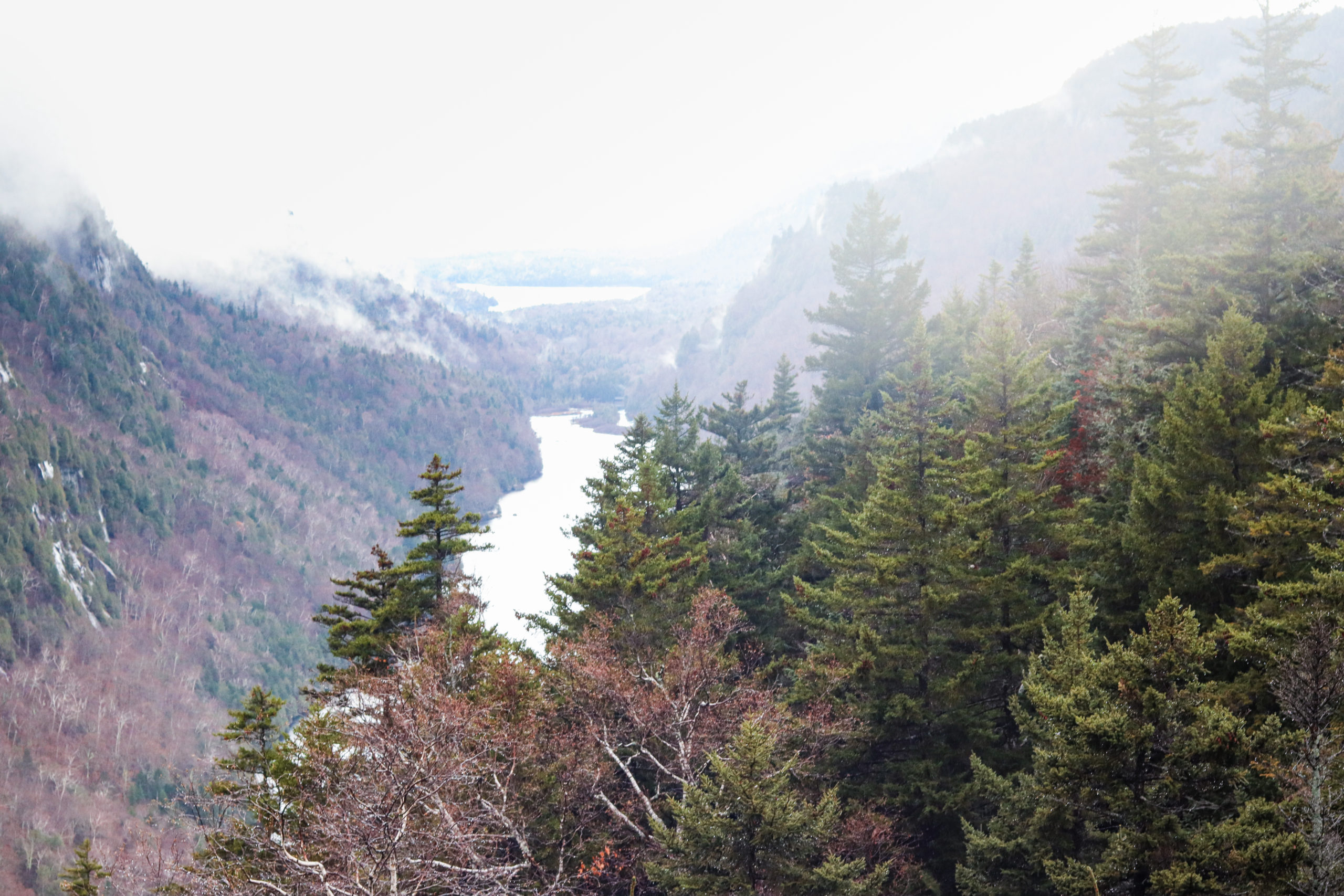 Getting To Indian Head Trail
Now time for those details! If you're planning on hiking Indian Head trail, we recommend starting your day from Lake Placid or the surrounding  Adirondack area. Indian Head trail is about 5 hours driving from NYC. This trailhead is about 20 minutes outside of Lake Placid in the town of Keene. For driving, you will park at the junction of Route 73 and Ausable Road. This trail is popular so they are strict on where you can park. Do not park along Rt 73, at Ausable Club Road, or at the golf course parking lot as you may be towed. We hiked on a rainy day in December so it was an unsurprisingly empty lot. With this said, get here early to ensure you get a spot! We have read many reviews that recommend getting here before 9 am to secure a parking spot.
Once you park, you have a 1/2 mile road walk up to the start of the trail. You follow Rt 73 past the golf course to begin. Make sure to sign in at the trailhead! This is used for hiker safety and Adirondack Mountain Reserve data collection.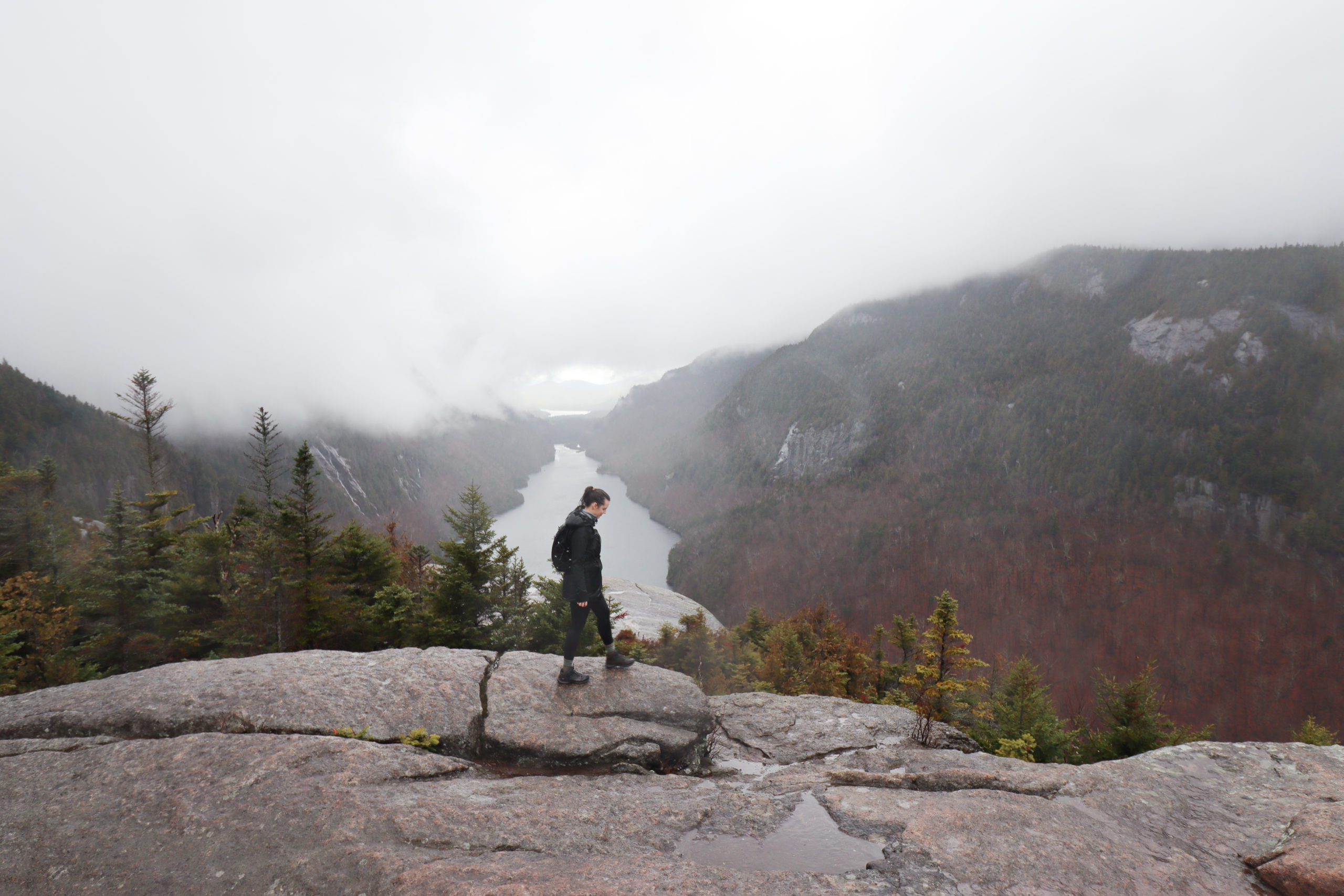 Hiking Indian Head
When hiking Indian Head, there are a few options for reaching the summit. We took the logging road with a stop at Rainbow Falls, then onward to the summit. Another great option is taking the East River Route to Rainbow Falls to avoid the less thrilling logging road. We had planned to take the East River Route, however it was rained out for us AND in full transparency we also walked right past the turn.. Keep in mind the hike up is long, but not too steep. If you are a moderate hiker and above this will not be overly challenging. No matter which route you take up, the final few miles join together and these final few miles to the top do require some scrambling.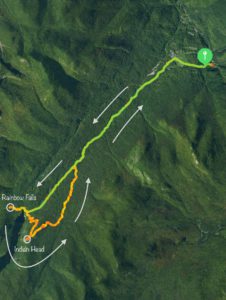 On the way down, we took Gill Brook Trail route. This trail is a more gentle descent than the way up and takes you right along Gill Brook. This trail was much more scenic and enjoyable than the logging road, and this was our opinion at hour 4 of hiking in the rain! Every so often the main trail splits into a 'scenic' or 'easy' route. We saw many sections of the scenic route flooded by Gill Brook, so 'easy' was a pretty straightforward decision for us.
+ Rainbow Falls
Adding Rainbow Falls tacked on an hour and 1 mile (1.6 kms) of hiking. The hiking was relatively flat, well laid out and easy to follow. Even though it adds extra miles, Rainbow Falls was easily the most impressive waterfall we have ever seen and well worth the time. Now we have seen photos of this being a more gentle waterfall that you can walk to the base of, but this was not the case for us. Keep in mind it rained all day, it was December, and they had a major snow dump that had melted ~ 1 week before our hike. The last 400 ft to the waterfall were extremely slippery and made it quite a challenge to climb.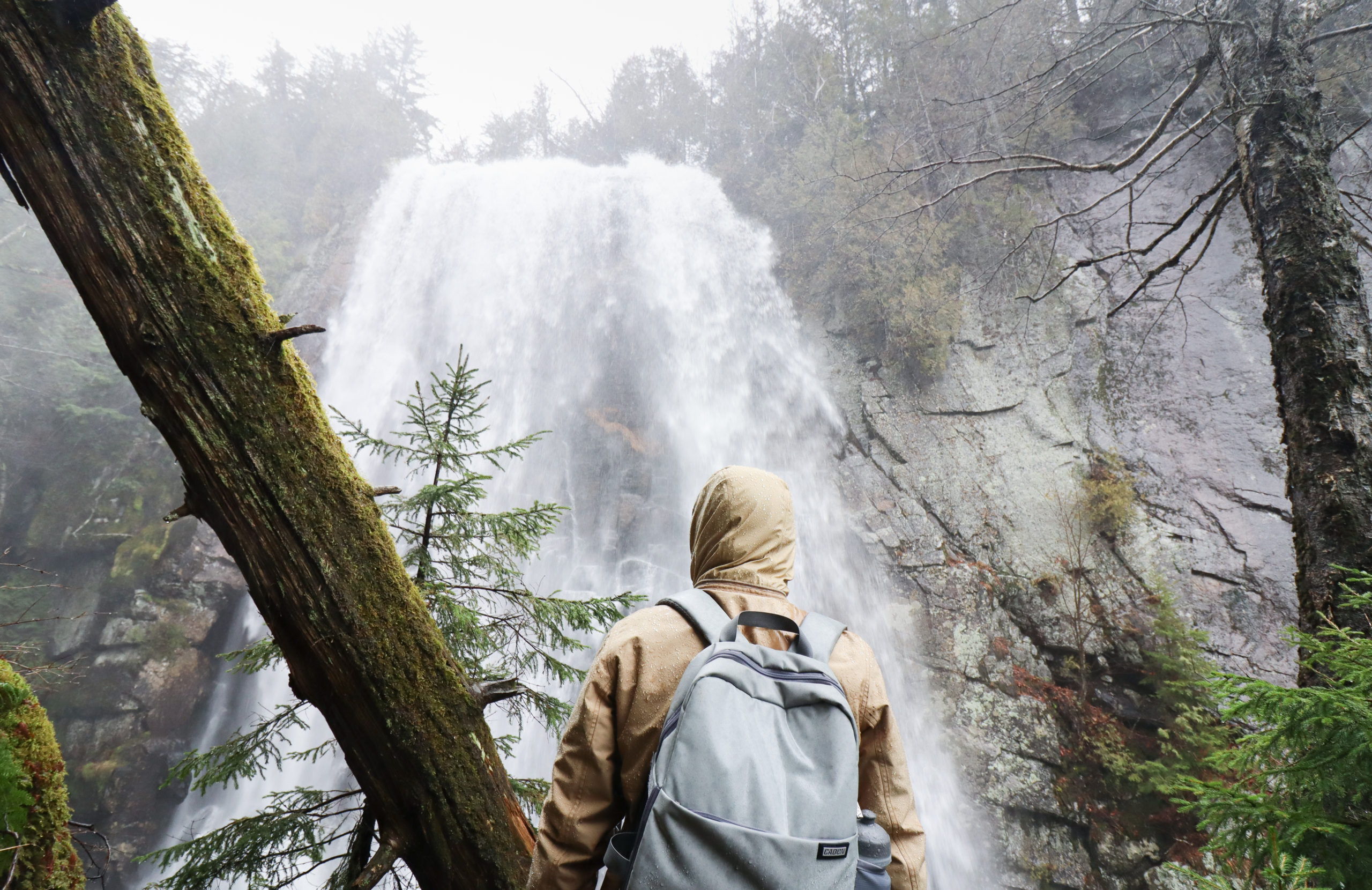 Tips for Hiking Indian Head
Hiking shoes: These are an absolute must for this hike. The terrain does get rough, with areas of scrambling. If there is any rain you will be in trouble without these!
Moleskin: Equally important to the aforementioned tip is every hikers BFF – moleskin. Unfortunately we forgot ours, and were rewarded with the WORST blisters and will forever keep a memory of this hike on ours heels.
Ticks: The benefit of winter hiking is no ticks, but not for the three others seasons. Make sure to avoid going off trail, check for ticks afterwards ,and most importantly, spray yourself with a repellant prior to the hike.
Leave no trace: Bring out what you bring in. We only have one Indian Trail, so make sure you leave it as is or better than you found it. This includes staying on the trail and not bringing nature home with you.
Bring water: Staying hydrated is one the most important parts of hiking, so make sure you bring plenty for this hike. Also bring snacks and food that offers protein and carbs to keep you going on this long trek.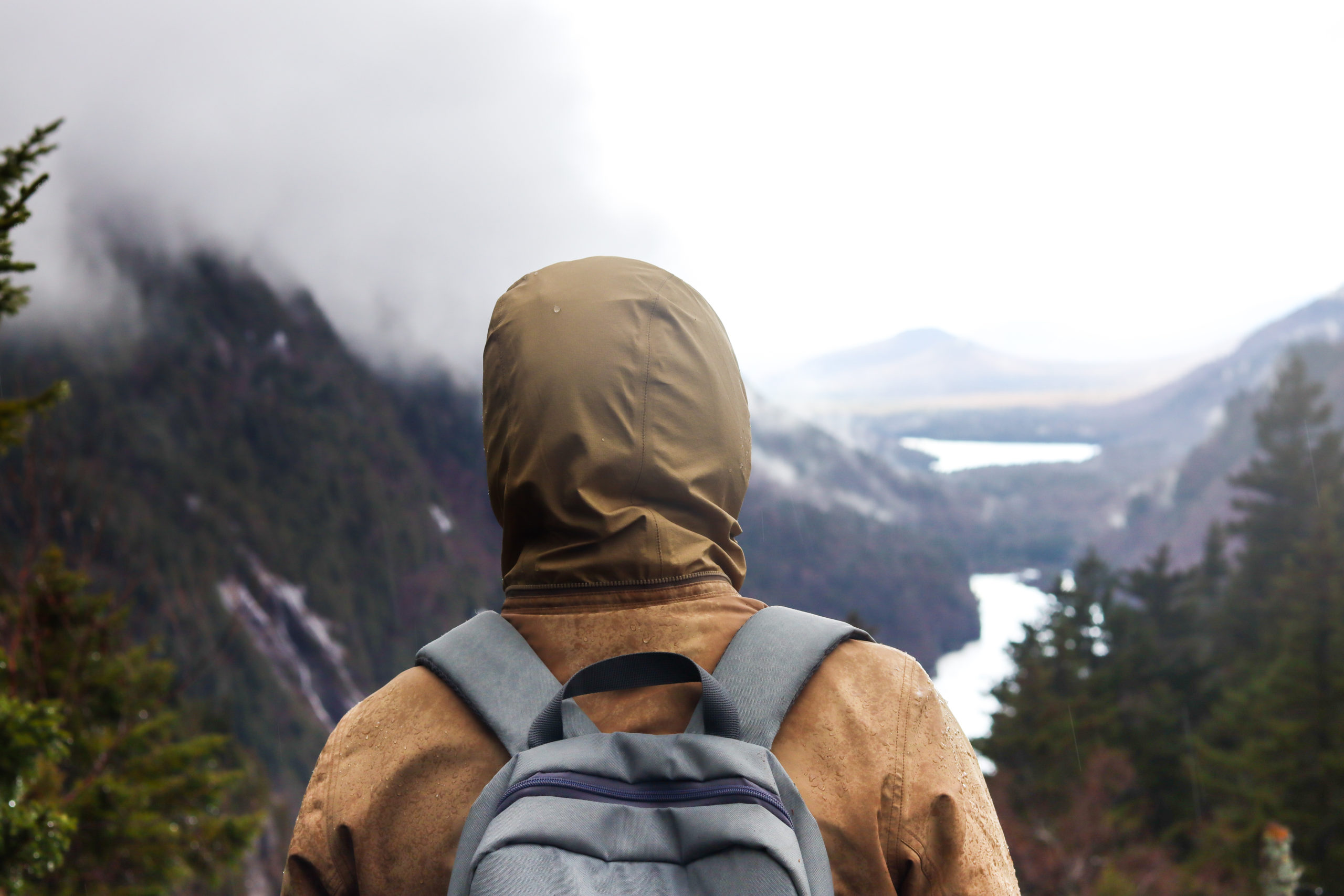 Final Thoughts on Hiking Indian Head
The summit is like no other in the area, it truly makes you feel like you've hiked to a European Fjord. Plan to spend some time on the summit, eat lunch, and take in the views! While it rained for 4 of 5 hours during our hike, it was still such an enjoyable hike we *almost* didn't notice.
One last tip we have is to stop at Old Mountain Coffee Company for a well deserved post-hike treat. The main reason we held our soaked, blistered, selves together the last few miles was for the thought of a hot London Fog Latte. Be warned, this is closed Monday and Tuesdays in off-season. Did we hike on a Tuesday? Yes, so it was closed. There were tears, but alas we survived. Happy trails!
If you're spending the weekend in Lake Placid, we have a guide for the perfect 4-day itinerary.