The Upper East Side is an iconic area of the city. Historically, it was home to farmland before the mansions of the elite and wealthy started to be built. Henry Clay Frick and the Vanderbilts being too well-known early settlers of these mansions. Flash forward to Hollywood days and this neighborhood is the background of several popular movies and TV shows, including Gossip Girl. However, day to day it is better known as the home to many of families, schools and museums. This neighborhood is one the wealthiest in Manhattan, so the brownstones are jaw-dropping. We highly recommending coming during the holidays to check out the decor!
While this is more of a local spot, there are many reasons why we think everyone should venture up to the East Side. And yes, we have called this area home for the last two years, but I don't think we are TOO biased! 
Getting to the Upper East Side 
Getting to the Upper East Side is relatively easy from just about anywhere in the city. The Q train takes you along 2nd Ave with three convenient Upper East Side stops, the 6 train runs along Lexington with two stops and the F also provides 1 stop on the edge if the Upper East Side. However, if you are a walker, it is about a 2 mile walk through Central Park to get here from Midtown. The walk through Central Park will take you along to see the Wollman's rink, some rock platforms for midtown skyline views and past the Bethesda fountain- well worth your time! Or, walk up 5th Ave or Madison Ave to see all those fancy designer shops you would expect to see on these two iconic shopping streets.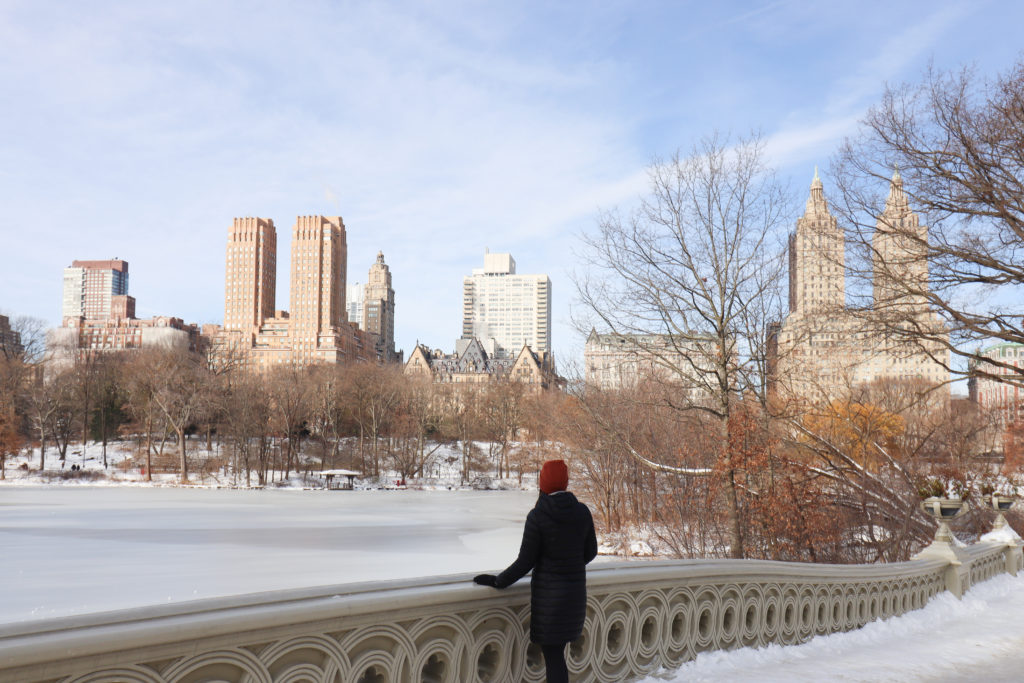 Where to Eat in the Upper East Side
The Upper East Side is a food hub. We have lived here for two years and have not even come close to eating at all these spots, even with our no repeat rule! 2nd Avenue from 75th to 86th Street is home to many restaurants and bars. So if you are undecided on where to eat we recommend strolling down this Avenue until something catches your eye! If you are more of a planner, see some of our recommendations below. 
Thep Thai 
1439 2nd Avenue (corner of 75th Street)
This is our favorite spot for Thai food. Seriously, you cannot go wrong with the chicken pad their or green curry chicken. Furthermore, the prices are very reasonable and the service cannot be better. Bonus: they have a great covid friendly set up. They have outdoor, individual, huts with heaters and a button to press for a server. What more can you ask for
The Beach Cafe
1326 2nd Avenue (corner of 70th Street)
 The Beach Cafe is our top spot for breakfast. They have an awesome breakfast menu, large and sunny outdoor seating. Bonus they have breakfast and mimosa deals every weekend, what more could one want! 
Quality Eats
1496 2nd Avenue (off of 78th Street)
Their menu is filled with mouth-watering spins on the classic brunch menu, with a spacious patio as well (noticing a trend here?).
H+H Midtown Bagels
1551 2nd Avenue (off of 81st Street)
This is where you will get the classic NYC bagel experience and is one of our favorite bagel locations. It can get quite busy and has limited seating, so we often opt for takeout.
The Penrose
1590 2nd Avenue (off of 83rd Street)
No matter what time you come here to eat they have a diverse and unique menu. Add in their trendy, instagram-worthy decor and we are sold. For food, their brunch is cozy and the evenings turn into a bar, of course they also have a great outdoor area to eat. 
Five Mile Stone 
1640 2nd Avenue (off of 85th Street) 
This a great pub for both the food, craft beer and atmosphere. Their outdoor space is located on the second floor and perches along the railing, offering a unique perspective of the streets below. Bonus: they have a significant amount of outdoor space and have winterized it, so you can enjoy your meal, covid style, in all four seasons. 
Uva
1486 2nd Avenue (off of 77th Street)
This is the place to be for great, homemade Italian eats. This is a little nicer of a restaurant that is deceivingly big, with a nice back garden area to sit in. 
Numero 28
1431 1st Avenue (off of 74th Street) 
We have slowly been making our way through the wood-oven pizza locations and for the Upper East Side this place wins. Pizza aside, their pasta and sangria is also top notch! Bonus: they have a great outdoor set up that has been winterized. While, you won't be able to remove your coat, you will be able to sit comfortably to enjoy your meal. With a fair amount of seating, we have not struggled with long waits to eat here
The Drunken Munkey
338 East 92nd Street (off of 1st Avenue)
This small restaurant offers the best Indian food we have found in NYC, well worth the trek up the east side to experience. Tip: a reservation isa must here, with minimal seating and delicious food, this spot gets busy. Update: during the covid pandemic, they are not offering outdoor dining, however are newly in food delivery apps, so check them out there!
Levain Bakery
1484 3rd Avenue (off of 84th Street) 
 This is an absolute must stop, trust us. The original location is on the upper west side, however their cookies are too good to not have an Upper East Side location as well. Their chocolate chip cookies are large, warm and not fully cooked in the center. Honestly, one of the best cookies I have ever had. They also offer espresso drinks and other pastries, but trust us with the cookie recommendation!
Emack & Bolios
1564 1st Avenue (off of 81 Street)
The best scooped ice cream on the Upper East Side. They offer hand scooped ice cream with plenty of flavor options. The cookie monster is always a sought out flavor for both of us. Furthermore, there is often lined up outside, but don't worry the lines go quickly! 
Cafes to Visit in the Upper East Side 
Ralph's
888 Madison Avenue (off of 72nd Street)
Ralph's is the coffee shop started by Ralph Lauren (yes, the clothing designer). While there are a couple of locations within Manhattan, we feel the flagship store in the Upper East Side is a must see. Most of the building is the Ralph Lauren clothing store, but on the end is the coffee shop. They offer espresso drinks with a small selection of pastries, the chocolate chip cookie is hard to pass up! In the winter they also have peppermint  hot chocolate. Their hot chocolate is the perfect treat to warm up with after a walk through Central Park, which the exit is conveniently located a block away. We went when indoor dining was shut down in the city, however they had several tables set up outside. Bonus: go at Christmas time to enjoy their beautiful lights!
Hutch and Waldo's
247 East 81st Street, Upper East Side
Another Upper East Side coffee shop, what can we say- UES knows their coffee. This shop is Australian owned, so you have an Austrlian feel to the menu (coffee included!). One of our favorite spots in Sydney, Aus was this smoothie bowl truck in their main park and this coffee shop takes us right back to that. In the summer, they have an outdoor, dog-friendly, set up to enjoy your food. So yes, it's mainly a coffee shop but they have smoothie bowls and quick bites as well. In the summer, they also have frose (frozen rose), which is the perfect drink to pick up on your way to Central Park for a summer afternoon.
Bluestone Lane 
1085 5th Avenue 
This coffee chop is conveniently located right along museum mile, providing you all thenevessary caffeine to keep trekking. Bluestone lane is another Australian inspired cafe. It has a few locations in Manhattan, however this location has the most unique setting. It's nestled adjacent to Church of the Heavenly Rest, an historic church. The stone archways are very historic looking and not what you see a typical cafe!
What to do in the Upper East Side 
Central Park
Central Park can hardly be considered an Upper East Side only attraction. However, with the entire West side of the neighborhood lining the park, we feel we claim a part of it, right?! Central Park itself has many sites to see. The Bethesda Fountain is an iconic spot, which is the backdrop of many movies. Furthermore, there is the Bow Bridge here as well. You can also rent rowboats here, however this has closed indefinitely during the pandemic with no opening date as of yet. If you have kids, there is also the Central Park Zoo which is a hit for many! Lastly, there are many rock formations you can walk on top of to get some midtown skyline views.
Overall, Central Park is a great place to escape the incessant car honks for a moment and enjoy the sun! If walking seems too daunting, there are also bike rentals. There are many bike rental companies that operate out of midtown, however Citibike is another great option. Citibikes have docks throughout the city and you just need the app and a credit card to sign up and begin biking. 
Shopping
 Madison Avenue is widely known as an iconic street for shopping. While the southern area of 5th Avenue offer many designer shops as you head north the shopping gets more reasonable, ending at 86th Street. Overall, even if you are not shopping at many of the store, the window displays are fun to see and window shop.
The East Esplanade 
The East River Esplanade is a 9.44 mile path for walking or biking. It goes from 60th Street up to 106th Street. The Pathway offers great views of Roosevelt Island and the Ed Koch Bridge. It has a few pars throughout, including two dog park areas. Furthermore, you pass Gracie Mansion, which is where the Mayor lives. If you end your day here, there is a NYC ferry stop along the pathway at 90th Street, which is a great way to commute back to the Bronx, Lower East Side, Stuy-town, Brooklyn or Wall Street!
Roosevelt Island
East 60th Street and 2nd Avenue 
While, this is not in the Upper East Side, it is right beside it so it basically counts, right? Roosevelt Island is a narrow island situated between Manhattan (the Upper East Side) and Queens. The island is 2 miles long and filled with lots of car-free zones and green spaces, allowing you to explore at your own pace. The best way to access this island is via the Roosevelt Island Tramway, it only costs $2.75/ person and offers great views! To check out our complete guide to Roosevelt Island, check out our post here!
Museums
Lastly, one of the most recommend things to do in the Upper East Side is visit any of there many museums. The Upper East Side is home of museum mile, which a stretch along 5th Avenue that house many museums. Our top four recommended museums are coming up next!
Museums to See in the Upper East Side 
The Metropolitan Museum of Art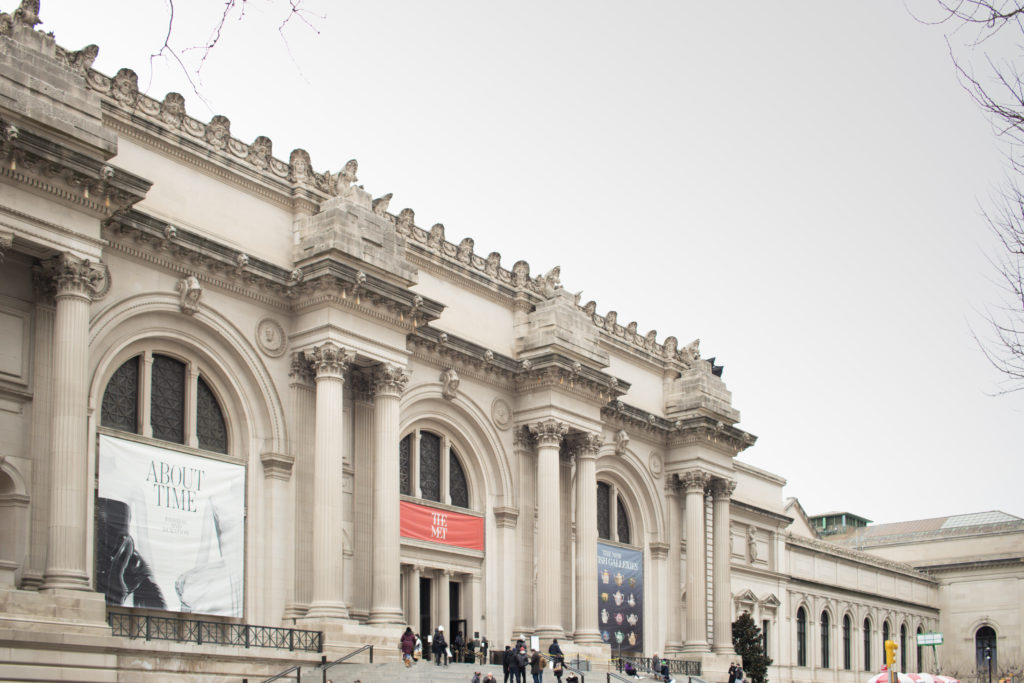 1000 5th Avenue 
This is one of Janessa's favorite museums and for good reason! First you have the iconic front steps which are perfect for photo ops. Second, you have the amazing artwork and sculptures inside. We love the greek sculptures and feel, you would almost think you were in a European museum. Thirdly, you have an outdoor rooftop bar. If you are looking for a peaceful spot to enjoy a drink, a snack and some skyline views- this is your spot.  This rooftop overlooks Central Park as well and is often not too crowded. Overall, if you have to choose one museum, we recommend the MET. Tickets are $25/ person, however for NY residents and their guests it is pay what you wish anytime. 
The Frick Museum
1 East 70th Street (off of 5th Avenue)
This is also an art museum, however it is Henry Clay Fricks house. Henry Clay Frick was one of the first wealthy New Yorkers to build a mansion in the Upper East Side. So, while you view all these art pieces, you also get a glimpse into what an historic mansion looks like. It is currently closed for renovations and expected to re-open early 2021. Tickets are $22/ person, except on pay what you wish days. Pay what you wish days are Sundays between 11 am and 1pm. 
The Guggenheim Museum 
1071 5th Avenue
The Guggenheim Museum is an art museum. However, the building itself designed by architect Frank Lloyd Wright is a sight to see in itself. The museum is along the outside of the circular building, you view it as you advance up the incline path to the top. We went when they had the exhibition Countryside, the Future and really enjoyed the integration or art and technology. Furthermore, the balance of modern art with historical art pieces offered great contrast. We are by no means museum experts, but this museum is one of our favorites. Tickets are $25/ person, except on pay what you wish Saturdays. Pay what you wish takes place every Saturday between 4-6pm.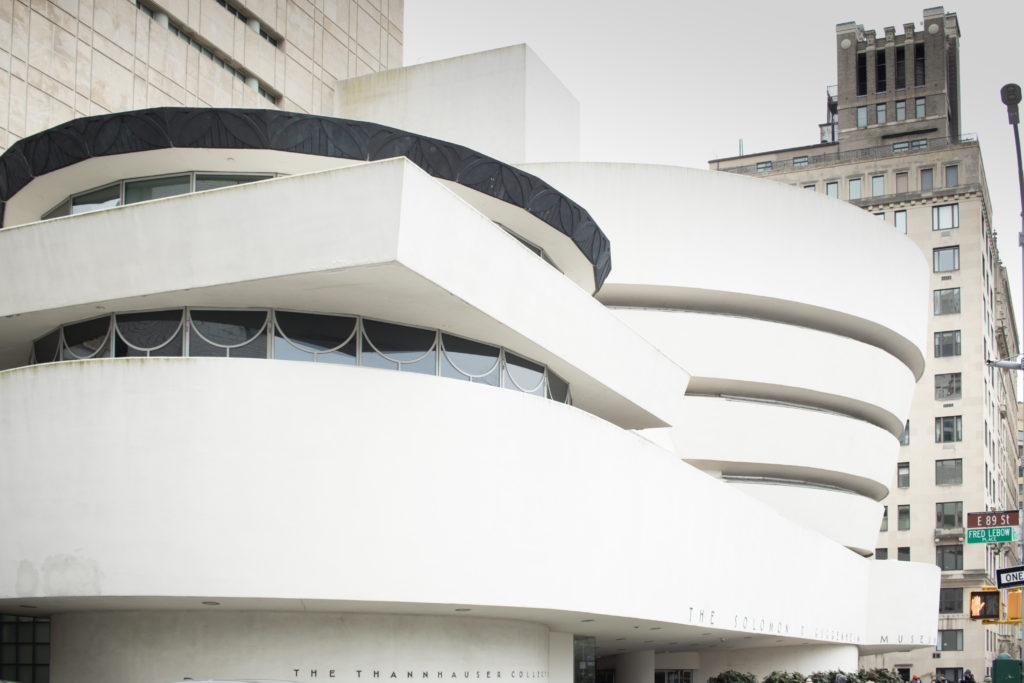 Museum of The City of New York 
1220 5th Avenue
If you're seen Gossip Girl, then this is a must see spot. Many of the outdoor scenes in Gossip Girl take place on the steps leading up to this museum. However, if you are not a fan of this show or haven't even heard of it, it's still a great museum to check out. The museum goes over the history and art that has made New York City what it is today. Admission is $20/ person or $14 for students and seniors.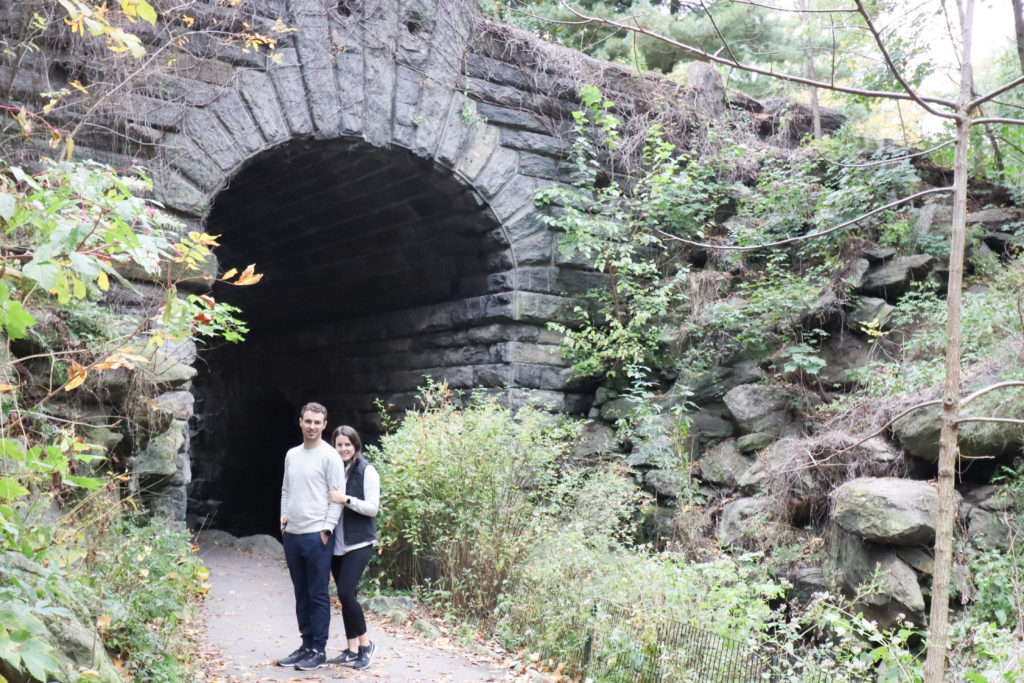 That is all we have for now! The Upper East Side is truly a neighborhood like no other. Even you do not do a single of the things to see or eat in this neighborhood, we bet you will still enjoy your time. Simply walking through the streets and looking at all the mansions, brownstones and consulate buildings scattered throughout the neighborhood is super fun. We look forward to seeing everyone in our area the city one day soon!