Completing a California coast road trip has been on our bucket list for a long time. The Pacific Coast Highway (PCH) is toted as one of the most scenic drives in the United States and it definitely met the hype!
We drove from San Francisco to San Diego in four days, which was, admittedly, a fast pace. We highly recommend 4-5 days to ensure you can fit everything in. Have more time? Even better! Extend the drive into 6-7 days to really slow down and enjoy all the beauty the Pacific Coast Highway drive has to offer.
Best Time to Complete the California Coast Road Trip?
A California coast road trip will have you driving along the Pacific Coast Highway in Southern California, which basically means you can complete this drive any month of the year. The peak-season is July and August, so while the weather is perfect, the most scenic landmarks will be crowded. We recommend traveling in shoulder seasons, the spring and fall. The spring will be foggier and have rain, but the decreased crowds and warmer weather are perfect for traveling the coast. Our top recommendation is to travel in the fall, October to November. The weather will still be warm, it won't be as foggy and the hours of daylight are still long enough to get in a full day of sight-seeing. Shoulder season will also have cheaper prices and more availability for hotels, car rentals, etc.
Which Direction to Drive for the California Coast Road Trip?
After you decide to travel the Pacific Coast Highway (Highway 1), you will soon need to decide which direction you'll drive. We drove north to south for a few reasons: 1.) driving north to south allows the passenger to be on the coastal side for the drive, 2.) most of the turn offs are on the coast side so this route limits the u-turns you need to make, and 3.) we ended in San Diego where we were better able to relax on a beach after all that driving.
You can still do a California coast road trip by driving South to North, but in general this is not the recommended direction. The silver-lining of this route is that it can be the cheaper option during peak season. Rental car prices will vary and we found, during peak season, it was cheaper to pick up a car in San Diego and drop off in San Francisco, rather than the other way around.
Sample 4-Day Itinerary for a California Coast Road Trip
Day 1: Drive from San Francisco to Monterey; 3 hours 15 minutes
Day 2: Drive from Monterey to San Louis Obispo; 3 hours 50 minutes
Day 3: Drive from San Louis Obispo to Santa Monica; 3 hours 50 minutes
Day 4: Drive from Santa Monica to San Diego; 2 hours 40 minutes
This schedule assumes you arrive at San Francisco prior to Day 1. We arrived to San Francisco two days prior so we could explore San Francisco and Pacifica.
The Best Stops During a California Coast Road Trip
Pacifica State Beach:
Pacifica State Beach is a crescent shaped beach known for its surfing. You can opt to have surf lessons here and head into the swell or simply watch from the shoreline. Additionally, the Taco Bell along the beach is toted as the most beautiful in the country and worth the stop.
Devil's Slide Trail:
Devil's Slide Trail is a great hike for all hiking levels and ages within Pacifica. The trail is a 3.1 mile there and back trail that is along a pathed road for almost the entirety of the hike. The trail itself is well-trafficked and has a large parking lot at the trailhead. Hiker's will have views of the stunning California coastline throughout the hike. Overall, this is a great spot for incredible views with minimal effort!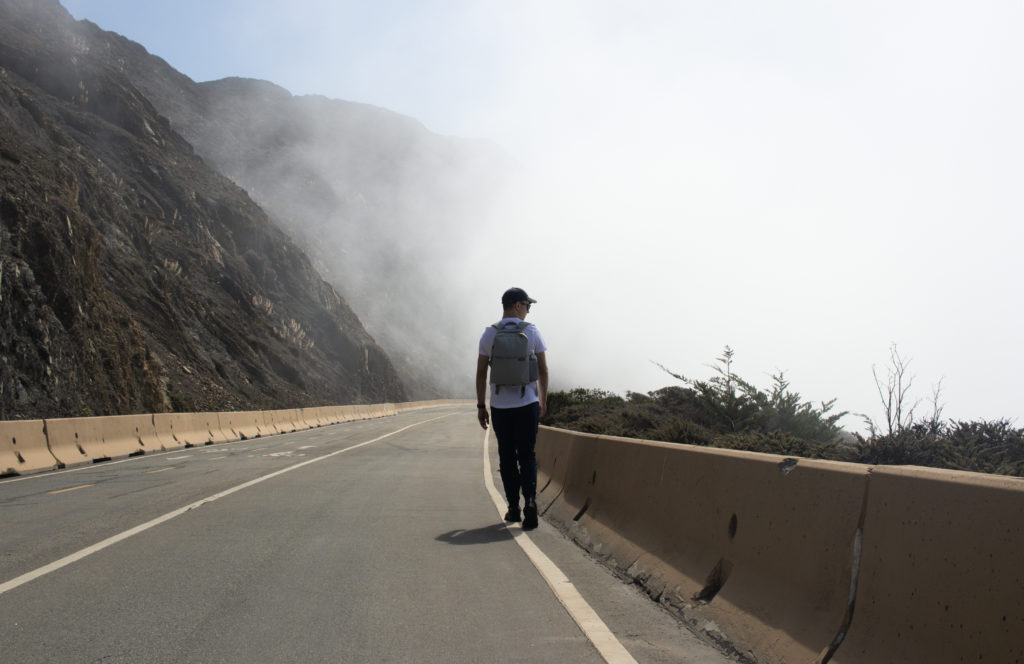 Gray Whale Cove State Beach:
Gray Whale Cove State Beach is a sheltered cove beach that's nestled between cliffsides, and is popular for surfers and locals to hang out at. We went in the off-season and had the beach largely to ourselves. An important point to note is the north end of the beach is commonly referred to as Edun ('nude' spelt backwards) Beach due to its clothing optional practices. While this is not formally a nude-beach, it has become a common spot to practice nude-bathing regardless.
Getting here is a touch difficult due to the tricky parking situation. The parking lot is on the east side of the highway and sneaks up on you, so we recommend having the location typed into Google Maps. The parking lot itself is relatively big, but is gravel, which has caused some pretty big dips and holes (read: not for small sports cars). Once you park, you will need to cross the highway on foot, which will take patience to wait for a break in traffic. Once across, there's a short trail to a set of steps that will take you down to the beach. Make sure to check out the rope swing before you head down the steps!
Pigeon Point Lighthouse
Our next stop was Pigeon Point Lighthouse, a great 15 minute stop to see those pacific coast cliffs with a lighthouse. The Pidgeon Point Lighthouse is 115-feet tall, making it one of the tallest in North America. It has been up and running since 1872, so there is a lot of history to it as well. As a bonus, this area is popular with ocean life so you may just see a seal or whale around this area.
Shark Fin Cove
Shark Fin is the next stop, and this was definitely one of our favorite rock formations we saw along the drive. At Shark Fin Cove, the rock formation appears to look like a giant shark fin, creative naming around here! We recommend viewing this area from the top first and then hiking the 0.3 miles down to the beach.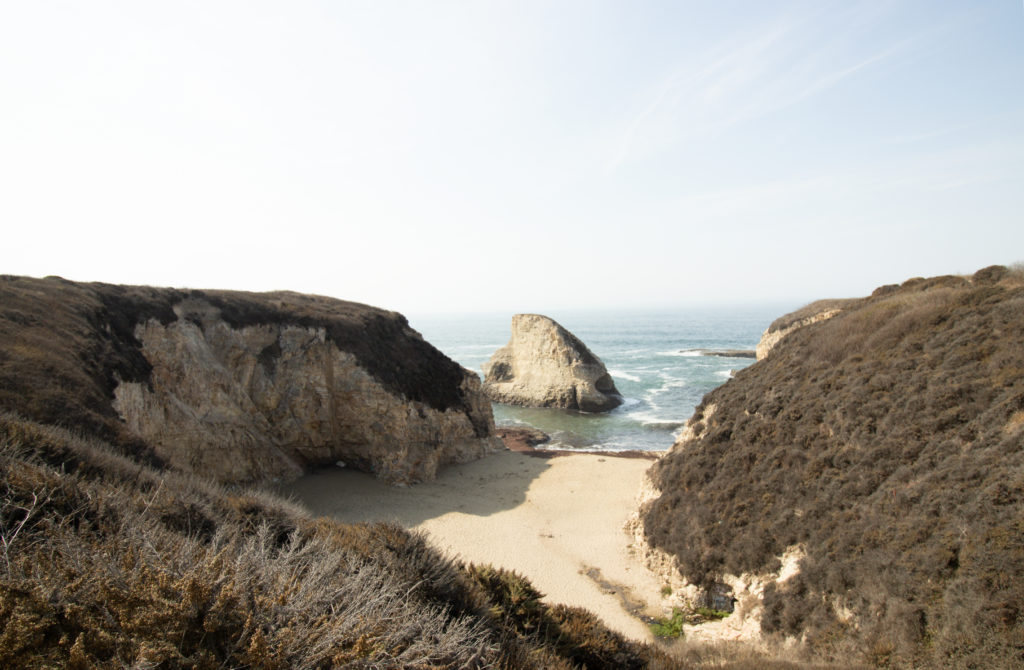 Carmel Beach
This spot is amazing for watching the sunset. You can also bring alcohol down here, so a glass of wine and a sunset could be just what you need after a day of driving! If you turn and walk right down the beach you will be walking under one of Pebble Beaches golf holes.
Point Lobos State Natural Reserve
Point Lobos State Natural Reserve is the first stop you can make in Big Sur, you'll reach it a few minutes into the drive (when coming from Monterey). This reserve is home to one of the richest underwater habitats, which makes it a popular spot for divers. We recommend stopping here to check out the coves and tide pools that are filled with underwater life.
Garrapata State Park Bluff Trail
Garrapata State Park Bluff Trail is a 0.6-mile trail that takes you along the coastline. It offers cliffside views with waves smashing into the rocks. We spent sunrise here in off-season and had the place to ourselves, which was one of the best ways to start off our Big Sur adventure!
The 0.6-mile trail is a there and back trail so feel free to turn back at any point during your walk. Additionally, the parking lot is a small dirt pull-off, so make sure you have the location plugged into your maps so you don't miss the turn off.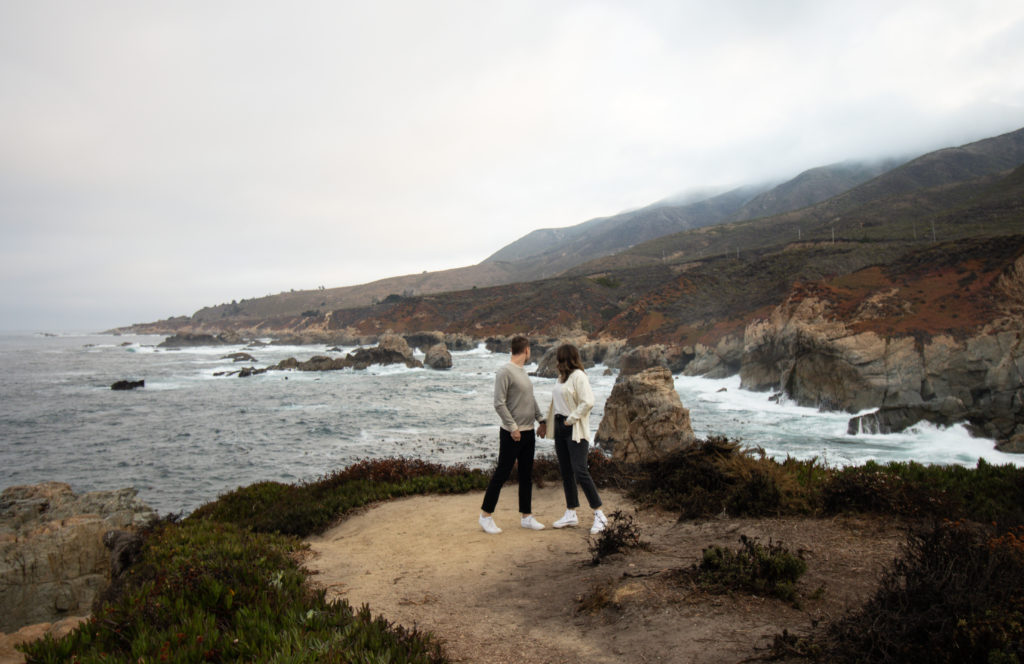 Bixby State Bridge
Bixby State Bridge is one of the most famous spots along the highway in Big Sur. If you own any Apple products, you've likely had this set as your back screen at some point.
Completed in 1932, the Bixby State Bridge has become one of the most photographed bridges. You'll drive across the bridge, but we recommend stopping prior to crossing for the best views (when driving North to South). There are parking spots on the right and then slightly further down on the left. No matter which lot you park in, you can walk across the road for a different view.
Pfieffer Beach
Next up is Pfieffer Beach. This beach is know for having purple sand and stunning rock formations. We will say that the sand, while tinged, is not exactly purple — maybe it depends on the time of day? Either way the rock formations were stunning and it's a good beach to explore. At this point we were still waiting on our morning coffees so we quickly passed through on our way to get into the town of Big Sur a bit early.
When driving here, the turn off can be easily missed. Make sure you have it mapped out and you will be turning towards the oceanside of the road.
Partington Cove Trail
Partington Cove Trail is a small inlet that you can hike down to and explore. The trail is 1.1 miles roundtrip and steep, so we recommend running or hiking shoes. When you get to the bottom there are two coves and we recommend seeing them both. The first cove requires a left turn off the trail and takes you through a tunnel. To reach the second cove, keep going straight down the trail and it's located at the trail's end.
The parking for this spot was a little difficult as there's not a parking lot. We parked on the highway shoulder, ensuring we were not within the white highway lines.
Julia Pfeiffer Burns State Park
Different than Pfeiffer Beach is Julia Pfeiffer State Park. This is a large, densely forested area of Big Sur where you'll be able to see the redwoods. There's lots of hiking trails in this area that offer a forest adventure. Pfeiffer Falls and Valley View Trail are two great hike options to do within the park.  Valley View Trail is a 1.8 mile out and back hike that ends with views of the valley. Pfeiffer Falls is a 1.3 mile out and back hike that features a waterfall. Either trail are maintained and good for an easy to moderate hike.
McWay Falls
McWay Falls is another one of the more popular spots found in Big Sur. You hike a mostly flat 0.64-mile trail that ends with views overlooking McWay Falls, which is a waterfall that flows into the ocean. You cannot actually get down to the beach, but the views are spectacular.
There is a parking lot here that will require $10 fee, this was closed for us in off-season and again we had to park on the road.
Limekiln Falls Trail
Limekiln Falls Trail is another great option to hike to a waterfall. This trail has been closed due to fire damage so be sure to check a reliable source such as Alltrails prior to your trip to check the status.
Sand Dollar Beach Trail
Sand Dollar Beach is where we sat and enjoyed our lunches as we watched local surfers. Getting to the beach involves walking along a 0.4-mile trail that ends with stairs down to the sand. The beach is nestled among the cliffside with sea stacks off the coast. There were very limited people along this beach, so we found it a great spot to relax and enjoy some fresh air.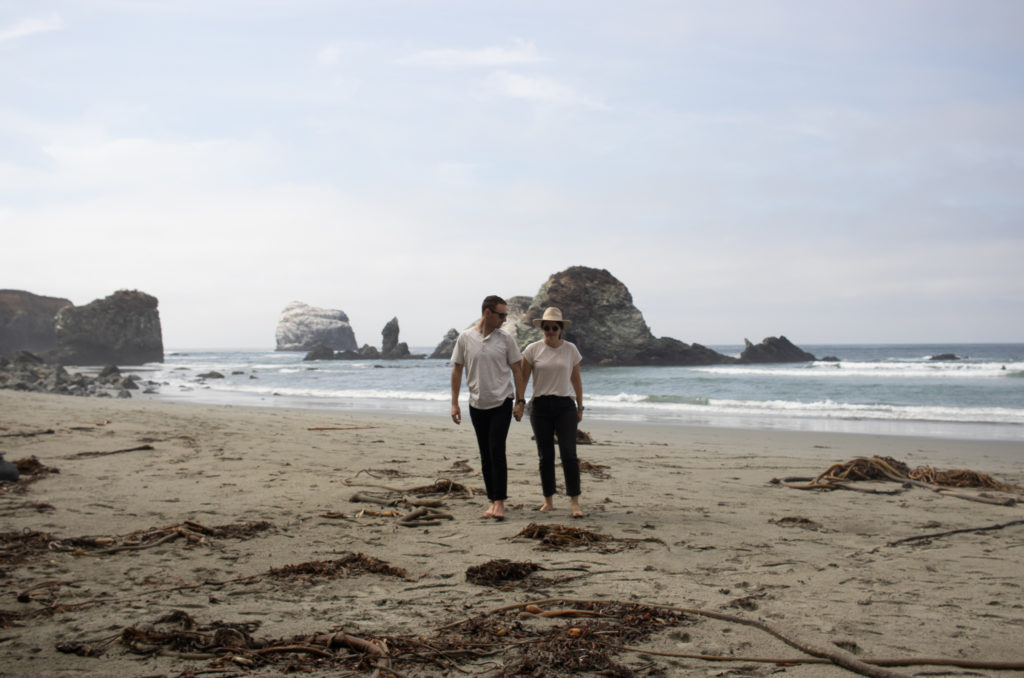 Elephant Seal Vista Point
Elephant Seal Vista Point is an observation deck that allows you to watch the elephant seals who live here. It's a great spot to see elephant seals in their natural habitat, although they do spend a lot of time lying around. We went just prior to mating season, when all the seals make their way back to the beach, so we found it a little quiet. Overall, this is a quick stop and a great opportunity to check out some elephant seals.
Moonstone Beach
Located in Cambria, at the end of Big Sur, is Moonstone Beach. This beach is toted as one of the most beautiful beaches in the United States and it really is stunning. This is a residential area, so the top is lined with houses along the cliffside trail. We recommend walking along the shoreline, which is filled small rocks to collect.
Morro Strand State Beach
Next up is Morro Strand State Beach, which is in the small town of Morro Bay. Morro Bay has a giant volcanic plug just off the coastline called Morro Rock. you almost feel like you're on an Oregon Beach, not in Southern California. In off season, this beach was very very quiet — our favorite! We watched the sunset from the beach and this was definitely one of our top 3 favorite stops along the Pacific Coast Highway.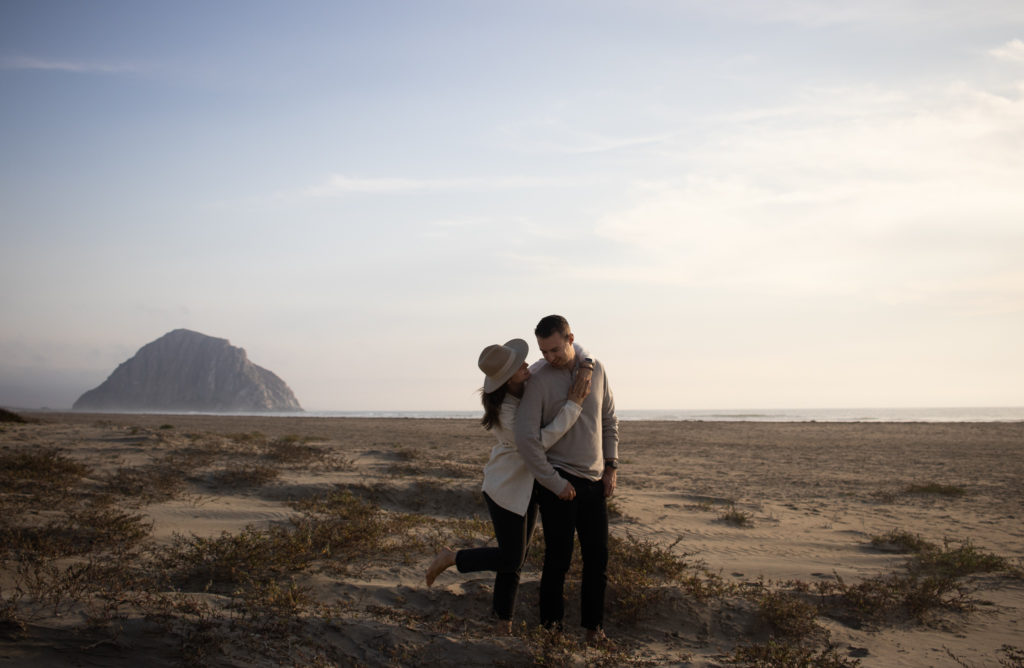 Pismo Dunes
The Oceano Dunes, commonly referred to as Pismo Dunes, are a vast area of sand dunes located within Pismo Beach. The Pismo Dunes are exactly what they're called, massive dunes. The dunes go on for miles, covering a vast geographical area, just off of Pismo Beach. The dunes are apart of the Guadalupe-Nipomo Dunes Complex which spans 18-miles of the Southern California coastline. When you visit these dunes you feel like you could be in an entirely different country as the landscape is just so unique. Check our complete Pismo Dunes Beach guide to ensure you have all the details needed to make the most of your visit!
Malibu Pier
Malibu Pier is not so much of a nature spot, or a hidden gem, but is too good to not include on your road trip. We stopped in at Malibu Farm Pier Café for an afternoon coffee break, which was a great decision — never have we had an iced latte in such an idyllic setting. We sat outside and just enjoyed the fresh air and views for a bit.
Laguna Beach
There are a lot stops within Los Angeles, but we opted to power through to focus on all the stops outside of the city along the PCH. Once you make it through LA, you will hit Laguna Beach. Laguna Beach is home to several beaches, some off which have stunning Cliffside's and tide pools to explore. We recommend stopping at Wood's Cove, Victoria Beach and/or Cress Street Beach.
Black Beach at Torrey Pines
While Torrey Pines is well-known for their golf course, they also have a beautiful beach. Black Beach in Torrey Pines is a stunning beach with compact sand, perfect for walking. This is a great spot for a driving break and leg stretch! There's the Torrey Pines State Reserve here as well with hiking trails, so if beaches aren't your preference, opt for a trail!
Sunset Cliffs
Our last must see stop during your California coast road trip is in San Diego at Sunset Cliffs.  There's several spots you can explore here, but we recommend walking along the cliffs to Luscomb's Point. If you're up for more adventure you can walk down a set of stairs to ocean level at the sea cave. From here, you can explore the Sunset Cliffs Beach as well as check out the Sunset Cliffs Sea Cave. Of note, for exploring Sunset Cliffs Sea Cave you must be aware of tidal times. High tide will make this area inaccessible and can get you trapped, so be very very mindful of tidal times. Additionally, there are lots of loose rocks and slippery rocks so only venture out if you are confident in your ability to handle this area.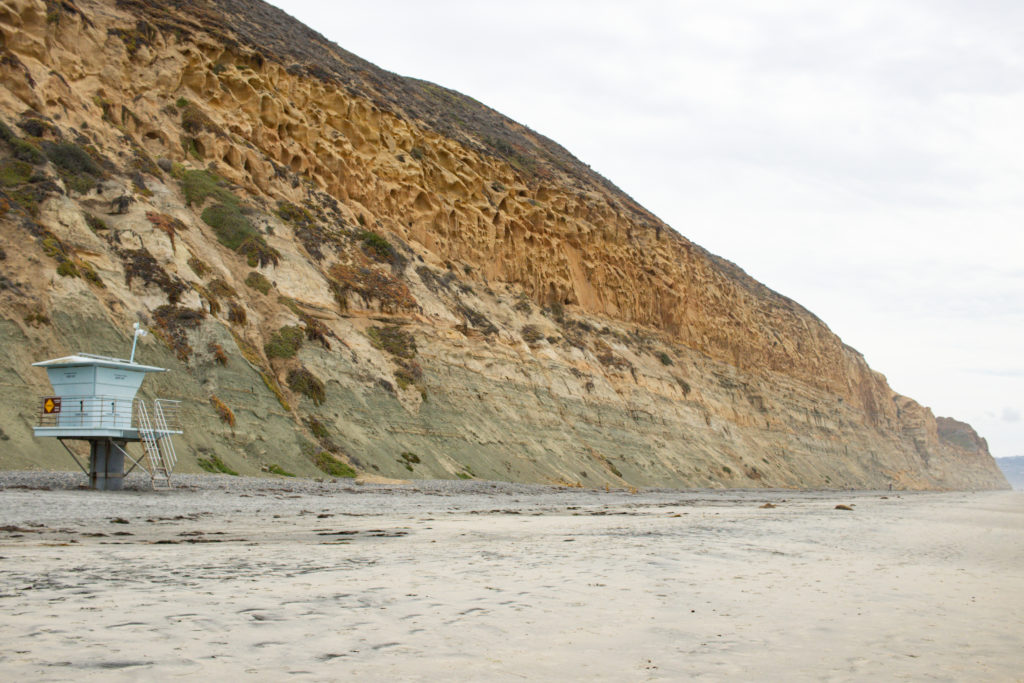 These are A LOT of stops to make during a California coast road trip, however they are all amazing. We recommend picking your top 10 stops to prioritize and then fill in your days with the rest of our suggestions. Some stops can be accomplished in 15 minutes, especially if you're saving the longer landmarks for somewhere down the road. For further details about planning this road trip, check out our complete guide to the Pacific Coast Highway in California. If you're looking to spend some time in San Francisco prior to your road trip, read about some incredible (and unique) places to visit in San Fransisco. Lastly, we didn't include the 17-mile drive in Carmel on our list but we do have a guide to this drive if you wish to include it.