Philadelphia, Pennsylvania, a city renowned for its historical significance, cheesesteaks and passionate sports fans. We traveled here for weekend getaway in late January, which was a great time of year to avoid the large crowds of the warmer seasons. Philadelphia is easily accessible from NYC and brimming with US history and microbreweries. With many convenient travel options from most major east coast cities and plenty to do year round, Philadelphia offers many reasons to be placed on your US travel bucket list and is perfect for a weekend getaway.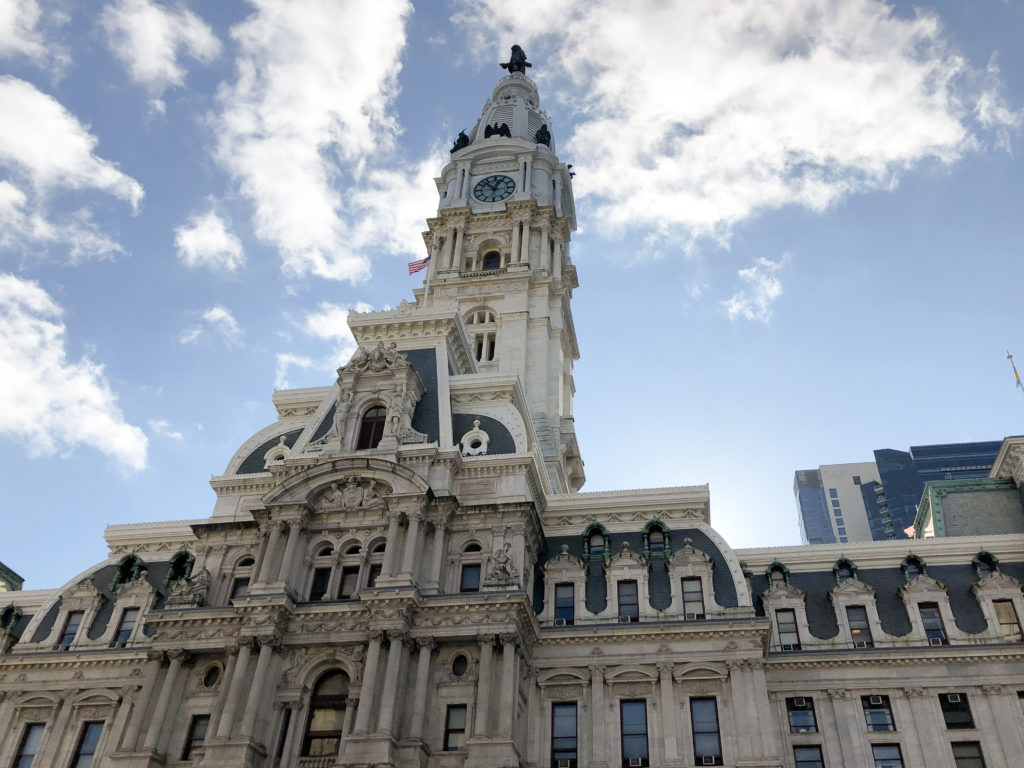 How to Get to Philadelphia 
By Car
Driving the Philadelphia is always an option. The drive from Manhattan, NYC is about 100 miles and will take 2 hours. Keep in mind you will be driving West, which can have severe traffic during rush hour. If you drive, plan to leave later on Friday to avoid the post-work rush back to NJ. Once in Philadelphia, a car will provide easy accesses to places such as the hockey arena and river walk, however will not be needed when exploring the downtown area. Furthermore, make sure to check out your parking options as many downtown hotels will have a fee ranging from $30-50 nightly. 
By Train 
We took the train from NYC to Philadelphia and were pleasantly surprised how easy this all was! From NYC you can Amtrak from Penn station (update: you can use the brand new Monyihan Station) to downtown Philadelphia. The station itself is large, but well laid out. Often this train is busy on Friday evenings, so once the train platform is announced there will be a rush of people. If you want to avoid this crowd rush, sit back and wait. We will caution that if you wait back, you may be standing for the first few stops. Overall, this train has only a couple stops along the way making it just over an hour and half train ride. If you are visiting for a weekend getaway, get the weekend started with the bar cart that has a few drink selections available. 
Local tip: the Amtrak prices fluctuate, so we recommend tracking the prices and then booking in advance. If you purchase within a month of the trip, the tickets prices will become more expensive and at times they may seem a little unreasonable. 
If you are looking to fly or take the bus in, these are also options. When coming from NYC, we would not recommend either of these options, but they can be great for other cities. The airport is an international airport, with several airlines flying in and out. Furthermore, the Greyhound can be used to access the city, with the station located centrally in the Downtown area. 
Getting Around Philadelphia
We visited Philadelphia for a weekend getaway, so we arrived late on Friday night and opted to take the subway to our downtown hotel. We figured this would be a quick and cheap option, or so we naively thought. The subway system is okay, but not somewhere Janessa would've wandered alone. Furthermore, Uber is typically cheap for traveling within Philadelphia's tourist core area and is an efficient way to get around. Overall, the downtown and historic areas are pretty compact and walkable. The subways are always an option, but most times we opted for an Uber for nearly the same price. 
Where to Stay in Philadelphia 
We recommend staying in the Center City or Old City. From here, you will be centrally located to the downtown area, river and to the historical sites. We stayed at the Philadelphia Marriot Old City and were very pleased with the hotel and location! 
What to do in Philadelphia
Philadelphia is filled with fun things to do, which is really what makes it a perfect weekend getaway. While the summer brings a bit more seasonal events, we want to you show all the fun to be had in the winter!
Historical sites
Our first day was spent seeing all the historical sites, including: The Liberty Bell, Independence Hall, Betsy's Ross' house, Elfreth's Alley and Carpenter's Hall. These sites are all very interesting and due to their close proximity, we were able to walk to them all in a day.
When visiting The Liberty Bell, you get to walk through the bell's history and learn about the famous crack it has.
Furthermore, Independence Hall has several buildings to explore and we recommend checking them all out! There are many knowledgeable employees throughout and if you get to catch one of their room tours, we highly recommend staying to listen. These guides are filled with history knowledge and quirky facts! This truly felt like a flash course in US history for us Canadians.
On your way out of the historic area, make sure you stop by Elfreth's Alley. This alley is the oldest residential street in the US, dating back to 1728.
For all these sites, some are free and some have a small fee around $3. This makes it reasonable to see most or all of these sites. We recommend planning to spend an afternoon checking out all the spots.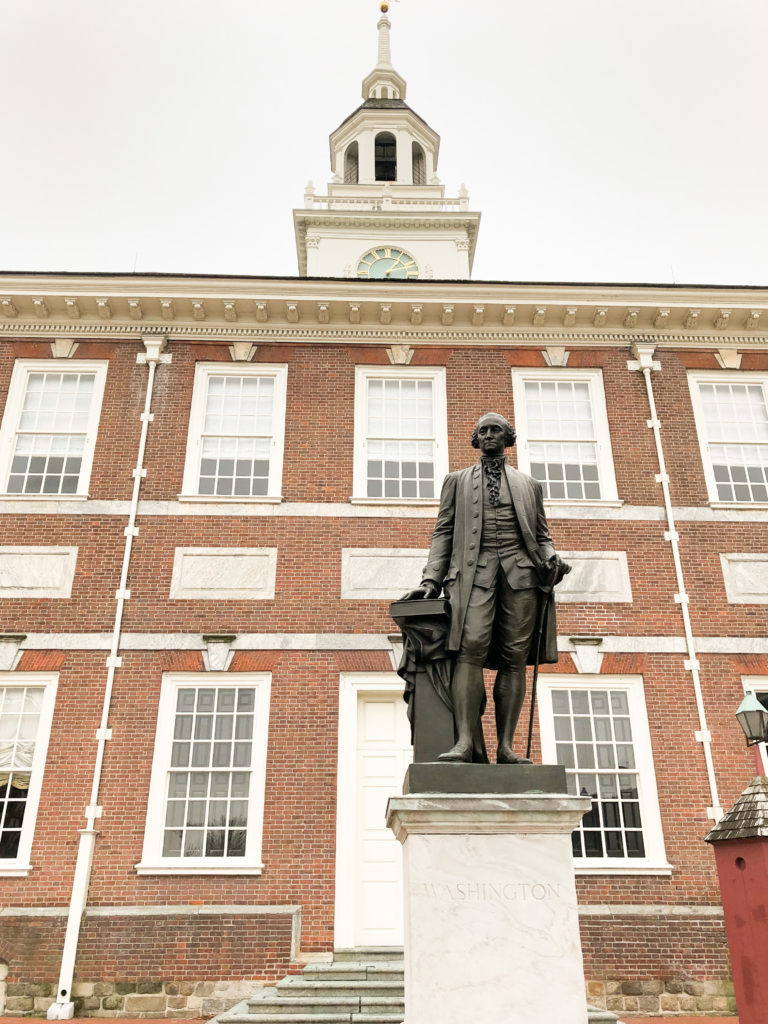 River Walk and Penn's Landing
The riverfront has a great walkway that you can stroll along. Along the river you can look at the giant naval ships and take in the Benjamin Franklin Bridge. Penn's Landing is alos located here and home to a variety of events, depending on the season. They will even host outdoor concerts at times.
See a Professional Sport's Game
Philadelphia is home to the Philadelphia 76ers (NBA), Philadelphia Flyers (NHL), Philadelphia Phillies (MLB) and the Philadelphia Eagles (NFL), so plenty of options for a live game! Seeing a live sports game is always a lot of fun for us, so we try to catch games when we travel. We went in the winter and saw an NHL game which was great. The arena is out of the city a bit, so we recommend taking a cab or Uber there.
Additionally, Philadelphia conveniently placed all these sports fields/ arenas in the same area, with a beer hall placed in the center. Xfinity Live! is centrally located with food options and beer stalls. The atmosphere is contagious and the food is well priced – we highly recommend this for a pre-game dinner or post-game drink.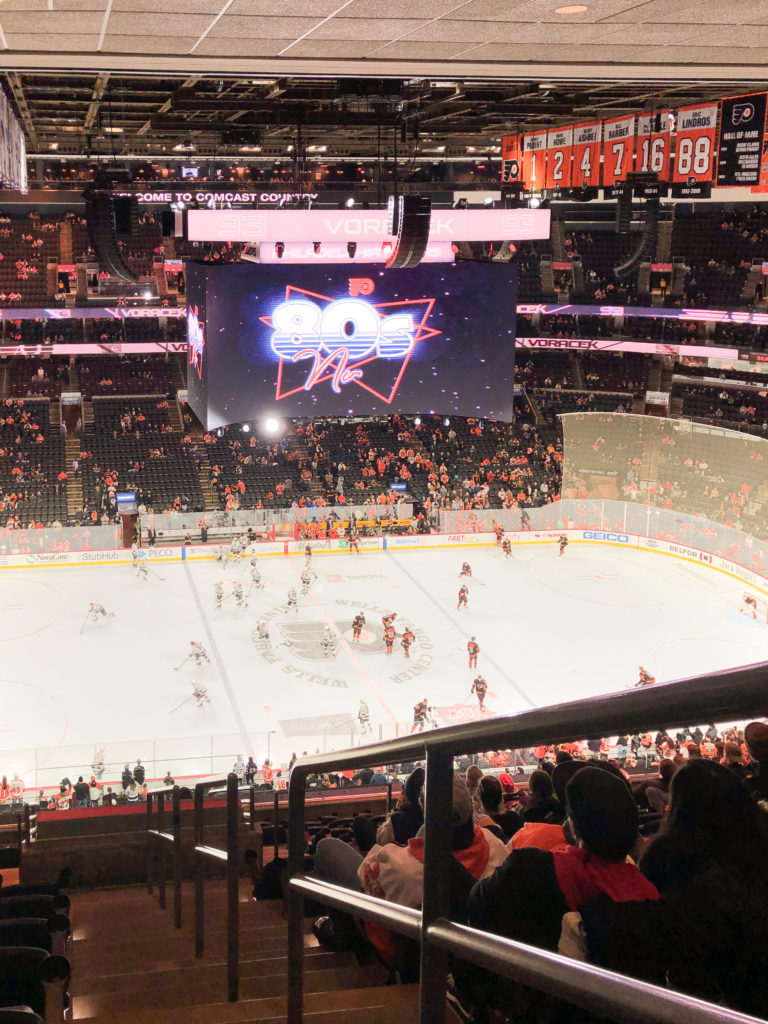 Eastern State Penitentiary
The Eastern State Penitentiary, is one of the oldest prisons in the US dating back to 1829. It pioneered inmate isolation tactics and housed famous inmates such as 'Slick Willie' and Al Capone. Furthermore, this jail was used as a blueprint for many jails. While this was a very interesting jail to explore, it was also eerie as some wings were kept as is. We recommend tuning into the audio tour as you explore. Side note, many famous Hollywood films were shot here as well so try to recognize which ones!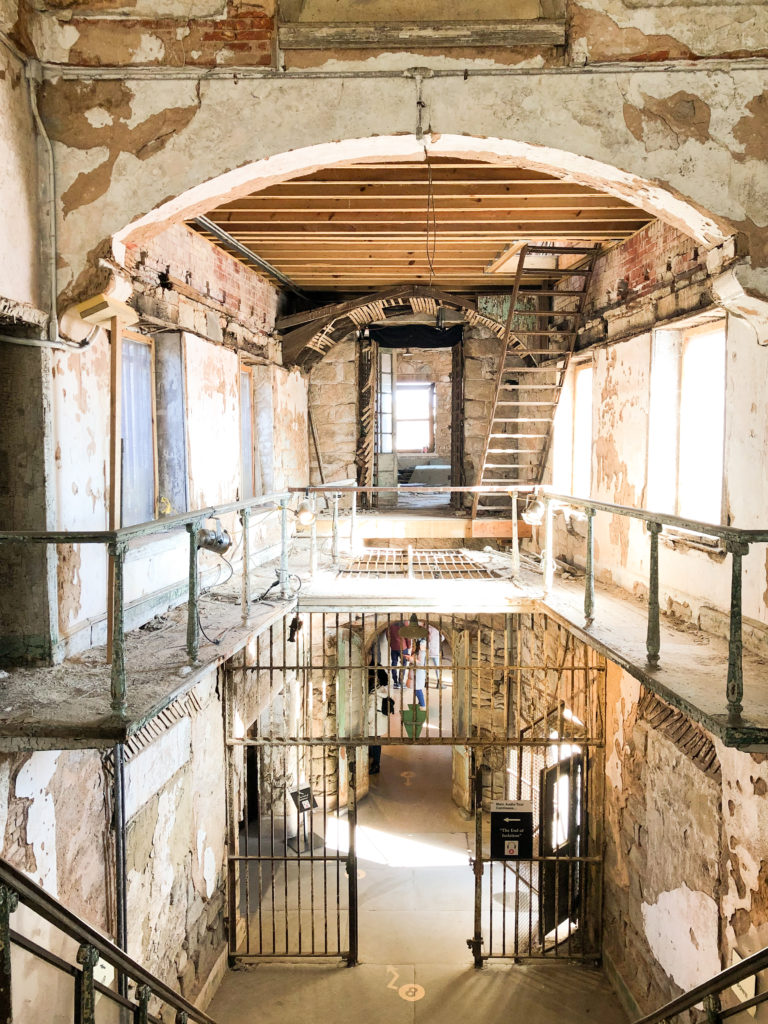 Philadelphia Museum of Art and Rocky Steps
The Philadelphia Museum of Art is one of the largest art museums in the US and houses an expansive collection of art pieces. It was constructed in 1876 and is located on the Northwest end of the Benjamin Franklin Parkway. Admission is $25/ adult, however they do pay what you wish on the first Sunday of the month and every Friday night from 5pm -8:45pm.
To get to the museum, you will have to walk (or run) up the famous Rocky Steps. These steps are from the Rocky movie and gather a lot of visitors on any given day. We ran our steps as Rocky would have and took in the skyline from the top. The views are down Benjamin Franklin Parkway and offer great views of the City Hall.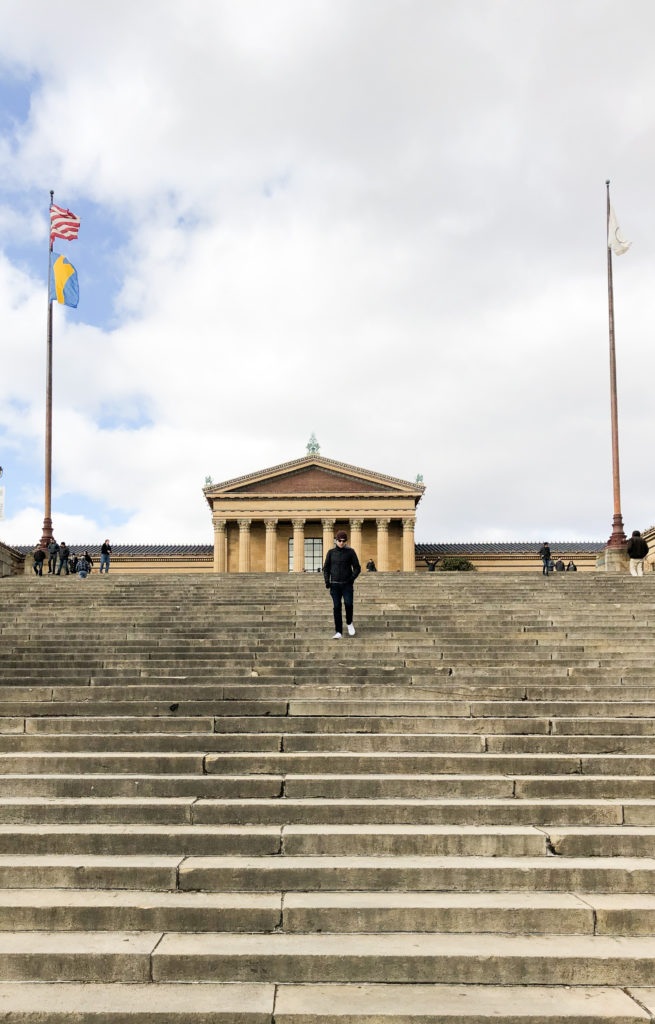 Reading Terminal Market
Reading Terminal Market is a food hall that should not be missed. Better yet, you can join a food tour to really understand the history and best spots to grab a bite to eat. The food options range from philly cheesesteaks, to pizza, to ice cream and smoothies. We came here twice because we felt we had missed some of the good food spots with the first go-around! Some mentionable spots are: Bassett's Ice Cream, Beiler's Doughnuts, Dutch Eating Place, Miller's Twist and Tommy DiNic's. 
Philadelphia City Hall
The Philadelphia City Hall is a stunning municipal building, and the biggest in the US. You can tour the inside during regular business hours and take in the views from their open-air observation deck. Plus, they boast having the most lavish public restrooms, so this makes a great pit stop! Even without entering the building, it truly is a stunning building and one we were drawn to, taking plenty of photos.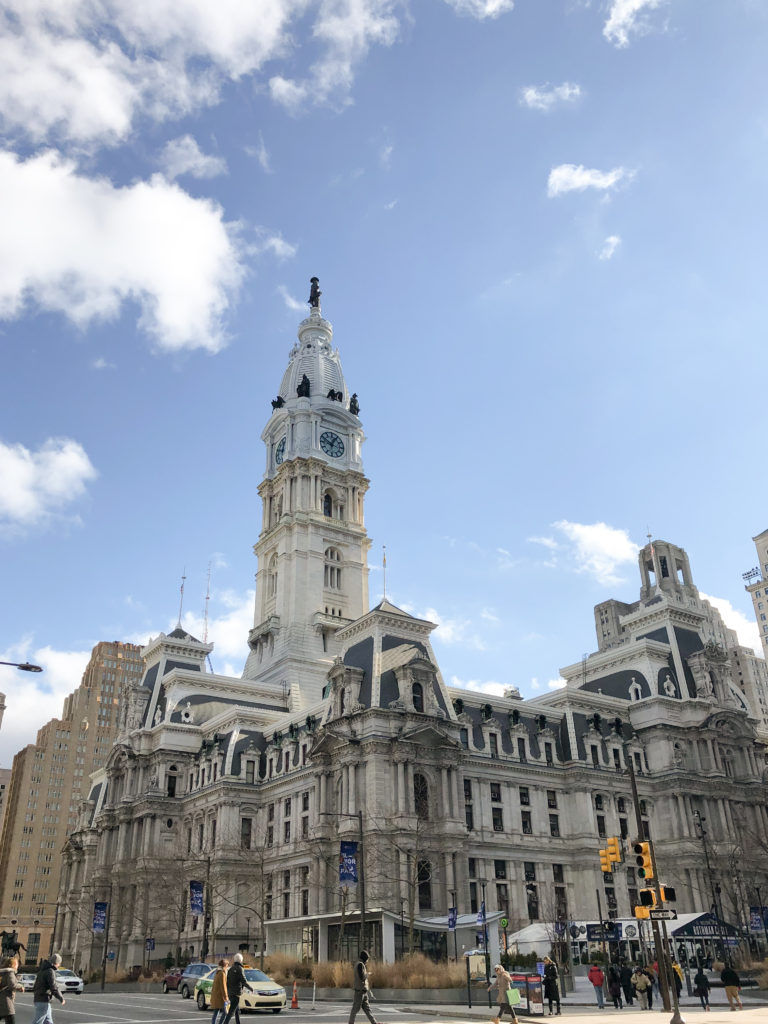 Go to a Brewery
Philadelphia is home to many breweries that all have their own, unique brews. In fact, Philadelphia is home to 85 breweries. We checked out 2nd Story Brewery and Iron Hill Brewery, both were great!
Try a Philly Cheesesteak
Philadelphia is famously known for their Philly cheesesteak's. The two main competitors for the best in the city are Pat's and Geno's. These spots are both open 24 hours, so we recommend making time to check at least one of them out.
Other great things to do include: visiting their Chinatown. Franklin Park, Philadelphia Zoo and One Liberty Observation Deck.
Between time and the cold temperatures, we did not have time to see these attractions. However, we have read great reviews on all of them! Overall, we visited for 2-days, but Philadelphia could be a week-long trip for many. Check out our recommended two-day Philadelphia weekend getaway itinerary below!