Planning a Segovia day trip from Madrid? We highly recommend visiting this smaller, historic, town in Spain. From the history, unique architecture and of course sangria – this is a must do day trip. For everything you need to know for planning the perfect Segovia day trip from Madrid, keep reading!
How do you Get to Segovia From Madrid?
Segovia, Spain is located just outside of Madrid and is a relatively easy city to visit for a day trip. You can opt to drive to Segovia, take a bus or take a train. We'll outline all options but recommend using the bus or high speed train to visit – they're both fast and easy!
Getting to Segovia By Train
From Madrid, there is a high speed train that will take you into Segovia. You'll start your journey from the Chamartín train station in Madrid. The train will take you directly into Segovia, with the ride being around 30 minutes. Additionally, tickets will range from 10-40 euros/ person roundtrip, pricing will depend on the day, time and advanced booking. You can buy tickets online from either of these two sites, Omio and then Renfe. Buying online will allow you to avoid some of the chaos of this very busy train station in Madrid.
Once you get to Segovia, from the train station you can either take a bus for 2 euros each or a cab for approximately 10 euros. In our experience the bus was just as easy, just as quick and, of course, the cheapest. The city bus (line 11) connects the railway station with the Roman aqueduct, the heart of the historic center of Segovia. The frequency of this bus line is approximately every 20-30 minutes.
Getting to Segovia By Car
If you opt to drive, the drive will take about 1-1.5 hours each way. We recommend parking before you reach the historic center of Segovia as parking (and driving) within this area has plenty of challenges and limitations with space. Driving will take about an hour, dependent on where in Madrid you start your day trip. 
Getting to Segovia By Bus  
Lastly, you can reach Segovia via bus. Buses will leave Madrid from the Moncloa Station and takes about 1 hour to drive to Segovia. At Moncloa Station there are automated machines to buy tickets or you can buy ahead of time online. Tickets are 10 euros/ person roundtrip and the bus will drop you off at the historic center of Segovia. The bus company is Avanzabus, tickets can be bought online however the website is in Spanish only – so opt to buy at the station if you need English!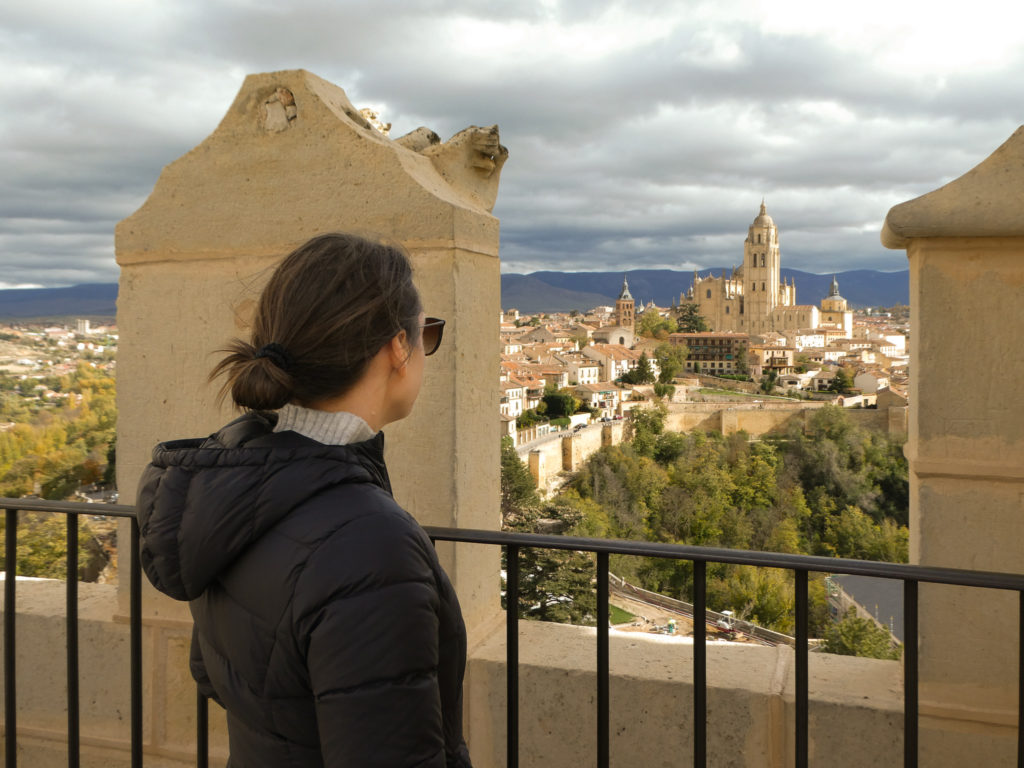 How do you get around Segovia?
Once you arrive to the historic center of Segovia, you can get around everywhere by foot. The town of Segovia is relatively small, so you can reach everything by walking. The streets within town are small and narrow, so we don't recommend driving and taxis aren't readily available within the town center. Overall, the historic section of Segovia is all walkable and in a day trip you will have plenty of time to do all the major historic sites.
What to do on your Segovia Day Trip from Madrid 
Aqueduct of Segovia
The Aqueduct of Segovia is one of the most unique architecture features we have seen in a city. This Roman aqueduct was built around the first century AD, designed to channel water from springs in the mountains to the city's fountains. This water was also used for private houses and public baths. The aqueduct was in use until 1973, which makes the structure relatively intact for being built in the first century AD. The aqueducts cannot be missed and will greet you as you enter the historic center, but we recommend taking your time to enjoy it!
Tip: to get a better view of the aqueducts head to your right and hike up to Postigo Del Consuelo for a Birds Eye view. 
Plaza Mayor 
Plaza Mayor is the main square in Segovia, it can be found at the end of the street Calle Real. Within the plaza you can find several popular buildings, including San Miguel Church and the town hall. 
Tip: walk down Calle Real to get to Plaza Mayor. Calle Real is one of the most famous streets in Segovia and is lined with shops, cafes and restaurants. 
Iglesia de San Millán
Iglesia de San Millan is a church, built in the 1100s, known for its Romanesque architecture. Furthermore, the church offers sweeping views of Segovia's old town. The church is free to visit, however make sure you check the hours yours able to visit. 
Segovia Cathedral
Segovia Cathedral is a stunning building, the exterior architecture is incredible and as it sits on a hill – you can see this cathedral from almost any point in the town. You can walk around and tour the cathedral, along with others, for only 5 euros. However, we recommend exploring the cathedral from the outside as these are where the best views are. 
Alcazar de Segovia 
Next up is the Alcazar de Segovia, or Segovia Castle, which is another must see place. The castle is built at the edge of the city and overlooks an incredible valley that features old farms and historic houses. As you explore the castle you will slowly make your way to the top for even more incredible views. For an additional fee you can pay for an audio tour, which really added some insight and made the visit more enjoyable. The audio tours are ~10 euros each and while we each got one it would have been very doable to share this for cost savings.
Tip: looking for great views of the castle from outside? Head down to the park below the castle. As you head towards the castle, you can walk down a set of stairs and come to a main road. Turn left and just follow the road until you come to a nice grassy area. 
The Jewish Quarter 
Lastly, there is a jewish quarter we walked through which was filled with narrow and winding roads that were enjoyable to get lost in. Unfortunately, we were there on a week day in the off season so the jewish museum was closed, however this would be a great place to visit otherwise.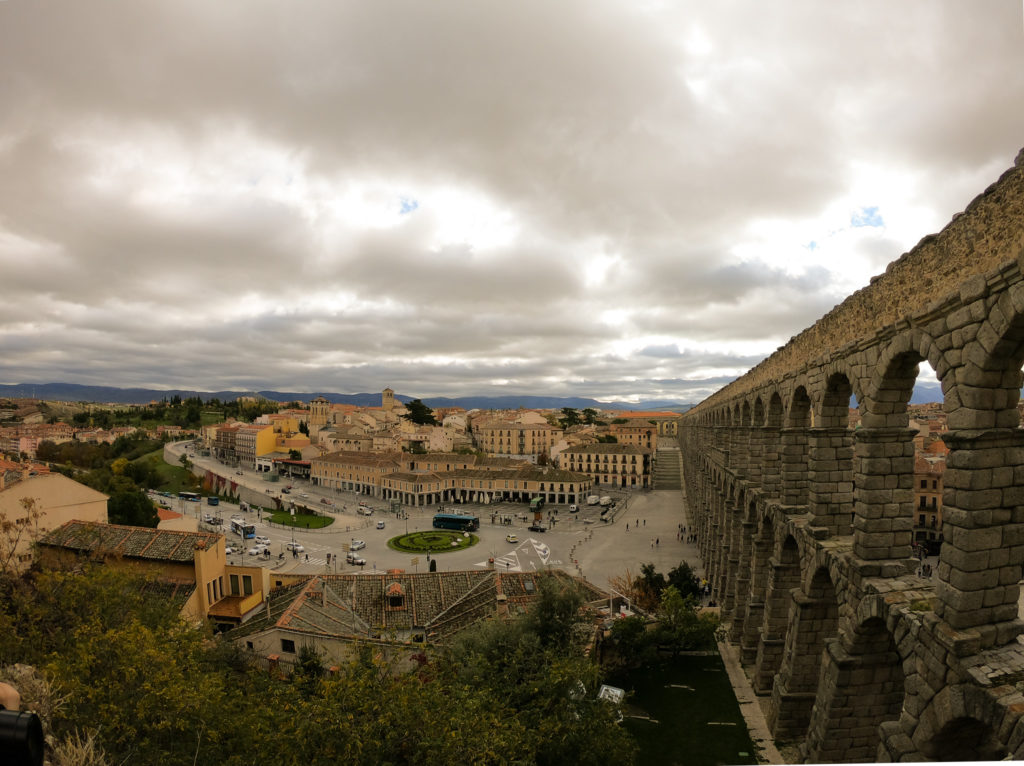 Segovia Day Trip from Madrid Final Tips: 
Wear sneakers. There's a lot of walking to get around to each site in the historic center and the streets have a lot of cobblestone. 
Bring sunscreen. There is minimal shade and lot of outdoor areas to explore, so come prepared with sunscreen and hat if needed. 
Come prepared for a meal. There are a lot of restaurants in Segovia, so make sure you book your transportation to allow for time o sit and enjoy a meal.