In Manhattan, just south of Wall Street, is Governors Island. Governors Island is 172 acres of car-free space to walk around. Filled with chairs, hammocks, biking trails and historic buildings to explore you will not be bored. Pair this with the unobstructed and sweeping views of the Manhattan skyline and it cannot be missed. Governors Island is located 800 yards away from Manhattan, making it quick to get to and can be easily added to a day spent in the financial district.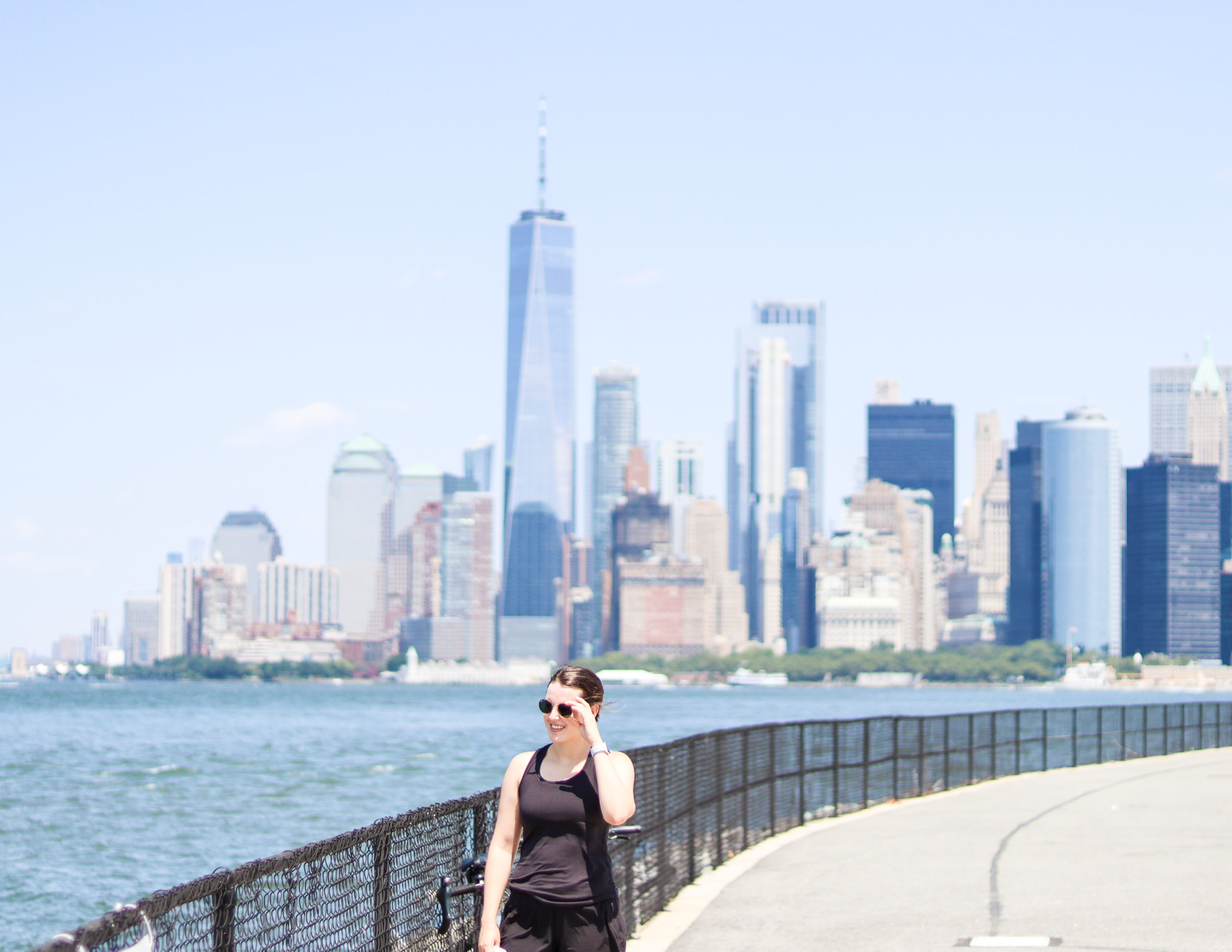 When to Go to Governors Island?
Governor's Island used to be a seasonal destination only, opening only during the warmer months. However, the 2021 season is the very first year that it's now open year round! We always recommend checking out the Governors Island official website for the latest and most up-to-date information.
As a heads up, we will say the island is not filled with shady areas so on the bright hot/ sunny days bring a hat and plenty of water. With this said, the benefit of being a little island in the New York Harbor is that even on the hottest summer day it does feel slightly cooler overall. We happened to visit on a 90F day and can attest, it was cooler on the island!
How to Get to Governors Island?
Governors Island is located a stone's through away Manhattan (400 ft to be exact), so the commute is quick. The island is only accessible via ferry, but there are two ferry options. Both the NYC ferry and the Governors Island ferry go from Manhattan to Governors Island, while only the Governors Island ferry leaves from Brooklyn.
From Manhattan:
Head to the Pier 11 ferry docks to catch the NYC ferry over to the island. This will be $2.75/ person or $3.75/ person + bike. The ferry leaves on a schedule, which changes with the day of the week. The ferries leave every 30 minutes, to confirm the schedule check out their scheduled NYC Ferry website. Note that this ferry dock does get busy, but there are plenty of employees to direct you to the correct ferry line.
Alternatively, head to The Battery Maritime Building (10 South Street) to catch the Governors Island ferry. Tickets are $3/ person with no additional surcharge for bringing a bike. The ferry leaves every 40 mins from this location, which can be verified on the Governors Island website. With this ferry, tickets often sell out on weekends, so reserve it in advance if this is the route you choose!
From Brooklyn:
You can take the Governors Island ferry from Brooklyn as well, however these ferry services are weekend only.
Head to Pier 6 (Brooklyn Bridge Park) to catch the ferry over. Tickets are still $3/ person. The ferries here do leave every hour only, so plan accordingly!
OR head to Red Hook/ Atlantic Basin, enter at the corner of Pioneer St and Conover St. The ferries are $3/ person and leave hourly. The Brooklyn schedules can be found here.
When we visited, we took the NYC Ferry without any issues. The lines were relatively short and there was plenty of bike space. With this said, we have a few tips to consider for the Governors Island ferries. They release the tickets on the 1st of every month for additional spots, so check back frequently. Furthermore, when leaving from Brooklyn docks, the first few ferries are often free and who doesn't love a free boat ride!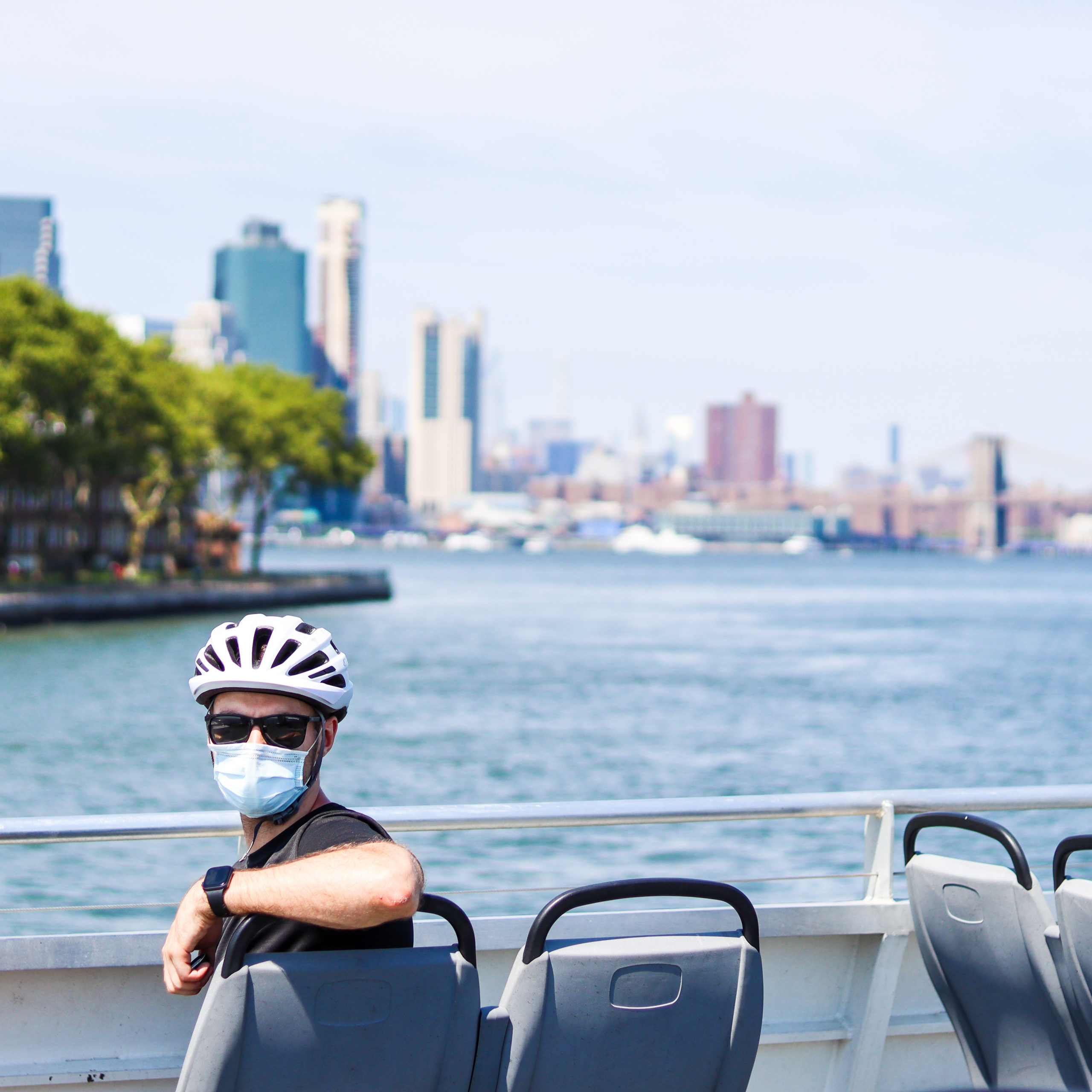 How to Get Around Governors Island?
As mentioned before, Governors Island is free of any and all cars! So, you can walk, bike or scooter around to explore the island. If you plan to walk, we recommend wearing proper shoes as there's a lot of ground to cover if you really want to explore. Otherwise, head North/ East from the ferry to see the main area of the island. Due to the islands size, we recommend biking around. There are no cars, so the biking is a lot more peaceful than in the city. Plus, this allows you to see everything the island has to offer.
We have outlined the three main biking options below, any of these options are great!
Biking options:
Bring you own bike (BYOB): Both the NYC Ferry and the Governors Island ferries allow for bikes, so this is a great option. We brought our bikes and the process is pretty smooth, many of the ferry employees expect bikes and are prepared to help out families if needed.
Citi bike: There are a few Citi bike docks around the island, including two right off of the ferry docks. While this is convenient and quick, we know these bikes get rented out quick. So, if you head here early enough this is a great option. If you are arriving later in the day, I would not plan on these bikes being available.
Rent a bike via Blazing Saddles: The company Blazing Saddles has a rental company on the island with plenty of options. They rent out surreys, peddle cars, kids bikes, bike trailers, tandem bikes and scooters here. The surreys are a great option for a family or group of friends as they hold 4 people. You can book in advance here and is recommended for groups greater than 20. While this is the most expensive option, it is convenient and fun.
***motorized bikes or scooters are not permitted on the island.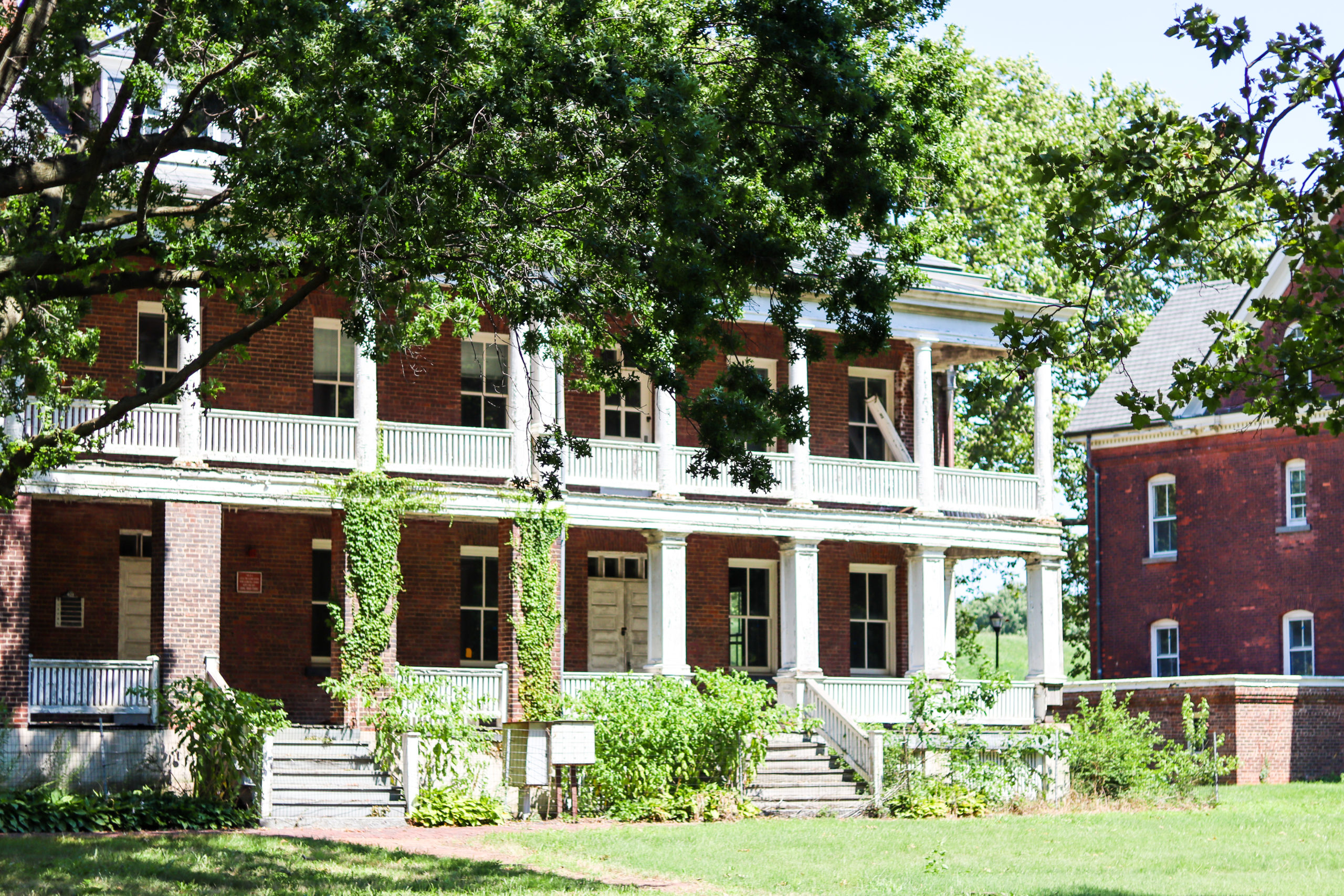 What To Do on Governors Island?
Governors Island is home to a wide variety of activities and fun. Last year, a lot of the activities and anything indoors was closed so we haven't been able to see it all. With that said, a lot of things are re-opening for the summer.
Bike
If you haven't been able to tell already, we think biking around the island is a great way to spend the afternoon. There are many biking trails that are wide and easy to manage for bikers of any age or skill level.
Relax
Relax on the Adirondack chairs or hammocks. On the south side of the island they have a green area with plenty of Adirondack chairs to relax and enjoy the views. They also have an area called Hammock grove which features 50 red hammocks. Spending an afternoon reading in a hammock, free of car horns, is a luxury to take advantage of!
Visit the Sheep
New to Governors Island are 5 sheep named Flour, Sam, Evening, Chad and Philip Aries. These sheep are in the Hammock Grove area of the island. They brought these sheep from Albany to control the invasive plant species in this area. While these sheep roam around, they do ask you not to pet or feed them. So sit, watch and take photos of these newest Island guests.
Spike Ball
There are a lot of grassy areas on the island to play sports or ball games that aren't as possible in the city. Spike ball is a favorite of ours, but we have seen plenty of soccer as well.
Visit the historic sites
Governors Island is home to a lot of history, with many of the original buildings still standing for tours and museums. You can explore some of these areas on your own or book a walking tour.
Camp
Who knew you could go camping, more like glamping, in NYC?! Collective Retreat offers overnight packages for spending the night here. it ranges from a tent to an air-conditioned tiny home with continental breakfast. We visited during the covid pandemic, so camping was not an option but something we hope to do one day. Check the website frequently to see if this will open for the 2021 season and book!
Zip-line
Yes, they even have zip-lining on Governors Island. This is a new attraction and seems like a blast. The zip-line is 300 ft and zips you over the island at up to 21 mph. This feature does require a ticket to use. This ticket will also get you access to a climbing wall, maze and a round of mini golf. So if relaxing is not for you, we recommend checking out this adventure area in the center of the island. There are a few ticket options, but the best value is purchasing the $30/ person ticket and getting access to all four attractions.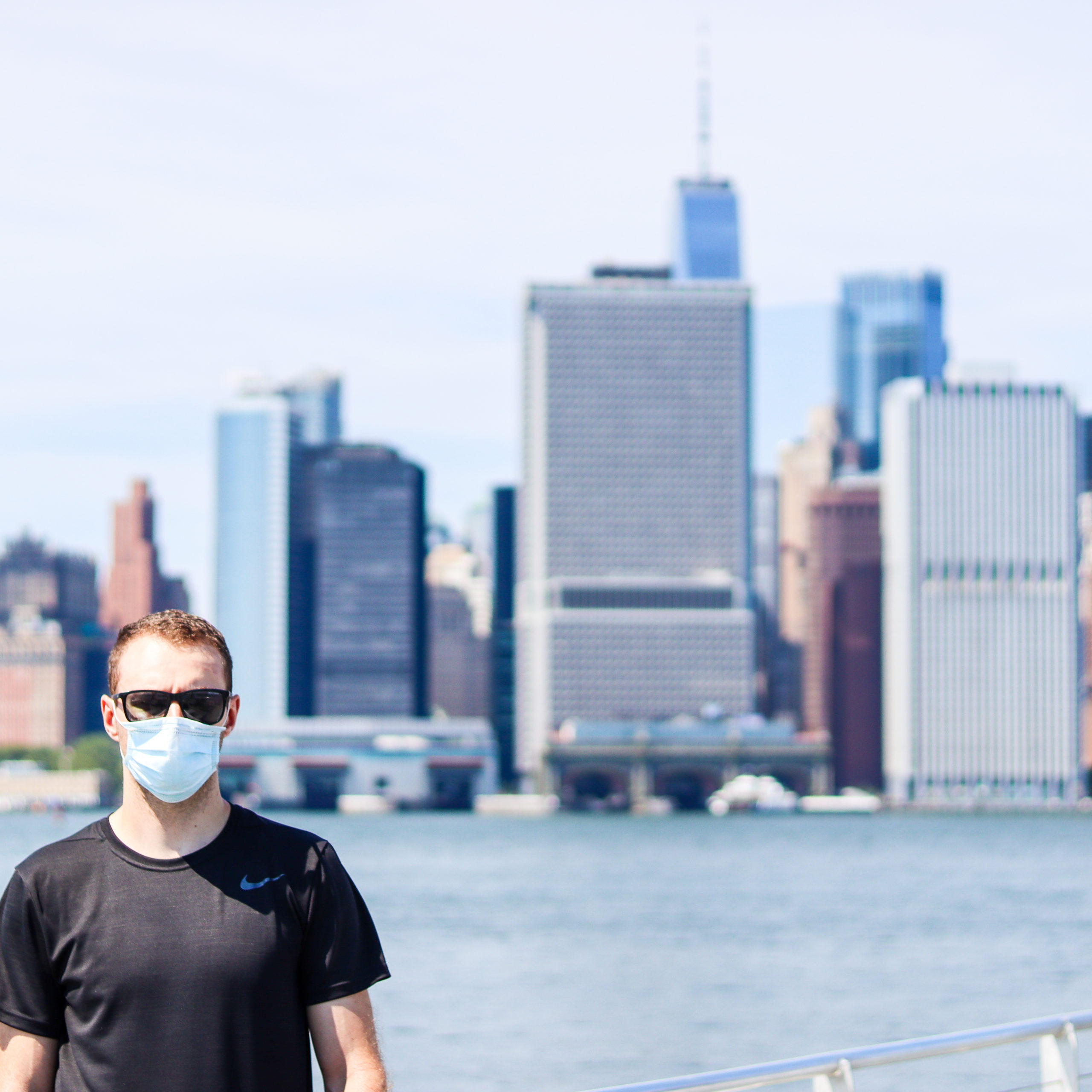 Where to Eat on Governors Island?
Lastly, a common question is what to eat on Governors Island. You have three main options, which are picnic, eat at the foods trucks or visit the Island Oyster.
Picnic
You can bring in your own food to have a picnic. They have set up many picnic tables on the southern side to sit and enjoy with a group of friends. Grilling is allowed at designated sites, which you need to acquire a permit for. If you opt for a picnic, be mindful of the rules and do not bring any alcoholic drinks.
Food Trucks
There are several food trucks on the island to try. Grab your food and head to one of the many benches to sit and enjoy. There's a few taco trucks, a Jamaican fusion food truck, some ice cream spots, a coffee truck and more. Plenty of options to enjoy!
Island Oyster
Island Oyster is the seafood restaurant/bar on the island. This bar is on the North side of the island, which allows you to drink, bask in the sun and stare at the skyline. There's lots of seats and we have heard great things about their lobster rolls. We highly recommend this option!
Overall, Governors Island is a great spot to spend a sunny afternoon. We feel that this one of those local gems that houses one of the best spots to see the skyline! If you're looking for more of our favorite skyline spots, check out our top recommendations for amazing city views!
Planning a trip to NYC soon? You don't want to miss our FREE Three-Day Guide to NYC! We detail the best way to experience NYC like a local, while also experiencing New York's top attractions. Click below to download your free guide!
Download Now | FREE Three-Day Guide to NYC