Florence is a must see city in northern Italy and to help with trip planning we've created the ultimate 2-day Florence itinerary. Florence is filled with history, stunning architecture and great Italian food, however the size of the city is relatively small making this the perfect weekend away. To help optimize your time in Florence, we've compiled a jam-packed itinerary and included helpful tips to avoid wasted time!
Is two days enough to see Florence?
Florence is a city filled with history, famous museums and plenty of food options however it is relatively small when compared to other Italian cities. Two days in Florence is very doable, however it will lead to jam-packed days. Three days in Florence may be the perfect blend to see everything, and enjoy some downtime. Deciding over two or three days will be dependent on how you prefer to spend your days when traveling!
Additionally, the amount of time spent in Florence will fluctuate based on the season. If you're visiting in peak season, things can take longer so three days would be ideal. If you're visiting in shoulder or off season then two days will be enough to really enjoy and appreciate the city of Florence.
How do you get around Florence?
Florence's city center doesn't allow non-local vehicles to drive around, meaning you have to have a resident pass to drive in the center of the city. Florence also has no subway system, so your best way to get around is by foot. The city center of Florence is smaller, so you will easily be able to access all areas via walking. If you're tired from walking you can always opt to hail a taxi, which can be found throughout the city center. Of note – there are no Ubers in Florence.
There is a train station in the city center of Florence, so if you train here you will be close to the main area. If you arrive with your suitcases, you will want to hail a taxi to get you to your lodging.
2-Day Florence Itinerary Overview:
Day 1 morning | Piazza del Duomo + Giotto's Bell Tower

Day

1 afternoon

| Uffizi Gallery
Day

1 evening

 | 

Grand Hotel Minerva Rooftop + walk along Arno River 

Day 2

 morning

| Accademia Gallery
Day 2

 afternoon

 | 

San Lorenzo 

market + Ponte Vecchio
Day 2

 evening

|  Piazzale Michelangelo for sunset + dinner
2-Day Florence Itinerary
So without further ado, let's get down to the details of this 2-day Florence itinerary.
Day One:
Morning:
Start your first day in Florence with a bang and head right over to one of the top attractions in the city, the Piazza del Duomo.
Piazza del Duomo:
Take your time wandering around the outside of Piazza del Duomo and appreciating the unique architecture. You can purchase tickets and enter the Duomo, however you must ensure you are dressed appropriately for this (shoulder and knees covered). Additionally, an important note about this area is that as the day goes on it will get busier, so soak it in as you most likely won't be back later in the day.
Tip: Via dello Studio is a side street that offers incredible views of the Duomo, this is the perfect spot to get a unique perspective of this famous landmark.
Giotto's Bell Tower:
Parallel to the Duomo is Giotto's Bell Tower, which you can climb up. We highly recommend climbing up this tower as the views from the top are amazing. There are 414 steps to climb to get to the top of Giotto's Bell Tower and the stairs are tight. When you get here early there is minimal traffic, however it may still be a struggle if you're claustrophobic. Unfortunately, this tower is only accessible by foot so if accessibility is a concern, we recommend exploring inside the Duomo.
How long does it take to climb Giotto's Bell Tower?
As mentioned, there are 414 steps up the tower which will take about 15-30 mins to climb up. When climbing up, down and stopping at platforms expect this to be about 1.5-2 hours, without stopping it would be about 30-45 minutes up and down.
More information on Giotto's Bell Tower, Florence Cathedral and the Duomo.
Afternoon:
For the afternoon, we recommend stopping to enjoy some lunch and then head over to the Uffizi Gallery.
La Locando Srl (or Trattoria Sergio Gozzi):
La Locando Srl not only offers the delicious combination of pizza and aperol spritz', but the views are perfect. Located on the edge of the Piazza del Duomo you can enjoy the views and people-watching until you're rested and ready to head to the museum.
Alternatively, if you're looking for something similar but in a less crowded area then head to Trattoria Sergio Gozzi. Trattoria Sergio Gozzi overlooks the Basilica di San Lorenzo, and offers plenty of people watching, but in a quieter area of the city. A short 5 minute walk from the Piazza del Duomo, this won't add any commute into your afternoon plans!
Uffizi Gallery:
After eating and resting you feet, your next stop is the famous Uffizi Gallery. The Uffizi Gallery is a prominent art gallery filled with paintings and sculptures. The amount of time here will vary based on each person, however we felt 1-2 hours was enough to enjoy and appreciate the art.
Tip: buy tickets in advance and choose your entrance time, this will save you a lot of time. Tickets can be bought here.
Evening:
For the evening, head out to dinner and then enjoy a stroll along the Arno River. For dinner, you can't go wrong with the restaurants in Florence. We often wandered along the streets and popped into a restaurant with good outdoor seating.
Arno River:
Arno River is the main river that runs through Florence. Along the river there are shops, walking pathways and great views of the city. This is also a perfect area to enjoy sunset at.
Grand Hotel Minerva Rooftop:
Alternatively, you can opt to visit the Grand Hotel Minerva and head to their rooftop. This rooftop offers sweeping views of Florence and is a great way to soak in the city over an evening cocktail.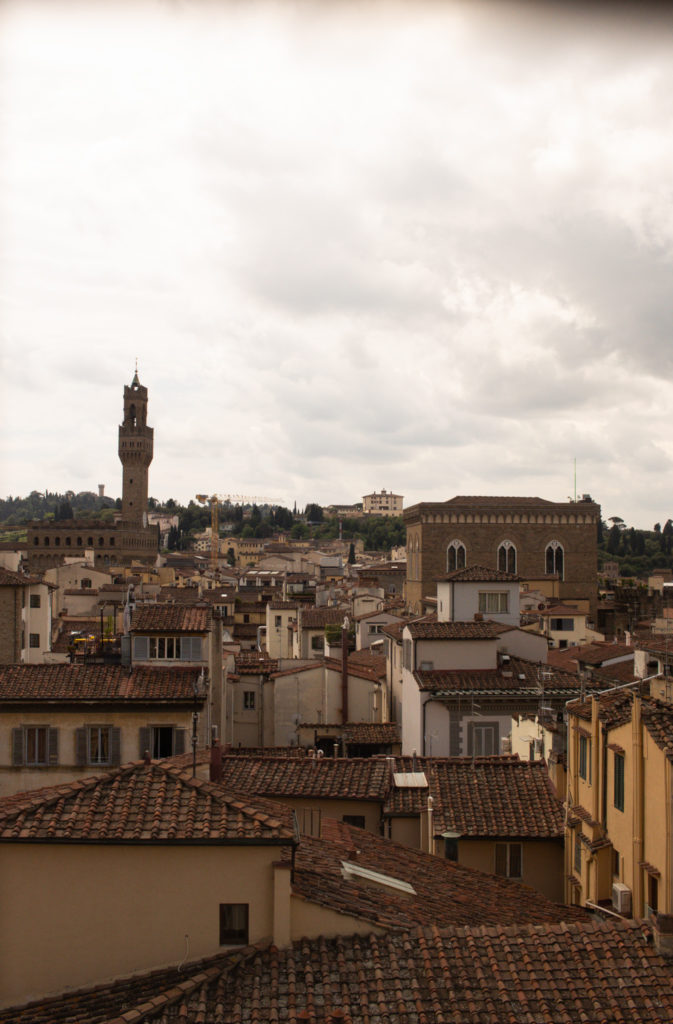 Day Two:
After a jam packed first day, we'll head into day two of the 2-day Florence itinerary with a more relaxed start.
Morning:
Grab breakfast at a cafe and enjoy the morning in Florence as you prepare for your day. There are so many cafes in Florence that you are best off choosing one in a convenient location to your hotel or Airbnb.
Accademia Gallery:
Accademia Gallery is a fairly small gallery so it won't take up much time during your morning. The main attraction is seeing Michelangelo's sculpture David. David is truly one of the most famous sculptures and shouldn't be missed when visiting Florence.
Tip: once again, the lines for this gallery can get long so we recommend buying timed tickets in advance. Otherwise, you will spend your morning waiting in line for 2 hours.
Afternoon:
San Lorenzo market:
San Lorenzo market is an outdoor market that specializes in leather goods. If you're looking for leather goods such as a belt or bag then this is a great spot to shop around. You can barter prices here, however not every shop will lower their prices much (in our experience).
All'antico Vinaio:
As you walk from the San Lorenzo market to the Ponte Vecchio bridge, stop at All'antico Vinaio for lunch. This sandwich shop is very popular and well worth the line to get in. There are no seats inside, so we recommend wandering around to find a place to eat them.
Explore Ponte Vecchio:
After lunch make your way over to Ponte Vecchio. We recommend slowly wandering the streets as you make your way to the bridge.
Ponte Vecchio is famous for being one of the first bridges of its type, segmental arch bridge. This medieval stone closed-spandrel segmental arch bridge was built over the Arno River and now features shops along it. Walking around the bridge is a must-do when visiting Florence, however the best views of the bridge aren't found on it but around it.
Tip: for the best views of the Ponte Vecchio head over to Ponte all Grazie. From this bridge you can see Ponte Vecchio and the surrounding city.
Evening:
Piazzale Michelangelo for sunset:
Either before or after dinner, head over to Piazzale Michelangelo for sunset. This area sits on a hill and offers panoramic views of Florence. Watching the sunset here is stunning and the perfect way to cap off an incredible 2-day Florence itinerary.
Heading elsewhere is Italy? Check out our recommended Northern Italy itinerary for recommendations and inspiration!