Wanting to visit the Sahara Desert, Morocco but don't know where to start? We've created a comprehensive guide to help plan your incredible trip to the Sahara desert – a must do when visiting Morocco. While we knew Morocco would be stunning, nothing could prepare us for the beauty and diversity of the Moroccan landscape. The drive out to the Sahara Desert ranges from the jagged valleys of the Atlas Mountains, to the fortresses and palaces of Moroccan royalty and ending in endless views of the desert. As with most excursions to unfamiliar places, it's important to plan ahead to get the most out of your trip. Discovering the expanses of Morroco is no exception! If a Saharan desert tour is on your horizon, check out below how completed the trek, what to expect along the way, and how to prepare.
What is the Sahara Desert?
The Sahara Desert is the largest hot desert on the planet – in fact it's roughly the size as the United States. It crosses the borders of many African countries, including the eastern regions of Morocco. The two closest Moroccan cities to the Sahara are Marrakesh and Fez. With the Sahara Desert being the third largest in the world, it's easy to see why this draws travelers from all over the world. If you're visiting Morocco, we highly recommend making the trek out to the desert!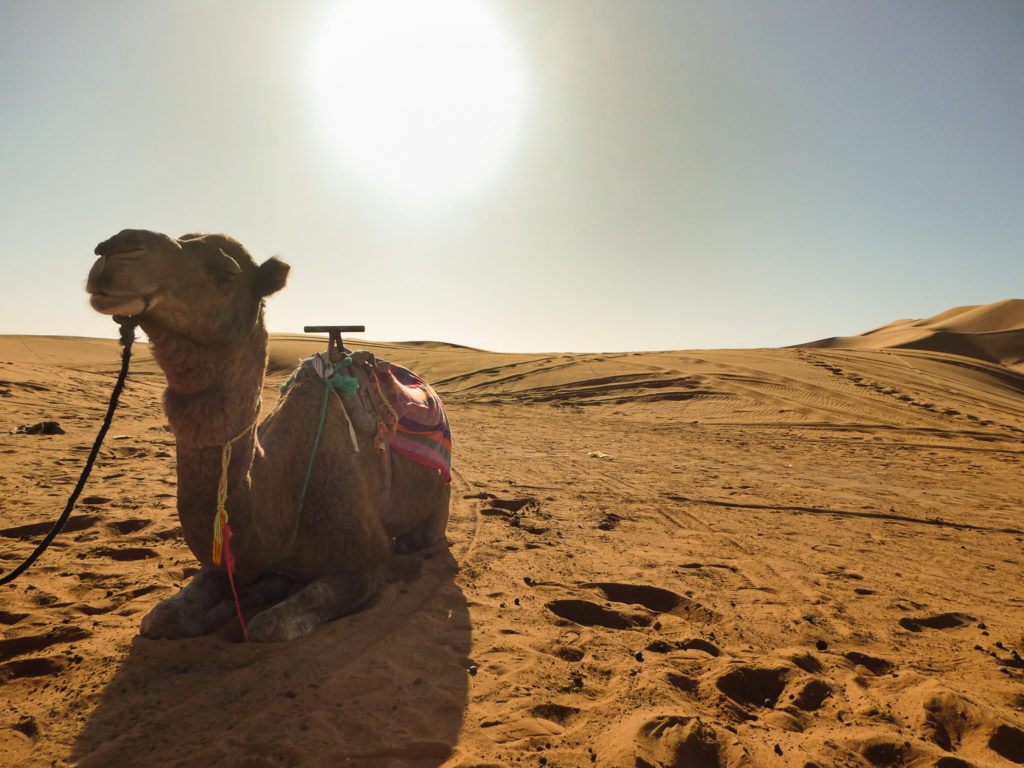 How to get to the Sahara Desert, Morocco?
As mentioned, the two closest cities to the Sahara Desert, Morocco are Marrakesh and Fez. These two cities, along with the Sahara, create a triangle so you can plan a roundtrip out to the desert or complete the triangle. We opted to travel from Marrakesh to the Sahara Desert and then back to Fez, which we recommend! When you leave and arrive to two different cities you get a more diverse drive as you aren't traveling the same roads twice. Now on how to get out to the Sahara Desert, Morocco. There is really only one way to reach the Sahara Desert, which is by vehicle. Traveling by vehicle gives you two options: 1. Rent a car, or  2. Join a tour group. We typically love the freedom and spontaneity that comes with discovering somewhere new on your own; however, we opted to join a tour for this particular trip. We recommend booking a tour as it provided great company, security and an insiders perspective on behalf of our amazing tour guide. Our tour was a small 4-person group so it didn't feel impersonal.
How do you choose which tour company to use when visiting the Sahara Desert, Morocco?
There is an overwhelming number of tour groups to choose from, and not all can meet your expectations. Tours vary in price, size, and duration. Understanding these parameters before starting your search can really help you focus on finding the right tour group for YOU. What helped us most in our search was judging both the quantity of online reviews and specific content that reviewers discussed. Promising tour companies we found had a larger number of reviews across multiple forums, with reviewers praising the values and principles of the tour company and guides that aligned with ours.
By applying our personal 'filters' we decided to use Authentic Saharan Tours for a shared, 4 person tour. Our tour was led by an extremely kind and knowledgeable local guide. The tour price includes transportation by 4×4 SUV, breakfasts, dinners, and accommodations with local partners. There are plenty of stops along the drive where additional local guides would assist with touring historic landmarks. Although we had limited control over our hourly itinerary, we could offload the stresses of navigating a foreign country and leave more energy for soaking it in. In addition, we had hours of one on one time with our tour guide who taught us more about the country, including customs, ways of life, and cultural perspectives than we possibly could have learned on our own.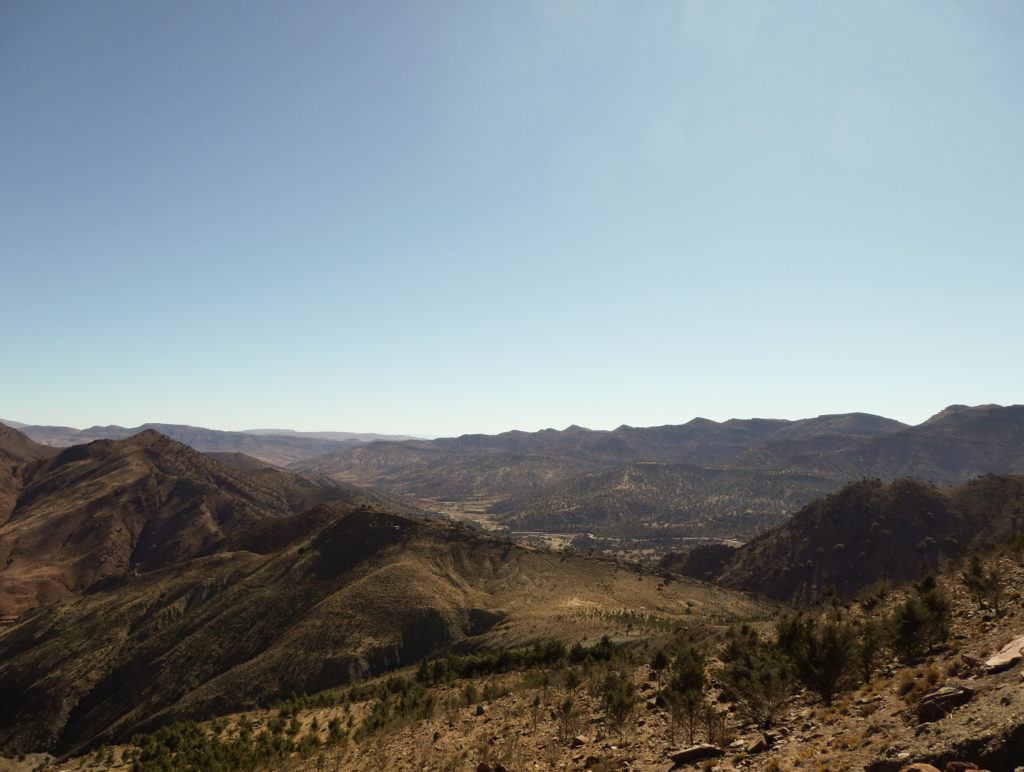 What to Expect When Visiting the Sahara Desert, Morocco:
Travel
Driving the countryside of Morocco is a feast for the eyes. Depending on your route, you will likely experience every landscape, including large, jagged mountains, winding canyons and valleys, expansive plains and ending with the rolling dunes of the desert. While the landscapes are stunning, this reward comes at the effort required to get there. In our 3- day trek, we spent over 15 hours driving to and from the desert, with a Toyota Rav 4 packed full of luggage and people. However, when you arrive to the desert, you'll be more than glad to have made the journey. 
Typically, you will be dropped off at the edge of the desert as you prepare for your final mode of transport – camels! From here, almost every tour will have a camel ride to the private lodging for the night. Some tours allow you to drive a 4×4 into the campsite rather than travel by camel. 
Accommodations
The accommodations will vary depending on the type of tour your book. Our tour was a more basic tour, however our desert camp was still what we would consider glamping. The campsite itself was private, without any other campsite within view. The campsite features private tents, which featured hardwood flooring, king bed, and running water (including a hot shower!). Furthermore, every campsite will have a dining tent where you will be served hot meals. 
Although we arrived during sunset, tour groups that arrive earlier have the added activity of off-roading in the Sahara dunes or event sandboarding.
Meals
When visiting the Sahara desert, these tour companies and desert campsites are well prepared for accommodating travelers. Again, our, relatively basic, tour served us hot meals for both dinner and breakfast. Furthermore, there was plenty of bottled water provided throughout our time in the desert. As you look into tours, they will usually breakdown what to expect when in the desert for meals.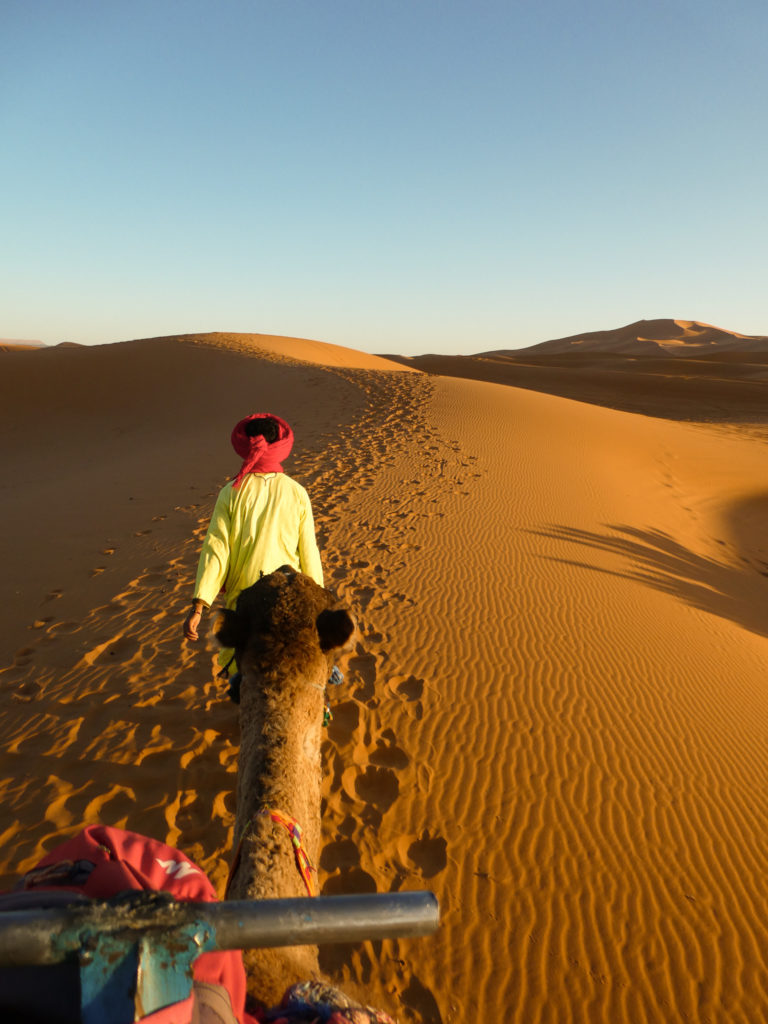 How to Prepare for a Night in the Sahara Desert, Morocco 
Clothing 
Being in the desert will mean large temperature swings, from hot sunny days to cool nights -pack accordingly with lots of layers. When riding the camels out to your campsite and playing in the dunes, you will be hot and want t-shirts and light pants. As the sun sets, the cool desert night will settle in and you will want warm layers. While the tents are well set up and luxurious, they are not heated. You will want warm layers for sleeping throughout the night. Of course, the temperature in the evenings will vary with the time of year so ensure you check ahead of time to come fully prepared.
Electronics  
If you are hoping to capture the perfect Sahara shots, it is important to protect your camera from the fine grains of sand by using a camera case. The cases can be found on Amazon, however if the day is wind-free you may not need to use. Additionally, there is not unlimited electricity in the desert with some sites having none. So, bring along extra external battery packs to charge your electronics. Furthermore, a charger converter for the outlets is also essential when traveling through Morocco.
Cash
Although credit cards are widely accepted across Morocco in both hotels and restaurants, it is important to keep cash on hand. You will frequently use cash for purchasing souvenirs and tipping local guides. The local currency is the Moroccan Dirham, which converts to approximately 10 US cents (1 USD = 10 Dirham). Your best option for converting currency will be in the city you depart the tour from. 
It's important to know that tourism is a major contributor to the Moroccan GDP, and if you opt for a tour, it may feel slightly commercialized at times. Be understanding, patient, respectful and, most importantly, remember to tip your tour guides. As a side note: many places we visited ended in gift shops, but we never felt pressured to buy something, which is not the case for all tours and something to be mindful of.
Wildlife 
Did you know the desert has both mice and snakes? This was not something we came prepared for as I opted for socks and sandals in the evenings. We recommend bringing closed toe shoes for when the evening wildlife come out!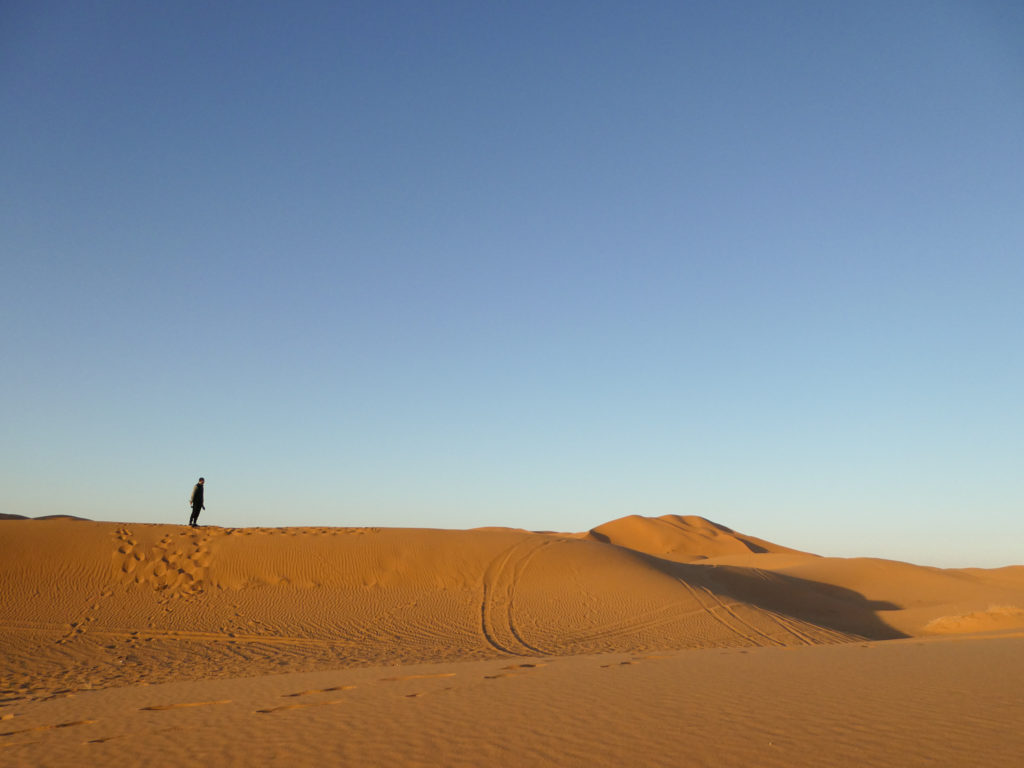 Final Thoughts on Visiting the Sahara Desert, Morocco:
Traveling to Morocco was a profound experience for us, and one that we won't soon forget. We have a great appreciation for the culture and way of life of the people who live here, from the bustling city of Marrakesh to the rural communities in the mountains, forests, and desert. We hope you add Morocco to your list of future travel destinations and have the trip most meaningful for you!
If you're spending time in Marrakesh before or after your Sahara Desert,  check out our guide on exploring Marrakesh!