Venice is a must see city in northern Italy and to help with trip planning we've created the ultimate 2-day Venice itinerary. Venice is one of the oldest cities in the world and was once the financial center of the world. The city itself is built on over a 100 small islands in the Adriatic Sea, which leads to not roads but canals for transportation. With such a deep history and unique city landscape, Venice should not be missed during your Italian travels.

Is two days enough to see Venice?
Determining how many days to spend in Venice will be specific to what kind traveler you are, however 2-4 days is sufficient amount of time for anyone. Two days in Venice is enough to see everything the city has to offer, especially if you like your days to be filled. If you prefer to have more relaxing days, with slow starts, then opt for 3-4 days in the city.
With our 2-day Venice itinerary you will be able to see everything Venice has to offer and soak in the Italian culture along the way.
How do you get around Venice?
Venice is a unique city as it's an island, with the city built around the multitude of canals. With the unique geography of Venice, the best way to get around the city is by foot. The other options are via a water taxi or a gondola ride (the pricey alternative to the water taxis). There are no cars within Venice, however there are buses that will take you from the mainland across the bridge to Venice.
While it may seem daunting to have walking be the main form of transportation, the city is small so walking is completely feasible for people of all ages.
2-Day Venice Itinerary Overview:
Day 1 morning | Rialto Bridge + Grand Canal 

Day

1 afternoon

| Get lost in the Venice streets + Gelatoteca Suso
Day

1 evening

 | 

Dinner + Gondola ride through the city 

Day 2

 morning

| Torrefazione Cannaregio + Libreria Acqua Alta
Day 2

 afternoon

 | Piazza San Marco, Doge's Palace + Bridge of Sighs
Day 2

 evening

| Ponte dell'Accademia for sunset + dinner
2-Day Venice Itinerary
Day One:
Morning:
Start your first day in Venice by hitting the Grand Canal and getting lost in the one-of-a-kind streets of the city.
Rialto Bridge:
Rialto Bridge is one of four bridges that cross the Grand Canal. Built in 1173, this is the oldest of the four bridges and has had to be rebuilt several times since it was initially constructed. Rialto Bridge connects the sestieri of San Marco and to that of San Polo. This bridge is free to cross and sees a lot of foot traffic throughout the day. Overall, Rialto Bridge is on the most famous bridges and also one of the biggest so this is must see.
Tip: for great views of the bridge stand along the street leading up to the bridge, La Guardia Giulia is a great spot to get photos with the bridge in the background.
Grand Canal:
The Grand Canal is the biggest canal that runs through Venice. Lined with shops, restaurants and stunning architecture, this canal is a must see from both the streets and the water. You can take both gondola and water bus along this canal, we recommend the water bus. You can start your journey from Rialto Bridge or from Piazza San Marco, either location will allow you to enjoy a good portion of the canal.
Afternoon:
For the afternoon, we recommend you continue to explore the many streets of Venice and, of course, stop for some gelato along the way.
 Get lost in the Venice streets:
After visiting Rialto Bridge and the Grand Canal, we recommend taking the afternoon to wander the streets of Venice. The streets are filled with shops, markets, cafes and gelato shops to enjoy. Trying to follow a map or guide of the streets can lead to a frustrating afternoon of difficult navigation. As a result of the winding, and confusing, streets of Venice – simply wander and then determine your location afterwards.
Gelatoteca Suso:
No Italian afternoon is complete without a gelato stop. Gelatoteca Suso is a famous gelato shop in Venice, while the crowds may seem big they are worth it! The gelato here is delicious and they have a lot of options. We recommend grabbing some gelato and heading out to a canal to enjoy without the crowds.
Evening:
For dinner find dinner at one of the multitude of restaurants. Venice is filled with some great Italian spots and some so-so Italian spots. We recommend hitting up a restaurant that doesn't have people calling you to come to their restaurant, the better ones usually don't need to call you in to join. That said, this is a guideline not a rule. We always picked our restaurants based on the location and outdoor seating availability!
Gondola ride through the city 

:

From dinner, head out to the canals to enjoy the sunset and lights of the city. You can opt take a gondola ride which will offer a private tour along some of the smaller canals. This option is pricier and often will be 80-100 euros for ~ 30 minutes. Your other option is taking the water bus, which will take you along the grand canal. The water bus is public transportation and can get crowded, so to ensure you have great views – stay around the outside areas of the boat. the pricing of the water bus is a lot more affordable, tickets are ~ 13.75 euros/ ticket.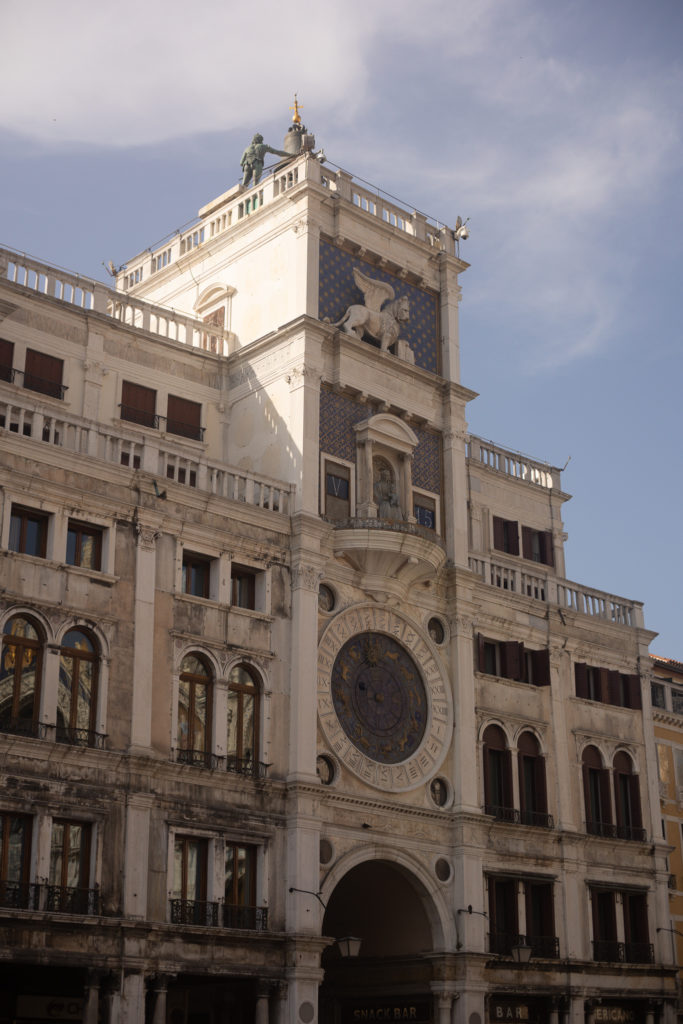 Day Two:
After a jam packed first day, we'll head into day two of the 2-day Venice itinerary with a more relaxed start.
Morning:
The morning will start with a relaxing morning at a cafe and then you'll head over to a very unique bookstore.
Torrefazione Cannaregio:
Torrefazione Cannaregio is a highly rated artisanal coffee shop in Venice. The cafe interior is hip and has a relaxing, laidback, environment – a great coffee spot before a day of sightseeing.
Libreria Acqua Alta:
After you're caffeinated and have enjoyed some pastries, head over to Libreria Acqua Alta. Libreria Acqua Alta is a nicknamed as the most beautiful bookstore in the world. While this is unconfirmed it most definitely is the most unique bookstore we've visited. The bookstore features both Italian and English books in a jungle of both modern and vintage books. Furthermore, the bookstore features book shelves designed to protect the books from Venice flooding as well as plenty of cats.
Tip: head up to the top level to get some unique photos and views.
Afternoon:
Piazza San Marco:
Piazza San Marco, or St. Mark's Plaza in English, is the main public square in Venice.  This plaza is free to visit. During the rainier seasons, this plaza will often flood so come prepared to get your ankles wet.
Enjoy your time in the plaza, take in the shops and restaurants bordering the square. Basilica di San Marco, or St. Mark's Basilica, is located off the plaza and can either enjoy it from the outside or you can opt to enter. The Basilica is free to enter and the museum attached to it costs 5 euros to visit. Ensure you dress appropriately to visit with your shoulders and knees covered.
Doge's Palace:
Doge's Palace was built in 1340 and features Venetian Gothic style. Located on the edge of the city, this is one of the most famous landmarks in Venice. You can tour the inside of the Doge's Palace to learn the history, a tour will take about 1-1.5 hours to complete.
Tip: the entrance fee is 30 euros, however if booked in advance it's 25 euros.
Bridge of Sighs:
Lastly, you'll visit the Bridge of Sighs, which is an enclosed bridge that has stone bars across its windows. The bridge connects Doge's Plaza to the jail and is where prisoners crossed to enter the jail. In 1812, the poet Lord Byron referenced it in his book Childe Harold's Pilgrimage and detailed how "sighs" could be heard of prisoners walking across it as they caught a final glimpse of Venice.
Tip: they say that if a couple kisses while they pass underneath the bridge in a gondola then they will have eternal love – we recommend giving it a try!
Evening:
Ponte dell'Accademia for sunset:
Before or after dinner, head over to one of the other four bridges that cross the Grand Canal – Ponte dell'Accademia. This bridge offers stunning views of the Grand Canal and is a great spot to take in your final Venice sunset.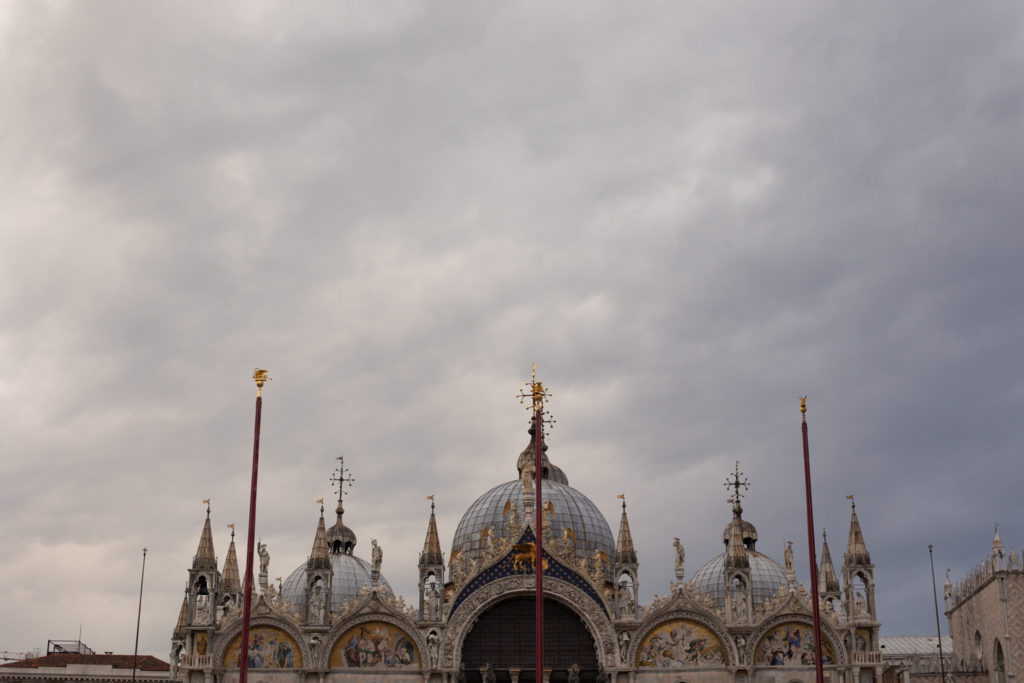 Heading elsewhere is Italy? Check out our recommended Northern Italy itinerary for recommendations and inspiration!