Flåm, Norway is a small Norwegian village that features stunning fjord views, scenic train rides and adventure-filled activities. Located at the inner end of the Aurlandsfjorden, a branch of Sognefjorden, the scenery cannot be beat. While Flåm has a small village feel, there are plenty of activities to do making it well worth the trek out.
How to get to Flåm, Norway?
Despite being located at the end of a fjord, getting access to Flåm is relatively easy! While the options to get to Flam are plentiful, you can drive, train, ferry and fly to get there – we recommend taking the train. Unless you are on a cruise, the ferry will be the longest option and overall we wouldn't recommend it for times sake. You can fly into Sogndal Airport, Haukåsen (SOG), however from here you have an approximately 1 hour drive that you'll need to hire a private transfer for. If you're doing a Norway roadtrip then you can drive into Flåm, however this is more stressful than enjoying the views from a train window.
By Train:
As we mentioned, getting to Flåm, Norway is best done by train. The train goes from Bergen to Oslo, with Flåm being in between. So whether you're coming from Oslo or Bergen, you can access Flåm with the train. This train has been toted as the most scenic train rides in the world and we don't disagree with this. Along the train ride you'll see fjords, small villages and glaciers – you won't be able to look away from the window! Furthermore, the trains are quite nice with spacious seating, WiFi, washrooms and coffee service.
From Bergen
The train ride is about 2 hours from Bergen. You will take the train from the Bergen Stasjon (station) to the Myrdal station. From the Myrdal station you will have a few options to get into Flåm. You can hike down into Flåm, zip line and then bike (via a tour) or transfer to the Flam Railway for a 45-minute train ride.
From Oslo
The train ride from Oslo is about 4 hours and 40 minutes, you will leave from Oslo Station to the Myrdal station. From Myrdal station you have all the same options to get into Flåm as you did coming from Bergen.
For further details on the train schedule and ticket prices, check out their website. The Flam Railway information can be found on their website and if you are looking to book both trains – you can do it all on one site.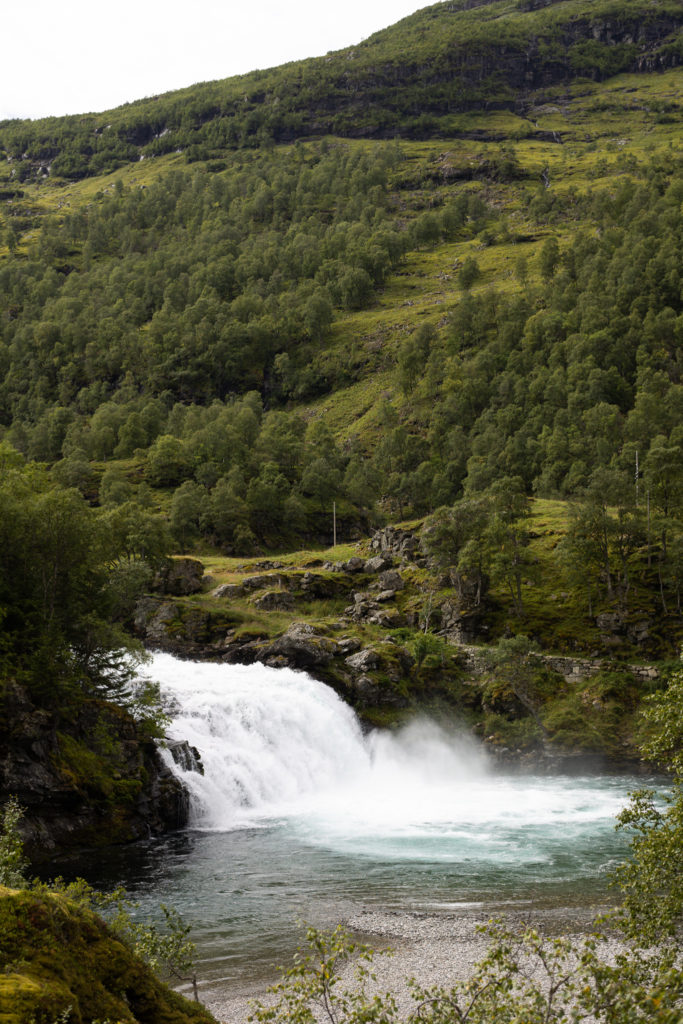 What to do in Flåm, Norway?
Flåm, Norway is a beautiful enough village that you can spend your day wandering around and enjoying the scenery, however we recommend adding at least one activity into your itinerary.
Flåm Zipline & Bike Tour
As previously mentioned, you can get into Flåm from Myrdal station via a zipline and bike ride. We did this option and loved it, it is an adventurous option so if this is your jam we highly recommend opting for it. The activity level is minimal as you bike downhill through the fjord, but prior biking experience is an asset.
Getting to the zipline is straight forward as it starts at Vatnahalsen, about a 1 mile (1.5km) walk away from the Myrdal train station. The zipline itself is about 10-15 minutes where you travel up to 100km/hr over the stunning valley. Additionally, the zipline has a lot of history in the Flam valley as ziplines were once used to deliver food, lumber, etc from mountain farms. So while this is fun, it's also (kind of) cultural!
At the bottom of the zipline, you arrive at a goat cheese farm and set out to begin the 20km bike ride into the town of Flåm. The bike ride is straight forward as it weaves you down the valley to the base of the fjord, where Flåm is located. This bike ride is absolutely stunning, filled with waterfalls and lush greenery – it was hands down one of the most beautiful places we've travelled to.
Prices are about $110 USD/ person, for more details and booking visit fjord tours. 
Stegastein Viewpoint
The Stegastein viewing platform offers views of the stunning fjords from 650 m above ground. The panoramic views from this viewing platform are stunning and the perfect activity for those who opt out of biking or hiking. To access the viewing platform you take a bus from the town of Flåm and the entire trip will take ~ 1.5 hours. You can book this tour online.
Fjord Boat Tour
Another must do when in Norway, whether in Flåm or not, is a fjord boat tour. In Flåm, the fjord boat tours can be done in an open-air boat which will allow you to feel like you're truly in the fjord. If you prefer a warmer fjord boat experience, they have classic boats that have indoor and outdoor areas to view the stunning fjords from.
Flam Railway Museum
One of the few free activaties to do in Flåm is the Flam Railway Museum. Admission is free so if you have young kids or a few spare minutes we recommend checking this out. The museum goes over the history of the Flam Railway and all the hardships that were faced while building it. Overall, it offers great insight into the train and makes you appreciate the train ride that much more.
Go for a Hike
Lastly, a great way to get out and see Flåm is by hiking! There are several trails in the area that range from easy to difficult. Some tour companies will offer a guided hike, however you can also hike on your own. When hiking we always consult Alltrails to get the most up to date information on the trails. If you're heading out for a hike, grab something to eat for lunch in the village of Flåm before heading out.
If you're looking to do more than one activity while in Flåm, we recommend trying to book multiple experiences in a package. Many of the toured activities can be combined with another to save money and make the most of your day in Flåm.
How Long to Stay in Flåm, Norway?
Flåm, Norway is best visited as a day trip or for one-day. It is a small village at the end of fjord so while the activities are incredible – they are limited. We recommend visiting by train for the day, however if you are on a roadtrip you can spend the night. Sunrise in Flåm would be absolutely beautiful for those spending the night. Furthermore, there are hotel options to choose from, but low-cost options are minimal.
Where to Eat in Flåm, Norway?
While the dining options in Flåm, Norway are also limited they are delicious. Seriously, the food in Flåm is incredible. We ate at the Cafe-Restaurant, which has delicious fish & chips along with other pub food type options. If you're looking for a more casual food option, the Flåm Bakery offers sandwiches, baked goods and coffee. The sourdough bread at Flam Bakery is made fresh and everything looks delicious! Some other options that we didn't have time to try include: Ægir microbrewery, Bakkastova Cafe and NIF Flåm Market.
Overall, come prepared to enjoy some delicious food and bakery items!
Final Tips for Visiting Flåm, Norway:
Come dressed for the day. The weather in Flåm can vary greatly depending where you are. For example, walking around the village can be warm but if you're biking through the fjord hills the weather can become cooler. Layers and waterproof outerwear are a must on this day trip!
Come prepared for adventure. Most of the activities within Flåm are geared towards adventure and outdoor activities, so come prepared to explore the outdoors.
Book train tickets ahead of time. Ensure you book both train tickets ahead of time, the Flam train has limited seating and departure times so ensure you've planned ahead.