A quick 2 hour drive outside of Medellin is the town of Guatape, home to the incredibly breathtaking La Piedra Del Penol (also called El Penol rock). La Piedra del Penol is one of the top attractions to see within Colombia and well worth making the trek from Medellin to visit. Hiking up this rock can be a physically demanding task, but the views from the top make the hike well worth it!
About La Piedra Del Penol
La Piedra Del Penol looks like nothing else we have seen. This granite rock is 675m above ground, surrounded by lakes and houses – it's hard to miss as it looms over the towns Guatape and El Penol. While the rock is privately owned by a family, the towns of Guatape and El Penol have long argued which town this popular attraction belongs to. On one side of the rock you can see "GI" painted on the granite surface, this was supposed to be a GU to stake claim of the rock by Guatape, however the painters were interrupted before finishing.
La Piedra Del Penol was first, officially, climbed in 1954 by three climbers. The climb took 5 days and they used materials such as sticks to make this ascent possible. Today, climbing to the top is much easier with the built in steps. While not everyone will say 649 steps is easy, it is definitely possible!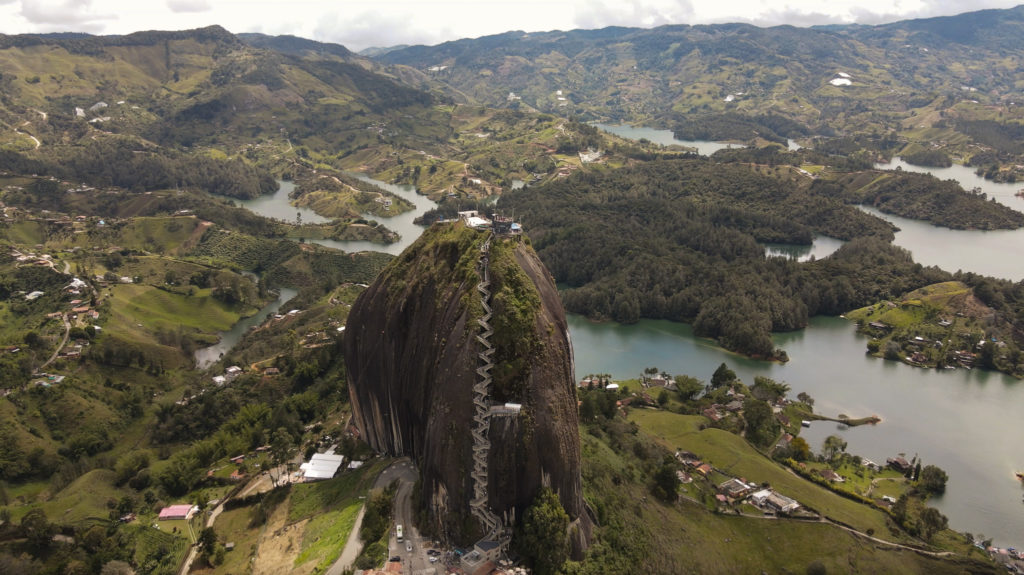 How to Get to La Piedra Del Penol
La Piedra Del Penol is located between the two town Guatape and El Penol, about a 2 hour drive outside of Medellin. It is most often visited as a day trip and includes visiting the town of Guatape. The three ways to get into Guatape are via bus, taxi or tour bus (guided day trip).
Via Bus
Traveling from Medellin to Guatape can be easily accomplished by using the Colombian bus system. The bus is comfy, air conditioned and about $4 USD each way. From Medellin, head to Terminal del Norte – the bus station is called 'Caribe' and is located on Metro line A. Buses depart from Medellin to Guatape every 30 mins from 5am to 6pm. The two bus companies that complete this route are called: Sotrasanvicente and Sotrapeñol. Both of these buses have similar quality levels. You can buy the bus tickets directly at the bus station counter, counter #9 or #14.
The bus will drop you off in front of the Guatape bus station, or in front of the La Piedra Del Penol. La Piedra Del Penol is about a 10 minute drive outside of Guatape, you can get in between the two via taxi or tuk tuk's.
To get home, the bus will stop in front of La Piedra Del Penol however this is less reliable as you have to flag the bus down and there's not always a seat. It's recommended to catch the bus home at the Guatape bus station. For more details on the schedule, check out this transit website.
Via Taxi
If opting for the local bus system seems too daunting for you, you can opt to take a taxi from Medellin to Guatape. The taxi ride will take 2 hours and should cost around $35 USD. A lot of taxis will barter for the price, so be prepared for some negotiating!
Via Tour Bus
Lastly, another popular way to visit Guatape and La Piedra Del Penol is via a day trip tour. The day trips tours will always include the tour bus out and back. These tours will guarantee you see all the recommend sites in the area as well as provide some history about the area. The tours range in prices, but on average the price will be about $30/ person. For some they feel more comfortable with this option, especially for those who don't speak Spanish. If taking a day tour bus is going to lessen your stress for the day – go for it! There are several tour companies who do these day trips, so check reviews and book the one you feel is best.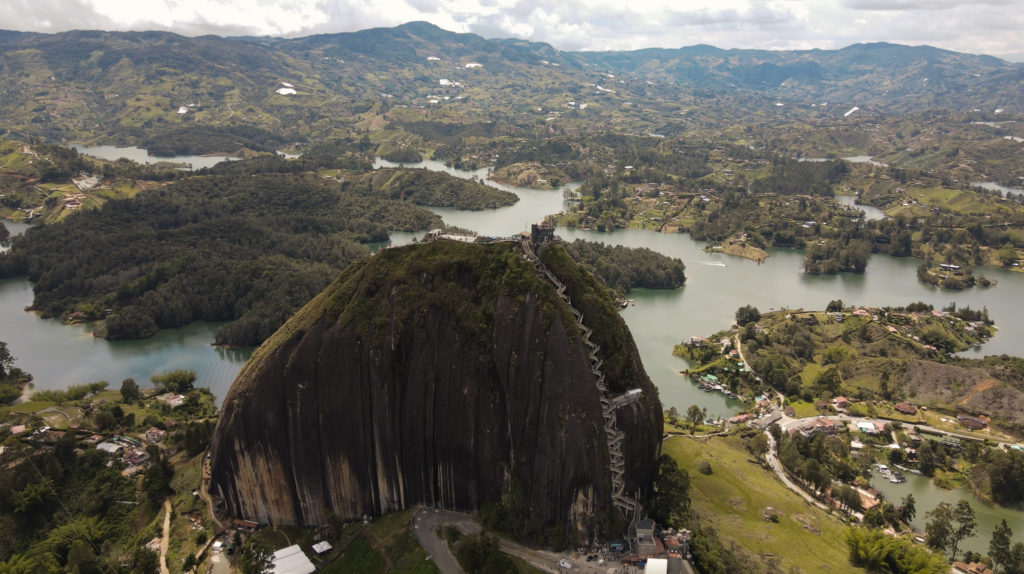 Climbing La Piedra Del Penol
Climbing La Piedra Del Penol is made accessible to most of the population via the steps along the side of the rock. For most, choosing to walk up the 649 steps is the best option. However, for those up for an adventure – there is the option to rock climb up to the top.
The climb up the 649 steps will take about 15-30 minutes, we walked at a steady pace and summited the rock after 10 minutes. You can stop anytime along the steps up, however it can get crowded if too many people are stopped. There is a designated resting spot halfway up the steps which will be the best spot to take a water break.
Final Tips for Visiting La Piedra Del Penol
Entrance fee. There is an entrance fee which is 18,000 COP or ~$3.70 USD. You can easily buy your tickets the day of on site.
Wear comfortable shoes. The 649 steps up and down are no joke, wearing comfortable shoes is your best option. Furthermore, if you head into Guatape, you will want comfortable shoes for exploring the town.
Bring sunscreen. There's minimal shade at the top of the rock and on the walk down, so make sure you protect yourself. The last thing you want on your day trip is to get sunburnt in the first half!
Come prepared for rain. If you're visiting during rainy season you should definitely come expecting rain. The hike up and down offers minimal shelter. Without proper rain gear, you will get soaked and (probably) be uncomfortable for the rest of the day.
Bring pesos. At La Piedra Del Penol there are shops around both the top and the bottom of the rock. These shops are filled with refreshments and souvenirs, however some only take pesos so come prepared.
Bring bug spray. While we would consider this an urban day trip there can still be some mosquitos, especially if it's a rainy day.
Looking for more information on the town of Guatape? Check out this post for more trip planning information and can't miss sites.