A Verona day trip from Venice is one of the best one-day trips from Venice. Verona is best known as the home of Romeo and Juliet, while this Shakespeare play is fictional it was based off of this town. Romeo and Juliet aside, this town is filled with history, architecture and great shopping. You can easily see everything in a day, so we recommend visiting as a day trip or spending a night while enroute to another city. Either way, keep reading for everything you need to know about Verona.
Verona day trip from Venice: How do you get There?
A Verona day trip from Venice is best completed via train or car. If you're heading to Verona for a day trip then we would recommend taking the train. If you're visiting Verona and then continuing onto another city, we would recommend either driving or taking the train.
By Train
Getting from Venice to Verona by train is very easy and straightforward. Your train journey will begin in Venice at Stazione di Venezia Santa Lucia. The Stazione di Venezia Santa Lucia is right in the heart of Venice and is the main train station – you can't miss it. From here, you'll take the ItaliaRail. The train route is direct and takes about an hour and 10 minutes. When you get to Verona, you get off at the Verona Porta Nuova train station. The Verona Porta Nuova train station is about 1.5 km (0.9 miles) from the historic center of the city, called centro storico. Centro storico will be the main area you'll explore and having it easily accessible from the train station is very convenient.
By Car
As we previously said, we recommend traveling here by car if you're heading onto another city in Italy. You can travel here by car for a day trip, but parking will be expensive and driving is no faster than the train. You will need to park outside the historic center of Verona as the inner-city is local car or pedestrian traffic only.
Verona day trip from Venice: What to See?
A Verona day trip from Venice is a great way to visit Verona as it gives you plenty of time to explore the city, including the following places.
Juliet's Balcony
Verona is known as the hometown of Romeo and Juliet, which makes seeing Juliet's balcony a must! Juliet's balcony is tucked off of a main street in a little garden pavilion area. You can actually go up and walk out onto Juliet's balcony. You can walk in and simply see the balcony or pay 8 euros to walk up to her balcony. If you do go up to the balcony, leave your camera down below for a photo opportunity. We didn't opt to walk up to the balcony, but we did enjoy simply seeing the balcony. We spent about 10-minutes here, so this is a quick stop!
Verona Arena
The Verona Arena is a Roman amphitheater that you can walk around and explore. While this is a smaller Roman Arena than the Colosseum in Rome, it's still great to explore. It was 10 euros to gain entry to the arena and then you could also choose to book a tour. Make sure you walk up the steps to be at the top of the arena seating, the views from here are great. You can see out onto Piazza Bra and the colorful buildings lining the piazza.
Piazza Bra
This is a large piazza that surrounds the Verona Arena. There are many restaurants along this piazza and the street leading up to it. We recommend stopping in this area for either lunch or dinner.
Piazza delle Erbe
Another piazza that's a must see is Piazza delle Erbe. This is a historic square in Verona that often houses a market as well. We recommend grabbing some souvenirs and fresh fruit here.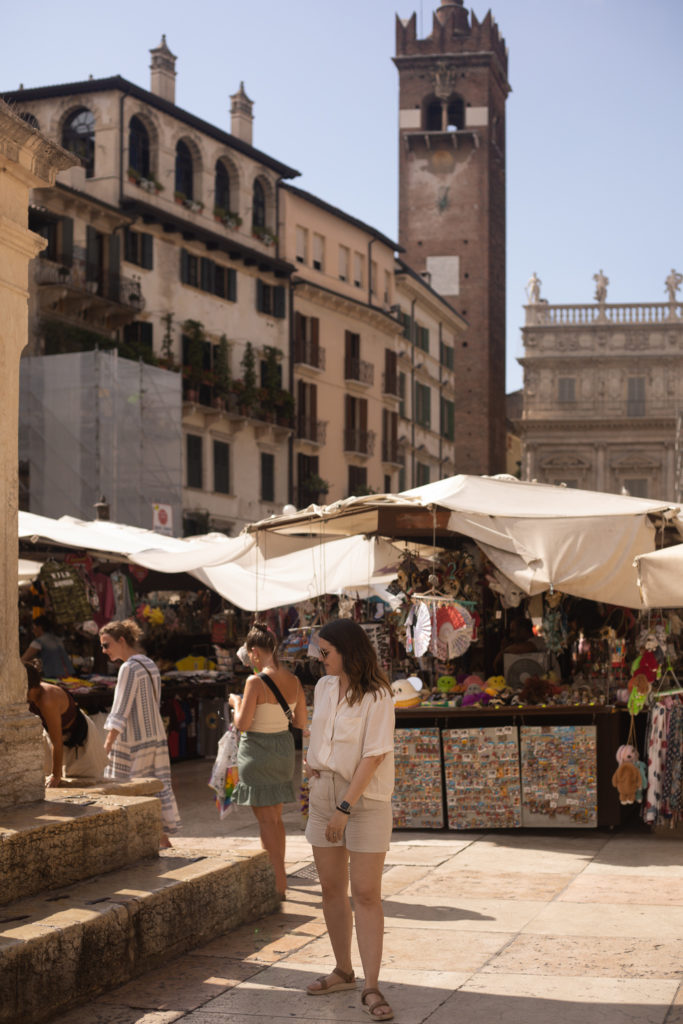 Castle San Pietro
If you're looking for sweeping views of Verona, this is the spot to be. Castle San Pietro overlooks the city of historic center of Verona and the river surrounding it. This would be a great spot to enjoy the sunset before heading back to the train station. This area is free for you to walk around and is easily accessible via a walking pathway. If you're tired of walking and looking for an alternative route we recommend taking the funiculare di Castel San Pietro.
Funiculare di Castel San Pietro
This funiculare is a short gondola that will take you up to Castle San Pietro. Yes you could also walk up to this lookout point, but for 1.50 euro I think this is worth doing at least one way.
The Arche Scaligere Tombs
The Scaliger Tombs are a collection of five Gothic funerary monuments. The tombs represent the Scaliger family who ruled Verona in the 13th and 14th century, however they ultimately fell due to internal power struggles. The history of the Scaliger family is interesting to read about and reminiscent of Romeo and Juliet's families.
Torre dei Lamberti
This 84m bell tower was built in the 12th-15th century and continues to be the tallest building in Verona. With this being the tallest building, we recommend climbing up this tower to enjoy panoramic views of the city. The climb involves 368 steps, however there is a lift as well for those who cannot do this climb.
There are several museums within the city of Verona, however we opted to save the museums for the bigger cities when we had more time. If you're in Verona for more than one day we recommend visiting at least one of the museums. Furthermore, Verona is filled with great shopping. If you're tired of sight-seeing this is a great day trip for you, or do a bit of both!
Verona day trip from Venice Tips:
Get the Verona Card. The Verona Card is 20 euros for a day pass and gets you access to many sites within Verona. Some of the main sites you get free access to with the Verona card is the Verona Arena, Verona Cathedral, Juliet's house, Basilica di Sant'Anastasia and several other sites.
As with all current travel, these towns are bustling with tourists. I would recommend getting to a town early (before 9am) to best enjoy the sites crowd-free.
Bring sunscreen and a hat. The sun will be unrelenting when visiting anywhere in Italy during the summer. Furthermore, there are minimal shady spots when exploring and eating, so be prepared with adequate sun protection.
Bring a reusable water bottle. Throughout Verona there are outdoor fountains with drinking water, we found these the best option for water.
Looking to complete a road trip through Northern Italy? Check out our complete two-week itinerary.