Located in Alberta, Canada is one of our favorite places — Banff National Park. Banff can be visited in any season, however, in the winter most visitors arrive for downhill skiing. While we love downhill skiing, there is so much more to do during a Banff winter. So, whether you are visiting for a week, a long weekend, or just looking for winter inspiration, keep reading for our top 8 recommendations for winter activities in Banff National Park.

How to Get to Banff National Park?
First up are logistics. Banff National Park does not have an airport, so you will need to drive into the park. The closest international airport is located in Calgary, Alberta which is about a 1-1.5 hour drive into downtown Banff. Another option is to fly into Edmonton, Alberta, which is also an international airport, however this drive will be longer at about a 4 hours to downtown Banff.
Getting to Banff is relatively straight forward. You'll get onto Highway 1 and follow this all the way to Banff. Once you're within the park, it's well signed for the off ramps to Banff village and popular outdoor areas. You will need to purchase a National Park Pass before entering Banff, so be prepared to stop at the booths on Highway 1 for this. If you purchase ahead of time, you can drive through without stopping — just make sure to display the pass!
Getting Around Banff
Banff National Park is a very large and nature-filled national park. Not only will you need a car to get into the park, but getting around to different activities within the park will also require a car.
8 Winter Activities to do During a Banff Winter
Go Ice Skating at Lake Louise
Lake Louise is an incredible spot to visit and in the winter the lake freezes, creating an iconic skating rink. Toted as one of the best outdoor skating rinks in the world, the Lake Louise rink is not something to be missed! The outdoor rink is maintained by the hotel, which allows for the ice to be cleared of snow regularly. It even has a Zamboni clean it off daily. Skating on the rink is free, making this accessible to all. If you need to rent skates, you can do so at the Fairmont hotel on site or at Wilson Sports in the Samson Mall (just down the road). Overall, there are several lakes that freeze over in Banff National Park and can be skated on, however the Lake Louise rink is the best maintained and, arguably, the most scenic.
Take the Banff Gondola up Sulphur Mountain
Want those mountain top views without the effort of hiking up? This is where the Banff Gondola comes in handy. The gondola will take you to the top of Sulphur Mountain and offer sweeping views of the Bow Valley. This is a great option for families and those unable to hike. There's a restaurant at the top along with some walking paths, so plan to spend some time up here. We also highly recommend coming here to see the sunset and twinkling lights in Banff village, it's all quite incredible. The ticket prices will vary depending on the time and day, so it's recommended to book ahead. In general, ticket prices range from $50-70 CAD/ adult. For all the necessary details, their website is the best spot to look.
Go Snowshoeing at Stewart Canyon Trail
Just off Lake Minnewanka is Stewart Canyon Trail, which is a great spot to go snowshoeing on. The trail is 4.2 km out and back, and is heavily trafficked with minimal elevation gain. The trail winds you along the shores of Lake Minnewanka so the views are spectacular throughout the hike. When you finish, head out to Lake Minnewanka for an ice skate!
Cross Country Ski at Cascade Valley
Located beside the Lake Minnewanka day use area is a popular trail called Cascade Valley.  This out and back trail is a 12.6 km round trip, with 135m of elevation gain. The ski out is mostly uphill with the way back being mostly downhill, which can be chilly. The trail ends at the Cascade River bridge, and offers beautiful views of the valley and mountain ranges towering above Banff. Furthermore, the trail has two sets of tracks on either side of the path, helping both beginners and experts stay on course!

Go on a Hike at Johnston Canyon
Just because it's the winter doesn't mean you can't get some great hiking in! Johnston Canyon is a moderately difficult hike that is highly trafficked. The 11.7 km roundtrip hike will take you through a canyon and ends with a frozen waterfall at the Upper and Lower Falls. At times, you may even be treated to some ice climbers to watch! The trail itself is about 608 meters of elevation gain and can be slippery, we highly recommend using microspikes for this hike.
Watch the Sunrise at Vermilion Lakes
Vermilion Lakes is an area with lush marshlands and expansive views of both Mount Rundle and Sulphur Mountain. We recommend coming here in the morning to watch the sunrise over Mount Rundle, or the sunset if you don't mind being joined by other photographers. The lake itself will freeze and becomes a popular spot for skating, however, you will want to ensure the ice is thick enough to walk along. We always recommending walking out on of the docks to enjoy the sunrise. If the ice hasn't frozen yet or is thawing, you will be treated to incredible reflections of Mount Rundle in the water.
Go Dogsledding
Yes, Banff National Park even has dog sledding. This is truly such a unique experience and one that will be well worth the expensive price tag. There are several companies that offer dog sledding, we recommend doing your research to determine which company to book with. For a list of dog sledding experiences and companies, check out this Banff tours website. 
Relax at the Banff Upper Hot Springs
After a day of outdoor winter adventures, the best way to relax and warm up is at the Banff Upper Hot Springs. The Banff Upper Hot Springs are a geothermally heated outdoor pool. The water is 100% natural mineral water and keeps the pool at a temperature between 37 – 40 C (98-104 F). Admission is $9.25/ adult and we recommend checking their website to ensure you meet the criteria to enter the pool.
Tips for Traveling During a Banff Winter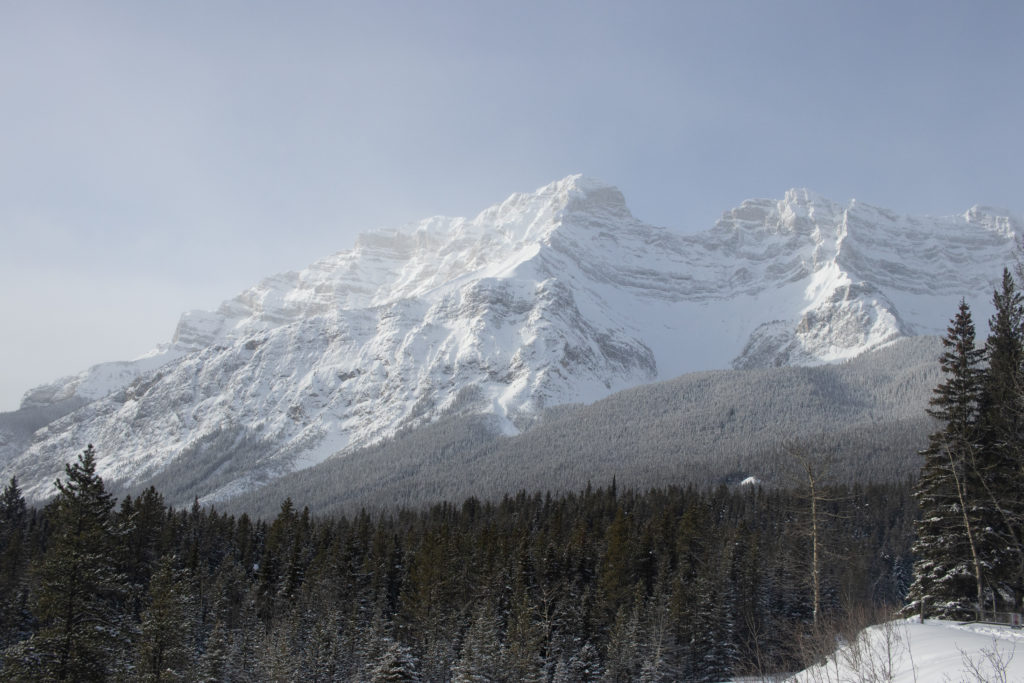 Prior to heading out, we recommend reviewing our list of tips & tricks to save you some time and grief.
Buy a park pass: You can buy this online prior to visit, which will save some time when entering the park
Don't block traffic to stop for animals: We recommend not pulling over to get out and grab a better view of animals, park rangers are strict with not blocking traffic or distributing the wildlife, and you can be fined for this
Be aware of avalanches:  Avalanches occur throughout Banff National Park in the winter and pose a big risk for anyone who wanders off trail. Popular outdoor trails will have signs for when to stop, so we recommend not wandering off trail during the winter
Leave no trace: Banff National Park is beautiful and should be left the way you found it! Be aware that you will need to carry garbage in and out on hikes